Tomatoes: How to EASILY Can Tomatoes, Make Tomato Sauce, Spaghetti Sauce, Salsa, Paste, Freeze, Dry and Preserve Tomatoes at Home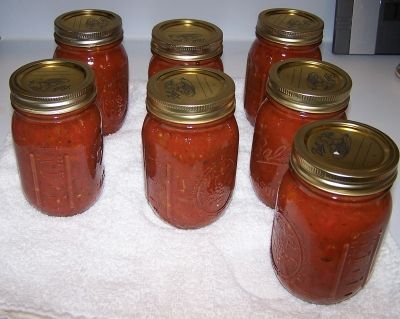 Are you flooded with tomatoes from your garden, and wishing you could somehow store the tomatoes, can them, freeze them for that great taste in the winter? Now you can! This page provides the links to our illustrated tomato recipes and canning* directions - so easy ANYONE can do it, along with a multitude of other recipes, guides and canning instructions from the USDA and many universities.! Those of you who still speak the "Queen's English" will probably be more familiar with terms "bottling" or "tinning" rather than canning! But it means the same!
If you want to bring your green tomatoes indoors before a freeze in the Fall, and ripen them, see:
And if you'd like to start you own tomatoes from seed (you can save a small fortune and grow the heirloom varieties you like) see this page for easy directions for growing your own tomato plants from seed. Some of these require a Pressure Canner to prevent potential spoilage and food poisoning, due to the low acid content of the food. For others, you can use a water bath canner OR a Pressure Canner. I've noted what's required for each, below, following each entry, with
W for water bath,
P for Pressure canner, and
W, P for either may be used!
And don't miss: Answers to common tomato canning problems and see this page about what to do with your unripe green tomatoes!
Prepping tomatoes
Canning Tomatoes in Pressure canners
Freezing Tomatoes
Drying tomatoes
Frequently Asked Questions About Canning, Freezing and Preserving Tomatoes
---
General Canning Know-How
Picking tips
FAQs: Click here for the page of frequently asked questions (with answers) about pickling and making pickles.
And write me, if you want directions for something I've missed.

Trivia
Other Detailed Canning, Freezing and Drying Guides and Recipes



Home Canning Kits

This is the same type of standard canner that my grandmother used to make everything from applesauce to jams and jellies to tomato and spaghetti sauce. This complete kit includes everything you need and lasts for years: the canner, jar rack, Jar grabber tongs, lid lifting wand, a plastic funnel, labels, bubble freer, and the bible of canning, the Ball Blue Book. It's much cheaper than buying the items separately. you will never need anything else except jars & lids (and the jars are reusable)! There is also a simple kit with just the canner and rack, and a Pressure Canner, if you want to do vegetables (other than tomatoes). To see more canners, of different styles, makes and prices, click here!


Lids, Rings, Jars, mixes, pectin, etc.

Need lids, rings and replacement jars? Or pectin to make jam, spaghetti sauce or salsa mix or pickle mixes? Get them all here, and usually at lower prices than your local store!

Get them all here at the best prices on the internet!