Tomatoes: How to EASILY Can Tomatoes, Make Tomato Sauce, Spaghetti Sauce, Salsa, Paste, Freeze, Dry and Preserve Tomatoes at Home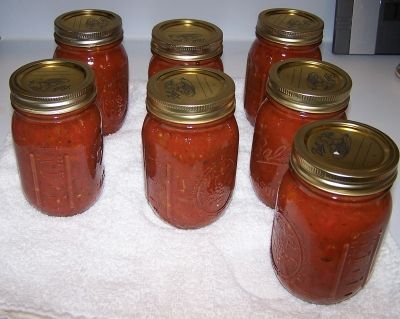 Are you flooded with tomatoes from your garden, and wishing you could somehow store the tomatoes, can them, freeze them for that great taste in the winter? Now you can! This page provides the links to our illustrated tomato recipes and canning* directions - so easy ANYONE can do it, along with a multitude of other recipes, guides and canning instructions from the USDA and many universities.! Those of you who still speak the "Queen's English" will probably be more familiar with terms "bottling" or "tinning" rather than canning! But it means the same!
If you want to bring your green tomatoes indoors before a freeze in the Fall, and ripen them, see:
And if you'd like to start you own tomatoes from seed (you can save a small fortune and grow the heirloom varieties you like) see this page for easy directions for growing your own tomato plants from seed. Some of these require a Pressure Canner to prevent potential spoilage and food poisoning, due to the low acid content of the food. For others, you can use a water bath canner OR a Pressure Canner. I've noted what's required for each, below, following each entry, with
W for water bath,
P for Pressure canner, and
W, P for either may be used!
And don't miss: Answers to common tomato canning problems and see this page about what to do with your unripe green tomatoes!
Prepping tomatoes
Canning Tomatoes in Pressure canners
Freezing Tomatoes
Drying tomatoes
Frequently Asked Questions About Canning, Freezing and Preserving Tomatoes
---
General Canning Know-How
Picking tips
FAQs: Click here for the page of frequently asked questions (with answers) about pickling and making pickles.
And write me, if you want directions for something I've missed.

Trivia
Other Detailed Canning, Freezing and Drying Guides and Recipes
Canning Books, Supplies and Accessories
These are my favorite essential canning tools, books and supplies. I've been using many of these for over 50 years of canning! The ones below on this page are just the sampling of. my preferred tools. but you can find much more detailed and extensive selections on the pages that are linked below.
The All New Ball Book Of Canning And Preserving: Over 350 of the Best Canned, Jammed, Pickled, and Preserved Recipes Paperback
This is THE book on canning! My grandmother used this book when I was a child.; It tells you in simple instructions how to can almost anything; complete with recipes for jam, jellies, pickles, sauces, canning vegetables, meats, etc.
If it can be canned, this book likely tells you how! Click on the link below for more information and / or to buy (no obligation to buy)The New Ball Blue Book of Canning and Preserving
Canning and Preserving for Dummies by Karen Ward
This is another popular canning book. Click here for more information, reviews, prices for Canning and Preserving For Dummies
Of course, you do not need to buy ANY canning book as I have about 500 canning, freezing, dehydrating and more recipes all online for free, just see Easy Home Canning Directions.
Home Canning Kits
I have several canners, and my favorite is the stainless steel one at right. It is easy to clean and seems like it will last forever. Mine is 10 years old and looks like new.
The black ones are the same type of standard canner that my grandmother used to make everything from applesauce to jams and jellies to tomato and spaghetti sauce.
This complete kit includes everything you need and lasts for years: the canner, jar rack, Jar grabber tongs, lid lifting wand, a plastic funnel, labels, bubble freer, It's much cheaper than buying the items separately. It's only missing the bible of canning, the Ball Blue Book.
You will never need anything else except jars & lids (and the jars are reusable)!
The complete list of canners is on these pages:
Pressure Canners
If you plan on canning non-acidic foods and low acid foods that are not pickled - this means: meats, seafood, soups, green beans corn, most vegetables, etc., then you ABSOLUTELY must use a Pressure Canner.
Of course, you can use a pressure canner as a water bath canner as well - just don't seal it up, so it does not pressurize. This means a Pressure Canner is a 2-in-1 device. With it, you can can almost ANYTHING.
There are also other supplies, accessories, tools and more canners, of different styles, makes and prices, click here!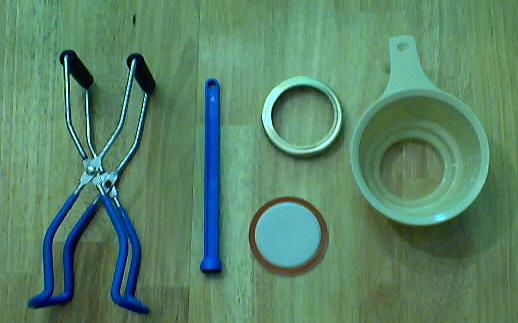 Basic Canning Accessories
From left to right:
Jar lifting tongs to pick up hot jars
Lid lifter - to remove lids from the pot of boiling water (sterilizing )
Lids- disposable - you may only use them once
Ring - holds the lids on the jar until after the jars cool - then you remove them, save them and reuse them
Canning Jar funnel - to fill the jars
Strainers
These are very useful for making sauces like applesauce, tomato sauce, spaghetti sauce, jellies, etc. Below are my favorites. The complete list is on these pages: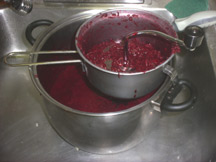 Inexpensive Old School Strainers: hand cranked Foley Food Mills
The hand-cranked Foley food mill (see this page or clock the ad box) has been used for well over 100 years in homes all over America (and variants around the world). It is effective and inexpensive, and ideal for small batches. However, if you need to make many quarts, you will sure end up with tunnel carpel syndrome or some other repetitive strain injury.
Norpro 1951 Manual Food Strainer and other brand stariners, with optional motors; (almost identical to Victorio V250, Villaware and Roma models, all discontinued)
This is The next step up from the Foley food mill. First, it's far more ergonomic, and its handle is easier to use. Next, it works in continuous mode rather than batch mode. So you can do much larger volumes easily. Finally, It has an optional motor, so you can. remove the manual labor. It also offers many different size strainers to use for different types of berries, vegetables and fruit.
See the seller's website for more information, features, pricing and user reviews!
A Johnny, Weston or Oxo strainer (about $60 - $100, see further down the page) or
This trainer is. simply a more upscale and improved version of the one above.
KitchenAid - Best Large Volume Strainers
If you're going to do large volumes of fruit or vegetables , or do it year after year, then. you really should think about getting a higher end kitchen. utility device. Kitchen aids are the cream of the crop. Once you buy one of these, you keep at the rest of your life and it gets handed down to the next generation. . My sister is using one she inherited from my mother 25 years ago, who got it in the 1940s as a wedding gift. So, although the initial cost is high, they literally last for many lifetime. So the cost on an annual basis is pretty trivial, especially when you consider the cost of therapy and treatment for. the repetitive strain injuries you will get from manual cranking day after day. Add to that of course the cost of therapy for the emotional injuries you'll get from going insane, standing there hand cranking something for hours.
KitchenAid's with a sieve/grinder (with the attachments, costs about $400, but it lasts a lifetime and is fast and easy to use - I can make 100 quart jars of applesauce per day with one of these).
FREE Illustrated Canning, Freezing, Jam Instructions and Recipes