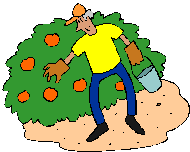 Looking for Do I Need to Use a Canner and How to Choose a Canner in 2023? Scroll down this page and follow the links. And if you bring home some fruit or vegetables and want to can, freeze, make jam, salsa or pickles, see this page for simple, reliable, illustrated canning, freezing or preserving directions. There are plenty of other related resources, click on the resources dropdown above. If you are having a hard time finding canning lids, I've used these, and they're a great price & ship in 2 days.
If you have questions or feedback, please let me know! There are affiliate links on this page. Read our disclosure policy to learn more.
Do I Need to Use a Canner and How to Choose a Canner
Why do I need to Use a Canner?
and
How to Choose a Canner
If you are considering canning foods at home, home food preservation, making jams, jellies, salsa, sauces, fruit butters, pickles, etc., you may be using a hand-me-down recipe and a method that is prone to spoilage and food poisoning.
Using lab tested recipes (like ours) is part of the solution, but so is using the proper method and canning equipment.
See this page for an explanation ofwhy you should use a canner.
and
This page for how to choose the proper type and brand of canner
---
The "Complete Guide to Home Canning," Agriculture Information Bulletin No. 539, USDA (Revised 1994).
---