Foam in Home Jam Making - What It Is and What To Do About It!
This month's notes: October 2022: Stored US apples are still available. See your state's crop availability calendar for more specific dates of upcoming crops.
Valentine's Day - February 14 - See this website for Valentines Day history, facts and top picks for fast, easy, inexpensive gifts for the man, woman or children in your life!
Easter will be April 16, 2017 - if you want to take your children to a free Easter egg hunt - see our companion website to find a local Easter Egg hunt!
And we have home canning, preserving, drying and freezing directions. You can access recipes and other resources from the drop down menus at the top of the page or the site search. If you have any questions or suggestions, feel free to write me! Also make your own ice cream; see How to make ice cream and ice cream making equipment and manuals. Have fun, eat healthier and better tasting, and save money by picking your own locally grown fruit and vegetables, and then using our easy directions
Please tell the farms you found them here - and ask them to update their information! As an Amazon Associate I earn from qualifying purchases.
Subscribe to our:
Email alerts
;
Follow us on Twitter
Add this page to your favorites!
-
Email this page to a friend, or to yourself
---
What To Do About the Foam on Your Jam!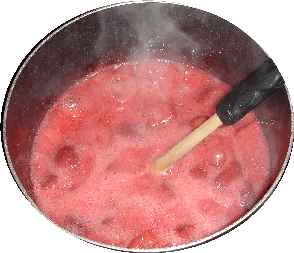 Your are happily making jam, following the direction in a book or box of pectin... until it says "skim the foam, or add 1 teaspoon of butter to prevent foaming". Foam? Foaming? What is it? Does your jam have rabies?
Nope, the foam is just the result of bubbles from the boiling jam coming up through the viscous jam. Just like a child blowing bubbles, the boiling jam produces bubbles.
Why remove it?
Well, it just doesn't taste very good. It doesn't taste bad, but it is not the consistency most people like in jam. It certainly won't hurt you, though. It might somewhat shorten the storage life of the jam. According to Janet Hackert, Nutrition Specialist, Northwest Region at the University of Missouri Extension:
Foam contains a lot of air. In canning, the jars are not filled to the top of the jar. This gap between the lid and the food is called head space and it gives the canned food room to "breathe." The food can expand during processing and form a vacuum as the jar cools. Foam in a jar of jam increases the head space. According to the Food Safety Information Service, this is not a problem if the jam is stored in a cool place and is eaten relatively soon. The extra head space does increase the chance of the jam molding after prolonged storage though.
What can I do about the foam
Besides making a B-grade horror movies with it, You can either prevent it or remove it.
Prevent it
1 teaspoon of butter, margarine or vegetable oil, added before you heat the mixture will almost eliminate it. On the downside, some food scientists worry that the small amount of butter could cause the batch to spoil sooner. I suspect this particular group of scientists probably still live at home...
Remove it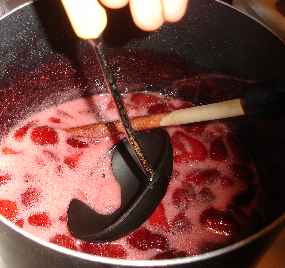 When I forget to add the butter (about 50% of the time), I just wait till I remove the jam from the heat, let it sit for a minute or two and then skim the foam off with a ladle.
I save the foam in a microwavable container. See below for why!
What can I do with the foam?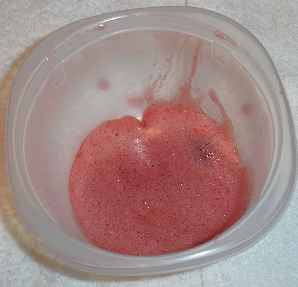 When I am done making jam for the day, I usually have about 1 cup of congealed foam. Looks a lot like a healthy lung. That's not very appealing to most people, so....
J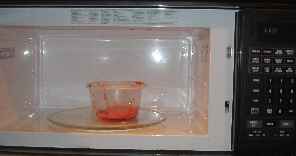 ust pop it into a microwave for 30 to 60 seconds or so on high. Be sure to watch it the entire time, or it may boil over. You want to get it hot again and to boil up a bit.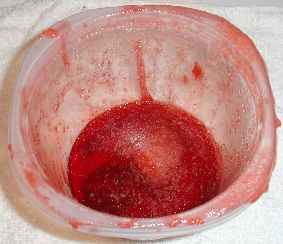 Once you remove it and it cools, it will look, act and taste like regular jam again! Rather than attempting to put this back into a batch for canning, this is the jam I stick in the fridge to use fresh!
Blake's Easy and Illustrated Jam and Ice Cream Directions
I've got some other pages for specific types of jam, too:
Electric and Manual ice cream makers that require ice and salt:

NEW! How to make Gelato
Coming in September: How to make frozen yogurt
Coming in September: How to make sorbet

Electric ice cream makers that have a bowl that must be frozen in your freezer:

NEW! How to make Gelato
Coming in September: How to make frozen yogurt
Coming in September: How to make sorbet

Ice cream makers and manuals



Home Canning Kits

See the seller's website for more information, features, pricing and user reviews!

This is the same type of standard canner that my grandmother used to make everything from applesauce to jams and jellies to tomato and spaghetti sauce. This complete kit includes everything you need and lasts for years: the canner, jar rack, jar grabber tongs, lid lifting wand, a plastic funnel, labels, bubble freer, and the bible of canning, the Ball Blue Book. It's much cheaper than buying the items separately. You will never need anything else except jars & lids (and the jars are reusable)! There is also a simple kit with just the canner and rack, and a pressure canner, if you want to do vegetables (other than tomatoes). To see more canners, of different styles, makes and prices, click here!



Canning books

Canning & Preserving for Dummies
by Karen Ward


click here for more information, reviews, prices for Canning and Preserving For Dummies






The All New Ball Book Of Canning And Preserving: Over 350 of the Best Canned, Jammed, Pickled, and Preserved Recipes Paperback

This is THE book on canning! My grandmother used this book when I was a child. It tells you in simple instructions how to can almost anything; complete with recipes for jam, jellies, pickles, sauces, canning vegetables, meats, etc. If it can be canned, this book likely tells you how! Click on the link below for more information and / or to buy (no obligation to buy)

Click here for more information about the
Ball Blue Book of Preserving



Summary - Typical Cost of Making Homemade Jam - makes 8 jars, 8 oz each**

Item
Quantity
Cost in 2022
Source
Subtotal
Berries (strawberries)
1 gallon
$8.00/gallon
Pick your own
$8.00
Canning jars (8 oz size), includes lids and rings
18 jars
$/dozen 8 oz jars
Grocery stores, like Public, Kroger, Safeway and sometimes, Big Lots, local hardware stores and big box stores
$10.00
Sugar
4 cups
$2.00
Grocery stores, like Public, Kroger, Safeway and sometimes, Big Lots, local hardware stores and big box stores
$2.00
Pectin (low sugar, dry)
1 and a third boxes *
$2.00 per box
Grocery stores, like Public, Kroger, Safeway and sometimes, Big Lots, local hardware stores and big box stores
$2.70
Total
$22.70 total
or about $1.25 per jar
* pectin use varies - blackberry jam needs very little, raspberry a little more, strawberry the most.

** - This assumes you already have the pots, pans, ladles, and reusable equipment. Note that you can reuse the jars and reduce the cost further; just buy new lids (the rings are reusable, but the flat lids are not)!
Can't find the equipment? We ship to all 50 states!
Why should cooked jelly be made in small batches?
If a larger quantity of juice is used, it will be necessary to boil it longer thus causing loss of flavor, darkening of jelly, and toughening of jelly. It really doesn't work. Trust me; I've tried many times!
Can I use frozen berries instead of fresh?
Yep! Raspberries can be particularly hard to find fresh and are expensive! Frozen berries work just fine, and measure the same. Just be sure to get the loose, frozen whole fruit; not those that have been mushed up or frozen in a sugar syrup!
Should jelly be boiled slowly or rapidly?
It should be boiled rapidly since long, slow boiling destroys the pectin in the fruit juice.
What do I do if there's mold on my jellied fruit product?
Discard jams and jellies with mold on them. The mold could be producing a mycotoxin (poisonous substance that can make you sick). USDA and microbiologists recommend against scooping out the mold and using the remaining jam or jelly.
Why did my jellied fruit product ferment, and what do I do?
Jellied fruit products may ferment because of yeast growth. This can occur if the product is improperly processed and sealed, or if the sugar content is low. Fermented fruit products have a disagreeable taste. Discard them.
---
This page was updated on
---
Picking Tips
[General picking tips and a guide to each fruit and vegetable] [How much do I need to pick? (Yields - how much raw makes how much cooked or frozen)] [Selecting the right varieties to pick] [All about apple varieties - which to pick and why!] [Picking tips for Vegetables] [ Strawberry picking tips] [ Blueberries picking tips]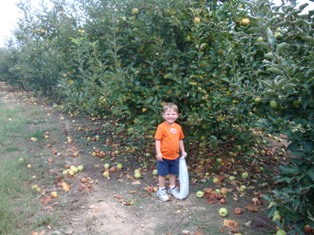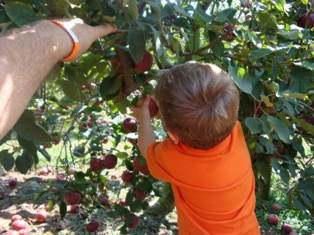 Illustrated Canning, Freezing, Jam Instructions and Recipes
[ All About Home Canning, Freezing and Making Jams, Pickles, Sauces, etc. ] [FAQs - Answers to common questions and problems] [Recommended books about home canning, jam making, drying and preserving!] [Free canning publications to download and print]