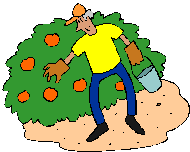 Looking for Vacuum Food Sealers in 2019? Scroll down this page and follow the links. And if you bring home some fruit or vegetables and want to can, freeze, make jam, salsa or pickles, see this page for simple, reliable, illustrated canning, freezing or preserving directions. There are plenty of other related resources, click on the resources dropdown above.
If you have questions or feedback, please let me know! There are affiliate links on this page. Read our disclosure policy to learn more.
Vacuum Food Sealers
Ordering Vacuum Food Sealers, Food Savers
One of the best ways to preserve food is freezing. Freezing keeps the flavor and texture better than any other method available to home cooks. However, freezer burn, the dehydration of frozen foods causes a lot of waste. The best way to prevent it and make your frozen foods last longer and taste better, is to remove as much air as possible, and to use thick plastic containers. Vacuum food sealers, like the FoodSaver brand do this, and I've been using them for over 25 years.
Here are a variety of food sealers, at the best prices I could find. Scroll down this page for photos, descriptions, prices and ordering information. See this page for Canners (all types).
Everything can be shipped by a variety of methods, including overnight, if you have a canning emergency!
For more information, and NO obligation to buy, just click on the links in the boxes on the left!
Food Sealers for Home Freezing
FoodSaver V2244 Advanced Design Vacuum Sealer, Black
by FoodSaver
This model foodsaver is entry level, works great, but it is less automatic that the following models.
FoodSaver V2840 Advanced Design
This one is the least expensive of the Food Saver models that has all the advamced features, like automatic bag detection and sealing, which makes it faster and easier to seal. And yes, you can seal and freeze foods with liquids (just freeze the unsealed bag in the freezer overnight, THEN seal it!)
FoodSaver FreshSaver FSFRSH0051 Handheld Vacuum Sealing System
This is their low-priced version. Better suited toward re-usable storage, such as in the fridge, when you will be getting into the bag and resealing it. It's new
SC Johnson #70055 Ziploc Vacuum Pump/Bags
Ziploc Vacuum Pump & Bags, For Vacuum Storage To Keep Frozen Food Fresh Longer & Prevent Freezer Burn, Blake: I really like this one. I use it for shirt term storage in both the fridge and freezer. I put a half an avocado in 3 days ago, and the cut surface of the avocado is still bright green! I still like my FoodSaver better for long term freezer storage, but this is perfect for short term because the bags are reuseable and resealable!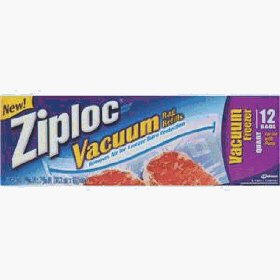 Ziploc Vacuum Pump Refill Bags, Quart Size, 12 Count

12 Count, Ziploc Quart Vacuum Refill Bags, Bags For Use With Ziploc Vacuum MFG #70055, Zipper Seal With Built-In Valve.

You can also get them a local big box type stores (including <gasp> the mart that sells walls! But, this online price is usually even better!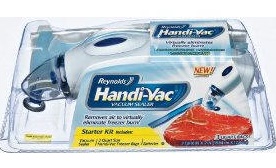 Reynolds Handi Vac Starter Kit
UPDATE: It appears as this one has been discontinued!
Contrasted with the FoodSaver models is the Reynolds Handi-Vac which is very inexpensive. I haven't tested it yet, but it gets rave reviews. (Click on the box at left for more information, to read the reviews, or to order). It works with ordinary zip-loc type bags.
FoodSaver V2460 Advanced Design Vacuum Food Sealer
Various models with options,
(click links at left for current price or more information)
FoodSaver Rolls and Bags
FoodSaver Quick Marinator 2-1/4-Quart Square Canister (Colors will vary)
FoodSaver Quick Marinator Canister i
Quart and gallon sized bags
Can be used in the freezer or refrigerator
Microwavable, boilable and dishwasher safe
FoodSaver 3-Piece Canister Set

Canning Jars
Canning jars delivered to your doorstep and guaranteed! Any size you need. , From quarts on the left, pints in the middle, to 8 ounce jars on the right. Click on the links below
Quilted Canning jars: 4 oz glass jars
8 oz canning jars shown below:
Quilted 4 oz jars below:
Books
Canning books
Canning & Preserving for Dummies by Karen Ward

The All New Ball Book Of Canning And Preserving: Over 350 of the Best Canned, Jammed, Pickled, and Preserved Recipes Paperback
This is THE book on canning! My grandmother used this book when I was a child. It tells you in simple instructions how to can almost anything; complete with recipes for jam, jellies, pickles, sauces, canning vegetables, meats, etc. If it can be canned, this book likely tells you how! Click on the link below for more information and / or to buy (no obligation to buy)
click here for more information about the
Ball Blue Book of Preserving
<![if !vml]>
<![endif]>
Complete Guide to Home Canning and Preserving
by United States Dept. of Agriculture
This is guide fromthe USDA is a nicely bound and published versrion of the recipes dveeloped over the past 100 years, updated and lab tested.