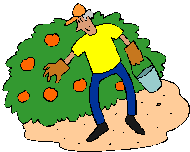 Looking for Listing of Links to Harvest Calendars for Crop Availability in United States, state by state and many other countries in 2017? Scroll down this page and follow the links. And if you bring home some fruit or vegetables and want to can, freeze, make jam, salsa or pickles, see this page for simple, reliable, illustrated canning, freezing or preserving directions. There are plenty of other related resources, click on the resources dropdown above.
If you have questions or feedback, please let me know!
Notes for December 2017: Frosts and freezes are upon us in many areas, and one field may be unhurt while one a mile a way can be damaged, so keep that in mind as you read the following: Apples are in season now, as are figs, and Fall raspberries are in season now. Tomatoes are going strong if frost hasn't happened in the field Late Apples, like Fuji's should be plentiful now. You can see a complete list of apple varieties, their ripening dates and best uses here. And if you have a left over pumpkin, you can easily turn it into a Thanksgiving pie, pumpkin cheesecake, cookies, muffins and more, see this page!
And of course you can find Christmas tree farms, on our related website.
Children's Consignment Sales occur in both the Spring and Fall See our companion website to find a local community or church kid's consignment sale!
Next year, don't miss an Easter Egg Hunt for your children: See our companion website to find a local Easter Egg hunt!
We also have home canning, preserving, drying and freezing directions. You can access recipes and other resources from the drop down menus at the top of the page or the site search. If you have any questions or suggestions, feel free to write me! It is easy to make your own ice cream, even gelato, or low fat or low sugar ice cream - see this page. Also note, there are many copycat website listing U-pick farms now. They have all copied their information form here and usually do not ever update. Since 2002, I've been updating the information every day but Christmas; so if you see anything wrong, please write me!
-->
Listing of Links to Harvest Calendars for Crop Availability in United States, state by state and many other countries
Crop Availability / Harvest Calendars by Country and State or Province
To find out when a specific fruit or vegetable is normally ready for harvesting / picking in your area, click on your country or state below!, then scroll down that page!
I have free illustrated directions on making and canning jam, pickles, spaghetti sauce, salsa, ketchup, corn. for you on the website. And if you are looking for Canners, mixes, jars, pectin and other canning supplies at the best prices anywhere! The sale of these products is what enables me to keep the site running and up to date. And I've also tried to find the best quality, most reliable vendors and best prices for you, too!
In the table above is the free listing of pick-your-own farms in almost every state in the United States and 5 other countries. If I haven't included your state or country, email me any information you have about pick your own farms and orchards in your state and I'll add it! See How to Add a Farm to PickYourOwn.org