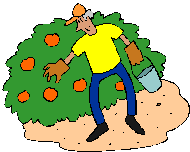 Rhubarb U-Pick Orchards in Worcester County, Massachusetts in 2023, by county
Below are the U-Pick orchards and farms for rhubarb that we know of in this area. Not all areas of any state, nor even every state, have rhubarb orchards that are open to the public. If you know of any others, please tell us using the add a farm form!
Worcester County
George Hill Orchards, Inc - Minimizes chemical and pesticide use, apples, blackberries, blueberries, grapes, nectarines, peaches, plums, pumpkins, rhubarb, gift shop, snacks and refreshment stand, restrooms, picnic area, face painting, pony rides, petting zoo, farm animals, birthday parties, weddings and wedding parties, school tours, events at your location (call for info)
582 George Hill Road, South Lancaster, MA 1561. Phone: 978-365-4331. Open: Check our website for PYO harvest conditions and hours. Directions: From Route 495, take exit 27 \(Bolton Stowe\). Take Route 117 \(west\) and drive 5.5 miles. Turn left onto Langen Road and drive 1.7 miles. Turn right onto George Hill Road. George Hill Orchards is up the hill on the left side. . Click here for a map and directions. Payment: Cash, Check, Visa, MasterCard, Discover. . Alternate Phone: 800-699-4331. Picking updates: Click here for picking updates. From Route 495, take exit 27 (Bolton/ Stowe). Take Route 117 (west) and drive 5.5 miles. Turn left onto Langen Road and drive 1.7 miles. Turn right onto George Hill Road. George Hill Orchards is up the hill on the left side. Check out our website for upcoming festivals, activities and harvest dates. We minimize use of pesticides and other chemicals. (UPDATED: April 26, 2022, JBS)
Comments from a visitor on September 02, 2011: (positive) "This is the most amazing fall family experience! They have awesome parking (not far away from everything like some orchards). You take a hayride (free) out to the orchards, and it's a really pretty ride. You get off at whatever spot you want and then just wait when you're done for a wagon to come by. We went all the way to the Fram House Grille, where there was a band playing outside and people were sitting at picnic tables. Inside, the Grille is decorated like an outdoor farm (very kid friendly). My only complaint is that it was kind of dark inside. There are nice clean indoor bathrooms there! The food is really good and cheap too! We actually were able to eat a whole meal, and my son colored at the kids table with provided pages and crayons while we chatted. The macintosh apples were right there next to the Grille, so we picked our apples and headed back on the wagon. We of course stopped at their gift shop and discovered homemade cider and hot apple cider donuts (again, really resonably priced). Every staff person was friendly and seemed happy to be there. This was our first trip to this orchard but we will be back every year now!!"
Tougas Family Farm - Apples, blackberries, blueberries, cherries, flowers, nectarines, peaches, plums, pumpkins, raspberries, rhubarb, winter squash, strawberries, pumpkin patch-pick in the field, pumpkin patch- already gathered from the field and prepicked produce, snacks and refreshment stand, restrooms, picnic area, tractor-pulled hay rides, wagon rides, face painting, petting zoo
246 Ball Street, Northboro, MA 1532. Phone: 508-393-6406. Email: tougasfarm@tougasfarm.com. Open: From May through Halloween, Hours vary by season; Always call or check picking conditions on our web site. Directions: From I290 take exit #24 \(Church St\), turn towards Bolyston, follow signs up Ball St 1.5 miles . Click here for a map and directions. Payment: Cash, Check, Visa, MasterCard, Discover. . picking stand: 508-393-6470. Fax: 508 393 1834. . From I290 take exit #24 (Church St), turn towards Bolyston, follow signs up Ball St 1.5 miles Click here for picking updates. We have been declared a "Family Friendly" business, in addition to fruit to pick we operate a farm kitchen which features fresh fruit desserts, ice cream, baked goods and light lunch. Barnyard animals and a "Farmyard" playground keep the kids happy.Note: visitors (September 22, 2008) reported that there are purchase requirements in order to enter the orchards. Be sure to verify their website (see this page) for the costs and current picking conditions. For photos and a blog from one visitor to the farm, see this page.
Comments from a visitor on October 11, 2010: (neutral) "Yes, this farm is well run and has everything--animals, hay/wagon rides, food, and good PYO fruit, however, it will be a long time before I go back, especially for apples. It is SO crowded, the lines are ridiculously long, and the prices are sky-high. If you want to take your kids, they each have to get a tote or tray (applies or strawberries) for a flat rate; you could easily drop 50 bucks, and you feel like you're at a theme park, not the country. Choose one of the smaller, less popular farms if you want a lovely, reasonably priced PYO experience."
Comments from a visitor on August 23, 2010: (positive) "We love to visit pick your own farms. I have been going to Tougas since I was a kid and take my son several times a year. We love to pick strawberries, cherries, and peaches and enjoy their cider donuts and playground. They are very kid friendly but do get extremely busy on weekends particularly in the fall.
Rhubarb Picking Tips, Recipes and Information
Rhubarb is a cool weather crop, which appears in the late Spring. The stalks are the edible portion, never eaten raw (too acidic), but cooked and sweetened, they have a flavor much like strawberries.
The stalks that grow from energy stored in the roots the previous year are the part that is harvested. After picking stalks for a few weeks, the plants must be left for the rest of the growing season to recover and save energy for the next year.
Strawberries are usually ripe about the same time as rhubarb, and since the two flavors compliment each other so well, many recipes combine them. One thing rhubarb does not like: prolonged periods of hot, humid weather. It is really difficult to grow rhubarb in the deep South (unless you plant it as an annual, planting new roots early each Spring).
Rhubarb Recipes, Canning and Freezing Rhubarb
Picking Rhubarb
Most people prefer smaller stems (12 inches to 18inches long. The larger, fatter stems can be tough and fibrous, which is worse during summer heat and drought.
Tips on How to Pick Rhubarb
Pick only the best Rhubarb: Select firm stalks, nothing wilted.
Grasp the stalk near the base of the plant
Twist the the stalk in a rotating motion gently, but firmly until you feel; the stalk separate. Or, if the farm prefers, cut the stalks an inch or two above the base.
Do not remove more than one third of the leaves from a plant at one time. Immediately remove the poisonous leaves from the stalk, discard them in the walkway.
Rhubarb Facts, Measurements and Tips
Before you leave to go to the farm:
Always call before you go to the farm - Rhubarb are affected by weather (both rain and cooler temperature) more than most crops. And when they are in season, a large turnout can pick a field clean before noon, so CALL first!
Leave early. On weekends, then fields may be picked clean by NOON!
Some growers furnish picking containers designed for Rhubarb, but they may charge you for them; be sure to call before you go to see if you need to bring containers.
Plastic dishpans make good containers.
Bring something to drink and a few snacks; you'd be surprised how you can work up a thirst and appetite! And don't forget hats and sunscreen for the sun. Bugs usually aren't a problem, but some deet might be good to bring along if it has been rainy.
When you get home
Refrigerate, they will stay good for about a week or two, but the fresher, the better.
Do not wash the stalks, just wrap in plastic wrap. .
Freeze any that you do not plan to use within a week. It is easy to blanch and freeze rhubarb. See this page.
Growing your own Rhubarb
Before planting, eliminate all weeds, especial persistent invasive weeds, like Bermuda grass, nutsedge, etc.
Choose a site that is sunny, well-drained, with a loose loamy soil. Rhubarb does not like the shade nor sitting in water.
Plant rhubarb crowns in early spring as soon as the ground can be worked.
Some varieties of Rhubarb can be planted in the fall after they have gone dormant. (check with the nursery)
Dig large holes and work in compost. Rhubarb plants are heavy feeders.
Space rhubarb plants about 3 or 4 feet apart and plant the crowns 1 to 2 inches below the surface of the soil.
Mulch with a heavy layer of straw, compost and rotted manure
Water and weed your plant well.
Remove seed stalks as soon as they appear.
Rhubarb Varieties
There are two common types of rhubarb, those with bright red stalks (like Crimson Red) and those whose stalks are mostly green. They taste about the same, but most people prefer the red.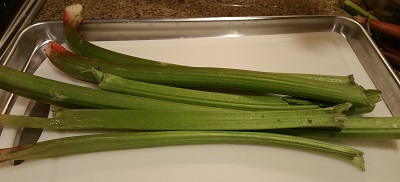 I ahve usually bought my crowns from Indian Berry; I've found them to be reliable and provide large crowns. (I have no affiliation with them)
Canada Red (extra sweet)
Cherry Red (red inside and out)
Crimson Red (slimmer diameter red stalks) (photo of plant above right)
MacDonald (tender skin; bright red)
Ruby
Valentine (good flavor)
Victoria (green with red tint - see photo at right)