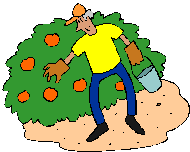 Looking for How to make the world's best rhubarb custard pie! EASY and illustrated instructions in 2023? Scroll down this page and follow the links. And if you bring home some fruit or vegetables and want to can, freeze, make jam, salsa or pickles, see this page for simple, reliable, illustrated canning, freezing or preserving directions. There are plenty of other related resources, click on the resources dropdown above. If you are having a hard time finding canning lids, I've used these, and they're a great price & ship in 2 days.
If you have questions or feedback, please let me know! There are affiliate links on this page. Read our disclosure policy to learn more.
How to make the world's best rhubarb custard pie! EASY and illustrated instructions
How to Make Great Homemade Rhubarb Custard Pie - Easily!
Click here for a PDF print version!
Want to make the best rhubarb custard pie you've ever had, and don't want to spend all day in the kitchen studying overly-complicated recipes? Anyway, this rhubarb custard pie is easy and tastes great. And it doesn't matter if you're not a chef or have never made a pie before! Following these illustrated directions ANYONE can cook a perfect rhubarb custard pie for any occasion! This recipe has been improved for 2014, so it's even better!
Ingredients and Equipment
(per 9 inch deep dish pie)
2 Tablespoons mini-ball tapioca
4 cups rhubarb (that's typically about a pound and a half of rhubarb stalks)
3/4 cup granulated sugar (ordinary table, organic, raw or even the same amount of honey) OR

for those on sugar-restricted diets: 1/4 cup sugar and 1/2 cup Stevia (in a prepared form like Truvia, it measures same as sugar; if you use another form, you will need do your own conversion) - or Splenda, if you prefer, works in pie recipes, but not by itself. The pie turns out heavy and with much less flavor; you can do it, if you must, but the results aren't as good).

1/2 teaspoon natural vanilla extract
1/2 teaspoon grated orange zest (fresh or dried) Just rub an orange against a fine cheese grater, to remove the thin outer layer of the peel. Or just buy the dried grate orange peel at the grocery store.
2 tablespoons orange juice
2 eggs (large) or 3 medium eggs
2/3 cup milk or light cream
9 inch flour dough pie crust OR graham cracker crust (grocery stores sell both disposable pie pans and glass pans. Get the deep dish type! If you'd rather make your own see below; they are MUCH better home made.
Step 1 - Make the pie crust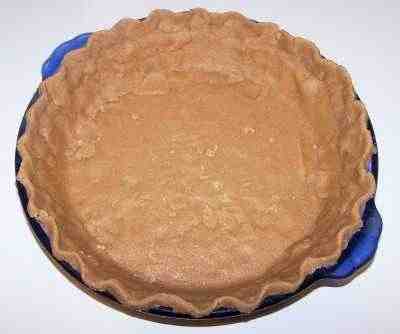 My family prefers the graham cracker crust shown at right, but you may certainly use a standard dough crust (shown at left), if that is your preference. If you want to make your own flour dough pie crust, see this page.
If you use a standard dough crust, press it into the pie pan, flute (pinch) the edges, and chill for 15 minutes. Then prick the bottom and sides with a fork, and then line the crust with aluminum foil. Pour in pie weights or dried beans and bake until the edges of the crust are just golden, and 15-20 minutes. Then gently lift out the foil with the pie weights and continue to bake until the bottom of the crust is dry and lightly browned, another 10 minutes or so. Cool completely.
If you want to try a graham cracker crust, but never made one before, they are really simple. Click here for instructions about making a graham cracker pie crust. It will open in a new window, so just close the new window to return here.
Step 2- Wash the rhubarb
Just wash them in cold water, no soap. .
This is a good time to get the oven preheating to 350 F
Step 3 - Cut up the rhubarb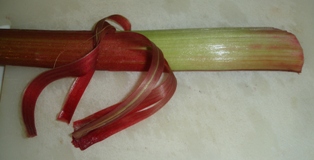 Rhubarb varieties differ - if the type you have has a tough outer skin, peel it off. You can tell if it is tough if it peels off easily as a thin skin.
You will then need to remove the ends of the rhubarb - the tough part that connects to the plant (as show at left) and then dice the stalks into 1/2 inch pieces.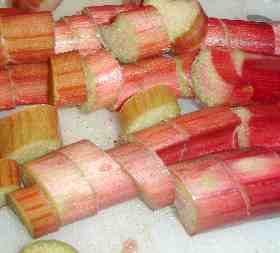 Step 4 - Mix the orange zest, orange juice, 1/4 cup sugar and rhubarb
In a large bowl, combine
chopped rhubarb
3 Tablespoons tapioca
1/4 cup granulated sugar
1/2 teaspoon grated orange zest
2 tablespoons orange juice
Then spread the mixture evenly in the pie crust, and place the pie pan on a cookie sheet or baking sheet (and set it aside on the counter)
Step 5 - Prepare the custard
Combine (a whisk or whip works well) the remaining ingredients in a large bowl (you can use the same one from the previous step):
Step 6 - Pour custard over the chopped rhubarb in the crust
Justy pour the custard mix even into the pie crust
Step 7 - Put the pie in the oven!
Bake until the pie for about 60 to 90 minutes - check and remove when it is lightly browned, raised up and just firmed up in the center. The remove from the oven and let it cool to room temp, then refrigerate to allow it to firm up! Or eat it warm with vanilla ice cream!