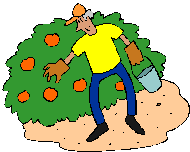 Looking for Apple Picking Tips in 2023? Scroll down this page and follow the links. And if you bring home some fruit or vegetables and want to can, freeze, make jam, salsa or pickles, see this page for simple, reliable, illustrated canning, freezing or preserving directions. There are plenty of other related resources, click on the resources dropdown above. If you are having a hard time finding canning lids, I've used these, and they're a great price & ship in 2 days.
If you have questions or feedback, please let me know! There are affiliate links on this page. Read our disclosure policy to learn more.
What's in season in November 2023, and other timely information:
Notes for November 2023: Summer is almost over and that means apples are here (see this new page for Apple Orchards in your area!), and except in northern areas, peaches and blueberries are finished. Some crops continue until frost, like raspberries, blackberries, figs, corn and tomatoes. Check your area's specific crop calendar (see this page) and call your local farms for seasonal updates.
See these pages to find a local Apple festival, and other festivals. We have a extensive guide to apple varieties and a guide to peach varieties. Also recipes, canning and freezing directions for apples, tomatoes, corn blueberries, peaches, etc.
And don't forget CORN MAZES are open now - find a local maze here.
See our comprehensive list of easy home canning, jam and jelly making, preserving, drying and freezing directions. You can access recipes and other resources from the drop down menus at the top of the page or the site search. If you have any questions or suggestions, feel free to write me! It is easy to make your own ice cream, even gelato, or low fat or low sugar ice cream - see this page. Also note, there are many copycat website listing U-pick farms now. The worst is the one that stole our name but ends with .farm. (Yes, I've got lawyers on it) They have all copied their information from here and usually do not ever update. Since 2002, I've been updating the information every day but Christmas; so if you see anything wrong or outdated, please write me!
Children's Consignment Sales are a great way to save money on clothes, toys, books, etc, They occur in both the Spring and Fall See our companion website to find a local community or church kid's consignment sale!
Picking Apples: Tips and Tricks to Getting the Best Apples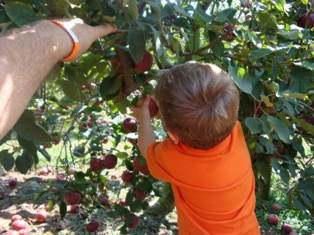 Apples are one of the easiest fruit to pick and use. They're big, not easily bruised, most varieties store well, they can be eaten fresh, cooked, canned, frozen and made into many tasty and healthy dishes. Apples are fat-free, low sodium, and cholesterol-free. A bushel weighs between 42 and 48 lbs and typically has 85 to 95 apples, depending on their size. And if you're looking for many, many facts about apples, see this page!
Where to find an Apple Orchard
See these pages to find a local pick your own apple orchard!
[ Alabama ] [ Alaska ] [ Arkansas ] [ Arizona ] [ California ] [ Colorado ] [ Connecticut ] [ Delaware ] [ Florida ] [ Georgia ] [ Hawaii ] [ Idaho ] [ Illinois ] [ Indiana ] [ Iowa ] [ Kansas ] [ Kentucky ] [ Louisiana ] [ Maine ] [ Massachusetts ] [ Michigan ] [ Minnesota ] [ Mississippi ] [ Missouri [ Montana ] [ Nebraska ] [ Nevada ] [ New Hampshire ] [ New Jersey ] [ New Mexico ] [ New York ] [ North Carolina ] [ North Dakota ] [ Ohio ] [ Oklahoma ] [ Oregon ] [ Pennsylvania ] [ Rhode Island ] [ South Carolina ] [ South Dakota ] [ Tennessee ] [ Texas ] [ Utah ] [ Vermont ] [ Virginia ] [ Washington State [ West ] [ Wisconsin ] [ Wyoming ]
Picking tips: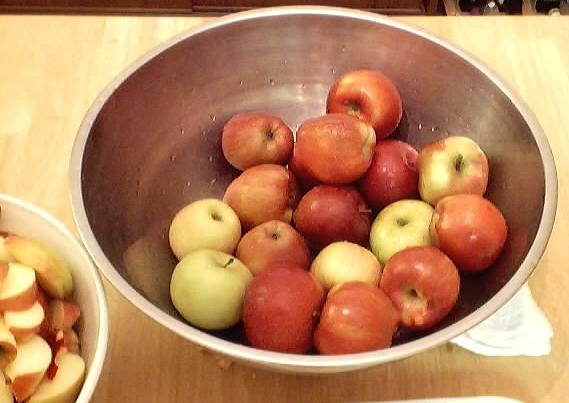 Most modern apple orchards have dwarf trees that are very close to the ground - my 3 year old found it easy to pick apples! (photo above and below)
Select firm, bruise-free apples. The color can be anything from dark green, to yellow, pink, orange, bright red, dark red or even a combination. It all depends on the variety. And color is not really how you tell when an apple is ripe. Apples should be crisp and firm.
The key will be to ask the farmer which are ripe. He will know because it is calculated from the number of days since the trees flowered. And he will track that date carefully , if he's a good apple grower!
The farmer will also know what characteristics to look for in the particular varieties that he is growing.
When are apples ripe - how to tell!
Apples ripen from the outside of the tree towards the center, so the apples out the outside of the tree will ripen first. Once they are picked, they stop ripening. Picking apples directly from a tree is easy. Roll the apple upwards off the branch and give a little twist; don't pull straight away from the tree. If two apples are joined together at the top, both will come away at the same time. Don't shake the trees or branches. If the apple you are trying to pick drops, (or others on the tree) go ahead and pick it up. They're perfectly fine! But do wash them before you eat them!
See this page for a much more detailed explanation about how to tell when apples are ripe and ready to pick.
A visitor who grew up on an orchard says to try to leave the stem on the apples. He says that helped them store longer!
You may have read on a website somewhere that you can buy unripe apples and ripen them at home. Nope, not really. See this page for an explanation along with references and links to sources.
It's all about the variety!
Of the apple, that is. You really need to choose the type of apple that is best suited for your purpose. Apples can be suited for eating fresh, cooking, baking, applesauce, storing, etc. I have a fairly extensive guide to apple varieties here!
More Tips
Once picked, don't throw the apples into the baskets, place them in gently, or they will bruise and go bad more quickly.
Don't wash apples until just before using to prevent spoilage.
For an explanation of why apple slices turn brown and how to stop it, see this page!
Keep apples cool after picking to increase shelf life. A cool basement is ideal, but the fruit/vegetable drawer of a refrigerator will work, too. Kept cool, fresh-picked apples will generally keep weeks, but it DOES depend on the variety. Red and Yellow Delicious apples do not keep well, for example; but Fuji and Rome, do!
High humidity helps to to keep the apples from shriveling, but don't let them get actually wet. A wet towel placed nearby helps to keep the humidity up. A refrigerator is fine for small quantities of apples. Boxed apples need to be kept in a cool, dark spot where they won't freeze. Freezing ruptures all of an apple's cells, turning it into one large bruise overnight. The usual solution is to store apples in a root cellar. But root cellars often have potatoes in them: apples and potatoes should never be stored in the same room because, as they age, potatoes release an otherwise ethylene gas, which makes apples spoil faster. If you can keep the gas away from your apples, they will keep just fine. Just don't store them right next to potatoes.
Prevent contact between apples stored for the winter by wrapping them individually in sheets of newspaper. The easiest way to do this is to unfold a section of newspaper all the way and tear it into quarters. Then stack the wrapped apples
Apples don't improve or "ripen" after being picked - this is an urban myth - see this page for the truth - with references!
Nutrition and miscellaneous facts: One-half cup of apples is only 42 calories. Apples contain no cholesterol or fat and are also low in calories. Apples are high in dietary fiber, Vitamin A and niacin. They contain iron and other trace minerals and are a fair source of Vitamin C.
Apples are ranked No. 1 in antioxidant activity compared with 40 other commercially available fruits and vegetables. That means a serving of apples has more of the antioxidant power you need to fight aging, cancer and heart disease.
Put this in your pipe! Indians in the Northwest Territory smoked wild apples to preserve them for the winter. (Bet you didn't know that!)
Choosing and storing apples
Using fresh apples and miscellaneous
Canning apples - fully illustrated, with step-by-step instructions
Recipes, illustrated with step by step instructions
---
Weights and Approximate Typical Processed Yields of Apples
If you have this much fresh apples:

You should get this much...

Commonly made products

Canned or frozen (quarts)

Canned or frozen (pints)

1 bushel
(42-48 lbs)
(85 to 95 apples)

1 bushel = 12 to 15 qt. canned applesauce (no sugar added), 14 - 18 with sugar

1 bushel = 10 to 12 qt. juice

12 - 16 quarts

28 - 36 pints

3 lbs.

1 quart applesauce

1 quart

2 pints
8 medium apples = 2.25 lbs
1 nine-inch apple pie
or
3 cups of applesauce
1 peck = 10 to 14 lbs
1 peck makes = 3 or 4.5 qts. canned applesauce (no sugar added), 3.3 to 5.5 with sugar

1 peck makes 2.5 to 3.5 qt. juice

3 or 4.5 qts. canned applesauce
1/2 peck = 5 to 7 lbs
Eat them fresh. Too few to make anything
---
Apple Festivals
Here is a
list of major apple festivals
in the U.S., Britain, Australia and other countries. If you know of any more, please write me!
Feedback
---
Want to Grow Your Own Apples?
I do and it's easy and fast. Apple trees I planted in my yard two years ago are bearing several dozen fruit each this year! Here's a guide to selecting a variety to grow and how!
Looking for Apple Cider?
And a fun tour? Check out Cider Mills.com! They list the cider mills where you can go for a tour (and tasting! yum!)
---
Current Season (2023) Apple News
The U.S. Apple Association's estimate of the size of the 2014 United States apple crop is 263.8 million bushels. The USDA's August 12th estimate was for 259.2 million bushels.
See this page for much more detailed information about the apple crop and apple production trends.