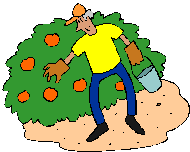 Peas - Picking Tips and Facts
Peas Picking Tips
Peas (English, Snap peas, Snow Peas, Crowder Peas, etc.) are very easy to grow. They thrive even in poor soil. In fact, as a legume, pea plants are able to take nitrogen from the air and fix it in nodules in their roots with bacteria to enrich the soil. Whether you grow them yourself or pick them at a PYO farm, or buy them at the market, they're available fresh almost everywhere.
Here's what to look for!
English peas
Pick English Peas when the pod is full and green and the peas are still tender and sweet. Test for maturity frequently by picking a couple of pods and examining them for firmness. Harvest the Chinese and snow peas, which are eaten pod and all, when the pods are 1-1/2 to 2 inches long and the peas are about the size of BB's. The pods are usually picked 5 to 7 days after flowering.
Snap Peas - aka, edible-podded peas
Similar to English peas, except the pod itself is also sweet and tender, like the peas inside.
Snow peas, aka Chinese peas
Like snap peas, the pod is edible, except you want to pick them while they are still flat, before the pod starts to swell with peas inside. Harvest Chinese and snow peas, which are eaten pod and all, when the pods are 1-1/2 to 2 inches long and the peas are about the size of BB's.
Specialty Peas
There are many varieties, like purple hulled peas, crowder peas, black-eyed- peas. Each has their followers!
When are peas available?
Peas are a cool, even cold weather crop, and can tolerate frost and cold soil. In the U.S. Peas typically peak during February (in the Deep South) through October in the North. Peak season is February through June before the weather gets hot. Some farms plant a Fall crop too, as they only take 45 to 60 days from the time the seed is planted!
Before you leave to go to the farm:
Always call before you go to the farm - it's hard to pick in a muddy field!
Most growers furnish picking containers designed for Peas, but they may charge you for them; be sure to call before you go to see if you need to bring containers.
Bring something to drink and a few snacks; you'd be surprised how you can work up a thirst and appetite! And don't forget hats and sunscreen for the sun. Bugs usually aren't a problem while the weather is still cool, but some deet might be good to bring along if it has been rainy.
General Picking Tips
Whether you pick Peas from your garden or at a Pick-Your-Own farm, here are a few tips to keep in mind.
Look for Peas that are :
firm
Bright green (not yellowish!)
smooth, shiny pods, not wrinkly on the surface - that's an old or dried out pea.
The Peas in the photo at right are, from left:
- old and yellowing,
- overripe and lumpy; and
- dried out and damaged.
Avoid placing the picked Peas in the sunlight any longer than necessary. It is better to put them in the shade of a tree or shed than in the car trunk or on the car seat. Cool them as soon as possible after picking. I prefer to bring a cooler with ice in it. Peas may be kept fresh in the refrigerator for 3 or 4 days
It is best to shell English peas and either freeze them or use them promptly.
When you get home
Put them in the vegetable crisper in the fridge, in a loose plastic bag.
Now, get ready to can or freeze the extra Peas - It is VERY easy! Click on the links for easy instructions.