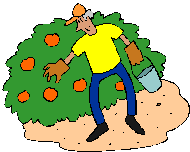 What's in season in August 2022, and other timely information:
Notes for August 2022: Summer is almost here and that means Strawberry season is upon us! It started in February in Florida, Texas, southern California; then March along the Gulf coast, April in the Deep South and west coast, May through much of the country, and June in northern areas. Cherries and Blueberries have started in the South typically are available in most areas by the end of June . Of course, cool weather crops, like Rhubarb, asparagus and greens should be available almost everywhere through June. Check your area's copy calendar (see this page) and call your local farms for seasonal updates.
See these pages to find a local Strawberry Festival, or a Cherry or cherry blossom festival or a Blueberry festival.
We also have easy home canning, jam and jelly making, preserving, drying and freezing directions. You can access recipes and other resources from the drop down menus at the top of the page or the site search. If you have any questions or suggestions, feel free to write me! It is easy to make your own ice cream, even gelato, or low fat or low sugar ice cream - see this page. Also note, there are many copycat website listing U-pick farms now. They have all copied their information from here and usually do not ever update. Since 2002, I've been updating the information every day but Christmas; so if you see anything wrong or outdated, please write me!
Children's Consignment Sales occur in both the Spring and Fall See our companion website to find a local community or church kid's consignment sale!
Local Weather Forecast
Please wait while the weather loads. Then enter your location (city and state, zip, city and country, etc.) in the box below: