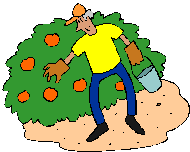 Looking for Cucumbers: Varieties, Picking Tips and Making Pickles in 2023? Scroll down this page and follow the links. And if you bring home some fruit or vegetables and want to can, freeze, make jam, salsa or pickles, see this page for simple, reliable, illustrated canning, freezing or preserving directions. There are plenty of other related resources, click on the resources dropdown above. If you are having a hard time finding canning lids, I've used these, and they're a great price & ship in 2 days.
If you have questions or feedback, please let me know! There are affiliate links on this page. Read our disclosure policy to learn more.
Cucumbers: Varieties, Picking Tips and Making Pickles
Cucumber Picking Tips and Pickling
How to pick cucumbers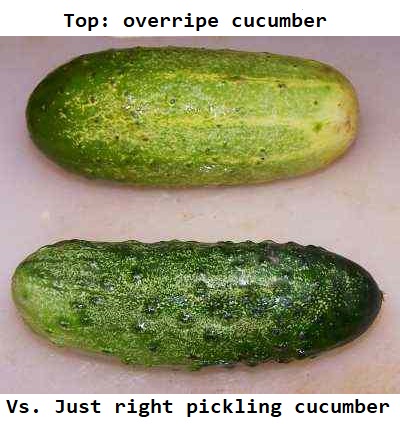 When it comes to selecting cucumbers at a farm, there are a few key tips to keep in mind to ensure you choose the best ones. Here are two to three paragraphs of guidance to help you make the right selection:

1. Look for firmness and texture: The first thing you should check is the firmness and texture of the cucumber. Gently squeeze the cucumber to determine its firmness. A good cucumber should feel firm but not rock-hard. Avoid cucumbers that are overly soft or mushy, as these are signs of deterioration. Additionally, examine the skin texture. It should be smooth and shiny, without any wrinkles or blemishes. A uniformly colored skin is also an indicator of a fresh cucumber .The top cucumber in the photo is an overripe pickling cucumber. The bottom cucumber is perfect!

2. Smaller size is better: Cucumbers come in various sizes and shapes, so it ultimately depends on your personal preference. However, there are a few general guidelines to follow.
Choose slicing cucumbers that are about 6 to 8 inches long, as they tend to have a better flavor and texture.
Burpless cucumbers may be much longer . Pickling cucumbers should be smaller, like 4 to 5 inches.
Avoid extremely large cucumbers, as they can be tough and have large seeds. In terms of shape, look for cucumbers that are straight and cylindrical. Avoid ones that are excessively curved or have bulges, as they may have developed irregularities during growth.

3. Look for dark color and freshness: The color of the cucumber can provide valuable information about its freshness. Ideally, cucumbers should have a vibrant green color, indicating that they are ripe and freshly harvested. Avoid cucumbers that have a dull or yellowish color, (like the top cucumber in the photo) as this could be a sign of overripeness or age. Additionally, check the stem end of the cucumber. It should be fresh-looking and not shriveled or dried out. A fresh cucumber will have a crisp snap when broken, while a stale one may feel limp or bend without resistance.
Cucumber Varieties
There are many types of cucumbers so it is important to select the right type for your purpose.

1. Pickling Cucumbers: Pickling cucumbers are specifically cultivated for making pickles. They are smaller in size, have a firm texture, and a slightly bumpy or knobby skin. Pickling cucumbers often have a more concentrated flavor, making them ideal for preserving in brine or vinegar. Gherkins are simply very small (1.5 to 2.5 inch long immature pickling cucumbers.

2. Slicing Cucumbers: Slicing cucumbers are the most common type of cucumber found in grocery stores. They are typically larger than pickling cucumbers and have a smooth, dark green skin. Slicing cucumbers are great for fresh eating and are often used in salads, sandwiches, or as a refreshing snack.

3.Burpless, English or European Cucumbers: English cucumbers are longer and thinner than slicing cucumbers. They have a mild, crisp taste and a thin, tender skin that does not require peeling. These cucumbers are often referred to as "burpless" due to their reputation for being less likely to cause indigestion or gas.

4. Persian Cucumbers: Persian cucumbers are similar to English cucumbers but slightly shorter and thicker. They have a sweet and crunchy flesh, and their skin is thin and edible. Persian cucumbers are popular in Mediterranean and Middle Eastern cuisine and are great for salads or as a healthy snack.

5. Lemon Cucumbers: Lemon cucumbers are small, round cucumbers that resemble lemons in shape and color. They have a mild, slightly sweet flavor and a thin, tender skin. Lemon cucumbers are often eaten fresh, added to salads, or pickled.

6. Armenian Cucumbers: Armenian cucumbers, also known as snake cucumbers or yard-long cucumbers, are long and slender with a twisted or curved shape. They have a thin, pale green skin and a crisp texture. Armenian cucumbers are often used in salads, sandwiches, or pickled.

7. Kirby Cucumbers: Kirby cucumbers are small, bumpy cucumbers that are popular for pickling due to their firmness and crunchy texture. They have a slightly bitter taste and are known for their ability to retain their shape and crunchiness during the pickling process.

These are just a few examples of cucumber types and varieties. Each has its own unique characteristics, so you can choose the one that best suits your culinary needs and preferences.
Cucumbers are not acidic so they ONLY way you may safely can them is as pickles: