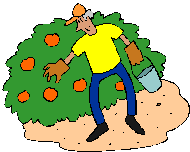 Citrus U-Pick Orchards in Desoto and Hardee counties, west Florida in 2023, by county
Below are the U-Pick orchards and farms for citrus that we know of in this area. Not all areas of any state, nor even every state, have citrus orchards that are open to the public. If you know of any others, please tell us using the add a farm form!
Desoto County
English Lake Farm - May, June; Blueberries - April, May, June; Persimmons - July, August; Citrus - November, December, Jan., Feb; Honeybells, Meyer Lemons,Ruby Red Grapefruit, Tangerines, Tangelos; Avocados - July, August.
7288 South West Lime Drive, Fort Ogden, FL 34267. Phone: 863-990-6164. Email: Englishlakefarm@aol.com. Open: Monday to Thursday, from 9am to 5pm; Friday, Saturday and Sunday, from 8am to 5pm. Directions: Call for detailed directions to the farm. Off of Highway 17, halfway between Punta Gorda and Arcadia; located in SW Florida in Ft. Ogden, off of Highway 17, halfway between Arcadia and Punta Gorda. Look for the little Post Office. For a map to our farm, . Click here for a map and directions. Payment: Cash, Check. . Alternate Phone: 863-494-0911. . Blueberries are available March 15th until June. It looks like this year's crop will be a great one and the peaches are also on the way to getting ripe. Come on out while the weather is still not too hot. We're looking forward to seeing all our old friends and to making a lot more! We also have a limited supply of raw Orange Blossom Honey as well as a selection of jams and jellies. We have for U-Pick: Peaches
Comments from a visitor on September 16, 2010: "I went there this summer on several occasions and even brought along a gaggle of friends, to pick the most delicious and BIG blueberries!! Farmer Walter and his lovely wife are still there. Additional veggies available in smaller quantities, just call and ask. SPOKE WITH WALTER TODAY: The next crop will be CITRUS (HONEYBELLS, MYER LEMONS, ETC) starting Dec.2010. Walter also grows lots of fun things like apples, watermelons, avocado, persimmon, peaches and sells trees too, during the season. Very close to Punta Gorda / Pt Charlotte. "

Sandhill Citrus

- U-Pick Citrus Grove
6014 County Road 760, Arcadia, FL 34266. Phone: 863-780-4302. Click here for a map and directions. . Does anyone have more information or current status? If so, please write me!
Warning
: include(../orchardfiles/citrus.txt): failed to open stream: No such file or directory in
/home/picky2/public_html/citrus-orchards/FLwest-DesotoHardee-citrus.php
on line
132
Warning
: include(): Failed opening '../orchardfiles/citrus.txt' for inclusion (include_path='.:/opt/cpanel/ea-php71/root/usr/share/pear') in
/home/picky2/public_html/citrus-orchards/FLwest-DesotoHardee-citrus.php
on line
132