Ingredients and Equipment


(per 8" by 11" pan)

Apples - about 12 medium or 10 large apples of fresh, sweet varieties: Red Delicious, Gala, Fuji, Jonagold, Jonathon. If you can't get any of these, then try McIntosh, Winesap, Honeycrisp, etc. You'll need 4 cups of apple slices, after peeling and coring.

3 Tbsp sugar or Stevia (in a prepared form like Truvia, it measures same as sugar; if you use another form, you'll need do your own conversion) - or Splenda, if you prefer,
3/4 cup oatmeal
1/4 cup flour


Seasonings:

1/4 tsp nutmeg 1/4 teaspoon ginger 1/4 teaspoon cinnamon
1/4 cup butter
1/2 cup chopped pecans, walnuts or hazelnuts

Step 1- Wash the apples

Just wash them in cold water, no soap. We're going to remove the skins anyway, so don't spend too much time on it. You can remove any stickers that the grocery store put on the apples, though. Peelers often get suck on those.
Step 2 - Peel the apples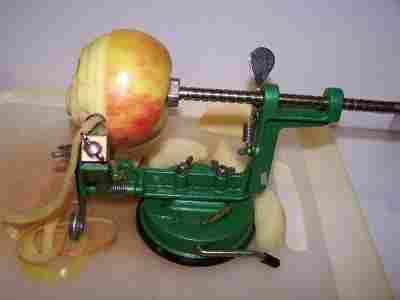 The fastest way to peel the apples is one of these peelers! With firm apples, it takes about 20 seconds per apple. These apple peelers don't work well on soft, mushy apples or apples with soft spots on them. In that case your stuck with a hand peeler!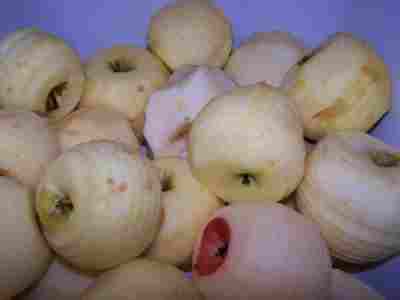 Once they're peeled, remove any remaining brown spots (see the photo at left - before removing the blemishes.)
Step 3 - Core and slice the apples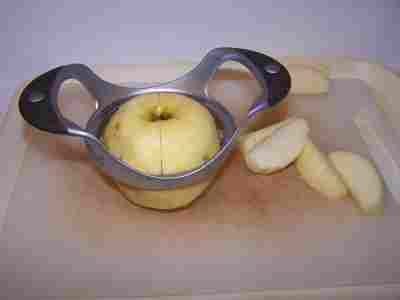 You can use a knife, but the $5 corer/slicer you see in the photo is available at any kitchen store (Bed, Bath and beyond, local "big box" stores, etc.), and is the fastest, easiest way. But any slices that are between ¼-inch and 1/2 inch thick will do.

Remove seeds, stems, any hard parts near the seeds and brown or soft spots.

Here are the apple slices, ready for the crisp!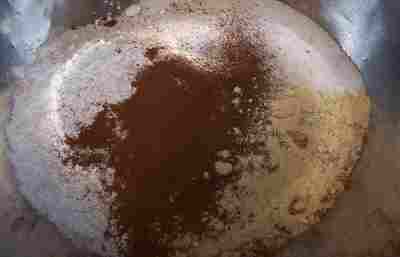 Step 4 - mix the sugar and seasonings.
Combine the sugar, flour and spices in a bowl.

And mix them well!
Step 5 - Add the butter
Cut the butter into the dry ingredients to create a crumb texture.
Step 6 - Put the spices on the apples
Place the apple slices in an 8" x 11" baking dish and cover with the crumb mixture.
Step 7 - Put the pan in the oven!
Bake at 375 degrees for 30 minutes. Serve warm or cold.
---
This page was updated on
---
Picking Tips
[General picking tips and a guide to each fruit and vegetable] [How much do I need to pick? (Yields - how much raw makes how much cooked or frozen)] [Selecting the right varieties to pick] [All about apple varieties - which to pick and why!] [Picking tips for Vegetables] [ Strawberry picking tips] [ Blueberries picking tips]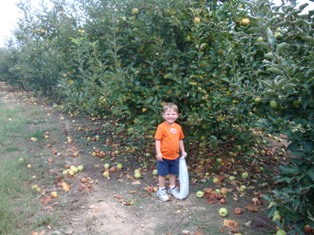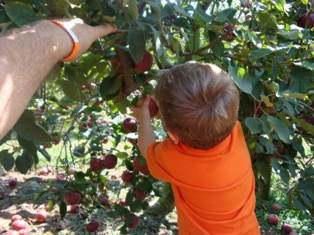 Illustrated Canning, Freezing, Jam Instructions and Recipes
[ All About Home Canning, Freezing and Making Jams, Pickles, Sauces, etc. ] [FAQs - Answers to common questions and problems] [Recommended books about home canning, jam making, drying and preserving!] [Free canning publications to download and print]
Home Canning Kits
This is the same type of standard canner that my grandmother used to make everything from applesauce to jams and jellies to tomato and spaghetti sauce. This complete kit includes everything you need and lasts for years: the canner, jar rack, jar grabber tongs, lid lifting wand, a plastic funnel, labels, bubble freer. It's much cheaper than buying the items separately. You'll never need anything else except jars & lids (and the jars are reusable)! There is also a simple kit with just the canner and rack, and a pressure canner, if you want to do vegetables (other than tomatoes). To see more canners, of different styles, makes and prices, click here!
Don't forget the Ball Blue Book!