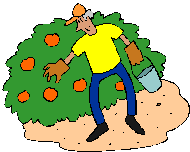 Apple U-Pick Orchards in Southwestern Missouri in 2023, by county
Below are the U-Pick orchards and farms for apples that we know of in this area. Not all areas of any state, nor even every state, have apples orchards that are open to the public. If you know of any others, please tell us using the add a farm form!
Remember to always check with the farm's own website or Facebook page before you go - or call or email them if they don't have a website or Facebook page. Conditions at the farms and crops can change literally overnight, so if you want to avoid a wasted trip out there - check with the farm directly before you go! If I cannot reach them, I DON'T GO!
PLEASE report closed farms, broken links and incorrect info using the "Report Corrections" form below.
Greene County
Sunshine Valley Farm - apples blueberries, prepicked produce, snacks and refreshment stand, restrooms, school tours
8125 East Ad Highway, Rogersville, MO 65742. Phone: 417-753-2698. Email: jan@sunshinevalleyfarm.com. Open: The Farmstand hours are Tuesday through Saturday from 8 am to 2 pm; the Blueberry u-pick hours are Tuesday, Thursday and Saturday from 8 am to 10 am, subject to availability; Market hours: Tuesday through Friday, 8 am to 5 pm; Saturday, 8 am to 3 pm; Sunday, noon to 3 pm. Directions: . Click here for a map and directions. Payment: Cash, only.
Sunshine Valley Farm Facebook page. . Crops are usually available in June, July, August. Click here for picking updates. . Blueberries: mid-June to mid-July. The bridge over James River on Highway 125 will be closed from June 1 to November 1, 2010. Come to the farm via Sunshine Street. We will be open normal hours. The ONLY pyo crops offered are blueberries and apples. has been providing delicious apples, blueberries, blackberries, raspberries and more for 30 years. Stop by the Farmstand to get your fresh produce today. (UPDATED: July 02, 2016)
Polk County
Gardener's Orchard and Bakery - apples, peaches, blackberries, blueberries and strawberries, Farmstand, Hayrides
4455 W Farm Rd 2, Brighton, MO 65617. Phone: 417-742-3093. Email: gardenersfarm@gmail.com. Open: July for peaches and in September for apples. Click here for a map and directions. . Phone: 417-292-4789. . . Gardener's Orchard & Bakery is a 45 acre family run orchard and farm run by the Gradinariu Family since 2013. The orchard was initially started by the Plaster Family in the early 1980's. The Gradinariu Family has expanded the farm to include seasonal produce, berries, a bakery, fresh apple cider and educational farm tours. A specialty fruit farm offering apples, peaches, blackberries, blueberries and strawberries. We have a bakery open year round on the farm that makes breads, pies, danishes, caramel apples and a variety of homemade bakery items with no added preservatives. We produce an all-natural apple cider September - January that is produced weekly with no added sugar or preservatives. The 2500 tree orchard has 13 varieties of Apple trees and 15 varieties of Peach trees. Each year more than 300 trees are planted to maintain the aging orchard. The the first trees in the orchard were first planted by Cliff Plaster in the early 1980's. You pick your own fruit is available in Orchard tours and hay rides are available for groups of 10 or more during apple season if scheduled ahead of time. Apple Varieties: Red Delicious, Gala, Golden Delicious, Sun Crisp, Fugi, Grimes Golden, Granny Smith, Early Blaze, Braeburn, Arkansas Black, Rome, Jonathan, CameoPeach Varieties: Redhaven, Cresthaven, Julyprince, Rubyprince, Harvester, Blazeprince, Loring, Contender, Augustprince, O'Henry, Sweet Sue, Big Red, Autumnprince, China Pearl, GalaFarm Store and Bakery are open year round offering bakery items, seasonal U-Pick and farm tours.Seasonal Farm Stand open June - October at 3545 W Republic Rd, Springfield, MO.Gardener's products also available at farmers' markets in the Springfield, MO metro area year round.
Apple Picking Tips, Recipes and Information
Apples ripen from the outside of the tree towards the center, so the apples out the outside of the tree will ripen first. Once they are picked, they stop ripening. Picking apples directly from a tree is easy. Roll the apple upwards off the branch and give a little twist; don't pull straight away from the tree. If two apples are joined together at the top, both will come away at the same time. Don't shake the trees or branches. If the apple you are trying to pick drops, (or others on the tree) go ahead and pick it up. They're perfectly fine! But do wash them before you eat them! More info: How to tell when apples are ripe
Once picked, don't throw the apples into the baskets, place them in gently, or they will bruise and go bad more quickly.
Don't wash apples until just before using to prevent spoilage.
For an explanation of why apple slices turn brown and how to stop it, see this page!
Keep apples cool after picking to increase shelf life. A cool basement is ideal, but the fruit/vegetable drawer of a refrigerator will work, too. A refrigerator is fine for small quantities of apples. Boxed apples need to be kept in a cool, dark spot where they won't freeze. Freezing ruptures all of an apple's cells, turning it into one large bruise overnight. The usual solution is to store apples in a root cellar. But root cellars often have potatoes in them: apples and potatoes should never be stored in the same room because, as they age, potatoes release an otherwise ethylene gas, which makes apples spoil faster. If you can keep the gas away from your apples, they will keep just fine. Just don't store them right next to potatoes.
Prevent contact between apples stored for the winter by wrapping them individually in sheets of newspaper. The easiest way to do this is to unfold a section of newspaper all the way and tear it into quarters. Then stack the wrapped apples . See more here: How to store apples at home
Apples don't improve or "ripen" after being picked - this is an urban myth - see this page for the truth - with references!
Which apple variety is best?
There are tens of thousands of varieties of apples, developed over centuries. They vary in sugar, acoidity, flavors, storing, crispness and many other attributes. See our guides to apple varieties:
Canning apples - fully illustrated, with step-by-step instructions
Recipes, illustrated with step by step instructions
Using fresh apples and miscellaneous