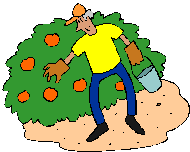 Apple U-Pick Orchards in Southern Illinois in 2022, by county
Below are the U-Pick orchards and farms for apples that we know of in this area. Not all areas of any state, nor even every state, have apples orchards that are open to the public. If you know of any others, please tell us using the add a farm form!
Henderson County
Twin Brook Farm

- apples, strawberries, tomatoes, peppers, beans, broccoli, cabbage & sweet corn.
RR. R. 1, Box 209, Stronghurst, IL 61480. Phone: 309-924-1529. Open: UPDATE for 2019 - they may have closed; Does anyone have current information, are they still offering pick your own or are even open? If so, please write me. Click here for a map and directions. .
Madison County
Liberty Apple Orchard - apples, U-pick and already picked
8308 Kuhn Station Road, Edwardsville, IL 62025. Phone: 618-659-9217. Email:

[email protected]

. Open: Saturday: 8:30am to 4:30pm Sunday: 1:00pm to 4:30pm Monday and Thursday: 3:00pm to 5:00pm. Directions: From the Meyer YMCA in Edwardsville, go east on Goshen Road approximately two miles, turn right on Staunton Road , cross the Bike Trail, turn left on Kuhn Station Road We are down the road about 1/4 mile on the right. . Click here for a map and directions. Payment: Cash, only.
Liberty Apple Orchard Facebook page. . Alternate Phone: 314-308-4310. . Late August through mid-November. This U-Pick orchard offers 15 varieties of apples for family picking. The trees are small, so even the littlest of hands can reach the fruit. The orchard is well mowed, easily accessible from our drive and ideal for photos of your family. The earliest varieties available for picking this year will be Jonathan, Gala and Blondee, followed by Cortland, Liberty, Empire, and Fuji. In late September, Enterprise, Braeburn, and Candycrisp will ripen, followed by late late season Fuji, Goldrush and Granny Smith varieties in October. Check for ripening times and hours when the orchard is open by calling or via email.
Mills Apple Farm - U-Pick: peaches, apples, Christmas trees,
11477 Pocahontas Road, Marine, IL . Phone: 618-887-4732. Email:

[email protected]

. Open: in July when the peaches ripen; closes for season Dec. Directions: 25 miles Northeast of St. Louis, MO on Pocahontas Road between Marine and Grantfork, IL. . Click here for a map and directions.
Mills Apple Farm Facebook page. . . 24th at noon; open 9:00 - 5:00 on Tuesday through Sunday; closed Mondays except Labor Day and Columbus Day. Directions to the Farm. Market: peaches, apples. Any childe who has ever wanted to drive a train will have that chance on weekends, when the train is available. The train belongs to Keith. He made it from scratch and it is a work of art. He cannot always be at the farm on fall weekends, but he tries to be. There is a nominal charge to be the engineer. Every year we add more pumpkins. They will be ready in late September through October. It is hard to say which the kids enjoy most: the wagon ride to the patch, or the search for the perfect pumpkin to pick. Facebook page. is open seasonally from mid-July to December of each year. specializes in peaches and apples, but you will also find: 14 varieties of Peaches, 15 varieties of Apples, Apple Cider, Pumpkins, Fresh Pies and Cookies - baked from scratch, We also offer:, Educational Apple Tours, Educational Pumpkin Tours, Hayrides and Bonfires, Special Event Hosting at our covered pavilion, Wedding ceremonies in The Meadow.
Marion County
Schwartz Farms in Centralia - apples, blueberries, peaches, pears, strawberries, watermelons, tomatoes, pumpkins
1942 Copple Road, Centralia, IL 62801. Phone: 618-532-8058. Email:

[email protected]

. Open: strawberries in May, peaches and blackberries in June,apples and pumpkins from September thru November. Directions: In Southern Illinois and just an easy hours drive from St. Louis, Schwartz Orchard is just east of Centralia. If you live in Mt. Vernon, Centralia, or Salem we are in your neighborhood. Fresh Produce and Beautiful Flowers. Fresh, in season apples peaches, pears, strawberries, blackberries, blueberries, tomatoes, pumpkins and more are available at Schwartz Orchard. We offer both picked and "you" pick fruits and berries. . Click here for a map and directions.
Schwartz Farms in Centralia Facebook page. . Alternate Phone: 618-249-8546. . Also apple cider, honey, molasses & apple butter. Schwartz Orchard Facebook page. Come see our different varieties of blooming flowers and beautiful hanging baskets. Schwartz Orchard has a complete kitchen. We offer baked goods from Strawberry Shortcake to Peach Cobbler. We don't stop there. come by and try one out. We have picnic tables for you to sit back, snack and enjoy. Place your orders for your family reunions. We will have them "hot" and waiting for you to pick up. We have apple butter, jellies, and jams with eight new "low" sugar items. Apples, strawberries, blackberries. Award winning apple cider. Bakery with apple cider donuts, pastries, strawberry shortcake and homemade cobblers.
St. Clair County
Braeutigam Orchards - apples, blackberries, blueberries, cherries, eggplant, peaches, peppers, plums, pumpkins, tomatoes, other vegetables, Fresh eggs, U-pick and already picked, farm market, farm animals, birthday parties, school tours
2795 Turkey Hill Lane, Belleville, IL 62221. Phone: (618) 233-4059. Open: Seasonal from June to October Monday thru Friday: 8:00 am to 6:00 pm Saturday: 8:00 am to 5:00 pm Sunday: 9:00 am to 5:00 pm. Directions: 20 miles Southeast of Street Louis. . Click here for a map and directions. Payment: Cash, Check, Debit cards, Visa, MasterCard, Discover.
Braeutigam Orchards Facebook page. . Picking updates: Click here for picking updates.
Eckert's Country Store and Farms - apples, peaches, pumpkins, strawberries, gift shop, concessions \\/ refreshment stand, restrooms, picnic area, pony rides, petting zoo, farm animals, birthday parties, school tours
951 South Green Mount Road, Belleville, IL 62220. Phone: (618) 233-0513. Email:

[email protected]

. Open: See our website for current hours. Directions: See our website for directions. . Click here for a map and directions. Payment: Cash, Check, Debit cards, Visa, MasterCard, Discover, AmEx.
Eckert's Country Store and Farms Facebook page. . . Picking updates: Click here for picking updates. See our website for current crop information. Starting as a simple roadside stand in 1910, the sixth and seventh generations of the Eckert family now operates three retail, entertainment and farming establishments in southern Illinois. Eckert's Belleville location is open year round and is home to the Country Store, Restaurant, Garden Center, Custard Shop and Pick-Your-Own farm. Visit our website to learn more about our wide array of products, ripening dates, activities and so much more!. Just twenty-five minutes from downtown St. Louis, our Belleville "homeplace" farm is the site of our original 1910 roadside stand. Our Belleville farm complex has grown to offer something for every member of your family: a Country Store, a beautiful Garden Center, a Country Restaurant, an old-fashioned Custard Shop, fruit orchards!!, kids activities.
Eckert's Millstadt Farm - apples, hayrides, jumping pillows, pumpkin cannon, strawberries, blackberries, peaches, pumpkins, Christmas trees
2719 Eckert Orchard Lane, Millstadt, IL 62260. Phone: (800)745-0513. Open: See our website for current hours. Directions: . Click here for a map and directions. . click here for farm directions. Only a short drive from downtown St. Louis, your whole family will love Eckert's Millstadt Fun Farm! Visit the incredible creations in Uncle Aubrey's Workshop, squeal with delight at Billy Bob's pig races, ride the Deere Express through the orchard, then plunge into the 70-foot underground slide at Eckert's Mining Company! Wagon rides to the apple orchard and pumpkin patch are a favorite for all. Visit Uncle Aubrey's Workshop, or join us for a Haunted Hayride this September & October - if you dare! There's so many activities for the kids see and do.. you will wear the kids out.. and Mom and Dad, too! Our jumping pillow is a giant colorful, inflatable pillow that is so much fun and will keep your kids entertained. Fun for adults, too! We can't forget about the amazing pumpkin cannon, the Jack-O-Lobber. The Jack-O-Lobber fires a pumpkin a half-mile! Shows are every hour on the hour Friday through Sunday. If you are craving mouth-watering country food like roasted sweet corn or chicken shish kababs be sure to stop by Bob's N'Cobs Food Stand. Of course, hotdogs, bratwurst, KettleKorn, homemade ice cream and funnel cakes are always on the menu too! Eckert's is known far and wide for its great country entertainment. Watch a real live melodrama play out on the Grand Stage. (ADDED: August 26, 2011, by Blake)
Apple picking tips:
Apples ripen from the outside of the tree towards the center, so the apples out the outside of the tree will ripen first. Once they are picked, they stop ripening. Picking apples directly from a tree is easy. Roll the apple upwards off the branch and give a little twist; don't pull straight away from the tree. If two apples are joined together at the top, both will come away at the same time. Don't shake the trees or branches. If the apple you are trying to pick drops, (or others on the tree) go ahead and pick it up. They're perfectly fine! But do wash them before you eat them! More info: How to tell when apples are ripe
Once picked, don't throw the apples into the baskets, place them in gently, or they will bruise and go bad more quickly.
Don't wash apples until just before using to prevent spoilage.
For an explanation of why apple slices turn brown and how to stop it, see this page!
Keep apples cool after picking to increase shelf life. A cool basement is ideal, but the fruit/vegetable drawer of a refrigerator will work, too. A refrigerator is fine for small quantities of apples. Boxed apples need to be kept in a cool, dark spot where they won't freeze. Freezing ruptures all of an apple's cells, turning it into one large bruise overnight. The usual solution is to store apples in a root cellar. But root cellars often have potatoes in them: apples and potatoes should never be stored in the same room because, as they age, potatoes release an otherwise ethylene gas, which makes apples spoil faster. If you can keep the gas away from your apples, they will keep just fine. Just don't store them right next to potatoes.
Prevent contact between apples stored for the winter by wrapping them individually in sheets of newspaper. The easiest way to do this is to unfold a section of newspaper all the way and tear it into quarters. Then stack the wrapped apples . See more here: How to store apples at home
Apples don't improve or "ripen" after being picked - this is an urban myth - see this page for the truth - with references!
Which apple variety is best?
There are tens of thousands of varieties of apples, developed over centuries. They vary in sugar, acoidity, flavors, storing, crispness and many other attributes. See our guides to apple varieties:
Canning apples - fully illustrated, with step-by-step instructions
Recipes, illustrated with step by step instructions
Using fresh apples and miscellaneous