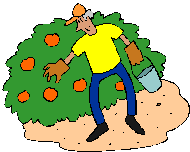 Flower U-Pick Orchards in Northern Indiana in 2023, by county
Below are the U-Pick orchards and farms for flowers that we know of in this area. Not all areas of any state, nor even every state, have flowers orchards that are open to the public. If you know of any others, please tell us using the add a farm form!
Allen County
J and L Pickin' Patch - flowers, pumpkins
3522 Nuttman Avenue, Fort Wayne, IN 46802. Phone: (260) 417-9357. Email: jandlpickinpatch@gmail.com. Open: Monday thru Friday 10-6 self-serve pumpkin stand only. Click here for a map and directions. . Pay by honor box. J & L Pickin Patch is a growing farm with a goal to have something for all seasons. We currently offer upick flowers and produce during the summer and a wide variety of pumpkins, gourds and veggies in the fall, all in the convenience of a roadside stand.
Flower Picking Tips, and Information
Farms that offer U-pick or pick-your-own flowers are becoming more common.
Once picked, quickly get the stems into water
Get them out of the hot sun after picking to increase shelf life. Cool shade is best.
Re-cut stems while underwater - once you get home. Making a fresh cut, while the cut end is submerged helps the stem to take up water and avoid a vapor lock.