Cyanide, Arsenic, and Other Toxins in Fruit: Apple Seeds, Peach Pits, Cherry Pits, etc.: Facts, Mythes and Old Wive's Tales. Find Out ther Truth!
This month's notes: June 2017: Stored US apples are still available. See your state's crop availability calendar for more specific dates of upcoming crops.
Valentine's Day - February 14 - See this website for Valentines Day history, facts and Amazon's top picks for fast, easy, inexpensive gifts for the man, woman or children in your life!
Easter will be April 16, 2017 - if you want to take your children to a free Easter egg hunt - see our companion website to find a local Easter Egg hunt!
And we have home canning, preserving, drying and freezing directions. You can access recipes and other resources from the drop down menus at the top of the page or the site search. If you have any questions or suggestions, feel free to write me! Also make your own ice cream; see How to make ice cream and ice cream making equipment and manuals. Have fun, eat healthier and better tasting, and save money by picking your own locally grown fruit and vegetables, and then using our easy directions
Please tell the farms you found them here - and ask them to update their information!!
Subscribe to our:
Email alerts
;
Follow us on Twitter
Add this page to your favorites!
-
Email this page to a friend, or to yourself
---
With the popularity of juicers and food grinders, some people seem to think that grinding up entire fruit (skin, seeds, pits, stems and all) is somehow healthier than tradition methods. This is not always the case. Some parts of some fruit are not only unpleasant to eat, they can even be dangerous. Here are the facts about toxic parts of fruit.
---
Apple and crabapple seeds contain amygdalin, a cyanide and sugar compound that degrades into hydrogen cyanide (HCN) when metabolized. Cyanide itself is a poison that kills by denying blood the ability to carry oxygen and thereby causes its victims to die. It's not an urban legend that apple seeds contain cyanide; even Snopes.com has an article about it.

Apple seeds also have a tough protective coating seals the amygdalin inside, unless the seeds are crushed, chewed or otherwise ground up. Whole apple seeds have hard, durable shells that allow them to pass intact through the digestive systems of people and animals.
The National Institute of Health says:
"The edible portions of dietary plant species commonly used in the United States contain relatively low levels of cyanogen glycosides, although some pits and seeds of common fruits, apple, apricot, peach, contain significantly higher concentrations."
But don't worry: It would take a bushel's worth of ground up apple's seeds (about 1 cup of seeds) to create enough cyanide to poison someone. Grinding apples and pressing them for apple juice or apple cider wouldn't release enough cyanide to be a problem. Neither does cooking apples and straining them to make a sauce. Richard E. Barrans Jr., Ph.D. Assistant Director PG Research Foundation in Darien, Illinois says "About the only way you can actually ruin into a problem with the toxicity of apple seeds is if you save the seeds from about a bushel of apples and eat them all at once."
Still, I don't think I would intentionally group up the seeds and include them in foods.
Cherry, peach, and apricot pits, on the other hand, also contain amygdalin, a form of cyanide. Peach and apricot have it in potentially harmful amounts. Of course, few people intentionally swallow or chew them. This NY Times article explains more.
Other references:
AMA Handbook of Poisonous & Injurious Plants by Dr. K. F. Lampe & M. A. McCann, Chicago, IL 1985.
---
Picking Tips
[General picking tips and a guide to each fruit and vegetable] [How much do I need to pick? (Yields - how much raw makes how much cooked or frozen)] [Selecting the right varieties to pick] [All about apple varieties - which to pick and why!] [Picking tips for Vegetables] [ Strawberry picking tips] [ Blueberries picking tips]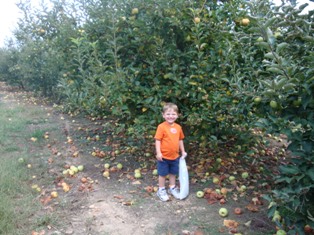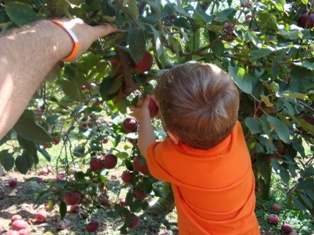 Illustrated Canning, Freezing, Jam Instructions and Recipes
[ All About Home Canning, Freezing and Making Jams, Pickles, Sauces, etc. ] [FAQs - Answers to common questions and problems] [Recommended books about home canning, jam making, drying and preserving!] [Free canning publications to download and print]