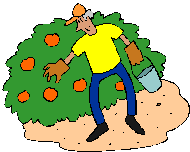 Looking for a local, pick-your-own farm in Australia? Scroll down this page and select your region of the state for a list of U-Pick farms in Australia, sorted by county. Farms offering organic or sustainably grown produce are identified by the words "organic" and/or "sustainable" in green, next to their name (see "What does Organic mean?"). If they have a website, the name will be in blue and underlined; click on it and it will open their website. And if you are looking for a local farm stand, roadside stand, farm market or local farmer's market, see our new website, dedicated to those! See your state's crop availability calendar for specific dates of upcoming crops.
If you know of any I missed and want to add a farm, click here! I'm making updates for 2020 as fast as I can - if you find anything out-of-date, wrong or not working - please let me know! This website is supported by purchases you make through the links to products on Amazon. As an Amazon Associate I earn from qualifying purchases. This allows me to continue to maintain the website and make improvements!
What's in season in January 2023, and other timely information:
Notes for January 2023:Spring is here! Strawberries and other berries are coming in! See your area's crop availability calendar for more specific dates of upcoming crops. And see our guide to local fruit and vegetable festivals, such as tomato, corn, and more!
You may noticed the new appearance to the website! Simpler, cleaner and mobile-friendly! I'm rolling it out, page by page over the next 2 months. Everything is still here; such as home canning and freezing directions. You can access it from the drop down menus at the top of the page or the site search. If you have any questions or suggestions, feel free to write me!
Australia U-Pick Farms and Orchards
Click one of these areas (or click on the map further down this page)
The listings are frequently updated, but often they don't tell us current prices. It should at least provide a ballpark estimate!
Australia Harvest Calendar / Typical Crop Ripening Dates for Australia
If you want to start your own food business in Australia, at home or otherwise, see this page.
In addition to listings of U Pick farms, I hope the following pages are helpful to you!
Picking Tips!
Simple instructions:
Canning and Freezing