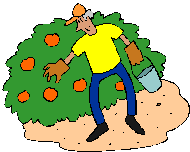 Looking for a local, pick-your-own farm in Southern Tier of New York State? Farms are open and safe! Scroll down this page and you will see the U-Pick farms in Southern Tier of New York State, sorted by county. Those that offer organic or sustainably grown produce are identified by the words "organic" and/or "sustainable" in Green, next to their name (see "What does Organic mean?"). The U-pick crops they offer follow the name of the farm. To search the page for a specific crop, use Ctrl-F (or on an ipad or Mac, use their "search on this page" function) If they have a website, the name will be in blue and underlined; click on it and it will open their website. If you find anything outdated or inaccurate, see the customer and farmer menus (as appropriate) at the top menu bar to submit updates and corrections and help me keep each current!
New! Pricing information - I am building a pricing guide to help you know what the typical prices are for each crop.
Remember to always check with the farm's own website or Facebook page before you go - or call or email them if they don't have a website or Facebook page. Conditions at the farms and crops can change literally overnight, so if you want to avoid a wasted trip out there - check with the farm directly before you go! And if you know of any farms I missed and want to add a farm, please let me know! I'm making updates for this year as fast as I can - if you find anything out-of-date, wrong or not working - please let me know! This website is supported by purchases you make through the links to products on Amazon. As an Amazon Associate I earn from qualifying purchases. This allows me to continue to maintain the website and make improvements!
What's in season in October 2020, and other timely information:
Notes for October 2020: Summer is almost here! Strawberry season is finished in all but the far northern ands cooler areas. Blueberries, blackberries are in season in most areas, also tomatoes, peaches and most vegetables . Check your area's copy calendar (see this page) and call your local farms for seasonal updates.
Now, more than ever, going to a farm, being outside, away from crowds, getting fresh, local produce, makes more sense than ever before! It's a fun, safe and educational to pick some fresh berries, fruit and veggies and more, then come back here to learn how to freeze, can, make jam, salsa and much more! Of course, check with the farm before you go, both to check on crop availability and hours. We also have a state-by-state guide to Farm COVID-19 requirements here.

See our comprehensive list of easy home canning, jam and jelly making, preserving, drying and freezing directions. You can access recipes and other resources from the drop down menus at the top of the page or the site search. If you have any questions or suggestions, feel free to write me! It is easy to make your own ice cream, even gelato, or low fat or low sugar ice cream - see this page. Also note, there are many copycat website listing U-pick farms now, using similar sounding names. They have all copied their information from here and usually do not ever update. Since 2002, I've been updating the information every day but Christmas; so if you see anything wrong or outdated, please write me!
Canners, both waterbath canners and pressure canners, are getting hard to find as people are doing more home canning than ever before. You can still get them online (see links at left) but prices are going up as the less expensive models are selling out. Food dehydration is becoming a popular and inexpensive alternative; see this page about drying your own fruits and vegetables and where to get a food dryer.
Children's Consignment Sales occur in both the Spring and Fall See our companion website to find a local community or church kid's consignment sale!
See these pages to find a local Strawberry Festival, or a Cherry or cherry blossom festival or a Blueberry festival. Some may still be held in 2020.
Southern Tier of New York State U-Pick Farms and Orchards in 2020, by county
Click on the resources drop-down above, if you need a county map
Allegany County
Austin's Rhubarb - U-pick or ready picked rhubarb
4935 B Route 19, Belmont, NY 14813. Phone: 585-268-5735. Open: March-August.

Black Creek Blueberries

- blueberries
Spring Valley Road, Black Creek, NY. Phone: 585-968-2222. Open: UPDATE for 2019, They may have closed; Does anyone have current information, are they still offering pick your own or are even open? If so, please write me, their last reported hours were Monday thru Saturday from 8 am to 3 pm. U-Pick, No sprays, No fertilizers. Be sure to call before you go. . A visitor found the listing in newspaper. 2010 price is $1.50 pound. He expects to be sold our by mid August.)
Broome County
Chemung County
Ackerman's Blueberries - Blueberries
248 Red Chalk Road (off Jackson Creek Rd) Erin, NY 14838. Phone: (607-739-7249. Open: July-August, daily 8 am to 8 pm. Getting info is challenging, they have no web presence aside from the owner's personal page with maybe one or two posts per year; unfortunately, you'll have to be sure to call before you go. (UPDATED: July 16, 2019, JBS)
Bradley Farms - Peppers, snap beans, tomatoes
1543 Maple Avenue Elmira, NY 14904. Phone: 607-732-0561. Email: Josh@hauntedempire.com. Open: daily 9am to 6pm. Directions: Click here for a map and directions. Payment: Cash, Debit cards, Visa/MasterCard. Click here for our Facebook page. zombie safari paintball is a new attraction this fall season it will join The house of lost souls and trail of terror as part of the Haunted Empire events.Every Spring we open our greenhouses with a beautiful selection of hanging baskets and bedding plants, into the summer months the farm market store offers fresh produce, which leads up to our spooktacular fall harvest festival with pumpkins, apples and great entertainment and activities for kids and adults of all ages! Following our fall harvest and into the winter season the farm offers fresh cut Christmas trees for your holiday season. (UPDATED: July 16, 2019, JBS)
George Kapral - Blueberries, raspberries
Route 352 Big Flats, NY 14814. Phone: 607-936-1422. Open July-September, Monday to Friday 8 am to 6 pm, Saturday 8 am to 4 pm, and Sunday 10 am to 4 pm.

Hydro-berry Farms

- strawberries, Raspberries, other vegetables,
2131 McDowell Road, Lockwood, NY 14859. Phone: 607-598-7232. Open: July-October, on Tuesday to Saturday from 9 am to 5 pm, closed Sunday. Directions: I-86 to exit 59 Chemung NY. Go north onto Wyncoop Creek road about 6.8 miles make left on to McDowell Road first place on left. Follow signs. And for a map to our farm, Click here. Crops are usually available in May, June, July, August, September, October. Stand and pick, over 15,000 plants Hydroponically grown Strawberries, veggies, herbs. Payment: Cash, Check. All Hydroponically grown.... stand and pick.... tasty and good for you.

Mattison's Sugar Creek Farm

-

Minimizes chemical and pesticide use

, apples,
195 Sawdey Road, Horseheads, NY 14845. Phone: 607-426-1024. Email: job1@stny.rr.com. Open: You pick apples are only for the month of October please call for appointment to pick. Directions: 1. I-86 Take exit 51A for Chambers Road toward Shopping Malls 2. Turn right onto Chambers Rd 1.4 mi 3. Turn left onto Sing Sing Rd 0.2 mi 4. Take the 2nd right onto County Road 35 Chambers Road 3.0 mi 5. Slight left onto Sawdey Road Destination will be on left 1.1 miles. Click here for a map and directions. We minimize use of pesticides and other chemicals. Payment: Cash, only.
Eller's Blueberries (formerly Millard's Blueberry Farm and Art Studio) - blueberries, restrooms
1851 Wilawana Road, Elmira, NY 14901. Phone: 607-529-3475. Open: since the farm was sold to the Ellers in 2016, I haven't been able to find any updates. Directions: Route 17 or also known as I-86, coming from Elmira... Take Wellsburg Exit 58. At end of exit, turn towards Wellsburg. Go over railroad tracks and turn left. Driving east, we are 2 miles on the left side of the road. There is a very small growing green house in the front yard. A blueberry sign should be out near the road. And for a map to our farm, click here. We have over 850 high bush blueberries. Six varieties. Parking excellent distance from our two fields. (UPDATED: July 16, 2019, JBS)
Stoneyridge Orchard - apples, plus already-picked produce (apples, peaches), winery
160 Bixby Road, Erin, NY 14838. Phone: 607-796-9842. Fax: 607739-4740. Email: sales@stoneyridgeorchard.com. Open:Monday to Friday from 12 pm to 6 pm; Saturday and Sunday 10:00 am to 6:00 pm Labor Day weekend to October 31st. Directions: Off of Federal Road, signs at the end of Bixby road. From Waverly, Sayre, follow Wyncoop Creek, take left onto Marsh Road, at stop sign take left onto Federal road, next road on right is Bixby Road. Follow signs. Click here for a map and directions. U Pick Apples Open Labor Day weekend until October 31st; Saturday and Sunday 10:00 am to 5:00 pm. Payment: Cash, Check. Also offer cherries prepicked in June and July. Prepicked peaches in July and August. Their website was down in summer of 2018, so you may need to see their Facebook page insteda. Click here for a link to our Facebook page. (UPDATED: July 16, 2019, JBS)
Delaware County
Handsome Brook Farm

-

UPDATE: July 08, 2018: The owner tells me they are now permanently closed


4132 E. Handsome Brook Road, Franklin, NY 13775.
Windy Knob Blueberry Farm - blueberries
6517 Turnpike Rd, Delhi, NY 13753. Phone: (607) 746-2991. Open: 8 AM to 7 PM, 7 days a week from sunrise to sunset; from mid July until all the berries are picked in late September or the beginning of October. We have picking containers available to pick in and bags to take your fresh picked berries home in. We have been family owned and operated for 40 years! We have fresh and frozen picked berries. Bring your family and friends....come pick with us. (ADDED: July 17, 2019, JBS)
Schuyler County
Allen's Vegetable Market - Tomatoes, peppers
4837 County Route 25, E Waneta Lake Rd Dundee, NY 14837. Phone: 607-292-3464. Open early August-mid September, call first.
Dalrymple Farms - sweet & sour cherries
3768 Ball Diamond Road, Hector, NY 14841. Phone: 607-546-4891. Open early July, daily 7 am to 5 pm. (first house on right)
Glenhaven Farm - Blueberries, winery
6121 Sirrine Road, Trumansburg, NY 14886. Phone: 607-387-9031. Open: late July-September, Monday to Friday 8am to 8 pm, Saturday and Sunday 8 am to 5 pm. Directions: off Route 227. Two varieties of blueberries, predominately Blue Crop, a mid-season variety known for its excellent size and flavor. A one-acre patch of blueberries located near a parking area, for customers who cannot make the trip to our back field. A picturesque 10-acre field, at the end of a scenic drive up the hill, past an old stone barn foundation (pictured on our home page). Very well-maintained fields, often noted by our customers. (UPDATED: July 16, 2019, JBS)
Comments from a visitor on August 25, 2010: "I would like to suggest Glenhaven Farm, a blueberry (other berries, corn too I think) small family farm in Trumansburg NY (near Ithaca) that has amazing berries, organic I think but not certain, and they make amazing, award winning wine from their various berries. It is a beautiful, small family operation and the picking is soooo good! We (my two little sons and I) picked 19 pounds a couple weeks back! Now my freezer is bursting with them:) . "
House of Dugue - sour cherries, pears, grapes
3670 Dugue Road, Hector, NY 14841. Phone: 607-648-4587. Alternate phone: 607-546-6262. Email: edwarddugue@aol.com. Open 7 days, call or email for availability Sour cherries early July, pears late August, grapes mid September-mid October Directions: 1.5 mile S of village off Route 414, parallel to Searsburg Rd.
Mangus Farms - raspberries (black), Strawberries, Red Raspberries and Blueberries, picnic area, honey from hives on the farm
3710 Main Street, Burdett, NY 14818. Phone: 607-546-9191. Open: Monday - Saturday 8 am to 6 pm; closed on Sunday, Third week June - third week July;Call ahead for availability. Directions: Click here for a map and directions. Payment: Cash, Check. We are a U-PICK berry farm but we also offer fresh picked berries and homemade baked goods at our farm store. We pick/U-pick. Fruits to pick: strawberries, black and red raspberries, blueberries. If you're looking to place a picked order please call ahead for availability. Our Farm Store offers: picked in season fruit, home baked pies, jams, jellies and baked goods. We also sell a variety of jams, jellies, whole fruit freezer pops and more! (UPDATED: July 16, 2019, JBS)
Reisinger's Apple Country - apples, peaches, pumpkins, maple syrup
2750 Apple Lane , Watkins Glen, New York 14891. Phone: 607-535-7493. Open: August-November 15, from 9 am to 6 pm daily. Many varieties of apples, peaches. Directions: (Off Ellison Road)3 mile W of Watkins Glen, take Route 409 & follow signs. Click here for a link to our Facebook page.. . On the weekend Homemade Apple Cider Donuts are always a special hit. Apple butter, jams and jelly are made on-site (with our fruit) which make great gifts as well as great eating. We make our own Apple Cider and our own Maple Syrup. Local honey and arts and crafts from family members and area artisans are popular for browsing as well. We offer easy picking from the ground; no ladders needed (all within reach for young and old alike). Take one of our wagons for easy hauling (picking bags are provided). When you enter our apple orchard, there will be lots of memories to be made and shared. Cameras and picnic lunches will come in handy. Enjoy! We purchased a neighboring farm in 2012 and we now grow our pumpkins on this ground, and have expanded our raspberry and blueberry planting there too. Our Maple operation is located on this farm as well. (UPDATED: July 16, 2019, JBS)
Sawmill Creek Vineyards - Sweet and sour cherries
Rt 414 (9 mile N of Watkins Glen) Hector, NY 14841. Phone: 607-546-6777. Open July, daily daylight hours, call for availability. As 6th generation premium Finger Lakes winegrape growers our family farm began in 1852. We provide quality fruit to over 2 dozen award-winning wineries. Once a year you can experience picking sweet and sour cherries in our beautiful orchards. (UPDATED: July 16, 2019, JBS)
Silver Queen Farm - apples, asparagus, cucumbers, nectarines, peas, peaches, peppers, raspberries, strawberries, tomatoes, other vegetables, prepicked produce
5286 Stillwell Road, Trumansburg, NY 14886. Phone: 607-387-6502. Fax: 607 387 9794. Email: Gallupgoodnews@aol.com. Directions: And for a map to our farm, click here. Crops are usually available in June, July, August, September, October. Open: Every day 8 am to 8 pm. Payment: Cash, Check. 97 acre farm with over 6 acres of strawberries (15 varieties), 2 acres of raspberries (13 varieties), 2 acre Peach orchard (10 varieties) and 2 acre Apple orchard (15 varieties). Farm stand featuring large selection of prepicked fruits and vegetables. All in a very scenic, informal setting with children and families in mind. The farm is open for u-pick strawberries from June-July, and we have a self-serve stand for sweet corn season. We also sell our produce at the Trumansburg Farmer's Market as well as area restaurants such as Hazelnut Kitchen, Northstar and Falls Tavern. We are now renting out our big, beautiful barn for weddings, birthdays, parties, and any other events you can think of, so check out our pricing here. In 2019 U-pick strawberries are $2.50/lb. If there is heavy rain, there will be a "self-serve" station set up near the barn.(UPDATED: July 16, 2019, JBS)
Twin Oak Farms - Concord grapes, sweet and sour cherries
5557 State Rte 414 Hector, NY 14841. Phone: 607-546-5511. Open early July, daily daylight hours; sweet and sour cherries mid September, weekends only; Concord grapes
Wagner Farms - U Pick Apples
1678 County Rd 137, Valois NY, 14888. Phone: 607-582-6011. Email: llwc@epix.net
Wickham Farms - PYO strawberries, cherries, raspberries, blueberries, blackberries, peaches, apples and pumpkins.
4045 Church Street Burdett, NY 14818. Phone: 607-546-7842. Open for Asparagus in spring, call for availability. Open for berries in mid June., from 8am-7pm. Open July 8am-Noon for raspberries, strawberries, asparagus. Group Tours and Hayrides by appointment. Hayrides open to the general public on Saturdays in September and Oct.
Steuben County
Blueberry Hill Farm

- blueberries,
549 O'Connor Road, Hornell, NY 14843. Phone: 607-324-5321. Email: mflynn1736@yahoo.com. Crops are usually available in August. Open: Monday to Friday, 7 am to 7 pm, Saturday 7 am to 5 pm. Closed Sundays. Please call ahead. Payment: Cash, Check.
Hillview Blueberry Farm - blueberries
9990 Bean Station Road, Prattsburgh, NY 14873. Phone: 607-522-7055. Family friendly 30 acre u-pick blueberry farm. Farm fresh blueberries and jams. Also country store and antiques in restored barn. Season: blueberries mid July through mid September.
Parkland Berry Farm -

Uses integrated pest management practices

, blueberries, porta-potties are available
1641 Clendenning Road, Painted Post, NY 14870. Phone: 607 368 3021. Open: Picking begins Saturday, in mid July ; Seven days a week, open hours once picking begins. Directions: Click here for a map and directions. We use integrated pest management practices. Payment: Cash, Check. Click here for our Facebook page. Containers and everything you will need to pick is provided. (UPDATED: July 30, 2020 JBS)
Peek-A-Blue Berry Farm - blueberries
5555 Oregon Road, Bath, NY 14810. Phone: 607-776-7274. Open: From the first week of August on Monday to Friday from 5 pm to 8 pm, Saturday from 10 am to 2 pm and closed on Sunday. The 2019 price is $1.40 / LB.
Note from Blake: That is the best price in NY state!
(UPDATED: July 18, 2019, JBS)
Stan Rathbun U-Pick Strawberries - strawberries
28 University Avenue, North Cohocton, NY 14808. Phone: 585-534-5163. Email: pprathbun@aol.com.
Schultheis Strawberries - strawberries
71 West Avenue, Arkport, NY 14807. Phone: 607-295-7111. Open: typically late May and June; call before you go. Their berries are popular with their customers. Unfortunately they post very little information online, so you have to call them or message them from their Facebook page. (UPDATED: July 16, 2019, JBS)
Tioga County
Applegate Orchards - UPDATE for 2020; Their website/Facebook page says they no longer offer Pick-your-own
Rosenburger Rd, Owego, NY 13827. Open: Applegate Orchards is no longer open to the public. We will now be supplying our commercial customers. We want to THANK our customers for your support.
Blue J Farm - Blueberries
167 Glann Road, Apalachin, NY 13732. Phone: 607-625-5024. Open mid July-mid August, Monday to Friday 6 pm to 8 pm, Saturday 9 am to 4 pm, Sunday 12 noon to 4 pm; call first for availability. Directions: 1 mile E of Exit 66 on Route 17 & 1 mile S of Route 434. (UPDATED: July 16, 2019, JBS)
Ed-Mar Produce - Beans, tomatoes, potatoes, vegetables, flowers
2937 State Hwy 17C Tioga Center, NY 13845. Phone: 607-343-4138/4139, 687-1644. Open June-October, call first
Gary's Berries - Blueberries
Rt 17CCampville, NY 13760. Phone: 607-748-0286. Open July-August, call for days and times. Directions: 5 mile E of Owego & 7 mile W of Endicott on old Route 17C. (UPDATED: July 16, 2019, JBS)
Locust Woods Farm - Blueberries
420 Dawson Hill Road, Spencer NY 14883. Phone: 607-589-4502. Open July-September, daily 8 am to 8 pm. Directions: 2 mile from Route 96 & Dawson Hill intersection.
MacApple Hill Fruit Farm - Blueberries
1426 McLean Road, Owego, NY 13827. Phone: 607-687-1386. Open August, weekends, also evenings by appointment Directions: off Route 38.
Maple Tree Gardens - Strawberries, beans, peas, chili peppers
Rt 96, Owego, NY 13827. Phone: 607-687-4959. Open June-August, daily 10-6. Directions: 100 yards from intersection of Rts 38 & 96 . (UPDATED: July 16, 2019, JBS)
Our Green Acres - Strawberries, blueberries, raspberries, gooseberries, beans, peppers, potatoes, tomatoes, flowers
Rt 17C, Owego, NY 13827. Phone: 607-687-2874. Email: frankwiles@aol.com. Open June-October, 8 am to 7, call first. Directions: West of Owego. At different times of the season, we have the following available for U-pick. See our "What's in season" page for approximate dates of availability, and call ahead to learn current picking conditions. (UPDATED: July 16, 2019, JBS)
Stoughton Farm - raspberries, beans, peas
10898 State Rt 38, Newark Valley, NY 13811. Phone: 607-642-3675. Email: info@stoughtonfarm.com. Open May-October, Monday to Saturday, 9 am to 6, Sunday 9 am to 5 pm. U-Pick: Here at Stoughton Farm, we believe the freshest fruit is the stuff you pick yourself. Therefore we offer a variety of different fruits and veggies you can pick on your own. Pod Peas: Mid/Late June - Early July. Green Beans: Late July - Late August. Fall Raspberries: Mid August - Mid September. Our raspberries are grown in high tunnels, so you can pick rain or shine! We also have large high tunnels that allow Fall Raspberry u-picking, rain or shine. Other produce is brought in throughout the season, as locally grown as possible. On fall weekends other attractions include our Jumping Pillow, hay rides, cow train rides, pumpkin blaster, corn cannon and more. Mums, apples, cider, kettle corn, fresh cut fries, and fudge are a few of our other fall favorites. ​ (UPDATED: July 16, 2019, JBS)
Terry's Berry Farm - Strawberries, blueberries, raspberries
284 Church St., Barton, NY 13734. Phone: 607-699-7933. Email: teri111@verizon.net. Open: Monday to Saturday from 9 am to 12 pm, and Tuesday and Wednesday from 3 pm to 7 pm. Seek our Facebook page for updates. (UPDATED: July 16, 2019, JBS)
TLC Blueberry Farm - Blueberries
2053 Route 17C , Barton, NY 13734. Phone: 607-222-2697. Email: blueapple@htva.net. Open mid July-mid August, Saturday to Thursday from 8 am to 7 pm, closed on Fridays. Directions: 1 mile W of Smithboro. We have wonderful blueberries for U-Pick. Also ready picked berries. Many varieties of homemade jam and jelly. We have a roadstand for fresh fruit- jam can be purchased at farm office. Also at Owego's Farmers Market on Tuesdays. (UPDATED: July 16, 2019, JBS)
Traues Blueberries - Blueberries
Upper Briggs Hollow Road, Owego, NY 13827. Phone: 607-699-7246. Open UPDATE for 2020; Their website is gone; Does anyone have current information, are they still offering pick your own or are even open? If so, please write me, their last reported hours were July-August, daily daylight hours, call first for availability. Directions: off Sibley Rd.
Vern Negus - Blueberries, Currents, gooseberries,
659 Payne Marsh Rd , Richford NY 13835. Phone: 607-657-8272. Open: July and August from 8am to 8pm daily. (UPDATED: July 16, 2019, JBS)
---