Cherry Festivals and Cherry Blossom Festivals in 2023
Update for 2023:
It looks like most festivals are returning, aside from those that were killed off by the lockdowns of the past 2 years. That took a heavy toll on their finances. I am checking with them day by day, if you have an update for an, please tell me via the Feedback form.
Looking for a Cherry Festivals and Cherry Blossom blossom festival or cherry fruit festival in December 2023? There is no other listing as complete and current as this list, just updated! Cherry Festivals and Cherry Blossom festivals are held through the United States, Canada, Britain, and Australia and much of the world. All the Cherry Festivals and Cherry Blossom festivals we can find are listed on this page! If you love Cherries, look for a festival near you below! And I'm looking for more Cherry Festivals and Cherry Blossom festivals! Please write me, if you know of any to add! I update the dates as soon as the festivals publish their information, but you can always click on the links (usually the name of the festival) to see the current information on the festival's own website.
Especially this year, due to Coronavirus, be sure to click on the links (the blue, underlined name of the each festival) to confirm this year's dates on the website for each festival. If they don't have a website, call the phone number provided, but ALWAYS CONFIRM THIS YEAR'S DATES AND TIMES BY EITHER VIEWING THEIR WEBSITE OR CALLING.
Click here for the form to add a festival and have detailed information; or click here if you have general information and are not connected with the event!
Cherry Festivals and Cherry Blossom Festivals in 2023: Find a Festival Near You!
For other fruit and vegetable festivals, see this page!
Also, see our pages on easy illustrated directions about
California
Colorado
Georgia
Hawaii
Cherry Blossom Festival - Honolulu, HI - January to March (many events) see their website for this years dates.
Events calendar. Phone: (808) 949-2255. Email: CBFHAWAII@HJJCC.COM. This annual festival is one of the longest running ethnic celebrations in the State of Hawaii and takes place in various locations, including shopping malls..The Cherry Blossom Festival holds the honor of being one of the longest, continually running ethnic festival in the State of Hawai'i - originally started in 1953. While times have evolved, the purpose of the Festival continues to be the perpetuation of Japanese culture, and to enrich the lives of young women of Japanese ancestry.Queen Contestants are given the opportunity to learn about their Japanese heritage, improve their poise and public speaking and develop leadership skills through numerous cultural and training classes. Over the past 65 years the Festival has touched the lives of many. Our national sister Cherry Blossom Festival relationships continue to flourish, and each year the Festival hosts five sister Junior Chamber chapters from Japan.
Idaho
Emmett Cherry Festival - Wednesday, mid-June - see their website for this years dates.
Emmett City Park, Emmett, ID. Phone: 208-365-3485. Enjoy Cherry Festival Parade, Great Cherry Bake-off, Cherry Pie Eating Contest, as well as carnival rides, food and entertainment. 34th Annual Quilt Show, Cherry Festival Children's Parade, Cherry Festival Fun Run/Walk, Cherry Festival Parade, Cherry Festival Softball Tourney, ECAC Art Show & Competition, Emmett Cherry Festival Train Show, Emmett Lions Car Show, Fireman Hose Competition, Gem County Historical Village, Gem County Sheriff's Posse Rodeo, Jr. Miss Cherry Festival Pageant, Kiwanis Breakfast, Miss Gem County & Gem County Outstanding Teen Pageant, Pie Eating Contest
Illinois
Washington Cherry Festival - This one seems to have dissappeared. Does anyone have an update?
114 Washington Square, Washington, IL 61571. Phone: 309-444-9921. Fax: 309-444-9225. 4 days in early June - see their website for this years dates.
Indiana
Cherry Blossom Festival Fort Wayne - mid May each year (May 20 in 2018)
900 Library Plz, Fort Wayne, IN 46802. Email: cherryblossomfw@gmail.com. Directions: Click here for a map and directions. Payment: Cash, only. Click here for our Facebook page. . Come and enjoy Japanese music, dance, food, haiku, anime,cosplay, tea ceremony, martial arts and much more. Everyone is welcome. cherries, produce for sale, parking provide free, gift shop, snacks and refreshment stand, musical entertainment, restrooms, Tents or other provisions are made for bad weather, FREE admission, What do you think of when you hear "Japan"? Cherry blossoms, kimono-clad ladies, exotic musical instruments, chopsticks, sushi, samurai, martial arts, tea ceremony, origami, silk, anime characters, bonsai trees......The Fort Wayne Cherry Blossom Festival has it all
Michigan
The National Cherry Festival - end of June through early July - see their website for this years dates.
Traverse City, MI. Events calendar. Celebrating 80 years with parades, competitive events, fun events, children's events, food, arts and crafts, car and truck show, and air show and new events including a feast of cherries and local wines and a world record attempt to host the world's largest cherry pancake breakfast
Eau Claire Cherry Festival - always on the 4th of July.
Eau Claire CherryEau Claire Cherry, MI. Festival is a small town community that celebrates big for the 4th of July and the cherries that grow around Eau Claire Michigan; with fireworks. There is also a Cherry Festival Art & Craft - Flea Market. on May 6th (Sunday) 11 am to 4 pm.
Nebraska
New Jersey
Essex County Cherry Blossom Festival - April - 11am to 5pm. see their website for this years dates.
Phone: 973-268-3500, ext 4. and (973) 239-2485.The Essex County Park System has a historic cherry tree collection that now holds the largest variety of blossoms in the world. Visit Essex County Branch Brook Park this April to see our stunning display and enjoy the Festival we've planned just for you! Enjoy a family day in the pink Park! A packed schedule of events includes Japanese cultural demonstrations, children's activities, live music, a crafter's marketplace, food, and more. FREE ADMISSION. Most activities take place around the Essex County Cherry Blossom Welcome Center. Formerly called "The Branch Brook Park Annual Cherry Blossom Festival".
New Mexico
Nichols Ranch and Orchards - , apples, apricots, plums, figs, restrooms,
236 Cottonwood Canyon Road, La Luz, NM 88310. Phone: (575) 430-7953. Open: the season starts with cherries, U-pick or we pick June thru end of July. Directions: See their website for directions. Payment: Cash, only. We have 600 cherry trees over featuring 15 varieties including Bing, Lambert, Stella, Sam, Rainier, Royal Anne and Mount Morenci.. We have approximately 20 acres with 3,000 trees, with both old and new apple varieties, such as Gala, Red and Yellow Delicious, Jonathan,Honey Crisp, Rome, McIntosh, Golden Supreme, Fuji, Black Twig, Stayman and Red Winesaps, and not least but last Arkansas Black. We have 80 trees of Wilson Delicious apricots- large, firm, beautiful color and flavor. We also have Cherry plum, Red heart and Elephant heart plums, Alberta and JH Hale peaches, Brown turkey figs, Bartlett pears, Sugar prunes, Grandprize prunes, and Blue Damson plums. We have Limousin- Angus cross cattle, grass fed. Call for availability. Click here for a link to our Facebook page. Cherry Season: June/July; Pick Your Own Cherries usually starts at the beginning of starts June, Apricot picking starts in mid-June and will go into the month of July. We keep apples fresh and crisp in cold storage throughout the winter. Our apple cider-pressing season lasts from September to November. They also have on-farm festivals: Apple Festival,Pumpkin Patch, (UPDATED: February 9, 2023, JBS)
Comments from a visitor on June 21, 2010: "The owners and employees were very kind and helpful and the cherries were chin dripping juicy."
New York
Ohio
Whitehouse Cherry Fest - early June
Whitehouse, OH 43571. Phone: 419-877-2747. Email: hope@thechamberpartnership.com. 36th Whitehouse Cherry Fest on Friday1pm-midnight, Saturday 9am-midnight and Sunday. Free admission & free parking! Downtown Whitehouse. Edward jones cherry fest parade on Saturday at 12 pm. Cherry pie eating contest on Saturday, Time tbd at Pavilion- whitehouse village park. 15+ premium large amusement rides & games. Fresh cherry pies & turnovers on the food midway near the rides!
Oregon
Pennsylvania
Philadelphia's Subaru Cherry Blossom Festival- late March to April - see their website for this years dates.
Events calendar. This year's two-week Festival - the biggest yet - offers many chances to explore the best of Japanese culture, from traditional customs and delicious cuisine to delicate craft and awe-inspiring performances. It starts with a black-tie gala featuring a traditional sake barrel-breaking ceremony. Next, follows traditional taiko drumming and dance, demonstrations of traditional Japanese crafts and martial arts, and kite-making workshops will all be undertaken with great gusto. The celebration concludes with the "Sushi Spectacular" featuring master sushi chefs from Japan.
Montana
Polson Main Street Flathead Cherry Festival - A weekend in July every year; Saturday from 9 a.m. to 6 p.m., and Sunday from 10 a.m. to 4 p.m.
7 Third Avenue East , Polson, MT 59860. Phone: 406-883-3667. Email: pcf@flatheadcherryfestival.com. Cherry fun in Montana's Flathead Lake area is one of the most exciting times of the year and Polson is the center for cherry action. Family Fun Cherry Event With cherry related foods, displays of Montana made items for sale and games for kids (or adults who think they are kids), your family will have a most memorable time. Come spend the entire day in Polson. Cherry Pie-Eating Contest: Like cherry pie? Do you think you can eat more cherry pie at one sitting than anyone else? Come compete and show us your appetite. Check the events schedule for contest times. Cherry Pit-Spitting: Your only time to spit on the streets of Polson without penalty. Let everyone see how far you can spit a cherry pit. Just show up to enter. Check the events schedule for contest times. The above contests take place in front of the Cove Deli and Pizza, 11 3rd Avenue West, just off Main Street. Exhibits and Montana Made Items: Come see, eat, purchase, or sell an amazing assortment of everything from art, photos, and crafts to foods and treats. Check out our Events page for more details.
Washington, D.C.
National Cherry Blossom Festival - late March to April - see their website for this years dates.
This is the big festival of them all in the U.S. The National Cherry Blossom Festival commemorates the 1912 gift to the city of Washington, DC of 3000 cherry trees from Mayor Yukio Ozaki of Tokyo to enhance relations.
Washington State
Sakura Matsuri Cherry Blossom and Japanese Cultural Festival - Usually held in April, see their website for this years dates.
Seattle's Cherry Blossom Festival began when one thousand Cherry trees were sent by the Japanese government. The trees are planted along Lake Washington Boulevard and Seward Park. You can have your own O-hanami (flower viewing) and then join the crowd at the Cherry Blossom & Japanese Cultural Festival. The festival is held in mid April - Seattle Center in downtown Seattle, Washington. There's a lot for you to experience during these 3 Days: watch a Go tournament, visit arts & crafts booths, dine on traditional cuisine and see exhibits and performances. All Events are free and take place at the Center House and Flag Pavilion.

Friday 4/20: 10 am to 6 pm
Saturday 4/21: 10 am to 6 pm
Sunday 4/22: 10 am to 6 pm

Click here for the complete schedule
Wisconsin
---
British Columbia
Vancouver Cherry Blossom Festival - from the first week in March through mid April every year
Phone: 604-681-9447. Email: info@vcbf.ca. The Cherry Blossom Viewing Picnic As a Spirit of Vancouver initiative, the Vancouver Board of Trade introduces Vancouver to the Japanese tradition of Hanami (blossom viewing with picnic celebration). The Vancouver Cherry Blossom Festival Map (To be published March 2nd in the Vancouver Sun West Coast Life) identifying some of Vancouver's spectacular displays of cherry trees. Check our forecast for weekly updates with regards to peak bloom locations. Following our launch for the month of March you will be able to order a specially created picnic online: a Japanese Bento Box lunch by Hi-To Food/Fisheries or a West-Coast Picnic by Savory Coast. Story Time and Origami Workshop, Self-Guided Blossom Walks, Haiku The Vancouver Public Library hosts a haiku presentation, and a variety of special events including full-length tea-ceremonies (approx 35 min) in the garden's traditional tea house and in the Asian Centre Tea Gallery and a variety of musical performances.
Manitoba
Nova Scotia
Ontario
Saskatchewan
Bruno Cherry Festival - it's in late July or early to mid August (changes each year)
650 Ursuline Avenue, Bruno, SK S0K 0S0. Phone: (306) 369-4109. Open: Saturday - Country Supper Saturday, July 24th, 2010 at 5 pm to 7 pm. Join us for a day of prairie cherry summer-time fun!P All-day Sour Cherry U-Pick, Pancake Breakfast, hot food canteen, Cherry Sundaes (of course!), edu-sessions, local entertainment & fun for the whole family! Get in on the Bruno community cherry cheer!!Our event promises a fun-filled weekend of entertainment, music and great food. And every year we are educating more people about the delightful flavor of the dwarf sour cherry... Directions: Call for directions. Payment: Cash, only. Main Cherry Festival Tent at St. Therese Institute of Faith & Mission located on Main Street in Bruno Also a show and Shine car event
---
Alnwick Garden's Cherry Blossom Festival - a weekend in mid April from 10:00 to 16:00; see their website for dates in other years
Denwick Lane, Alnwick, Northumberland, NE66 1YU, Alnwick, UK. Phone: 01665 511350. Email: info@alnwickgarden.com. Directions: Click here for directions by road, rail and bus. The Alnwick Garden's Cherry Orchard is home to 350 Japanese Taihaku cherry trees, which each spring blossom with large white blooms known for their beauty. Welcome the blossom and the Northumbrian spring at the Cherry Blossom Festival. There'll be giant kites flying, and you can fly the kite you made in Easter holiday workshops. The Garden will be decorated with silk banners and paper lanterns made by visitors, and our Japanese guests will offer workshops origami and calligraphy, as well as an exhibition of Bonsai trees. At 2pm, join an enchanting parade to the Orchard for the symbolic rite of spring.
---
Bacchus Marsh Strawberries and Cherries Weekend - Usually held in mid-November,
197 Main St, Bacchus Marsh VIC 3340. This free event is a celebration of the opening of the Strawberry and Cherry season in Bacchus Marsh Bacchus Marsh Strawberries and Cherries Weekend facebook page. (their Facebook page or events have not been updated since 2019). This website may have more up to date information about the Bacchus March Strawberries and Cherries Festival. .
Friday: 5 pm to 11 pm: Village Green - Foodtrucks, Music + Carnival Rides (2 for 1 special Friday only!!)
Saturday:
Fruit Picking on the Avenue of Honour - till ~2pm. 9 am to 5 pm
Street Festival: Main street and Graham filled with stalls + opportunity to grab picked Cherries + Strawberries (till 5pm)
Live Music on 2 stages
Kids Activities (e.g. Facepainting & Animal Farm)
Live dance group (+ workshop)
Foodtrucks
Makers market
Check out what's happening inside RSL too!
9 am to 11 pm
Carnival Rides (till 11pm)
Food Trucks
Live Music
~ 9pm Fireworks (locals please ensure to have your dogs/horses secured)
- 9 am to 4 pm:
Carnival Rides
Street Festival on Main and Graham street with stalls
Makers market: Public Hall
Check out what's happening inside RSL too!
Kids Activities
Food Trucks
Live Music on two stages
It is truly a fabulous family weekend!

Cherry Blossom Festival at the Cowra Japanese Garden - held in September every year. see their website for this years dates..
The Sakura Matsuri is a major event held annually in Cowra, in which many locals, Australian and International visitors have the opportunity to experience and learn traditional elements of the Japanese culture. This year's Sakura Matsuri incorporates some new and exciting changes designed to attract families and school-aged children. The emphasis is on involvement and education with workshops featuring traditional Japanese crafts such as Origami, Calligraphy, Ikebana and Bonsai held at various times from Wednesday to Friday.

Saturday 30 September is Family Fun Day. For the all-day admission charge of just $15 per family you can enjoy a range of activities designed to entertain every age group. Children will be well catered for with the extremely popular Obstacle Course, Kids Corner plus giveaways from Streets and Coke. For the 'children at heart' there are Sumo Wrestling Tournaments, Karate, Sword Demonstrations, Tea Ceremonies, Origami, Calligraphy, Ikebana, Kite Flying and Bonsai demonstrations.

On Sunday 1 October the festival concludes with a Reconciliation Service and wreath-laying ceremony will be held at the Australian and Japanese War Cemeteries at 9.30. (NO CULTURAL ACTIVITIES ON SUNDAY)

A selection of Japanese food (bento boxes and sushi rolls) is available at the Red Carp Restaurant, open daily 8.30 am to 5.00pm.
South Africa
Ficksburg Cherry Festival - mid November, from Thursday, November 15, 2018 to Saturday, November 17, 2018 (check as the date gets closer - they seem to have problems keeping their website working and their Facebook page hasn't been updated since 2015
Phone: 051 933 6486. Email: gavin@cherryfestival.co.za. Started in 1967, the festival has cherry tours, a golf classic, a half marathon, cherry product competitions, veteran vehicle displays, equestrian events and beer fests. There is food, a 'ready, steady, bake' competition, cherry mampoer (South African moonshine) making music, artists and live entertainment.
---
(English websites)
---
This page was updated on
---
---
Picking Tips
[General picking tips and a guide to each fruit and vegetable] [How much do I need to pick? (Yields - how much raw makes how much cooked or frozen)] [Selecting the right varieties to pick] [All about apple varieties - which to pick and why!] [Picking tips for Vegetables] [ Strawberry picking tips] [ Blueberries picking tips]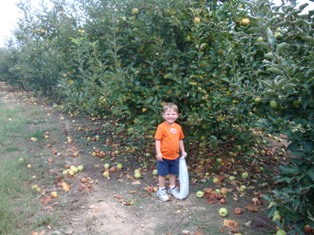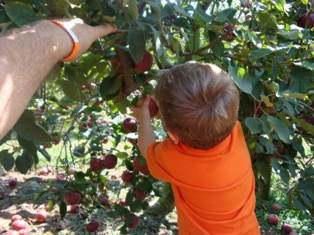 Illustrated Canning, Freezing, Jam Instructions and Recipes
[ All About Home Canning, Freezing and Making Jams, Pickles, Sauces, etc. ] [FAQs - Answers to common questions and problems] [Recommended books about home canning, jam making, drying and preserving!] [Free canning publications to download and print]]<]
Canning Books, Supplies and Accessories
These are my favorite essential canning tools, books and supplies. I've been using many of these for over 50 years of canning! The ones below on this page are just the sampling of. my preferred tools. but you can find much more detailed and extensive selections on the pages that are linked below.
The All New Ball Book Of Canning And Preserving: Over 350 of the Best Canned, Jammed, Pickled, and Preserved Recipes Paperback
This is THE book on canning! My grandmother used this book when I was a child.; It tells you in simple instructions how to can almost anything; complete with recipes for jam, jellies, pickles, sauces, canning vegetables, meats, etc.
If it can be canned, this book likely tells you how! Click on the link below for more information and / or to buy (no obligation to buy)The New Ball Blue Book of Canning and Preserving
Canning and Preserving for Dummies by Karen Ward
This is another popular canning book. Click here for more information, reviews, prices for Canning and Preserving For Dummies
Of course, you do not need to buy ANY canning book as I have about 500 canning, freezing, dehydrating and more recipes all online for free, just see Easy Home Canning Directions.
Home Canning Kits
I have several canners, and my favorite is the stainless steel one at right. It is easy to clean and seems like it will last forever. Mine is 10 years old and looks like new.
The black ones are the same type of standard canner that my grandmother used to make everything from applesauce to jams and jellies to tomato and spaghetti sauce.
This complete kit includes everything you need and lasts for years: the canner, jar rack, Jar grabber tongs, lid lifting wand, a plastic funnel, labels, bubble freer, It's much cheaper than buying the items separately. It's only missing the bible of canning, the Ball Blue Book.
You will never need anything else except jars & lids (and the jars are reusable)!
The complete list of canners is on these pages:
Pressure Canners
If you plan on canning non-acidic foods and low acid foods that are not pickled - this means: meats, seafood, soups, green beans corn, most vegetables, etc., then you ABSOLUTELY must use a Pressure Canner.
Of course, you can use a pressure canner as a water bath canner as well - just don't seal it up, so it does not pressurize. This means a Pressure Canner is a 2-in-1 device. With it, you can can almost ANYTHING.
There are also other supplies, accessories, tools and more canners, of different styles, makes and prices, click here!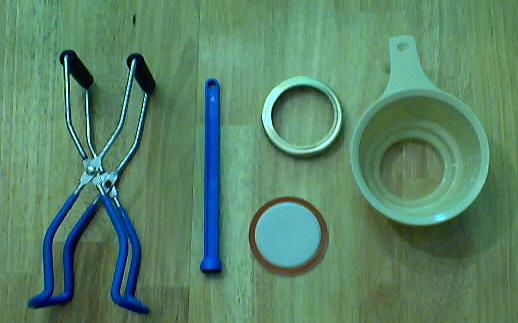 Basic Canning Accessories
From left to right:
Jar lifting tongs to pick up hot jars
Lid lifter - to remove lids from the pot of boiling water (sterilizing )
Lids- disposable - you may only use them once
Ring - holds the lids on the jar until after the jars cool - then you remove them, save them and reuse them
Canning Jar funnel - to fill the jars
FREE Illustrated Canning, Freezing, Jam Instructions and Recipes