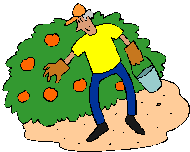 Notes for February 2018: The northern half of the U.S. (and most of Canada, of course) are under snow. So, the crops to pick are pretty much limited to Florida, Texas, southern California and a few other areas of the Deep South. Citus, for one, is a crop that is usually available now; and in those areas, soon also strawberries and blueberries.Check your area's copy calendar (see this page) and call your local farms for seasonal updates.
We also have a website for both Valentine's Day information, facts and fun and one for St. Patrick's day (including great recipes for corned beef, Irish stew, etc.)
Children's Consignment Sales occur in both the Spring and Fall See our companion website to find a local community or church kid's consignment sale!
Next year, don't miss an Easter Egg Hunt for your children: See our companion website to find a local Easter Egg hunt!
We also have home canning, preserving, drying and freezing directions. You can access recipes and other resources from the drop down menus at the top of the page or the site search. If you have any questions or suggestions, feel free to write me! It is easy to make your own ice cream, even gelato, or low fat or low sugar ice cream - see this page. Also note, there are many copycat website listing U-pick farms now. They have all copied their information form here and usually do not ever update. Since 2002, I've been updating the information every day but Christmas; so if you see anything wrong, please write me!
-->
Green Beans - Picking Tips and Facts
Green Bean Picking Tips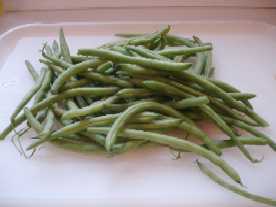 Green beans (and yellow beans, string beans, runner beans, snap beans, lima beans broadbeans, etc.) are very easy to grow. They thrive even in poor soil. Whether you grow them yourself or pick them at a PYO farm, or buy them at the market, they're available fresh almost everywhere.
Here's what to look for!
When are they available?
Beans are a warm weather crop, and cannot tolerate any frost nor cold soil. In the U.S. green beans typically peak during July through October in the South, and in August and September in the North. But they can be ready as early as early June in many places, as they only take 45 to 60 days from the time the seed is planted!
Before you leave to go to the farm:
Always call before you go to the farm - it's hard to pick in a muddy field!
Most growers furnish picking containers designed for green beans, but they may charge you for them; be sure to call before you go to see if you need to bring containers.
Bring something to drink and a few snacks; you'd be surprised how you can work up a thirst and appetite! And don't forget hats and sunscreen for the sun. Bugs usually aren't a problem, but some deet might be good to bring along if it has been rainy.
Tips on How to Pick Green Beans
Most beans these days are "stringless". That refers to a string, tough filament of the bean that runs along the outside from one end to the other. Some beans have two, one on each side; and some have one.
I prefer to snap the bean off the plant just below where the stem attaches to the bean. If you do this, it will save time when you get home, because one end of the bean has already been trimmed. But this only makes sense if you will be using, cooking, canning or freezing the beans that day.
If you won't be using the beans the same day, then break off the bean from the plant along the thin stem that connects the bean to the plant.
The beans snap off pretty easily. hence the name "snap beans".
Pole beans are the easiest to pick, because, since they grow up poles or twine, you don't have to squat down or bend over!
General Picking Tips
Whether you pick green beans from your garden or at a Pick-Your-Own farm, here are a few tips to keep in mind.
Look for beans that are :
firm
green (not yellowish - unless you're picking yellow beans!)
smooth, not wrinkly on the surface - that's an old or dried out bean.
not lumpy - those lumps are the beans that are developed - that's an overripe green bean! Of course, if you want mature beans (not including the pod) then that's a different story, but we're talking about green beans here).
The beans in the photo at right are, from left:
- old and yellowing,
- overripe and lumpy; and
- dried out and damaged.
Avoid placing the picked beans in the sunlight any longer than necessary. It is better to put them in the shade of a tree or shed than in the car trunk or on the car seat. Cool them as soon as possible after picking. I prefer to bring a cooler with ice in it. Green Beans may be kept fresh in the refrigerator for 3 or 4 days
When you get home
Put them in the vegetable crisper in the fridge, in a loose plastic bag.
Now, get ready to can or freeze the extra green beans - It is VERY easy! Click on the links for easy instructions.
How to can green beans
How to freeze green beans
How to make pickled green beans