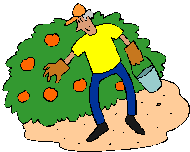 Looking for a local, pick-your-own farm in Pittsburgh and Southwestern Pennsylvania? Scroll down this page and you will see the U-Pick farms in Pittsburgh and Southwestern Pennsylvania, sorted by county. Those that offer organic or sustainably grown produce are identified by the words "organic" and/or "sustainable" in Green, next to their name (see "What does Organic mean?"). The U-pick crops they offer follow the name of the farm. To search the page for a specific crop, use Ctrl-F (or on an ipad or Mac, use their "search on this page" function) If they have a website, the name will be in blue and underlined; click on it and it will open their website. Beware of copycat websites (such as the one that starts with "pickit" and the one that ends with ".farms"; they do not update their information, they just steal it from us once in a great while (they are plagiarists operating in Russia and China), so theirs are usually out-of-date -and often copied incorrectly! I put dates to indicate when we last received an update from each farm, and I make updates daily (each farm as their info changes). See the customer and farmer menus at the top menu bar to submit updates and corrections and help me keep each current!
And if you know of any I missed and want to add them or correct the information, please let me know!
For information about safely viewing the solar eclipse and where to get the approved glasses, see this page. Or here to learn about the scam counterfeit solar eclipse glasses.
What's in season in August 2017, and other timely information:
Notes for August 2017: Blueberries and peaches are going still in northern and cooler areas, but are mostly finished in the Deep South. Blackberries, figs, and raspberries are in season now. Tomatoes are going strong, although the crop is way diminished in rainy areas like the southeast. Strawberries are finished, except in the far north, and if the farm planted Day Neutral varieties. Early apples, like Gala, are about to start!
Children's Consignment Sales occur in both the Spring and Fall See our companion website to find a local community or church kid's consignment sale!
Next year, don't miss an Easter Egg Hunt for your children: See our companion website to find a local Easter Egg hunt!
We also have home canning, preserving, drying and freezing directions. You can access recipes and other resources from the drop down menus at the top of the page or the site search. If you have any questions or suggestions, feel free to write me! It is easy to make your own ice cream, even gelato, or low fat or low sugar ice cream - see this page. Also note, there are many copycat website listing U-pick farms now. They have all copied their information form here and usually do not ever update. Since 2002, I've been updating the information every day but Christmas; so if you see anything wrong, please write me!
Pittsburgh and Southwestern Pennsylvania U-Pick Farms and Orchards, by county
Click on the resources drop-down above, if you need a county map
Allegheny County
Armstrong County
Beaver County
Butler County
Ambrose Farms - Canning Tomatoes, Roma Tomatoes, Hot Peppers, Bell Peppers, picnic area
991 Bear Creek Road, Cabot, PA 16023. Phone: (724) 360-5055. Open: Early July to late October hours vary based on the crops but generally 9am to 8pm every day. Call for specific hours when you plan to visit. Directions: Call for directions. Payment: Cash, Check.(UPDATED: June 11, 2014, from their Facebook page) (ADDED: October 05, 2010, suggested by a visitor)
Comments from a visitor on October 05, 2010: "Everything sold at Ambrose Farm Market is grown on their farm. They also offer pick your own during the season."
Bowser's Blueberries - blueberries,
143 McCalmont Road, Renfrew, PA 16053. Phone: 724-482-2373. Email: bowsersblueberries@zoominternet.net. Open: Tuesday to Saturday from 8:00am to 6:00pm. Click here for current open hours, days and dates. Directions: We are located 6 miles West of Butler PA. Click here for a map and directions. We are a family owned "u-pick" blueberry farm; We have 11 different varieties of blueberries which ripen at different times so our season generally runs from July through August; We do not spray pesticides on our plants so we encourage you to come out and taste the difference for yourself!. Payment: Cash, Debit cards, Visa/MasterCard, AmEx, SFMNP Vouchers. Click here for our Facebook page. Bags are provided to take your pickings home so there is no need to bring containers. Restroom available. Visit us and make some fun, family traditions!. (UPDATED: July 07, 2015) (UPDATED: June 10, 2014) (ADDED: May 13, 2014)
Snyder's Farm - strawberries, raspberries, blackberries
Route 68 East, Chicora, PA. Phone: 724-445-3116. Email: snyderhel9@aol.com. Open: 8 am to dusk daily. Call ahead for availability. Directions: Approx. 6 miles N.E. of Butler on Rt 68E. Operates approximately 10 acres of small fruits. Our operation offers - "Farm Fresh" pick your own or already picked berries. Wholesale fruit orders available. We start around June 8th and end lst Week of Nov. Along with small fruit we do offer fresh sweet corn. Please call ahead to make sure crop is ready.
Strawberries June 8 - July 7th,
Black raspberries - June 30 to July 23rd.
Red Raspberries - July 6th to Aug. 2nd.
Blackberries - Aug 1st to mid Sept. (please call)
Fall rasp. - Yellow & Red - Aug 15th till frost
AAlready picked apples and plums - First week of Sept-mid October (UPDATED: August 01, 2013, from their website)
Cambria County
Pat Leiden Farm - Blueberry, Strawberry
227 Leiden Lane, Patton, PA 16668. Phone: (814) 674-8464. Open: Tuesday and Saturday from 8am - 4pm; closed on Sunday and the other days. Strawberries Mid-June to late June; Blueberries in August. We are located in the village of St Lawrence in Northern Cambria County. We have been around since 1860. we are a pick your own small berries such as strawberries and blueberries. Call for price and when we are actually picking; we can say the price is around $1.00 a pounds. (ADDED: August 01, 2013, from their website)
A visitor writes on August 06, 2013: "I was at this farm today- they have a bumper crop of blueberries! They said they'd have blueberries til the end of August. They don't have a phone number right now but they ARE open for picking, Tues. & Sat., 8 - 4. No restroom facilities, but a really nice blueberry farm! "
Clearfield County
Fayette County
Greene County
Indiana County
Elbel's Produce Farm - strawberries
Routes 119 and 210, south of Punxsutawney, PA. Phone: 814-938-5878. Hours: 7 am to 8 pm, daily.

Ishman's Blueberries

-

Uses natural growing practices

, blueberries, U-pick and already picked
812 Route 210 Highway, Punxsutawney, PA 15767. Phone: 814 938 5930. Alternate Phone: 814 590 1205. Open: Monday, Wednesday, Friday 8am to 4pm; Saturday 8am to noon, July 1 to August 10. Directions: Click here for a map and directions. We use natural practices, but are not seeking organic certification. Payment: Cash, Check. (ADDED: September 01, 2013)
Pollock's Strawberries - strawberries
Valley View Road, Brush Valley, PA 15720. Phone (724) 349-9544. Email strawberri1@comcast.net. Open: usually, Monday to Friday from 7:30 am to 8 pm, Saturday from 7:30 am to 2 pm but call before you come; weather and crop growth affect daily hours and open dates. Directions: Just off of Rt 259 South. We specialize in strawberries and currently harvest Honeoye, Allstar, Jewel and Darselect. We primarily serve pick your own customers; however, you can place an order and we will pick for you. We encourage families to come and pick berries together. We supply containers and sell our berries by the pound. We maintain straw in and between the rows of berries to help keep you and the berries clean. If you would like to be added to our email list to know when our picking season begins, send an email to us.
Pome Ridge Orchard - plums, blueberries, peaches, nectarines, apples, tart cherries, and some vegetables.
1715 Luciusboro Road, Blairsville, PA 15717. Phone: 724-479-0534. Open: Monday - Friday: 9am - 4:00 pm; Saturday: 9am - 2:30 pm; closed on Sunday; from the first week of July - Late November early December; Exceptions: Only if there is not enough fruit or season was bad. Directions: See their website for directions. Payment: Cash, only. Pome Ridge Orchard is a family owned business that sells plums, blueberries, peaches (many different kinds), nectarines, apples (many different kinds), tart cherries, and some vegetables. Our tart cherries and blueberries are 'You Pick' and we pick the peaches, apples, nectarines and plums. Pome Ridge Orchard has been around for a long time and is now owned by a new family, who bought the orchard about 4 years ago. (UPDATED: May 07, 2015, JBS) (ADDED: June 21, 2014, suggested by a visitor)
A visitor writes on June 21, 2014: "Nice small farm/orchard. Friendly owners."
Stutzman Farms -

Minimizes chemical and pesticide use

, blueberries, U-pick and already picked, porta-potties, restrooms, picnic area (bring your own food)
8690 Highway 422 East, Penn Run, PA 15765. Phone: 724-463-7915. Open: Monday to Saturday from 8 am to 6 pm; Tuesdays 8 am to 8 pm; closed Sundays. Click here for current open hours, days and dates. Directions: Click here for a map and directions. We minimize use of pesticides and other chemicals. Payment: Cash, Check. Also known as "Berry Hill of Stutzman Farms". (UPDATED: May 07, 2015, JBS) (UPDATED: July 16, 2014)
A visitor writes: "This is a pretty simple set up. There are no picnic tables, or activities. You can pick your own. They are not an organic farm. They are mainly a blueberry operation and have several acres of blueberries. I am not sure how much of the farm is dedicated to raspberries. "
White Swan Acres - UPDATE: May 28, 2016: The owner tells me they are now permanently closed
2854 Saltsburg Road, Clarksburg, PA 15725.
(UPDATED: April 17, 2015) (UPDATED: June 25, 2012) (ADDED: June 02, 2010)
Jefferson County
Blueberry Hill Farm

- blueberries, Maple Syrup from trees on the farm, restrooms
110160 Route 322, Reynoldsville, PA 15851. Phone: 814 371-1871. Email: blueberryhillfarm@yahoo.com. Open: Every other Saturday and Sunday In July and August 7am to 7 pm email for 1st picking date. Directions: We are on route 322 2.5 miles West of Reynoldsville, 8.5 mi. East of Brookville 3 mi. from exit 86 I 80. Click here for a map and directions. Payment: Cash, Check, SFMNP Vouchers. (ADDED: July 11, 2011)
Nature's Comeback Bison Ranch - Uses natural growing practices, carrots, corn (sweet), cucumbers, peppers, summer squash, tomatoes,
11436 Bowers Road, Punxsutawney, PA 15767. Phone: 814-427-2544. Email: hineman@key-net.net. Directions: 1 mile off 119 in Big Run PA. 4 miles from Punxsutawney. 13 miles from DuBois PA. And for a map to our farm, click here. Crops are usually available in June, July, August, September. Open: By appointment. We use natural practices, but are not yet certified Organic. Payment: Cash, only. Other Items available: Bison Meat, free range eggs, free range chickens and pre-picked apples from our orchard. Tours: $15 per person- weekends only. (UPDATED: February 05, 2009)
Thompson Farms - corn (sweet), also see our corn maze listing
1344 Odonnell Road, Sigel, PA 15860. Phone: 814-752-2271. Email: thompsonfarms1@hotmail.com. Crops are usually available in August, September. Open: Monday through Friday from 3pm* to 8pm, Saturday 8am to 8pm, Sunday's by chance; * - Open before 3pm by chance or appointment. Sweet Corn is available around labor day. Payment: Cash, Check. All sweet corn is picked fresh out of the field by farm staff at the time of sale so please plan ahead to wait promptly. Attention Valued Corn Maze guest: Effective August 1, 2008 the maze will closed it's doors for agritourism due to skyrocketing fuel, operating, and insurance cost. We apologize about having to make this tough decision but we would like to thank our valued guest who have made the past three years possible. (UPDATED: July 12, 2008)
Lawrence County
Gary's Berries - blueberries,
412 George Washington Rd, Volant, PA 16156. Phone: 724-674-2136. Alternate Phone: 724-674-0696. Email: gldewitt@gmail.com. Open: Monday to Saturday, from 8am to 8 pm; Closed Wednesday and Sunday, July - August. Directions: Blueberries come in around July 15 until August 15; Before or after these dates one should call for availability. Payment: Cash, only. (UPDATED: May 07, 2015, JBS) (ADDED: July 16, 2014)
Somerset County
Skyview Lab Blueberry Farm - blueberries,
480 Willison Road, Boswell, PA 15531. Phone: 814-629-9742. Open: Click here for current open hours, days and dates. Directions: Click here for a map and directions. Payment: Cash, Check. Come pick blueberries that taste best right off the bushes. Bring a picnic lunch, and enjoy the day. Take pictures of the children you will treasure forever. There are varieties coming ripe all summer to eat, freeze, make pies and all sorts of nutritious dishes. We have picnic tables located between the North/South Fields for your enjoyment! (UPDATED: May 07, 2015, JBS) (UPDATED: June 11, 2014, from their website) (ADDED: June 16, 2012)
Washington County
Bedner's Farm and Greenhouse - apples, asparagus, broccoli, corn (sweet), eggplant, herbs/spices, peppers, pumpkins, summer squash, tayberries, tomatoes, other vegetables, concessions / refreshment stand, restrooms, face painting
315 Coleman Road, McDonald, PA 15057. Phone: (724) 926-2541. Email: holly@bednersgreenhouse.com. Open: Select weekends, July - October. Click here for current open hours, days and dates. Directions: Click here for a map and directions. Payment: Cash, Check, Debit cards, Visa/MasterCard, Discover, AmEx. Click here for our Facebook page. Take a hayride out to our produce fields to pick-your-own fresh vegetables. The vegetables to be picked each day will depend on crop conditions. Reservations are recommended, as space is limited. Check back in July to register! (UPDATED: May 07, 2015, JBS) (UPDATED: June 11, 2014, from their website) (UPDATED: July 14, 2012)(ADDED: April 26, 2012)
Simmons Farm - apples, flowers, peaches, pumpkins, strawberries, Honey from hives on the farm, U-pick and already picked, farm market, concessions / refreshment stand, porta-potties, restrooms, picnic area, petting zoo, farm animals, birthday parties, weddings and wedding parties, school tours
17170 Simmons Rd, McMurray, PA 15317. Phone: 724-941-1490. Email: market@simmonsfarm.com. Open: Picking usually ends one hour before market closes. Click here for current open hours, days and dates. Picking updates: Click here for picking updates. Directions: Click here for a map and directions. Strawberries Late May Early June Flowers Early Summer to Mid Fall Peaches Summer Apples Summer to Fall Pumpkins Begins September 21st. Payment: Cash, Check, Debit cards, Visa/MasterCard, Discover, SFMNP Vouchers. Click here for our Facebook page. Christmas Trees in Winter. (UPDATED: May 24, 2017, JBS) (UPDATED: May 07, 2015, JBS) (UPDATED: September 16, 2013)
Trax Farms - strawberries, blueberries, or pumpkins
528 ax Road, Finleyville, PA, 15332. Phone: 412-835-3246. Email: sales@traxfarms.com. . Directions: 12 miles south of Pittsburgh on Route 88. Open: Monday through Saturday - 8AM to 8PM, Sunday - 8AM to 6PM, Starting November 1st, we start our Winter Hours: Monday through Saturday - 9AM to 7PM, Sunday - 9AM to 6PM. Our Strawberry crop covers 8 acres. Our sweet corn covers 85 acres, and is our largest crop on the farm. We offer Pick-Your-Own Crops. These crops start with strawberries in June, blueberries in July, and pumpkins during our Harvest Festival in October. With the Pick-Your-Own crops, you drive out to the field and "pick your own" strawberries, blueberries, or pumpkins. This is a great time to spend with your family! There are also fresh picked crops: We have 2250 apple trees and have 17 different varieties of apples. Our peach orchard covers 12 acres. (UPDATED: May 07, 2015, JBS) (UPDATED: June 11, 2014, from their website)
Westmoreland County
---
---
Local Honey Sources: Allegheny County

Half Crown Hill Orchard - Honey (retail), Beeswax candles, Honey from hives on the farm, porta-potties, picnic area (bring your own food), birthday parties, school tours, group reservations
600 North Branch Road, Mcdonald, PA 15057. Phone: 412-913-4981. Email: apples@hchorchard.com. Open: See our website for current hours. Click here for current open hours, days and dates. Honey updates: Click here for updates. Directions: From 279 take Route 22 West toward Weirton. Take the PA-978/US-30 Exit toward Imperial. At Exit Turn Left on 978/Bateman Road for 2 miles. Turn Right on North Branch Road. Follow North Branch Road 1.6 miles. Orchard is located on the Right just past the intersection of North Branch Road, Kelso Road and Finks Run Road. Click here for a map and directions. Payment: Cash, Check, Visa/MasterCard, Discover, AmEx. Click here for our Facebook page. (UPDATED: September 01, 2015) (UPDATED: September 04, 2014) (UPDATED: August 21, 2014) (ADDED: August 30, 2011)
Triple B Farms - Honey (retail), Comb honey, Beeswax candles, Other honey products, Honey from hives on the farm, Fresh eggs, gift shop, concessions / refreshment stand, porta-potties, Bouncy castle, petting zoo, farm animals, birthday parties, school tours
823 823 Berry Lane, Monongahela, PA 15063. Phone: 724-258-3557. Fax: 724-258-7899. Email: info@triplebfarms.com. Open: Strawberry Season (approximately Memorial Day, call first) thru October 31st, Halloween Monday to Friday 10am to 6pm Saturday and Sunday 10am to 5pm. Click here for current open hours, days and dates. Honey updates: Click here for updates. Directions: Click here for a map and directions. Strawberries: end of May to mid-June Raspberries: end of June to mid-July Peaches: August Blackberries: August Apples: September and October Pumpkins: end of September to October. Payment: Cash, Debit cards, Visa/MasterCard, Discover, WIC Vouchers. Click here for our Facebook page. Observation Bee hive on premises. (ADDED: August 17, 2011)

Butler County

Greystones Farm - Honey from hives on the farm, gift shop, snacks and refreshment stand, restrooms, picnic area, petting zoo, farm animals, birthday parties, school tours
1429 three Degree Road, Valencia, PA 16059. Email: nbchez@connecttime.net. Directions: see website And for a map to our farm, click here. Crops are usually available in October. Open: Saturday and Sunday only 11am-6pm Payment: Cash, only.

Westmoreland County

---

Meats, Milk and Eggs: Allegheny County

Market on Middle - Chicken (free range), Turkey, Veal, Pork, Lamb, Goat meat, Fresh water fish farm, USDA Natural, 100% grass and/or grain fed, snacks, refreshments and/or concessions, Organic Milk, Unpasteurized Cow Milk, Eggs (free range), sausage, Farm market with fruits and vegetables, Within an easy drive to an Interstate road, Fresh eggs, concessions / refreshment stand
2130 Middle Road, Glenshaw , PA 15116. Phone: (412) 213-0724. Email: info@marketonmiddle.com. Open: Thursday - Saturday 10 am to 6 pm. Directions: Click here for a map and directions. Payment: Cash, Check, Debit cards, Visa/MasterCard, Discover, AmEx. Click here for our Facebook page. (UPDATED: June 22, 2017)
Triple B Farms - Eggs (free range, vegetarian fed), Brown eggs, Specialty eggs (see below), sausage, Bacon (pork), Farm market with fruits and vegetables, Within an easy drive to an Interstate road, Farm/ranch tours for visitors, School tours, children welcome, snacks, refreshments and/or concessions, No pets please, handicap accessible, Honey from hives on the farm, Fresh eggs, gift shop, concessions / refreshment stand, porta-potties, Bouncy castle, petting zoo, farm animals, birthday parties, school tours
823 823 Berry Lane, Monongahela, PA 15063. Phone: 724-258-3557. Fax: 724-258-7899. Email: info@triplebfarms.com. Open: Strawberry Season (approximately Memorial Day, call first) thru October 31st, Halloween Monday to Friday 10am to 6pm Saturday and Sunday 10am to 5pm. Click here for current open hours, days and dates. Updates: Click here for updates. Directions: Click here for a map and directions. Strawberries: end of May to mid-June Raspberries: end of June to mid-July Peaches: August Blackberries: August Apples: September and October Pumpkins: end of September to October. Payment: Cash, Debit cards, Visa/MasterCard, Discover, WIC Vouchers. Click here for our Facebook page. (ADDED: August 17, 2011)

Beaver County

Windy Ridge Dairy - No hormones used, luncheon meats, Eggs (free range), Milk, Within an easy drive to an Interstate road, children welcome, handicap accessible, Fresh eggs
457 North Tower Rd, Fombell, PA 16123. Phone: 724-822-8777. Email: windyridgedairy@yahoo.com. Open: Monday to Wednesday 10 am to 8 pm; Closed Thursday; Friday to Sunday 10 am to 8 pm. Click here for current open hours, days and dates. Directions: Click here for a map and directions. Payment: Cash, Visa/MasterCard. Click here for our Facebook page. We milk 40 head of Jersey cows and are processing our own milk. We are making soft cheeses, ice cream, and bottling our own milk into glass and plastic bottles. We have a store on the corner of the property overlooking the farm. (ADDED: October 06, 2010)

Somerset County

Providence Acres Farm

- Turkeys, lamb, goat, chicken, eggs
CornCorner Stone Rd, Friedens, PA 15541. Email: pafarm@gmail.com. Open: Monday to Saturday, closed Sundays; call for more details.. Directions: Call for directions. Payment: . Farm is CNG (Certified Naturally Grown). They raise produce during the warmer months. Eggs all year. (ADDED: October 19, 2010, suggested by a visitor)
Comments from a visitor on October 19, 2010: "I like the farm very much. They have Turkeys which are ready right before Thanksgiving. Also lamb, goat, and chickens. From time to time they have offered pork, beef and duck. I have tried all their meat and it's delicious! They sell off the farm and at the Somerset County Farmers Market.. I don't know all the methods of payment they accept. I do know they do not accept credit cards for sure. Their names are Ray, Kathy and Yvonne Kelly."

Washington County

Weatherbury Farm - Beef, Lamb, Certified USDA organic, USDA Natural, 100% Grass fed (includes finishing), Eggs (organic, free range, vegetarian fed),
1061 Sugar Run Road, Avella, PA 15312. Phone: 724-587-3763. Email: info@weatherburyfarm.com. Open: Meats are by pre - order and a mutually agreeable pickup time is arranged; The farm vacation is open Memorial Day to Labor Day. Directions: Click here for a map and directions. Payment: Cash, Check. Weatherbury Farm is a sustainable grass-fed beef and lamb farm. Certified organic grains (soft & hard wheat, oats, spelt, open-pollinated corn, emmer and einkorn) are also grown on the farm. In the fall of 2011 we will begin grinding grains into flour. (UPDATED: July 15, 2011)

---

Farm Bed And Breakfasts Washington County

Weatherbury Farm - 3 total rooms, Price range from $170 to $313, Large beds, Large rooms, Small fridge in rooms, Wireless internet available (no fee), Fresh farm breakfasts, Beautiful rural setting, Cattle ranch, Swimming pool onsite, Fishing nearby, hunting nearby, boating nearby, horse riding, golf nearby, tennis nearby, Free farm tours for overnight guests, Within an easy drive to an Interstate road, children welcome, No pets please, No smoking allowed, Vegetarian meals available, Help feed the animals, Organic farming, cattle, sheep, goats, chickens,
1061 Sugar Run Road, Avella, PA 15312. Phone: 724-587-3763. Email: info@weatherburyfarm.com. Directions: Click here for a map and directions. Payment: Cash, Check. Our mission as a farm vacation is to educate our guests about farming and agriculture, with an emphasis on organic. Photos: Click here for photos of the rooms and farmhouse. (UPDATED: July 15, 2011)

---

Horse Rides and More: Armstrong County

Dragon Run Forge & Livery - Beautiful rural setting, Mountain views, horse-drawn hayrides, horse-drawn carriage rides, Horse-drawn sleigh rides (weather permitting), restrooms, events at your location (call for info)
323 Porterfield Hill, Cowansville, PA 16218. Phone: 724-543-3367. Email: denise@dragonrunforgeandlivery.com. Open: We book weekdays as well as weekends;All outings are private by reservation only;No deposit to book just a name and number;Contact us with questions. Directions: Payment: Cash, Check. All outings are private in a welcoming family friendly and inviting atmosphere.Offering horse drawn scenic tours year round.Sleigh rides in the winter as long as we have snow.Calls welcome.Personalized gift certificates available-no expiration date. (ADDED: November 25, 2011)

Westmoreland County

Pony-Ride-Party

- Boarding stables, Riding academies, schools, Riding academies, schools, Western riding equipment & instruction, English riding equipment & instruction, Dressage lessons, Jumping lessons and ring, Beautiful rural setting, Mountain views, Fishing nearby, hunting nearby, boating nearby, skiing nearby, snowmobiling nearby, golf nearby, swimming pool nearby, tennis nearby, fitness/health club nearby, Within an easy drive to an Interstate road, School tours, children welcome, handicap accessible, beginners riding lessons, specialty riding lessons, farm animals, birthday parties, school tours, events at your location (call for info)
10069 Laurel Avenue, Irwin, PA 15642. Phone: 724-205-1209. Email: earlylight1@aol.com. Open: Monday to Friday, from 8 am to 7 pm; Saturday and Sunday, from 7 am to 5 pm; Call for appointments; Please no walk-ins as we may not be there. Directions: Route 51 and Route 43 easy access to farm. 190 Rutter Lane Smock, PA 15480. Click here for a map and directions. March 1 to January 1. Payment: Cash, Check. ETC-Horses has stalls available for boarding. Rates start at $250.00. Plenty of turnout. heated viewing room and restroom. Awesome trails on property but there is a trail system off the property too. Lessons available at $18.00 group lessons. Package for lessons for $72.00 ( a month) for basic horsemanship. Applications are being accepted for the next beginner horsemanship lesson sign ups starts Feb 27 and ends March 10 for classes starting the First Sunday in April. Ages: 7 and up. Pony Ride Parties at your home or event! Rates start at $250.00 for two hours. Call to book your date. (ADDED: February 23, 2010)

---

Farm Venues for Weddings, Events, Activities, Parties and Meetings: Allegheny County

Triple B Farms - Lighting, Birthday parties, School and educational groups, Daycare and preschool groups, Other Private Parties, You may bring your own food, Tables and chairs are Provided, Hotel nearby, Motel nearby, Apple Orchard, Peach/Nectarine, Apricot, etc. Orchard, Vegetables, or bush fruit, Corn maze, Pumpkin patch, goats, horses, chickens, other animals, Beautiful rural setting, hunting nearby, Free Onsite Lot parking lot, Within an easy drive to an Interstate road, children welcome, No pets please, handicap accessible, Honey from hives on the farm, Fresh eggs, gift shop, concessions / refreshment stand, porta-potties, Bouncy castle, petting zoo, farm animals, birthday parties, school tours
823 Berry Lane, Monongahela, PA 15063. Phone: 724-258-3557. Fax: 724-258-7899. Email: info@triplebfarms.com. Open: Strawberry Season (approximately Memorial Day, call first) thru October 31st, Halloween Monday to Friday 10am to 6pm Saturday and Sunday 10am to 5pm. Click here for current open hours, days and dates. Venue updates: Click here for updates. Directions: Click here for a map and directions. Strawberries: end of May to mid-June Raspberries: end of June to mid-July Peaches: August Blackberries: August Apples: September and October Pumpkins: end of September to October. Payment: Cash, Debit cards, Visa/MasterCard, Discover, WIC Vouchers. Click here for our Facebook page. (ADDED: August 17, 2011)

---

Maple Syrup Farms and Sugarworks: Allegheny County

Triple B Farms - Medium maple syrup, Honey from hives on the farm, Fresh eggs, gift shop, concessions / refreshment stand, porta-potties, Bouncy castle, petting zoo, farm animals, birthday parties, school tours
823 Berry Lane, Monongahela, PA 15063. Phone: 724-258-3557. Fax: 724-258-7899. Email: info@triplebfarms.com. Open: Strawberry Season (approximately Memorial Day, call first) thru October 31st, Halloween Monday to Friday 10am to 6pm Saturday and Sunday 10am to 5pm. Click here for current open hours, days and dates. Venue updates: Click here for updates. Directions: Click here for a map and directions. Strawberries: end of May to mid-June Raspberries: end of June to mid-July Peaches: August Blackberries: August Apples: September and October Pumpkins: end of September to October. Payment: Cash, Debit cards, Visa/MasterCard, Discover, WIC Vouchers. . Numerous pancake mixes. (ADDED: August 17, 2011)

Jefferson County

Blueberry Hill Farm

- Medium maple syrup, Dark amber maple syrup, Collectors bottles or sets, Organic maple syrup, maple sugar, maple butter, Maple Syrup from trees on the farm, restrooms
10160 Route 322, Reynoldsville, PA 15851. Phone: 814 371-1871. Email: blueberryhillfarm@yahoo.com. Open: Always stocked and at several local locations. Directions: We are on route 322 2.5 miles West of Reynoldsville, 8.5 mi. East of Brookville 3 mi. from exit 86 I 80. Click here for a map and directions. Payment: Cash, Check, SFMNP Vouchers. 3300 mature pick your own blueberry plants and growing. Open July through mid to late August every other weekend (Saturday and Sunday) 7am to 7pm We do rope off an area on Saturday for folks that can only make it on Sundays, Maple syrup producers, local Honey and take orders for canning peaches. (ADDED: July 11, 2011)

Westmoreland County

TM Organic Produce

-

Certified Organic

, Medium maple syrup, Dark amber maple syrup, U-pick and already picked
283 Mcquaide Dr, Saltsburg , PA 15681. Phone: 724-496-5509. Email: temcquaide@gmail.com. Open: Please call about Maple Syrup if interested. Directions: Click here for a map and directions. We are certified organic for all crops! Payment: Cash, Check, SFMNP Vouchers. Feel free to call with any questions. (UPDATED: January 26, 2015)

---

Wholesale Foods Allegheny County

Market on Middle - Local sales at our farm, Local delivery, all produce is sustainably grown, all produce is grown using IPM (integrated pest management), Baked goods, Preserves, jams, jellies, Crafts, artistic products, etc, Wide variety of seasonal fruits and vegetables, beets, blackberries, broccoli, cherries, cucumbers, eggplant, flowers, herbs/spices, melons, onions, peppers, raspberries (red), raspberries (Spring, red), raspberries (Autumn, red), raspberries (Spring, black), summer squash, strawberries, tomatoes, other vegetables, Other fruit or veg, Fresh eggs, concessions / refreshment stand
2130 Middle Road, Glenshaw , PA 15116. Phone: (412) 213-0724. Email: info@marketonmiddle.com. Open: Thursday - Saturday 10 am to 6 pm. Directions: Click here for a map and directions. Payment: Cash, Check, Debit cards, Visa/MasterCard, Discover, AmEx. Click here for our Facebook page. We wholesale specialty lettuce, greens, Micro-greens and a wide array of peppers and tomatoes. (UPDATED: June 22, 2017)

Washington County

Bedner's Farm and Greenhouse - Local sales at our farm, Local delivery, Wide variety of seasonal fruits and vegetables,
315 Coleman Road, McDonald, PA 15057. Phone: 724-926-2541. Email: melanie@bednersgreenhouse.com. Open: 9:00am to 6:00 pm, 7 days/week. Click here for current open hours, days and dates. Directions: Take I-79 to the Bridgeville exit. Make a left onto Route 50 west. Follow for about six miles. Look for Coleman-Taylor Funeral Home on the right. Turn right onto Coleman Road. We are one mile down on the right. Click here for a map and directions. Payment: Cash, Check, Debit cards, Visa/MasterCard, Discover, SFMNP Vouchers. Click here for our Facebook page. (UPDATED: July 14, 2012) (ADDED: April 26, 2012)

---

Resources For Farmers Clearfield County