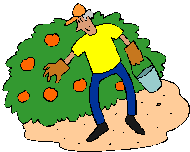 Looking for a local, pick-your-own farm in Northwestern Pennsylvania? Scroll down this page and you will see the U-Pick farms in Northwestern Pennsylvania, sorted by county. Those that offer organic or sustainably grown produce are identified by the words "organic" and/or "sustainable" in Green, next to their name (see "What does Organic mean?"). The U-pick crops they offer follow the name of the farm. To search the page for a specific crop, use Ctrl-F (or on an ipad or Mac, use their "search on this page" function) If they have a website, the name will be in blue and underlined; click on it and it will open their website. Beware of copycat websites (such as the one that starts with "pickit" and the one that ends with ".farms"; they do not update their information, they just steal it from us once in a great while (they are plagiarists operating in Russia and China), so theirs are usually out-of-date -and often copied incorrectly! I put dates to indicate when we last received an update from each farm, and I make updates daily (each farm as their info changes). See the customer and farmer menus at the top menu bar to submit updates and corrections and help me keep each current!
And if you know of any I missed and want to add them or correct the information, please let me know!
What's in season in May 2017, and other timely information:
Notes for May 2017: The warm winter means strawberries will be EARLY this year! Move the dates ahead by 2 - 3 weeks on our state crop availability calendars for strawberries; see your state's calendar for more dates of upcoming crops. Blueberries have already started in FL and TX.
Next year, don't miss an Easter Egg Hunt for your children: See our companion website to find a local Easter Egg hunt!
Children's Consignment Sales occur in both the Spring and Fall See our companion website to find a local community or church kid's consignment sale!
We also have home canning, preserving, drying and freezing directions. You can access recipes and other resources from the drop down menus at the top of the page or the site search. If you have any questions or suggestions, feel free to write me! It is easy to make your own ice cream, even gelato, or low fat or low sugar ice cream - see this page. Also note, there are many copycat website listing U-pick farms now. They have all copied their information form here and usually do not ever update. Since 2002, I've been updating the information every day but Christmas; so if you see anything wrong, please write me!
Northwestern Pennsylvania U-Pick Farms and Orchards, by county
Click on the resources drop-down above, if you need a county map
Cameron County
Clarion County
Crawford County
Church Run Orchard

- Apples, restrooms, petting zoo, farm animals
44868 Warner Rd, Titusville, PA 16354. Phone: 814-827-7172. Open: harvest months depends on crop yields. Directions: Call for directions. Payment: Cash, only. (ADDED: August 14, 2010, suggested by a visitor)
Comments from a visitor on August 14, 2010: "best cider i have ever had."

DiMatteo Farms LLC

- apples, blueberries, pumpkins, raspberries (red), raspberries (Spring, red), raspberries (Autumn, red), strawberries, U-pick and already picked
21652 N Mosiertown Road, Saegertown, PA 16433. Phone: 719-238-6107. Email: vicdimatteo@gmail.com. Open: Tuesday to Friday, from 8 am to 8 pm; Saturday and Sunday, from 8 am to 5 pm, June 24 to October 31. Directions: From I-79 exit 254 Saegertown, head West to Mosiertown Road, (quarter mile)Make a right on to Mosiertown Road, take to the end, (Aproximately 3 miles) at stop make a left and the farm is up on the right side about 300 yards. Click here for a map and directions. Payment: Cash, Check. We have Raspberries from late June through October easy picking, all Raspberries are set up on trellis with clear open rows. All berries are at waist to shoulder hieght. Large varitiy of pumpkins in the Fall, sweet corn, strawberries avialible too. We also have Greenhouses for Spring flowers, baskets, plants, and garden vegtables. (ADDED: June 09, 2015)
Elk County
PYO Berries - blueberries,
4409 Cory Road, Wilcox, PA 15870. Phone: 610-844-8681. Email: pyobluebonus@yahoo.com. Open: Saturday 9:00am till 7:00pm ,Sunday 9:00am till 5:00pm. Directions: Click here for a mapquest map and directions or Click here for a Google map and directions. Payment: Cash, only. Bring your own containers. (UPDATED: May 07, 2015, JBS) (ADDED: July 07, 2009)

Valley Farm Market

- corn (sweet), strawberries, tomatoes,
18211 Bennetts Valley Hwy, Weedville, PA 15868. Phone: 814-787-8911. Email: Valleyfarmmarket@alltel.net. Directions: Click here for a map and directions. Crops are usually available in June, July, August, September. Open: Farm Market Monday to Friday 6:00 am to 9:00 pm Saturday and Sunday 8:00am to 9:00 pm; call for pick your own hours. Payment: Cash, Check, Visa/MasterCard, Discover, AmEx. Valley Farm Market is a unique convenience store. We have a deli, select groceries,
soft ice cream, hard ice cream, slush puppies, gasoline, diesel, and kerosene. In season we have locally grown blueberries,strawberries, pick your own strawberries, sweet corn and tomatoes. Stop in and see our train room. You are able to operate an electric train which goes around the entire room. We are a dealer for Lionel, American Flyer, and MTH electric trains. (UPDATED: May 07, 2015, JBS) (ADDED: June 08, 2008)
A visitor writes on June 17, 2013: "I picked today June 17,2013. It was their first day to pick. To be quite honest, it looked like their last day of picking. The previous reviewer was correct. The 'rows' are terrible to follow. The weeds were everywhere and the berries were awful. I had planned on picking 2 flats....but only ended up picking one. They were super small and definitely not worth the effort. The nice berries were few and very far between. "
Comments from a visitor on June 16, 2011: "According to the woman I spoke to, they do not accept credit or debit cards. They do accept checks and cash. Also, just to let you know it's not a very good place to pick. There are no real clear rows for strawberry picking and you have to dig through weeds, thistles to get to alot of the strawberry plants. For $ 1.59 a pound/quart it seems pricey considering you have to "find" alot of the strawberry plants amongst the weeds. I have been there a few times and keep hoping they will improved their fields, but they don't. I mean if you're going to have irrigation pipes, wouldn't you want to have nice clear rows of plants? They also tend to pick the choicest berries to sell at $3.99 a lb. Anyway, I am sorry to have to give you a negative report but people need to know what they are in for. I tried it again this year and after 2 hours of picking, I only managed 6 lbs and the berries were very small and the weeds I had to dig through were unbelievable. Just wasn't worth my time and effort. I don't mind the work involved in picking from plants but one shouldn't have to dig through a bunch of weeks. "
Erie County
Forest County
McKean County
Blueberry Hill Farm - blueberries, Fresh eggs, U-pick and already picked, farm market, porta-potties
46 Blueberry Hill Lane, Smethport, PA 16749. Phone: 814-887-2416. Alternate Phone: 814-558-3563. Email: big_guy4@veizon.net. Open: 10 am to 7 pm, 7 days a week starting Monday July 21 through Labor Day, weather providing; (We can't fight Mother Nature...). Directions: Click here for a map and directions. Payment: Cash, Check, SFMNP Vouchers. (UPDATED: May 07, 2015, JBS) (UPDATED: July 14, 2014) (UPDATED: July 13, 2011)
Bozberry Farms - blueberries, Maple Syrup from trees on the farm, gift shop, snacks and refreshment stand, restrooms, picnic area, events at your location (call for info)
Rock Run Road, Turtlepoint, PA 16750. Phone: 814-642-2732. Fax: 814-642-2732. Email: bozberryfarms@yahoo.com. Open: Seven days a week from 9am to 7pm. Directions: Click here for a map and directions. Blueberries are generally ready for picking the third week in July until the end of August depending on the weather; Call for more accurate dates. Payment: Cash, Check. Tractor driven wagon rides are provided into the blueberry fields. Pennsylvania Farmers Market Nutrition Checks are accepted at the farm. (ADDED: June 11, 2008)(UPDATED: June 26, 2010)
Gee's Blueberry Hill Farms -

No pesticides are used

, blueberries,
46 Blueberry Hill Lane Route 6, Smethport, PA 16749. Phone: 814-887-2416. Alternate Phone: 814-558-3563. Open: Anticipated for 2010 am to the tentative starting date of Saturday, July 24; We open at 11 o'clock morning and start closing at 7 o'clock evening, giving you some leeway if you're on a good bush ;;; hehe We anticipate a berry picking closing date of Sunday, September 5. Directions: Just 1.2 miles from the downtown Smethport intersection of Route 59 and Scenic Route 6, follow Route 6W - 1.2 miles in a northerly direction towards Mt. Jewett. You'll see our sign on the left just past and opposite Sena Kean Manor sign. Click here for a map and directions. Although the market opens sooner, our blueberries are generally ready to be picked around the third week in July and are available thru the first week in September; Because of our location, along Scenic Route 6, we are open 7 days a week for the convenience of summer travelers and visitors looking for a fresh health smart snack ;;. We do not use pesticides on the crops. Payment: Cash, Check, SFMNP Vouchers. (UPDATED: June 11, 2014, from their Facebook page) (ADDED: December 29, 2009)
Mercer County
Pete's Berry Farm

- blueberries and strawberries,
2803 Winner Road, Clark, PA 16150. Phone: 724-962-2913. Open: Call for for hours and availability. Directions: Call for directions. Payment: Cash, only.. (ADDED: July 27, 2011, suggested by a visitor)
Comments from a visitor on July 27, 2011: "great organic, beautiful strawberries and blueberries...very nice and helpful"
Venango County
Barber's Orchards - Strawberries
3394 State Route 417, Franklin, PA 16323. Phone: 814-676-6194. Open: See their website or call for this year's dates, 8 am to 6 pm; Other dates to follow. Call ahead to order berries already picked. Seneca 814-678-7747.(UPDATED: May 07, 2015, JBS) (ADDED: June 23, 2009, suggested by a visitor)
Warren County
Dave's Blueberries

-

No pesticides are used

, blueberries, U-pick and already picked
2629 Fox Hill Rd, Russell, PA 16345. Phone: 814-757-8356. Alternate Phone: 814-489-3798. Email: no1dogluvr@yahoo.com. Open: 7 days a week; 9 am to dusk. Directions: From the blinker light on RT 62 intersection with RT 957 turn towards the cemetery (traveling North, it will be a right, and if traveling south it will be a left) taking the right on the Y at the cemetery. At the stop sign in Russell, continue straight. Continue right around the park over the big metal bridge. Fox Hill is the second left. Dave's Blueberries is 2.5 miles up the hill, the 3rd blueberry farm. Click here for a map and directions. End of July through mid September; Call in September to be sure we're still open. We do not use pesticides on the crops. Payment: Cash, only. Pick your own is 1.50 per quart. Call or email for ready picked. $4.00 per quart for ready picked. (UPDATED: August 20, 2013) (ADDED: August 04, 2009)

Lind's Blueberries

- blueberries
Route 27 East, Youngsville, PA 16371. Phone: 814-563-7349 And for a map to our farm, Click here. Season: Late July thru August. Open: Monday to Saturday, 11 am to 7 pm, Closed on Sunday. Payment: Cash, only.
Wenzel's Hatch Patch - strawberries, vegetables
Hatch Run Rd & Conewango Avenue, North Warren, PA, 16365. Phone: 814-723-4620. Alternate Phone (814) 757-8881. Directions: Located on Route 957, the east side of Sugar Grove borough. Open: 8am to 8pm. Farm market that features a greenhouse, pick-your-own strawberries and pumpkins, also sweet corn, potatoes and other fruits and vegetables. (UPDATED: May 07, 2015, JBS)
---
---
Local Honey Sources:
Crawford County
Al's Melons Farm Market and Greenhouse - Honey (retail), Buckwheat honey, Clover honey, Wildflower honey, Comb honey, Whipped honey, Honey from hives on the farm, Fresh eggs, restrooms, school tours
103010304 US Highway 6, Conneaut Lake, PA 16316. Phone: 814-382-3152. Email: alsmelons@yahoo.com. Open: Honey is available throughout our open season. Click here for current open hours, days and dates. Honey updates: Click here for updates. Directions: Click here for a map and directions. Payment: Cash, Check, Debit cards, Visa/MasterCard, Discover, AmEx, SFMNP Vouchers. Click here for our Facebook page. We have TWO retail locations. Our second retail location is 18373 Conneaut Lake Rd, Meaville, PA 16335 All products available at the farm are also availablear our Meadville location. Note: There is no "pick your own pumpkin" or "corn maze" or "wagon rides" at the Meadville location, only at our Conneaut Lake location. (UPDATED: December 06, 2011) (ADDED: August 06, 2010)
Erie County
Agape Pond Farm - Honey (retail), Clover honey, Orange blossom honey, Wildflower honey, Raw honeys, Beeswax candles, Pollen, Honey from hives on the farm, Maple Syrup from trees on the farm, Fresh eggs
8230 Shreve Road, Union City, PA 16438. Phone: 814-438-2701. Email: al@agapepond.com. Open: every day from dawn to dusk. Directions: We are located at the intersection of Old Valley Road and Shreve Road near Union City, Pa. Click here for a map and directions. Payment: Cash, Check. Click here for our Facebook page. You have never tasted honey, until you have tasted our honey! Pure, Raw & Natural, straight from the hive. This is Honey as Honey should be! We have our own bees and offer you Local Pure Raw Natural Honey. (ADDED: June 04, 2013) (ADDED: July 06, 2012)
---
Meats, Milk and Eggs:
Crawford County
Al's Melons Farm Market and Greenhouse - Milk, Eggs, Farm market with fruits and vegetables, Restrooms, Within an easy drive to an Interstate road, School tours, children welcome, No pets please, handicap accessible, Honey from hives on the farm, Fresh eggs, restrooms, school tours
103010304 US Highway 6, Conneaut Lake, PA 16316. Phone: 814-382-3152. Email: alsmelons@yahoo.com. Open: Deli meats and cheeses are available in the store all season during open hours. Click here for current open hours, days and dates. Updates: Click here for updates. Directions: Click here for a map and directions. Payment: Cash, Check, Debit cards, Visa/MasterCard, Discover, AmEx, SFMNP Vouchers. Click here for our Facebook page. We have TWO retail locations. Our second retail location is 18373 Conneaut Lake Rd, Meaville, PA 16335 All products available at the farm are also availablear our Meadville location. Note: There is no "pick your own pumpkin" or "corn maze" or "wagon rides" at the Meadville location, only at our Conneaut Lake location. (UPDATED: December 06, 2011) (ADDED: August 06, 2010)
Erie County
Agape Pond Farm - Chicken (NOT free range), Chicken (free range), Kosher, No hormones used, No antibiotics used, 100% mixture of corn, grain, soybeans and/or other natural supplemental feeds, Eggs (organic, free range, vegetarian fed), Brown eggs, Within an easy drive to an Interstate road, Farm/ranch tours for visitors, children welcome, Pets welcome, handicap accessible, Honey from hives on the farm, Maple Syrup from trees on the farm, Fresh eggs
82308230 Shreve Road, Union City, PA 16438. Phone: 814-438-2701. Email: al@agapepond.com. Open: every day from dawn to dusk. Directions: We are located at the intersection of Old Valley Road and Shreve Road near Union City, Pa. Click here for a map and directions. Payment: Cash, Check. Click here for our Facebook page. "Where Everything is Naturally Grown" We invite everyone to come visit our farm!. (UPDATED: June 04, 2013) (ADDED: July 06, 2012)
Skelton Farms - Beef, USDA Natural, No hormones used, No antibiotics used, 100% Grass fed (includes finishing), Within an easy drive to an Interstate road, children welcome,
Corner Of Perry Lane & Cambridge Springs Rd, Edinboro, PA 16412. Phone: 814-734-7008. Email: trishskelton@gmail.com. Open: We are open by appointment only; We are here on the farm most days but do not keep store hours, please call or email to make an appointment to pick up your beef; Ground beef is available most of the time assortment packages must be pre - ordered. Click here for current open hours, days and dates. Directions: We are a little over a mile south of the town of Edinboro. Traveling south on RT 99 from the RT 6N & RT 99 intersection, continue south on Route 99, through the town of Edinboro, past the University on the left, past Hobbs DO IT center on the right. Go over a small bridge and a slight bend in the road, Perry lane comes up fast on the left, turn left onto Perry lane just before our farm sign. Make an immediate right onto the farm driveway. Click here for a map and directions. Payment: Cash, Check. Click here for our Facebook page. We also sell high quality Orchard grass hay. Please call Terry 814-450-2689 or email Trish at trishskelton@gmail.com for more information. (ADDED: May 01, 2012)
---
Farm Venues for Weddings, Events, Activities, Parties and Meetings:
Crawford County
Bookamer Family Farm - Cooking Facilities, Birthday parties, Business meetings, Business outings, Filming or photo shoots, Classes, lectures or Speakers, School and educational groups, Daycare and preschool groups, Other Private Parties, You may bring your own food, Tables and chairs are Provided, Some Linens and table silverware are provided, BYO alcohol, Bed & Breakfast onsite, Dairy farm, Cattle ranch, dairy cows, steers/cattle, sheep, goats, horses, chickens, pigs, llamas/alpacas, other animals, Beautiful rural setting, Hiking trails, Fishing nearby, hunting nearby, boating nearby, snowmobiling nearby, golf nearby, Free Onsite Lot parking lot, Within an easy drive to an Interstate road, children welcome, No pets please, No smoking allowed, Vegetarian meals available, Fresh eggs, snacks and refreshment stand, restrooms, picnic area, pony rides, petting zoo, farm animals, birthday parties, school tours, events at your location (call for info)
7868 Dutch Hill Road, Meadville, PA 16335. Phone: 814-425-3450. Email: bookamers@bookamerfamilyfarm.com. Open: Call or email ahead to schedule your farm tour or cottage stay!. Click here for current open hours, days and dates. Directions: Click here for a map and directions. Payment: Cash, Check. Bookamer Family Farm is an Eco-friendly circle farm where land, plants, animals and caretakers work for benefit and well being of each other. We provide educational tours and day trips regarding the many aspects and diverse animals of our circle farm. We also have a farm cottage where you may have an overnight stay with all meals included made from the fruits of the farm. Come to the farm and join the family!. (ADDED: January 29, 2010)
Bedner's Farm and Greenhouse - Lighting, Heating, Vegetables, or bush fruit, Corn maze, Pumpkin patch, Beautiful rural setting, Fishing nearby, hunting nearby, horse riding, Free Onsite Lot parking lot, Within an easy drive to an Interstate road, children welcome, Vegetarian meals available, handicap accessible, concessions / refreshment stand, restrooms, face painting
315 Coleman Road, Mcdonald, PA 15057. Phone: (724) 926-2541. Email: holly@bednersgreenhouse.com. Open: April 6 to April 30: 9:00am to 6:00pm, 7 days/week May: Monday to Saturday 9:00am to 8:00pm; Sunday 9am to 6pm June: Monday to Friday 9:00am to 8:00pm; Saturday and Sunday 9am to 6pm July through October 31: 9:00am to 6:00pm, 7 days/week. Directions: 315 Coleman Road McDonald, PA 15057. Click here for a map and directions. Payment: Cash, Check, Debit cards, Visa/MasterCard, Discover, AmEx. Click here for our Facebook page. (ADDED: April 26, 2012)
Erie County
Port Farms - Birthday parties, Corporate events, Corn maze, Pumpkin patch, goats, Beautiful rural setting, Within an easy drive to an Interstate road, gift shop, concessions / refreshment stand, jumping pillow, trike track, pedal kart track, birthday parties, weddings and wedding parties, school tours
2055 Stone Quarry Road, Waterford, PA 16441. Phone: 814-796-4500. Fax: 814-796-3570. Email: portfarms@gmail.com. Open: Weddings and all other summer time events are held May through August; By appointment only. Directions: Click here for a map and directions. The perfect place to spend the entire day with family and friends; Great food available and endless activities, season passes available;. Payment: Cash, Debit cards, Visa/MasterCard, Discover. Click here for our Facebook page. Our beautiful events barn and picturesque country setting offer the perfect venue for your wedding, reception, large family reunion or corporate function. (UPDATED: March 08, 2016)
---
Horse Rides and More:
Erie County
May Farms - Horse riding lessons, equipment & instruction, Western riding equipment & instruction, Within an easy drive to an Interstate road, children welcome, beginners riding lessons, specialty riding lessons, horse-drawn hayrides, horse-drawn carriage rides, Horse-drawn sleigh rides (weather permitting), group reservations, events at your location (call for info)
8125 Millfair Road, Mckean, PA 16426. Phone: 814-397-3265. Email: mayteampenning@aol.com. Open: Our events are by costumer demand; If you are interested in a lesson, round robin, or sleigh ride, please call anytime to get your event scheduled!. Directions: From I-90 South Take Exit 832 (the Presque Isle & Sterrettania exit) Turn Right onto Sterrettania Drive roughly one mile to Millfair Road Turn Right on Millfair Road Drive roughly one mile, to 8125 Millfair Road, May Farms! There is a long gravel driveway with a white house on the right and a wooden barn at the end. Click here for a map and directions. Payment: Cash, Check. Click here for our Facebook page. We also hold Round Robin Ranch Hand Sortings, and Ohio Valley Team Penning Association shows at our facilities. You are more then welcome to use one of our horses during lessons! We also haul horses all over the country, so call to find out where we are going and when!. (ADDED: November 03, 2014)
---
Farm Bed And Breakfasts Crawford County

Bookamer Family Farm - 2 total rooms, Price range from $100 to $, Large beds, Small fridge in rooms, Fresh farm breakfasts, Lunches offered, Farm dinners, Fresh eggs, Beautiful rural setting, Cattle ranch, Hiking trails, Fishing nearby, hunting nearby, boating nearby, snowmobiling nearby, golf nearby, Free farm tours for overnight guests, Within an easy drive to an Interstate road, No pets please, No smoking allowed, Vegetarian meals available, Help milk the cows, Help feed the animals, Sustainable farming, dairy cows, cattle, sheep, goats, horses, chickens, pigs, llamas/alpacas, other animals, Fresh eggs, snacks and refreshment stand, restrooms, picnic area, pony rides, petting zoo, farm animals, birthday parties, school tours, events at your location (call for info)
7868 Dutch Hill Road, Meadville, PA 16335. Phone: 814-425-3450. Email: bookamers@bookamerfamilyfarm.com. Click here for current open hours, days and dates. Directions: Click here for a map and directions. Payment: Cash, Check. Our farm has a private cottage for overnight stays with all the meals provided from the fruits of the farm. Its serene setting overlooking the pastures and hill sides of the beautiful Crawford County Pennsylvania are sure to inspire some wonderful memories of a perfect farm vacation!. Photos: Click here for photos of the rooms and farmhouse. (ADDED: January 29, 2010)

---

---

Maple Syrup Farms and Sugarworks: Erie County

Agape Pond Farm - Fancy maple syrup, Medium maple syrup, Organic maple syrup, Honey from hives on the farm, Maple Syrup from trees on the farm, Fresh eggs
8230 Shreve Road, Union City, PA 16438. Phone: 814-438-2701. Email: al@agapepond.com. Open: every day from dawn to dusk. Directions: Click here for a map and directions. Payment: Cash, Check. . We sell our Delicious & Healthy Farm Products at: NICKEL PLATE MILLS, 1932 Parade Street, Erie, PA 16503 ~ 814-454-7880 Every Friday & Saturday between 9 AM to 2 PM. (ADDED: June 04, 2013)

Warren County

Angove's Farm- Maple syrup, candy and cream in various sizes, UPS shipping service, Wide variety of seasonal fruits and vegetables,
1057 Akeley Rd., Russell, PA 16345. Phone: 814-757-4300. Open: See their website for for hours and availability. Directions: See their website for directions. Payment: Cash, only. Products: Maple syrup, candy and cream in various sizes. UPS shipping service. Jack indicated that February 8th to April 15th is the window of opportunity on his farm for ideal sap collection as a rule. (ADDED: July 14, 2011, suggested by a visitor)

---

Wholesale Foods Crawford County

Al's Melons Farm Market and Greenhouse - Local sales at our farm, Local delivery, Baked goods, Preserves, jams, jellies, Wide variety of seasonal fruits and vegetables, Honey from hives on the farm, Fresh eggs, restrooms, school tours
10304 US Highway 6, Conneaut Lake, PA 16316. Phone: 814-382-3152. Email: alsmelons@yahoo.com. Open: Available all year. Click here for current open hours, days and dates. Market updates: Click here for updates. Directions: Click here for a map and directions. Payment: Cash, Check, Debit cards, Visa/MasterCard, Discover, AmEx, SFMNP Vouchers. Click here for our Facebook page. We have TWO retail locations. Our second retail location is 18373 Conneaut Lake Rd, Meaville, PA 16335 All products available at the farm are also available at our Meadville location. Note: There is no "pick your own pumpkin" or "corn maze" or "wagon rides" at the Meadville location, only at our Conneaut Lake location. Wholesale produce is available YEAR-ROUND. Contact us for details. Thank you!. (ADDED: December 06, 2011)