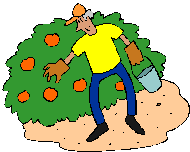 Looking for Home Pickling Supplies: Pickle, Relish and Sauerkraut Making Equipment and Books in 2023? Scroll down this page and follow the links. And if you bring home some fruit or vegetables and want to can, freeze, make jam, salsa or pickles, see this page for simple, reliable, illustrated canning, freezing or preserving directions. There are plenty of other related resources, click on the resources dropdown above. If you are having a hard time finding canning lids, I've used these, and they're a great price & ship in 2 days.
If you have questions or feedback, please let me know! There are affiliate links on this page. Read our disclosure policy to learn more.
Home Pickling Supplies: Pickle, Relish and Sauerkraut Making Equipment and Books
Pickling Supplies, Equipment, Additives and Crocks
If you plan on doing home pickling, especially fermented pickles, relishes, old-fashioned general store barrel dill pickles, sauerkraut, etc., then this page will provide both an overview to the specialized equipment and a pricing guide and good sources to obtain it.
There are also mixes and additives, like pickling lime, pickle crisp, etc. that can otherwise be hard to obtain.
Scroll down this page for photos, descriptions, prices and ordering information. For the canners themselves, see this page!
Everything can be shipped by a variety of methods, including overnight, if you have a canning emergency!
Note: In response to requests for canning products and books, I've added this page, and I've found reliable suppliers for the products here, and now at even lower prices - I'll bet you can't beat them anywhere!
And I appreciate your business- buying the products here helps support the website!
You can read a discussion about why foods should be processed in a canner on this page" " Why do I need a canner? "
For more information, and NO obligation to buy, just click on the links in the boxes on the left!
Fermenting Crocks and Equipment to make fermented foods, like sauerkraut and old-fashioned pickles

Click here to find out more about fermentation crocks . There is also a good book about making old-fashioned sauerkraut and the old fashioned fermented pickles (Note: for non-fermented pickles, which is most of them, you don't need a crock!)

Pickle Mixes

Whether you want dills or sweet pickles; canning them or straight into the refrigerator; there is a mix for every taste and need here! Get the ready mixes to make pickles easily here!

And for the refrigerator mixes (no canning required, but the pickles must be stored in the fridge),

Books about making pickles and sauerkraut at home

Pickling additives

Pickling lime, pickling salt, pickling spice and pickle crisp: Get everything you need to make pickles here!

Canning equipment - everything BUT the pot

If you already have a 10 qt or larger pot, and you only made a few jars at a time, this may meet your needs:

Home Canning Kit contains all the essential canning tools (but not the pot and rack) in one simple kit. The Home Canning Kit contains a convenient Lid Lifter, Canning Funnel, jar lifter, Jar Wrench, and Kitchen Tongs. These items can also be purchased separately. These are great tools for water bath, steam, or pressure canning.

Blake's rating : Great accessory kit!

Canning Racks

See the seller's website for features, pricing and user reviews!

Blake's rating : Excellent replacement rack (sooner or later your rack will fall apart from the boiling water (and no, this one is not made of silicone...)

Canning Jars

Canning jars delivered to your doorstep and guaranteed! Any size you need. Click on the links below

Canning jars: quart (32 oz) jars

Canning jars: pint (16 oz) jars

Canning jars: 8 oz jars

Quilted Canning jars: 4 oz glass jars

Canning Accessories and Tools

Good quality canning tools last a lifetime, and really make canning easier. The most value are bundled in a kit: Jar funnel, lid lufter wand, bubble freer, jar tongs (really save you from burning your hands), etc. . These provide the home canner with the essential tools needed for safe and efficient home canning.

Anything you could need is here, at discount prices

Some examples:

Home Canning Kits
Canning Jar Lifters
Canning Lid Lifters
Canning Jar Wrenches
Kitchen Tongs
Crinkle Cutters
Canning Lid Sanitizers
Canning Funnels
Stainless Steel Wide Mouth Funnels
Big Mouth Canning Funnel w/ Sieves
Deluxe Stainless Steel Funnel w/ Strainers
Ball Bubble FREER Spatulas
Korona Stainless Steel, 6 Qt. Deep Colanders
Stainless Steel Colanders
9 inch Granite Wear Colander
Vegetable Brushes
Cook's Tools
Jelly Strainer Stand with Jelly Bag
Jelly Strainer Bags
Grip EZ Chopper/Scrapers
Racks for Water Bath Canners
Strawberry Hullers
Tomato Slicers

Canning Books

Canning books

Canning & Preserving for Dummies by Karen Ward


click here for more information, reviews, prices for Canning and Preserving For Dummies






The All New Ball Book Of Canning And Preserving: Over 350 of the Best Canned, Jammed, Pickled, and Preserved Recipes Paperback

This is THE book on canning! My grandmother used this book when I was a child. It tells you in simple instructions how to can almost anything; complete with recipes for jam, jellies, pickles, sauces, canning vegetables, meats, etc. If it can be canned, this book likely tells you how! Click on the link below for more information and / or to buy (no obligation to buy).

Food Preparation Equipment

Make the job faster and easier with these great tools!