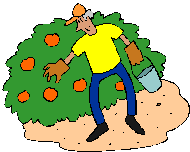 Looking for How to make naturally fermented Sauerkraut, naturally - made easy, using natural ingredients, and illustrated! in 2022? Scroll down this page and follow the links. And if you bring home some fruit or vegetables and want to can, freeze, make jam, salsa or pickles, see this page for simple, reliable, illustrated canning, freezing or preserving directions. There are plenty of other related resources, click on the resources dropdown above. If you are having a hard time finding canning lids, I've used these, and they're a great price & ship in 2 days.
If you have questions or feedback, please let me know! There are affiliate links on this page. Read our disclosure policy to learn more.
How to make naturally fermented Sauerkraut, naturally - made easy, using natural ingredients, and illustrated!
Making Homemade Natural Sauerkraut
Using the natural fermentation homemade method
Yield: 9 quart jars
Click here for a PDF print version
Making and canning your own Sauerkraut the old-fashioned fermented way, with all natural ingredients has never been easier!! Here's how to do it, in easy steps and completely illustrated. This method is so easy, ANYONE can do this! It's a great thing to do with your kids!
NOTE: Photos are coming soon!
---
Ingredients and Equipment
---
Directions
Step 1 - Selecting the cabbage
For the best sauerkraut, use firm heads of fresh cabbage. For best results, wash and shred the cabbage and start making the kraut between 24 and 48 hours after harvest.
Step 2 - Wash the cabbage
Work with about 5 pounds of cabbage at a time. Discard outer leaves. Rinse heads under cold running water and drain.
Step 3 - Shred the cabbage
Cut heads in quarters and remove cores. Shred or slice to a thickness of a quarter.
Step 4 - Preparing for Fermentation
Put cabbage in a suitable fermentation container, see "Suitable Containers, Covers, and Weights for Fermenting Food,", and add 3 tablespoons of salt. Mix thoroughly, using clean hands. Pack firmly until salt draws juices from cabbage.
Click here to find out more about fermentation crocks. There is also a good book about making old-fashioned sauerkraut.
Step 5 - Repeat steps 2 to 4 for the remaining cabbage
Repeat shredding, salting, and packing until all cabbage is in the container. Be sure it is deep enough so that its rim is at least 4 or 5 inches above the cabbage. If juice does not cover cabbage, add boiled and cooled brine (1-1/2 tablespoons of salt per quart of water).
Step 6 - Adding plates, weights and sealing
Add plate and weights; cover container with a clean bath towel.
Step 7 - Store and ferment
Store at 70º to 75ºF while fermenting. At temperatures between 70º and 75ºF, kraut will be fully fermented in about 3 to 4 weeks; at 60º to 65ºF, fermentation may take 5 to 6 weeks. At temperatures lower than 60ºF, kraut may not ferment. Above 75ºF, kraut may become soft.
If you weigh the cabbage down with a brine-filled bag, do not disturb the crock until normal fermentation is completed (when bubbling ceases). If you use jars as weight, you will have to verify the kraut 2 to 3 times each week and remove scum if it forms.
Be sure to keep the containers in an area free of insects. People have reported that they also wrap the top of the containers with a large old (but clean) towel, mislin or layers of cheesecloth and secure it (tie it tightly), so bugs cannot get inside!
Step 8 - Finishing and storing
Fully fermented kraut may be kept tightly covered in the refrigerator for several months or it may be canned using a boiling water bath canner, as follows:
Hot pack - Bring kraut and liquid slowly to a boil in a large kettle, stirring frequently. Remove from heat and fill jars rather firmly with kraut and juices, leaving 1/2-inch headspace.
Raw pack - Fill jars firmly with kraut and cover with juices, leaving 1/2-inch headspace.
Which is better? The National Center for Home Food Preservation at UGA says you generally get better results with a hot pack.
Adjust lids and process according to the recommendations in the table below:
Recommended process time for Sauerkraut in a boiling-water canner

Process Time at Altitudes of
Style of Pack
Jar Size
0 - 1,000 ft
1,001 - 3,000 ft
3,001 - 6,000 ft
Above 6,000 ft
Hot
Pints
10 min
15
15
20
Quarts
15
20
20
25
Raw
Pints
20
25
30
35
Quarts
25
30
35
40
---
Pickle Making Problems?
Some questions are answered at the bottom of this page. See this page for a more complete set of frequently asked pickling questions and answers
---
A 1-gallon container is needed for each 5 pounds of fresh vegetables. Therefore, a 5-gallon stone crock is of ideal size for fermenting about 25 pounds of fresh cabbage or cucumbers. Food-grade plastic and glass containers are excellent substitutes for stone crocks. Other 1- to 3-gallon non-food-grade plastic containers may be used if lined inside with a clean food-grade plastic bag. Click here to find out more about fermentation crocks. There is also a good book about making old-fashioned sauerkraut.
Caution: Be certain that foods contact only food-grade plastics. Do not use garbage bags or trash liners. Fermenting sauerkraut in quart and half-gallon Mason jars is an acceptable practice, but may result in more spoilage losses.
Cabbage and cucumbers must be kept 1 to 2 inches under brine while fermenting. After adding prepared vegetables and brine, insert a suitably sized dinner plate or glass pie plate inside the fermentation container. The plate must be slightly smaller than the container opening, yet large enough to cover most of the shredded cabbage or cucumbers. To keep the plate under the brine, weight it down with 2 to 3 sealed quart jars filled with water. Covering the container opening with a clean, heavy bath towel helps to prevent contamination from insects and molds while the vegetables are fermenting. Fine quality fermented vegetables are also obtained when the plate is weighted down with a very large clean, plastic bag filled with 3 quarts of water containing 4-1/2 tablespoons of salt. Be sure to seal the plastic bag. Freezer bags sold for packaging turkeys are suitable for use with 5-gallon containers.
The fermentation container, plate, and jars must be washed in hot sudsy water, and rinsed well with very hot water before use.
---
Other Equipment:
From left to right: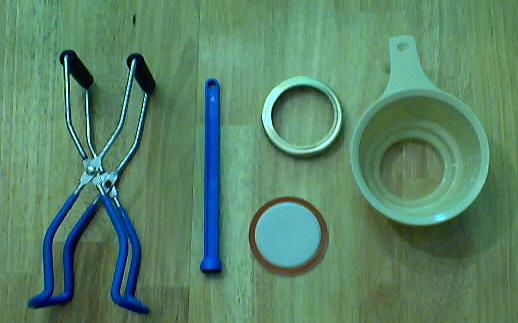 Jar lifting tongs
to pick up hot jars
Lid lifter
- to remove lids from the pot
of boiling water (sterilizing )
Lid
- disposable - you may only
use them once
Ring
- holds the lids on the jar until after
the jars cool - then you don't need them
Canning jar funnel
- to fill the jars