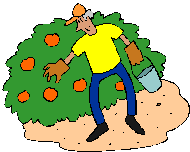 Looking for a local, pick-your-own farm in Southwest corner of Oregon? Farms are open and safe! Scroll down this page and you will see the U-Pick farms in Southwest corner of Oregon, sorted by county. Those that offer organic or sustainably grown produce are identified by the words "organic" and/or "sustainable" in Green, next to their name (see "What does Organic mean?"). The U-pick crops they offer follow the name of the farm. To search the page for a specific crop, use Ctrl-F (or on an ipad or Mac, use their "search on this page" function) If they have a website, the name will be in blue and underlined; click on it and it will open their website. If you find anything outdated or inaccurate, see the customer and farmer menus (as appropriate) at the top menu bar to submit updates and corrections and help me keep each current!
New! Pricing information - I am building a pricing guide to help you know what the typical prices are for each crop. Let me know when you see price changes!
If you are having a hard time finding canning lids, I've used these, and they're a great price & ship in 2 days.
New! Road tripping and camping is a great way to have a fun, safe and inexpensive family trip. The national and state parks and monuments are open, and campgrounds usually cost between $10 and $40 per night. September to November is the best camping weather. See our new website Road Tripping and Camping.com for tips, tricks, guides, checklists and info about parks, monuments and other places to visit.
Remember to always check with the farm's own website or Facebook page before you go - or call or email them if they don't have a website or Facebook page. Conditions at the farms and crops can change literally overnight, so if you want to avoid a wasted trip out there - check with the farm directly before you go! And if you know of any farms I missed and want to add a farm, please let me know! I'm making updates for this year as fast as I can - if you find anything out-of-date, wrong or not working - please let me know! This website is supported by purchases you make through the links to products on Amazon. As an Amazon Associate I earn from qualifying purchases. This allows me to continue to maintain the website and make improvements!
What's in season in December 2021, and other timely information:
Notes for December 2021: Autumn is upon us and that means you'd better hurry to get blueberries and peaches; apples are already in full swing. Some crops continue until frost, like raspberries, blackberries, figs, corn and tomatoes. Check your area's crop calendar (see this page) and call your local farms for seasonal specific updates.
See these pages to find a local Apple festival, and other festivals. We have a guide to apple varieties and a guide to peach varieties. Also recipes, canning and freezing directions for apples, blueberries, peaches, tomatoes, corn etc.
See our comprehensive list of easy home canning, jam and jelly making, preserving, drying and freezing directions. You can access recipes and other resources from the drop down menus at the top of the page or the site search. If you have any questions or suggestions, feel free to write me! It is easy to make your own ice cream, even gelato, or low fat or low sugar ice cream - see this page. Also note, there are many copycat website listing U-pick farms now. They have all copied their information from here and usually do not ever update. Since 2002, I've been updating the information every day but Christmas; so if you see anything wrong or outdated, please write me!
Southwest corner of Oregon U-Pick Farms and Orchards in 2021, by county
Click on the resources drop-down above, if you need a county map
Curry County
Flora Pacifica -

ORGANIC

, onions, peas, summer squash, other vegetables, produce for sale, parking provide free, gift shop
15447 Ocean View Drive, Brookings, OR 97415. Phone: 541-469-9741. Fax: 541-469-2278. Email:

[email protected]

. Directions: click here for a map and directions. Crops are usually available in October. Open: The Pumpkin Patch is Open Daily in October from 10: - 5:00 Group Tours of the wreath making operation, hydroponic greenhouse and organic vegetable fields May be arranged. Payment: Cash, Check, Visa/MasterCard, Discover, AmEx. field vegetables are certified organic. Hydrangeas are our major crop.
Jensen Blueberries -

ORGANIC

, blueberries
46760 Hwy 101, Langlois, OR 97450-9709, Phone: 541-348-2473. Organic. Email:

[email protected]

. Open: 2020 hours were Wednesday thru Friday 8am-6pm and Saturday and Sunday 9am-4pm. This is a small family friendly u-pick and custom pick blueberry field located 1 mile outside of Sublimity. They have offer Duke, Blue Crop, Legacy and Pink Lemonade varieties. Pink Lemonade are red when ripe and have a great sweet flavor!
Valentine Blueberries - Blueberries
87432 Sydnam Lane, Bandon, OR 97411. Phone: 541-348-2362. Open: see their Facebook page (Note: out of season, it says "permanently closed" which is confusing, since they are only closed until the next season). Directions: West of Hwy 101. U-Pick Blueberry Farm & Farm Stand. (UPDATED: May 28, 2018, JBS)
Jackson County
Alta Vista Orchard - blueberries
2597 W. Stewart Avenue, Medford, OR 97501. Phone: 541-772-2722. Email:

[email protected]

. Open: No further information is available..
Applegate Valley Lavender Farm -

No pesticides are used

, lavender, Fresh eggs, U-pick and already picked, gift shop, porta-potties are available, picnic area, events at your location (call for info)
15370 Highway 238, Grants Pass, OR 97527. Phone: 541-291-9229. Email:

[email protected]

. Open: Seasonal Hours During our Lavender Bloom, July 12 to September 30; Friday to Sunday, from 10:30 to 4:30 or by appointment. Directions: We are located on Highway 238, between the Provolt and Applegate Stores in the Applegate Valley at, 15370 Highway 238, Grants Pass, OR. 97527. Click here for a map and directions. Our Annual Lavender Festival is held the second weekend in July. We do not use pesticides on the crops. Payment: Cash, Check. Click here for our Facebook page.

D & L Acres

- apricots,
5225 Fern Valley Road, Medford, OR 97504. Phone: 541-535-2901. Email:

[email protected]

. Open: Check back in late June/early July 2016. Directions: Turn east off on I-5 at Phoenix, Exit 24. Last house on the left. Click here for a map and directions. Payment: Cash, Check.
Floresta Farms - Uses natural growing practices, blueberries,
1133 Old Highway 99 S, Ashland, OR 97520. Email:

[email protected]

. Open: Typical season is from mid July to mid August; please check our facebook page in the summer for availability; U-pick blueberries will start Saturday in mid-July from 8 am to 11 am and every Saturday after that till the season is over or we are picked clean; Floresta Facebook Groups page. Directions: Click here for a map and directions. Season is typically from mid July to mid August. We use natural practices, but are not yet certified Organic. Payment: Cash, only. Permaculture Farm. Organic, no spray , no chemicals in a permaculture farm, in 2019, the prices are $3 per lb, if over 20lbs it's $2.50 per lb. Bring something to carry your blueberries home (a reusable shopping bag seems to work really well) , wear good shoes the ground can be muddy and please no dogs. (ADDED: February 07, 2019)
Leonard Orchard - apples,
2171 Ross Lane, Medford, OR 97501. Phone: 541-772-2389. Email:

[email protected]

. Open: Call for picking days and hours;

starting in August, apples are ripening earlier than usual, so please call to see what we are picking currently

. Directions: Ross Lane is east of Hanley Road, and intersects with Rossanley at Channel 10, KTVL. Click here for a map and directions. Payment: Cash, Check. Gravenstein & Gala (August), Golden Delicious (September) Fuji & Newtown Pippin (October). (UPDATED: August 12, 2016)
Sugar Plum Acres - Peaches, Tomatoes , Apricots, flowers
1850 Pioneer Road, Phoenix, OR 97535. Phone: 541-535-1563. Email:

[email protected]

. Open: U-Pick season runs from the end of July to the middle of September; Please call for hours and pricing. Peaches - six varieties Roses - several varieties Tomatoes - six varieties Apricots - two varieties. Sugar Plum Acres Facebook page.
A visitor writes on June 20, 2014: "I called to see when the cherries would be ready and the phone message says they have pulled all the cherry trees and will only have peaches. Very disappointing. I would love to find a local place to get cherries."

Valley View Orchard - Apples, Pears, Peaches
1800 N. Valley View Road, Ashland, OR 97520. Phone: 541-488-2840. Email:

[email protected]

. Open: 9 am to 2 pm. Monday through Friday. 2007 U-pick price is $1.50 per pound.

Elberta and Sweet Sue peaches. Available for upick: Starking Delicious, Golden Delicious and Newtown Pippin. Ladders won't be needed; lots of fruit that youngsters can reach. Available at the orchard store: In addition to the upick varieties above, we also have Gravenstein Apples, Bartlett Pears, Bosc Pears and Seckel Pears

Vaughn Farm and Orchard

- blackberries, pears, U-pick and already picked, restrooms
1014 Old Stage Road, Central Point, OR 97502. Phone: 541 218 3821. Alternate Phone: 541 779 3132. Email:

[email protected]

. Open: UPDATE for 2020; Their website is gone; Does anyone have current information, are they still offering pick your own or are even open? If so, please write me, their last reported hours were Pears available in August and until November; Wild blackberries available early August; Call to verify on availability and hours. Directions: If you have GPS you can locate us directly. Otherwise call for directions or use MapQuest or similar to get map. Click here for a map and directions. Payment: Cash, Check. We use many organic production methods and Integrated Pest Management. We find it impractical to hoe weeds on eleven miles of tree row or dedicate acres to compost production using animal manure that introduces e. coli bacteria into the orchard.
Josephine County
Klamath County
No pick- your own farms in Klamath County, that I have found!
---
---