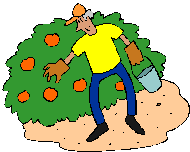 Looking for a local, pick-your-own farm in Northeast Oklahoma? Farms are open and safe! Scroll down this page and you will see the U-Pick farms in Northeast Oklahoma, sorted by county. Those that offer organic or sustainably grown produce are identified by the words "organic" and/or "sustainable" in Green, next to their name (see "What does Organic mean?"). The U-pick crops they offer follow the name of the farm. To search the page for a specific crop, use Ctrl-F (or on an ipad or Mac, use their "search on this page" function) If they have a website, the name will be in blue and underlined; click on it and it will open their website. If you find anything outdated or inaccurate, see the customer and farmer menus (as appropriate) at the top menu bar to submit updates and corrections and help me keep each current!
New! Pricing information - I am building a pricing guide to help you know what the typical prices are for each crop.
Remember to always check with the farm's own website or Facebook page before you go - or call or email them if they don't have a website or Facebook page. Conditions at the farms and crops can change literally overnight, so if you want to avoid a wasted trip out there - check with the farm directly before you go! And if you know of any farms I missed and want to add a farm, please let me know! I'm making updates for this year as fast as I can - if you find anything out-of-date, wrong or not working - please let me know! This website is supported by purchases you make through the links to products on Amazon. As an Amazon Associate I earn from qualifying purchases. This allows me to continue to maintain the website and make improvements!
What's in season in September 2020, and other timely information:
Notes for September 2020: Summer is almost here! Strawberry season is finished in all but the far northern ands cooler areas. Blueberries, blackberries are in season in most areas, also tomatoes, peaches and most vegetables . Check your area's copy calendar (see this page) and call your local farms for seasonal updates.
Now, more than ever, going to a farm, being outside, away from crowds, getting fresh, local produce, makes more sense than ever before! It's a fun, safe and educational to pick some fresh berries, fruit and veggies and more, then come back here to learn how to freeze, can, make jam, salsa and much more! Of course, check with the farm before you go, both to check on crop availability and hours. We also have a state-by-state guide to Farm COVID-19 requirements here.

See our comprehensive list of easy home canning, jam and jelly making, preserving, drying and freezing directions. You can access recipes and other resources from the drop down menus at the top of the page or the site search. If you have any questions or suggestions, feel free to write me! It is easy to make your own ice cream, even gelato, or low fat or low sugar ice cream - see this page. Also note, there are many copycat website listing U-pick farms now, using similar sounding names. They have all copied their information from here and usually do not ever update. Since 2002, I've been updating the information every day but Christmas; so if you see anything wrong or outdated, please write me!
Canners, both waterbath canners and pressure canners, are getting hard to find as people are doing more home canning than ever before. You can still get them online (see links at left) but prices are going up as the less expensive models are selling out. Food dehydration is becoming a popular and inexpensive alternative; see this page about drying your own fruits and vegetables and where to get a food dryer.
Children's Consignment Sales occur in both the Spring and Fall See our companion website to find a local community or church kid's consignment sale!
See these pages to find a local Strawberry Festival, or a Cherry or cherry blossom festival or a Blueberry festival. Some may still be held in 2020.
Northeast Oklahoma U-Pick Farms and Orchards in 2020, by county
Click on the resources drop-down above, if you need a county map
Pawnee County
Adair County
J5 Farm, LLC - strawberries, pumpkins, U-pick and already picked, all produce is grown using IPM (integrated pest management), concessions / refreshment stand, porta-potties are available, petting zoo, farm animals, school tours, group reservations
Rr 2 Box 1220, Stilwell, OK 74960. Phone: (937) 553-2769. Email: pyo@j5.farm. Open: See our website for current hours. Click here for current open hours, days and dates. Directions: From the intersection of OK highway 59 & Blackjack Street/Highway 51 in Stilwell OK, head East along highway 51 8.9 miles to J5 Farm. Specifically, from highway 51, turn left on S 4740 Road at Faith Tabernacle church. At the "fork" or "Y" in the road, you'll stay to the right (and see Piney Cemetery on your left). Once the pavement ends, go just .2 miles further and you'll see J5 Farm on your right, on the SouthWest corner of Piney Road & E 791 Road. Click here for a map and directions. Strawberry season is typically: April 1 to June 7. Payment: Cash, only. Click here for our Facebook page. (ADDED: April 23, 2017)
Youngman Family Farm - blueberries, corn (sweet), cucumbers, peppers, summer squash, tomatoes, other vegetables, U-pick and already picked, farm market, concessions / refreshment stand, picnic area (bring your own food), petting zoo, farm animals
472834 E 700 Rd, Westville, OK 74965. Phone: 479-387-5358. Alternate Phone: 479-601-6635. Email: youngmanfamilyfarm@yahoo.com. Open: Since the weather plays a big part on the availability of our fruits and vegetables it is best to check our facebook page or call before coming; We plan to be open every Saturday from June 18th until July 30th; from 7:00 am to Noon. Directions: From highway 412 in Siloam Springs, AR. Go South on highway 59 about 14 miles to Westville. Take E 700 Road to the West. Follow E 700 Road 1 1/4 mile. The farm is on the left. From highway 62 and highway 59 Intersection in Westville, OK. Proceed onto highway 59 North go roughly 1 mile, take E 700 Road to the West. Follow E 700 Road 1 1/4 mile. The farm is on the left. Click here for a map and directions. Payment: Cash, Debit cards, Visa/MasterCard. We have over 2 acres of first year production Blueberry Plants! We supply picking Material. Also available throughout the season will be potatoes, corn, cucumbers, squash, zucchini, bell peppers, jalapenos, and tomatoes. First come first serve basis. (UPDATED: May 25, 2016) (ADDED: May 06, 2016)
Cherokee County
Blueberry Acres -

No pesticides are used

, blueberries, U-pick and already picked, restrooms
10151 North 510 Road, Tahlequah, OK 74464. Phone: (918) 525-2730. Open: Our season generally runs from the first week of June to the first week of July; Please call (918)525 pm to 2730 for picking times and availability of pre - picked or frozen berries. Directions: Click here for a map and directions. We do not use pesticides on the crops. Payment: Cash, Check. (UPDATED: April 30, 2017, JBS)
Woodward Strawberry Farm - Pick-Your-Own Strawberries -
Route 3 Box 629, Tahlequah, OK, 74464. Phone: 918-456-1779. Does anyone have more information, like a phone or email address? If so, please write me
Craig County
Delaware County
Mayes County
McIntosh County
Muskogee County
John Mikelson's Orchard - Apples, Blackberries, Peaches, plums NOTE: They may have gone out of business / closed down
7831 E. 123rd St. South, Muskogee, OK, 74403. Phone: 918-989-5009.
Comments from a visitor on September 17, 2009: "John Mikelson's Orchard in Muskogee has a number that is disconnected. "
Vine & Branch Vineyard -Six varieties of table grapes,
Route 2 Box 36A, Haskell, OK, 74436. Phone: 918-482-3066.
Nowata County
Okmulgee County
Deep Fork Farms -

CERTIFIED ORGANIC

, cucumbers, eggplant, melons, onions, pecans , summer squash, tomatoes, farm animals
11265 Dentonville Road, Okmulgee, OK 74447. Phone: 918-267-3477. Open: This is a private farm open for u - pick by calling the farm and arranging a time. Picking updates: Click here for picking updates. Directions:

Deep Fork Farms is located close to Hwy 75 making it easy to find from a major highway.

Click here for a map and directions. Organic pecans become available after the first good frost in the autumn; Available already picked or call us if you'd like to come get your own pecans. We are certified organic for all crops! Payment: Cash, only.

Organic pecans fall from the trees after the first frost of autumn.


Comments from a visitor on September 14, 2009: "Organic produce available. a person can call them and they will let them pick the garden. sometimes there's produce already picked to purchase. pecans and pecan shells too. LOVE EVERYTHING THEY HAVE! Very clean. Organic. Very nice people."

Jordan Farms

- Uses natural growing practices, blackberries, and prepicked produce
14649 Creager Road, Hectorville, OK 74047. Phone: 918-366-4881. Email us at: daybreak3@aol.com. Directions: Take highway 75 South to 221st st. Turn east for 5 miles, turn south for 1 mile, turn west 4/10 mile. Located on the North side of the road And for a map to our farm, click here. Crops are usually available in July, August. Open: Monday to Friday, 7am to 12pm Saturday 7am to 12pm at the Jenks Farmers Market Blackberries generally ripen around the 1st of July and last until mid- august. Also offer tomatoes, okra, cucumbers, squash, onions, and garlic but these items are not u-pick We use natural practices, but are not yet certified Organic. Payment: Cash, only.
Osage County
Woodland Farm - Blackberries, Cut your own Christmas trees with Hayrides during the Christmas season (sorry no pumpkins!)
1211 E. 166th Street, Skiatook, OK, 74070. Email: trees4u@woodlandtreefarm.com. Open: Call before you go - I haven't had an update from this farm in years and there is nothing current about them on the internet; (Does anyone have current information, are they still offering pick your own? If so, please write me!); last reported was from the day after Thanksgiving! Hot cider and Hay rides on weekends. Wreaths, garland, grave crosses, ornaments, crafts. Petting pigmy goats and gift shop open during Christmas season. Hours Monday to Friday3-5pm S&S-9-5pm. Follow the signs from Hwy. 20 & Peoria East of SkiatoOK, Ok. Always call before driving out during U- Pick Blackberry season, sometimes berries get picked out early! Call for updates on the answering machine Hours : Monday, Tues, Thurs. 7:30 am to 12 Saturday, 8 am to 12pm Starting 1st or second Week of June..Also beautiful named Daylilies and Irises during June, dug freshEmail: trees4u@sbcglobal.net or trees4u@dellepro.com . also fresh herbs and gourds
Ottawa County
Double J Blueberry Farm

- blueberries, and prepicked produce
60351 E 200 Road, Fairland, OK 74343. Phone: 918-676-3235. Email: fairlandmrsdoc@gmail.com. Open: 7 days a week from sun up to sun down, during picking season which starts sometime in May and usually continues until the end of June. Directions: From US 60 in Fairland Ok. take state highway 125 south across the railroad tracks. One block past tracks turn left onto 190 Rd for about 4 miles, turn right on 600 for 1 mile, then left for about 3/4 mile to sign at the entrance. Click here for a map and directions. Crops are usually available in May, June, July. Payment: Cash, only. Please call ahead before you come to pick. We try to keep someone available all the time but we usually all break at the same time for meals. If you want us to pick call ahead so we can make sure we have plenty for you. Field is mowed and trimmed up for your easy access to the berries.
Rogers County
Sequoyah County
Tulsa County
Wagoner County
Lands End Blueberry Farm

- blueberries,
6700 S 241st E Avenue, Broken Arrow, OK 74014. Phone: 918-357-9418. Open: closed for 2010 season. Directions: Click here for a map and directions. Payment: Cash, only.
Livesay Orchards - apples, peaches, Lavender, Blackberries, Blueberries, Strawberries, Hpumpkins, and prepicked produce, restrooms, school tours
39232 E. 231st St. S., Porter, OK 74454. Phone: 918-483-2102Directions: Located 3 miles SW of Porter, OK. Follow signs from Highway 51B near Porter. Crops are usually available in June, July, August, September, October. Open: Monday to Saturday 8 am to 6pm, Sunday 1 pm to 5 pm. Pick-your-own Peaches July & August, call for days available. Pick-your-own Apples September & October. Pumpkin Patch in October. Lavender, Peaches, Blackberries, Blueberries, Strawberries, Herbs, Vegetables, Flowers. Payment: Cash, Check.
Comments from a visitor on September 20, 2010: "Just got an email from Livesay Orchards and they are NOT doing pick-your-own apples again this year, but they WILL have apples for sale at their store."
Comments from a visitor on September 17, 2009: "Just an update - Livesay Orchards in Porter does not have pick-your-own apples in 2009 - bad year. "
Thunderbird Berry Farm - asparagus, blueberries, corn (sweet), strawberries,
7515 South Hansen Road 7515 South 321 East Avenue, Broken Arrow, OK 74014. Phone: 918-232-4299. Alternate Phone: 918-640-7168. Email: vkarney@cox.net. Open: Monday through Saturday, from 7am to noon May 16 through July 16 Closed July 4th. Directions: Take the Kenosha Street exit off the Creek Turnpike. (toll road) Turn left onto East 71st Street S/E Kenosha Street. Continue onto East 71st Street S/E Kenosha Street for 6.6 miles. Turn Right at the sign of Thunderbird Land and Cattle Company, onto Hansen Road. Click here for a map and directions. April 15: Asparagus May 15: Strawberries June 1 through July 15 Blueberries July: Blackberries and Sweet Corn October: Corn maze. Payment: Cash, only. Please drive slowly, children present. (UPDATED: April 30, 2017, JBS)
Feedback from a visitor, June 09, 2010: "We visited Thunderbird Berry Farm in Wagoner County. We have been to Thunderbird Berry Farm twice now and have been impressed both times. I'd highly recommend it to anyone. Very sweet and helpful folks. The blueberry bushes are huge and have tons of berries!"
Comments from a visitor on July 02, 2016: "The farm owner, Don Hansen has a great attitude and will go out of his way to make sure the customer is satisfied. Fewer and fewer business owners and associates treat their customers with such integrity and respect. Kudos and a salute to Don Hansen as a true stand-up business man."
Washington County
---
---