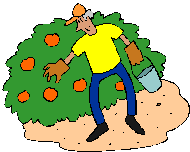 Looking for a local, pick-your-own farm in Albuquerque, Santa Fe and Central New Mexico? Farms are open and safe! Scroll down this page and you will see the U-Pick farms in Albuquerque, Santa Fe and Central New Mexico, sorted by county. Those that offer organic or sustainably grown produce are identified by the words "organic" and/or "sustainable" in Green, next to their name (see "What does Organic mean?"). The U-pick crops they offer follow the name of the farm. To search the page for a specific crop, use Ctrl-F (or on an ipad or Mac, use their "search on this page" function) If they have a website, the name will be in blue and underlined; click on it and it will open their website. If you find anything outdated or inaccurate, see the customer and farmer menus (as appropriate) at the top menu bar to submit updates and corrections and help me keep each current!
New! Pricing information - I am building a pricing guide to help you know what the typical prices are for each crop.
Remember to always check with the farm's own website or Facebook page before you go - or call or email them if they don't have a website or Facebook page. Conditions at the farms and crops can change literally overnight, so if you want to avoid a wasted trip out there - check with the farm directly before you go! And if you know of any farms I missed and want to add a farm, please let me know! I'm making updates for this year as fast as I can - if you find anything out-of-date, wrong or not working - please let me know! This website is supported by purchases you make through the links to products on Amazon. As an Amazon Associate I earn from qualifying purchases. This allows me to continue to maintain the website and make improvements!
What's in season in October 2020, and other timely information:
Notes for October 2020: Summer is almost here! Strawberry season is finished in all but the far northern ands cooler areas. Blueberries, blackberries are in season in most areas, also tomatoes, peaches and most vegetables . Check your area's copy calendar (see this page) and call your local farms for seasonal updates.
Now, more than ever, going to a farm, being outside, away from crowds, getting fresh, local produce, makes more sense than ever before! It's a fun, safe and educational to pick some fresh berries, fruit and veggies and more, then come back here to learn how to freeze, can, make jam, salsa and much more! Of course, check with the farm before you go, both to check on crop availability and hours. We also have a state-by-state guide to Farm COVID-19 requirements here.

See our comprehensive list of easy home canning, jam and jelly making, preserving, drying and freezing directions. You can access recipes and other resources from the drop down menus at the top of the page or the site search. If you have any questions or suggestions, feel free to write me! It is easy to make your own ice cream, even gelato, or low fat or low sugar ice cream - see this page. Also note, there are many copycat website listing U-pick farms now, using similar sounding names. They have all copied their information from here and usually do not ever update. Since 2002, I've been updating the information every day but Christmas; so if you see anything wrong or outdated, please write me!
Canners, both waterbath canners and pressure canners, are getting hard to find as people are doing more home canning than ever before. You can still get them online (see links at left) but prices are going up as the less expensive models are selling out. Food dehydration is becoming a popular and inexpensive alternative; see this page about drying your own fruits and vegetables and where to get a food dryer.
Children's Consignment Sales occur in both the Spring and Fall See our companion website to find a local community or church kid's consignment sale!
See these pages to find a local Strawberry Festival, or a Cherry or cherry blossom festival or a Blueberry festival. Some may still be held in 2020.
Albuquerque, Santa Fe and Central New Mexico U-Pick Farms and Orchards in 2020, by county
Click on the resources drop-down above, if you need a county map
Bernalillo County
Big Jim Farms -

Certified organic

, chili peppers, other vegetables
4317 Rio Grande Blvd, Albuquerque, NM 87107. Phone: (505) 459-0719. Open: annual Green Chile U-PICK from 9am to 5pm every day through October 31, families can enjoy great views and weather at this safe and socially distanced activity. Pick your own green organically grown chiles on a nine-acre farm. They will roast them for you on site. There are other fruits and veggies for U-PICK at his farm, too. There will be an open-air farm market with pre-picked fruits and veggies for sale. Chile-lovers of all ages are invited to attend this free gathering. Chile pricing starts at $1.50 per pound. (Joshua Lee). All chile will be grown chemical free and traditional variety seeds ranging from very mild to extra hot. Free, Only pay for chile and produce. All chile and produce will be grown chemical free and from traditional variety seeds. Chile varieties range from mild to extra hot. Best flavor guarantee! Price per LB, Bushel & Sack.
2020 pricing: Chile $1.50 LB, $25 Bushel 25 lbs, $35 a Sack 40 lbs, Roasting $5.
Varieties: Joe Parker Mild, Big Jim Medium, Sandia Regular Hot, Native Extra Hot, Mrs Junie Hot) Click here for a link to our Facebook page. (ADDED: September 1, 2020, JBS)


WAVADA

-

Uses natural

apples, peaches, plums, apricots, cherries, fresh eggs
Call For Directions, Albuquerque, NM 87113. Phone: 505-898-6910. Email: Emyers1811@gmail.com. Open: Call now an appointment, details and directions. Directions: Payment: Cash, only. Several varieties! Great for cider! Great for beer! Great for baking! Great for canning and great for simply eating!. We use natural practices, but are not yet certified Organic. We have plenty of free range fresh eggs at $3 a dozen. The ONLY pyo crops offered are Apples, peaches, plums, apricots, cherries . (UPDATED: July 15, 2018) (ADDED: August 16, 2015)
Guadalupe County
Los Alamos County
San Miguel County
Sandoval County
Heidi's Raspberry Farm - certified organic, raspberries,
600 Lindero del Drenaje, Corrales, NM 87048. Phone: 505-898-1784. Fax: same. Email: heidi@heidisraspberryfarm.com. Open: Saturdays and Sundays, 9:00 to 3:00 We provide pint containers for picking. click here for current open hours, days and dates. Raspberries: Late August to the first frost (usually mid October). click here for picking updates. Directions: South of East La Entrada on drainage ditch, Be sure to see the note from a visitor below. To find HRF if you are south of Corrales: go north on Corrales Road 2.2 mi. from the Coors and Alameda intersection, turn east on "La Entrada East" and follow the signs. To find HRF if you are north of Corrales: go south on I-25, exit at Bernalillo, go west on highway 550, follow 550 across the Rio Grande, go south on 528, at Giant station turn east on Corrales Road 448, proceed 4.5 mi. and turn east on "La Entrada East" (just past Wells Fargo bank look for signs on left), follow the signs. click here for a map and directions. We are certified organic for all crops! Payment: Cash, Check, Visa/MasterCard.
A visitor writes on September 05, 2014: "When looking into this pick-it-yourself farm, I found that while they are based in Corrales, the pick-yourself fields are located 30 miles away in Los Lunas. I think the directions on your site should include this fact since I would imagine that driving all the way to the north end of the valley for a 'fruitless' adventure would be frustrating for most. We went today and the berries are all great for $5/pint. Half the field is off limits for regrowth but the rest is full of sweet berries. Go before noon. Bing mosquito repellent, they are ubiquitous even at 1 pm. And anyone with ragweed or other weed allergies , bring allergy medicine; blooming is in progress, my kid had a huge reaction!"
Santa Fe County
Mrs. Boots' Berries

- The owner tells me they are no longer open to the public
11 Potrero Road, Chimayo, NM 87522. (UPDATED: November 20, 2017)
Torrance County
Valencia County
Costanza Apple Orchard -

Uses integrated pest management practices

, apples, Honey from hives on the farm, restrooms, farm animals, school tours, farm market
5 Padilla Rd, Belen, NM 87002. Phone: 505-864-1621. Alternate Phone: 505-864-1621. Email: margaretcostanza@aol.com. Open: August 15th through early - mid - November Monday - Friday 9 am to 5 pm Saturday 9am to 4 pm Sunday 10 am to 5 pm. Directions: I-25 south (30 miles) to Belen exit 195 go 3.5 miles Right at Chavez Road, (past Bank and before Allistante Restaurant/Checker Auto Left at Molina Road (Stop sign) Left at Gabaldon Rd Quick right on Padilla Rd Third home (orchard) on left (blue gate. Note: Sisters have orchard at second home on left Note: If you use a mapping service such as Google the address shows our sisters orchard. Our orchard is one house further to the east. Click here for a map and directions. We use integrated pest management practices. Payment: Cash, Check, Visa/MasterCard. We also have pumpkins and winter squash (already picked, in the farm market) Click here for a link to our Facebook page.
Wagner's Farmland Experience - beans, cucumbers, flowers, melons, peppers, pumpkins, summer squash, tomatoes, concessions / refreshment stand, porta-potties are available, picnic area, petting zoo, birthday parties, weddings and wedding parties, school tours
1420 Desert Willow Road, Los Lunas, NM 87031. Phone: 505-459-0719. Alternate Phone: 505-450-7675. Fax: 505-288-3598. Email: rkwjww1984@yahoo.com. Open: Everyday from 9 am to 6 pm September 6 to October 31. Directions: Click here for a map and directions. VIVA New Mexico Chile Festival annually, every weekend after labor day. Payment: Cash, Check, Debit cards, Visa/MasterCard. Click here for our Facebook page.


A visitor writes on August 17, 2016:

"Cool website. I noticed that you requested info about Wagner's Farm and Wagner's Farmland Experience in New Mexico (Albuquerque and Central area). The Farmland Experience website is still there: http://www.wagnersfarmlandexperience.com/ ,and there's a Wagner's Farm store in Corrales, NM, 5000 Corrales Rd.-Corrales, NM 87048- Sandoval County. I\'m not sure about a phone number, and I'm not familiar with the Wagner's spot in Los Lunas. I never go that direction. They have a large selection of local produce, open seasonally from July 15 to about November 15. Produce: corn, tomatoes, squash, cucumbers, peaches, watermelon, cantelope, onions, bell pepper, pinto beans, peaches, pears, canned goods, apples, pumpkins, and fresh green chile that can be roasted on the premises. Nope, chile is not spelled wrong. That's a NM thing. Also a little snack area called the Apple Tree Cafe, with the same seasonal schedule. "
---