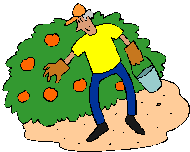 What's in season in February 2017, and other timely information:
Notes for February 2017: Stored US apples are still available. See your state's crop availability calendar for more specific dates of upcoming crops.
Easter will be April 16, 2017 - Farms, churches and schools have egg hunts! See our companion website to find a local Easter Egg hunt!
Children's Consignment Sales occur in both the Spring and Fall See our companion website to find a local kid's consignment sale!
St. Patrick's Day is coming on March 17th - our companion website has Saint Patrick's Day facts, recipes, parade information, decorations, and more.
We also have home canning, preserving, drying and freezing directions. You can access recipes and other resources from the drop down menus at the top of the page or the site search. If you have any questions or suggestions, feel free to write me!
Local Weather Forecast