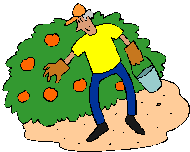 Looking for a local, pick-your-own farm in Vermont? Scroll down this page and you will see the U-Pick farms in Vermont, sorted by county. Those that offer organic or sustainably grown produce are identified by the words "organic" and/or "sustainable" in Green, next to their name (see "What does Organic mean?"). The U-pick crops they offer follow the name of the farm. To search the page for a specific crop, use Ctrl-F (or on an ipad or Mac, use their "search on this page" function) If they have a website, the name will be in blue and underlined; click on it and it will open their website. Beware of copycat websites (such as the one that starts with "pickit" and the one that ends with ".farms"; they do not update their information, they just steal it from us once in a great while (they are plagiarists operating in Russia and China), so theirs are usually out-of-date -and often copied incorrectly! I put dates to indicate when we last received an update from each farm, and I make updates daily (each farm as their info changes). See the customer and farmer menus at the top menu bar to submit updates and corrections and help me keep each current!
And if you know of any I missed and want to add them or correct the information, please let me know!
For information about safely viewing the solar eclipse and where to get the approved glasses, see this page. Or here to learn about the scam counterfeit solar eclipse glasses.
What's in season in March 2018, and other timely information:
Notes for March 2018: The northern half of the U.S. (and most of Canada, of course) are under snow. So, the crops to pick are pretty much limited to Florida, Texas, southern California and a few other areas of the Deep South. Citus, for one, is a crop that is usually available now; and in those areas, soon also strawberries and blueberries.Check your area's copy calendar (see this page) and call your local farms for seasonal updates.
We also have a website for both Valentine's Day information, facts and fun and one for St. Patrick's day (including great recipes for corned beef, Irish stew, etc.)
Children's Consignment Sales occur in both the Spring and Fall See our companion website to find a local community or church kid's consignment sale!
Next year, don't miss an Easter Egg Hunt for your children: See our companion website to find a local Easter Egg hunt!
We also have home canning, preserving, drying and freezing directions. You can access recipes and other resources from the drop down menus at the top of the page or the site search. If you have any questions or suggestions, feel free to write me! It is easy to make your own ice cream, even gelato, or low fat or low sugar ice cream - see this page. Also note, there are many copycat website listing U-pick farms now. They have all copied their information form here and usually do not ever update. Since 2002, I've been updating the information every day but Christmas; so if you see anything wrong, please write me!
Vermont U-Pick Farms and Orchards, by county
Click on the resources drop-down above, if you need a county map
Addison County
Caledonia County
Chittenden County
Essex County
Franklin County
Ann's Punkin' Patch

- blueberries, flowers, pumpkins,
2674 Browns Corner Road, Highgate Center, VT 05459. Phone: 802-868-4413. Email:

[email protected]

. And for a map to our farm, Click here. Crops are usually available in September, October. Open: Saturday and Sunday 9am to 5PM Payment: Cash, Check.
Green Wind Farm - CERTIFIED ORGANIC, strawberries
1345 Northrop Road (Fairfield) Enosburg Falls, VT 05450. Phone: 802-933-4592. Pick your own organic strawberries mid-June-mid-July, also milk, maple syrup.
Joey's Junction Bakery/Cafe/Maple Shop - CERTIFIED ORGANIC, cucumbers, summer squash, tomatoes, other vegetables, Maple Syrup from trees on the farm, prepicked produce, farm market, gift shop, restrooms
2865 Vermont Route 78, Highgate Center, VT 05459. Phone: 802-279-8303. Email:

[email protected]

. Directions: Exit 20 on Interstate Route 89, Then continue North on 207 until it intersects Route 78 in Highgate Center. You will see Joey's at the intersection directly across from Highway Route 78. And for a map to our farm, Click here. Crops are usually available in January, June, July, August, September, October, November, December. Open: Closed Monday Closed February March and April, then contact us at the farm in Belvidere Center Tuesday to Saturday 8am to 6 pm Sunday 8 am to 4 pm. The Bakery and Farm store is Close in February March and April to allow us to go to the Sugarhouse in Belvidere Center, Vermont and bring in the maple crop; Visitors are welcome to visit the Farm and purchase maple products there; see our website for additional information. We are certified organic for all crops! Payment: Cash, only. ATM on the premises. Artist in Resident, Vermont Artist Elroy Towle is showing his artwork and is available to discuss his pieces with you. The bakery is a full service bakery making pies, breads, and sandwiches on home made bread.
Nye's Berryland - raspberries, strawberries,
1452 Plains Road, Georgia, VT 05468. Phone: 802-524-4705. Email:

[email protected]

. Open: Every day 8:00am to 8:00pm. Directions: one half mile off Ethan Allen Highway (Rt 7) on Georgia Plain Road. And for a map to our farm, Click here. Crops are usually available in June, July. Payment: Cash, Check.
River Berry Farm -

Certified Organic

, raspberries (Autumn, black), strawberries, U-pick and already picked, porta-potties are available
191 Goose Pond Road, Fairfax, VT 05454. Phone: 802 849-6853. Fax: 802 849-6853. Email:

[email protected]

. Open: The Farm Stand is open everyday 8 am to 6 pm, May 1st through Halloween. Click here for current open hours, days and dates. Directions: Click here for a map and directions. We are certified organic for all crops! Payment: Cash, Check, Debit cards, Visa/MasterCard. River Berry Farm is a family owned, organic small fruit and vegetable farm operating in Fairfax, Vermont since 1992. We are Jane Sorensen, David Marchant and our children, Huck and Ada, along with our great crew. We grow 50 acres of vegetables, 3 acres of strawberries, 1-1/2 acres of raspberries, 18,000 square feet of greenhouse crops and 100 layer chickens.
West Swanton Orchards - PYO apples, pumpkins
9 Fourth St, Swanton, VT 05488. Phone: (802) 868-9100. Email:

[email protected]

. Directions: 752 North River St, VT Route 78W, approximately 4 miles from Swanton village. Open: Mid-May through mid- December. Also has a farm stand with strawberries, blueberries, raspberries, vegetables, apples, pumpkins.
Grand Isle County
Lamoille County
Orange County
Orleans County
Washington County
Bartlett Hill Berry Farm

-

Uses natural growing practices

, blueberries,
113 Bartlett Road, Plainfield, VT 05667. Phone: none. Email:

[email protected]

. Open: any time during berry season; Blueberries usually start mid - to late July and go through mid - to late August; Elderberries start late August and go to the cedar waxwings get them. Directions: Directions: From Plainfield Village, Take a left on Brook Road, first right on Upper Road; and second left on Bartlett Road. Second house on left. Click here for a map and directions. Payment: Cash, Check. Honor system, please bring your own containers. Sign up and pay on the porch. Please be respectful-and enjoy the bounty.
Burtt's Apple Orchard -

Uses integrated pest management practices

, apples, cherries, pumpkins, winter squash, Maple Syrup from trees on the farm, Cider mill (fresh apple cider made on the premises), porta-potties are available, picnic area (bring your own food), school tours
283 Cabot Plains Rd, Cabot, VT 05647. Phone: 802-917-2614. Email:

[email protected]

. Open: Apples - Monday through Sunday, from 9 am to 6 pm, Labor Day Weekend through October 31; Cherries - See our website. Click here for current open hours, days and dates. Picking updates: Click here for picking updates. Directions: Approximately 2.5 miles north of Cabot Creamery along route 215. Click here for a map and directions. Cherries are usually ripe in mid July; Pumpkins are ripe at the same time as apples in September and October. We use Integrated Pest Management to substantially reduce the amount of chemicals used in our orchard. Payment: Cash, Check, Debit cards, Visa/MasterCard. Click here for our Facebook page. With over 40 varieties of apples, pears, and cherries you are sure to find your favorite at Burtt's. You've got to try our homemade cider donuts and fresh unpasteurized cider. For the kids, (and adults who like random fun) there's the amazing apple shooter!. Pick-your-own apples are $1 per pound. Pick-your-own Honeycrisp are $2 per pound. Pick-your-own tart cherries are $3 per pound. Please no dogs in the orchard, but they are welcome in our fields!
Cabot Smith Farm - strawberries, U-pick and already picked, restrooms, picnic area, picnic area (bring your own food)
412 Smith Rd, Cabit , VT 05647. Phone: (802) 424-3083. Email:

[email protected]

. Open: See our website for current hours:. Click here for current open hours, days and dates. Directions: Need Help Finding the Farm? Cabot Smith Farm is Located at 412 Smith Road Cabot. From the Center of Cabot: Take Whittier Hill Road for 1.2 Miles and make a sharp left onto Smith Road and drive .4 miles to the end of the road. Click here for a map and directions. Strawberries are Harvested from the Last Week of June to Mid July. Payment: Cash, Check, Debit cards, Visa/MasterCard. (ADDED: June 11, 2017)
Fruitlands Farmstand - Blueberries, raspberries
506 Thistle Hill Road, Marshfield, VT 05658. Phone: 802-426-3889. Email:

[email protected]

. Open: July 1-November 1 for U Pick Sunday through Friday from 8 am to picked out time; Evenings by appointment. Directions: 1 mile above Route 2 at Marshfield Dam. Blueberries, raspberries. We provide pint basket and flats. We have been growing organic raspberries here at Fruitlands since the late 1970's. At present we have over 1,200' of neatly-trellised rows. We sell both PYO and custom picked. Our varieties are: Latham, Nova, Encore and Pollana. Our typical season begins in mid July and goes through August.
We began growing organic blueberries here at Fruitlands in the mid 1980's. Presently we have 100 high-bush plants. We sell both PYO and custom picked. Our varieties are: Bluecrop, Patriot, Duke and Northland. Our season for blueberries is late July through mid September.

Hartshorn Farm & Amy's Organic Flowers

- blueberries, raspberries (red), strawberries,
54 Quarry Road Route 100, Waitsfield, VT 05673. Phone: 802-279-8054. Alternate Phone: 802-922-1832. Email:

[email protected]

. Open: Monday through Sunday from 8am until dark; Not available during rain. Directions: From Route 89, take the Waterbury exit, take a right off the exit ramp and proceed through downtown Waterbury. Take a right at the sign for Waitsfield. Follow that road all the way until it intersects with Route 100. Take a right onto Route 100. The farm is about 1/2 a mile from that point on the right. Pass Small Dog Electronics on the left, and the Wilder Farm Inn. There are two farm stand buildings with red roofs. Click here for a map and directions. Payment: Cash, Check. Click here for our Facebook page. We are also vendors at the Waitsfield Farmer's Market on Saturdays from 9am-1pm. We have an organic cut flower CSA, and a produce CSA. See our website for more details.
Knoll Farm -

Certified Organic

, blueberries, Fresh eggs, Cider mill (fresh apple cider made on the premises)
700 Bragg Hill Road, Fayston, VT 05673. Phone: 802-496-5685. Email:

[email protected]

. Open: Every day, from 8 am to 6 pm, July and August; Call or go to our website for picking conditions as we do close for ripening. Picking updates: Click here for picking updates. Directions: Go to Waitsfield, Vermont on Route 100. Turn up Bragg Hill Road and we are 1/2 mile on the right. Click here for a map and directions. We are certified organic for all crops! Payment: Cash, Check. Click here for our Facebook page. Please leave your dog at home. Children are welcome but make sure you have enough adults along to supervise them should they get tired of picking before you do. Please honor the Vermont honor system, and take only what you pay for. (UPDATED: July 03, 2017)
Legare Farm Market (Barre) - strawberries
535 US Route 302, Barre, VT 05641. Phone: 802-476-5037. Directions: Rte 302, Barre-Montpelier Road. Open: April 15 thru December 24. Pick your own strawberries at Calais. Also pre-picked blueberries, raspberries, strawberries, vegetables, pumpkins.
Legare Farm Stand (N. Montpelier) - strawberries
PO Box 50, N. Montpelier, VT 05666. Phone: 802-454-7784. Directions: Route 14, Calais. Open: April 30 thru October 31. Pick your own strawberries. Also pre-picked blueberries, raspberries, strawberries, vegetables, pumpkins.
Peck Farm Orchard - apples, picnic area (bring your own food)
750 Sibley Rd, East Montpelier, VT 05651. Phone: (802) 249-1223. Email:

[email protected]

. Open: Wednesday to Sunday, from 9 am to 5 pm, September 1 to October 31. Directions: Click here for a map and directions. Payment: Cash, Check, Debit cards, Visa/MasterCard. Click here for our Facebook page. (ADDED: March 11, 2017)
Random Gardens -

Uses natural growing practices

, raspberries (red), raspberries (yellow), picnic area
177 Random Road, Calais, VT 05648. Phone: 802-371-9808. Email:

[email protected]

. Open: Tuesday and Thursday from 3:00 pm to 7:00 pm, Saturday from 10:00 am to 5:00 pm, Sunday from 1:00 pm to 5:00pm; during July to early September, depending on weather. Click here for current open hours, days and dates. Directions: Ten miles north of Montpelier on the County Road. The paved road becomes gravel in Maple Corner. Random Gardens is 1.2 miles further on the left. Click here for a map and directions. We use natural practices, but are not seeking organic certification. Payment: Cash, Check. We sell Organic Raspberries - PYO: Pricing - $4/pint. (UPDATED: May 4, 2015, JBS)
---
---