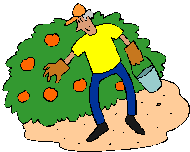 Looking for a local, pick-your-own farm in Northeast Oklahoma? Scroll down this page and you will see the U-Pick farms in Northeast Oklahoma, sorted by county. Those that offer organic or sustainably grown produce are identified by the words "organic" and/or "sustainable" in Green, next to their name (see "What does Organic mean?"). The U-pick crops they offer follow the name of the farm. To search the page for a specific crop, use Ctrl-F (or on an ipad or Mac, use their "search on this page" function) If they have a website, the name will be in blue and underlined; click on it and it will open their website. Beware of copycat websites (such as the one that starts with "pickit" and the one that ends with ".farms"; they do not update their information, they just steal it from us once in a great while (they are plagiarists operating in Russia and China), so theirs are usually out-of-date -and often copied incorrectly! I put dates to indicate when we last received an update from each farm, and I make updates daily (each farm as their info changes). See the customer and farmer menus at the top menu bar to submit updates and corrections and help me keep each current!
And if you know of any I missed and want to add them or correct the information, please let me know!
What's in season in March 2017, and other timely information:
Notes for March 2017: The warm winter means strawberries will be EARLY this year! Move the dates ahead by 2 - 3 weeks on our croip calendar for strawberries. See your state's crop availability calendar for more specific dates of upcoming crops. Stored US apples are still available.
Easter will be April 16, 2017 - Farms, churches and schools have egg hunts! See our companion website to find a local Easter Egg hunt!
Children's Consignment Sales occur in both the Spring and Fall See our companion website to find a local community or church kid's consignment sale!
We also have home canning, preserving, drying and freezing directions. You can access recipes and other resources from the drop down menus at the top of the page or the site search. If you have any questions or suggestions, feel free to write me! It is easy to make your own ice cream, even gelato, or low fat or low sugar ice cream - see this page.
Northeast Oklahoma U-Pick Farms and Orchards, by county
Click on the resources drop-down above, if you need a county map
Pawnee County
Adair County
Youngman Family Farm - blueberries, corn (sweet), cucumbers, peppers, summer squash, tomatoes, other vegetables, U-pick and already picked, farm market, concessions / refreshment stand, picnic area (bring your own food), petting zoo, farm animals
472834 E 700 Rd, Westville, OK 74965. Phone: 479-387-5358. Alternate Phone: 479-601-6635. Email: youngmanfamilyfarm@yahoo.com. Open: Since the weather plays a big part on the availability of our fruits and vegetables it is best to check our facebook page or call before coming; We plan to be open every Saturday from June 18th until July 30th; from 7:00 am to Noon. Directions: From highway 412 in Siloam Springs, AR. Go South on highway 59 about 14 miles to Westville. Take E 700 Road to the West. Follow E 700 Road 1 1/4 mile. The farm is on the left. From highway 62 and highway 59 Intersection in Westville, OK. Proceed onto highway 59 North go roughly 1 mile, take E 700 Road to the West. Follow E 700 Road 1 1/4 mile. The farm is on the left. Click here for a map and directions. Payment: Cash, Debit cards, Visa/MasterCard. We have over 2 acres of first year production Blueberry Plants! We supply picking Material. Also available throughout the season will be potatoes, corn, cucumbers, squash, zucchini, bell peppers, jalapenos, and tomatoes. First come first serve basis. (UPDATED: May 25, 2016) (ADDED: May 06, 2016)
Cherokee County
Blueberry Acres

-

No pesticides are used

, blueberries, U-pick and already picked, restrooms
10151 North 510 Road, Tahlequah, OK 74464. Phone: (918)525-2730. Open: Our season generally runs from the first week of June to the first week of July; Please call (918)525 pm to 2730 for picking times and availability of pre - picked or frozen berries. Directions: Click here for a map and directions. We do not use pesticides on the crops. Payment: Cash, Check. (ADDED: June 07, 2014)
Woodward Strawberry Farm - Pick-Your-Own Strawberries -
Route 3 Box 629, Tahlequah, OK, 74464. Phone: 918-456-1779. Does anyone have more information, like a phone or email address? If so, please write me
Craig County
Delaware County
Mayes County
McIntosh County
Muskogee County
John Mikelson's Orchard - Apples, Blackberries, Peaches, plums NOTE: They may have gone out of business / closed down
7831 E. 123rd St. South, Muskogee, OK, 74403. Phone: 918-989-5009.
Comments from a visitor on September 17, 2009: "John Mikelson's Orchard in Muskogee has a number that is disconnected. "
Vine & Branch Vineyard -Six varieties of table grapes,
Route 2 Box 36A, Haskell, OK, 74436. Phone: 918-482-3066.
Nowata County
Okmulgee County
Deep Fork Farms -

Certified Organic

, cucumbers, eggplant, melons, onions, pecans , summer squash, tomatoes, farm animals
11265 Dentonville Road, Okmulgee, OK 74447. Phone: 918-267-3477. Open: This is a private farm open for u - pick by calling the farm and arranging a time. Picking updates: Click here for picking updates. Directions:

Deep Fork Farms is located close to Hwy 75 making it easy to find from a major highway.

Click here for a map and directions. Organic pecans become available after the first good frost in the autumn; Available already picked or call us if you'd like to come get your own pecans. We are certified organic for all crops! Payment: Cash, only. (UPDATED: October 15, 2009)

Organic pecans fall from the trees after the first frost of autumn. (ADDED: September 14, 2009, suggested by a visitor)


Comments from a visitor on September 14, 2009: "Organic produce available. a person can call them and they will let them pick the garden. sometimes there's produce already picked to purchase. pecans and pecan shells too. LOVE EVERYTHING THEY HAVE! Very clean. Organic. Very nice people."

Jordan Farms

- Uses natural growing practices, blackberries, and prepicked produce
14649 Creager Road, Hectorville, OK 74047. Phone: 918-366-4881. Email us at: daybreak3@aol.com. Directions: Take highway 75 South to 221st st. Turn east for 5 miles, turn south for 1 mile, turn west 4/10 mile. Located on the North side of the road And for a map to our farm, click here. Crops are usually available in July, August. Open: Monday to Friday, 7am to 12pm Saturday 7am to 12pm at the Jenks Farmers Market Blackberries generally ripen around the 1st of July and last until mid- august. Also offer tomatoes, okra, cucumbers, squash, onions, and garlic but these items are not u-pick We use natural practices, but are not yet certified Organic. Payment: Cash, only.
Osage County
Woodland Farm - Blackberries, Cut your own Christmas trees with Hayrides during the Christmas season (sorry no pumpkins!)
1211 E. 166th Street, Skiatook, OK, 74070. Email: trees4u@woodlandtreefarm.com. Open: Call before you go - I haven't had an update from this farm in years and there is nothing current about them on the internet; (Does anyone have current information, are they still offering pick your own? If so, please write me!); last reported was from the day after Thanksgiving! Hot cider and Hay rides on weekends. Wreaths, garland, grave crosses, ornaments, crafts. Petting pigmy goats and gift shop open during Christmas season. Hours Monday to Friday3-5pm S&S-9-5pm. Follow the signs from Hwy. 20 & Peoria East of SkiatoOK, Ok. Always call before driving out during U- Pick Blackberry season, sometimes berries get picked out early! Call for updates on the answering machine Hours : Monday, Tues, Thurs. 7:30 am to 12 Saturday, 8 am to 12pm Starting 1st or second Week of June..Also beautiful named Daylilies and Irises during June, dug freshEmail: trees4u@sbcglobal.net or trees4u@dellepro.com . also fresh herbs and gourds
Ottawa County
Double J Blueberry Farm

- blueberries, and prepicked produce
60351 E 200 Road, Fairland, OK 74343. Phone: 918-676-3235. Email: fairlandmrsdoc@gmail.com. Open: 7 days a week from sun up to sun down, during picking season which starts sometime in May and usually continues until the end of June. Directions: From US 60 in Fairland Ok. take state highway 125 south across the railroad tracks. One block past tracks turn left onto 190 Rd for about 4 miles, turn right on 600 for 1 mile, then left for about 3/4 mile to sign at the entrance. And for a map to our farm, click here. Crops are usually available in May, June, July. Payment: Cash, only. Please call ahead before you come to pick. We try to keep someone available all the time but we usually all break at the same time for meals. If you want us to pick call ahead so we can make sure we have plenty for you. Field is mowed and trimmed up for your easy access to the berries. (UPDATED: June 01, 2010) (UPDATED: July 03, 2010)
Rogers County
Sequoyah County
Tulsa County
Wagoner County
Lands End Blueberry Farm

- blueberries,
6700 S 241st E Avenue, Broken Arrow, OK 74014. Phone: 918-357-9418. Open: closed for 2010 season. Directions: Click here for a map and directions. closed for 2010 season--- re-planting May open in 2011. Payment: Cash, only. (UPDATED: June 03, 2010)
Livesay Orchards - apples, peaches, pumpkins, and prepicked produce, restrooms, school tours
39232 E. 231st St. S., Porter, OK 74454. Phone: 918-483-2102Directions: Located 3 miles SW of Porter, OK. Follow signs from Highway 51B near Porter. Crops are usually available in June, July, August, September, October. Open: Monday to Saturday 8 am to 6pm, Sunday 1 pm to 5 pm. Pick-your-own Peaches July & August, call for days available. Pick-your-own Apples September & October. Pumpkin Patch in October. Payment: Cash, Check. (UPDATED: April 27, 2015, JBS)
Comments from a visitor on September 20, 2010: "Just got an email from Livesay Orchards and they are NOT doing pick-your-own apples again this year, but they WILL have apples for sale at their store."
Comments from a visitor on September 17, 2009: "Just an update - Livesay Orchards in Porter does not have pick-your-own apples in 2009 - bad year. "
Thunderbird Berry Farm - asparagus, blueberries, corn (sweet), strawberries,
7515 South Hansen Road 7515 South 321 East Avenue, Broken Arrow, OK 74014. Phone: 918-232-4299. Alternate Phone: 918-640-7168. Email: vkarney@cox.net. Open: Monday through Saturday, from 7am to noon May 16 through July 16 Closed July 4th. Directions: Take the Kenosha Street exit off the Creek Turnpike. (toll road) Turn left onto East 71st Street S/E Kenosha Street. Continue onto East 71st Street S/E Kenosha Street for 6.6 miles. Turn Right at the sign of Thunderbird Land and Cattle Company, onto Hansen Road. Click here for a map and directions. April 15: Asparagus May 15: Strawberries June 1 through July 15 Blueberries July: Blackberries and Sweet Corn October: Corn maze. Payment: Cash, only. Please drive slowly, children present. (UPDATED: April 24, 2015)
Feedback from a visitor, June 09, 2010: "We visited Thunderbird Berry Farm in Wagoner County. We have been to Thunderbird Berry Farm twice now and have been impressed both times. I'd highly recommend it to anyone. Very sweet and helpful folks. The blueberry bushes are huge and have tons of berries!"
Comment ADDED: June 17, 2008, A visitor writes: "The farm owner, Don Hansen has a great attitude and will go out of his way to make sure the customer is satisfied. Fewer and fewer business owners and associates treat their customers with such integrity and respect. Kudos and a salute to Don Hansen as a true stand-up business man."
Washington County
---
---
Local Honey Sources:
Ottawa County
Rogers County
Shepherd's Cross - Honey (retail), gift shop, snacks and refreshment stand, restrooms, picnic area, face painting, petting zoo, farm animals, birthday parties, school tours
16792 East 450 Road, Claremore, OK 74017. Phone: 918-342-5911. Fax: 918-342-2520. Email: farm@shepherdscross.com. Open: Honey is available throughout the year; This is locally grown. Click here for current open hours, days and dates. Picking updates: Click here for updates. Directions: Located just off of Scenic Route 66. Take Route 66 north of the city of Claremore 2.5 miles to East West 450 Road. Take a right (east bound) and proceed 2.5 miles. There is State Highway signage at the turn on Highway 66. Click here for a map and directions. Shepherd's Bible Garden is available for touring Mid March through early December; Over 150 plants that are related to the Bible are noted in the handbook; Self guided and mini tours are available for visitors as well as extended tours with a pre-scheduled appointment. Payment: Cash, Check, Debit cards, Visa/MasterCard. Shepherd's Cross is a working sheep farm; a Made in Oklahoma Farm; an Accredited State Agritourism Facility; an Oklahoma Food Cooperative Producer and a working mini-wool mill. Woolly Weekend is the last weekend in April. This is a "Sheep to Shawl" experience. Watch the shepherd as he shears the sheep, and then watch the wool be turned in to yarn, and woven into a usable product. Lamb Meat - pasture raised Shepherding Tours - learn about the sheep and the shepherd and Jesus the Great Shepherd. Locally grown honey. (UPDATED: November 09, 2009)
---
Meats, Milk and Eggs:
Delaware County
Oklahoma Lightning

-

No pesticides are used

, Turkeys
53290 South 571 Road, Rose, OK 74364. Phone: 918-868-3716. Email: rockingtk@yahoo.com. Directions: Click here for a map and directions. Turkeys will be processed on November 22 or earlier if requested; Turkeys will not be frozen unless requested;. We do not use pesticides on the crops. Payment: Cash, Check. Highway 412 at Twin Oaks, Oklahoma, turn North on County Road 570. Travel North about 4 miles to County road 571. Turn West on 571 go about a fourth of a mile to the pipe gate. Call for an appointment. Turkeys are $5.00 a pound and processing cost are a part of the price. (ADDED: November 01, 2009)
Rogers County
Washington County
---
Farm Venues for Weddings, Events, Activities, Parties and Meetings:
Rogers County
Moore's Flying M Ranch - Lighting, Cooking Facilities, Wedding Ceremony, Birthday parties, Business outings, Corporate events, Classes, lectures or Speakers, School and educational groups, Daycare and preschool groups, Other Private Parties, Kitchen facilities available, Catering available, You may bring your own food, Tables and chairs are Provided, Linens and table silverware are provided, BYO alcohol, Bed & Breakfast onsite, Cattle ranch, dairy cows, steers/cattle, sheep, goats, horses, chickens, other animals, Beautiful rural setting, Hiking trails, Fishing onsite, CD Player, TV available, DVD Player, Free Onsite Lot parking lot, Within an easy drive to an Interstate road, children welcome, No pets please, No smoking allowed, concessions / refreshment stand, porta-potties, picnic area, face painting, petting zoo, farm animals, birthday parties, weddings and wedding parties, school tours
20707 East 540 Rd, Inola, OK 74036. Phone: 918-341-7146. Email: mooresflyingm@aol.com. Open: We are open year round; Monday to Saturday from 8 am to 6 pm. Directions: Find us on Google maps. Click here for a map and directions. Haunted Hayrides and Fall Festival hours Friday to Saturday each weekend in October 7pm to 11pm. Payment: Cash, Check. Click here for our Facebook page. A'CROP'alypse 2011 "Farmer's Revenge" Hayrides going on now!! Oct 7,8,14,15,21,22,28,29. Hayrides are from 7 to 11pm on above dates only. We offer concessions, play area, petting zoo, face painting & on site restrooms. All included in price excluding concessions. Adults $10 Child $5.00 (12 & under) Under 3 is FREE. "Like" us on facebook and get $2.00 off adult price/ per person/ per "like". (UPDATED: October 25, 2011)
Roberdes Family Vineyards and Winery - Lighting, Cooking Facilities, Wedding Ceremony, Wedding Reception, Birthday parties, Business meetings, Business outings, Corporate events, PR or Marketing events, Conferences, Filming or photo shoots, Classes, lectures or Speakers, Other Private Parties, Catering available, You may bring your own food, Tables and chairs are Provided, Linens and table silverware are provided, Wine & Champagne Only, B&B nearby, Motel nearby, Vegetables, or bush fruit, steers/cattle, horses, chickens, other animals, Beautiful rural setting, Fishing onsite, Sound System, Free Onsite Lot parking lot, Within an easy drive to an Interstate road, children welcome, No pets please, Smoking allowed in designated areas, meeting room available, farm market, gift shop, snacks and refreshment stand, restrooms, picnic area, farm animals, birthday parties, weddings and wedding parties, school tours
20570 E.460 Rd, Claremore, OK 74019. Phone: (918)342-1038. Email: roberdes.family@wildblue.net. Open: Thursday to Saturday, from 11 am to 7 pm; Sunday, 1 am to 6 pm; Or by appointment. Click here for current open hours, days and dates. Directions: From Tulsa go northeast on interstate 44 to the Claremore exit. Then go east on highway 20 towards Pryor (about 9 miles) to 4230 road (next to Sinors gas station). Then go north on 4230 road through 2 stop signs (2.5 miles). Then turn east on 460 road (before turnpike overpass)v ineyard and winery is about 1/2 mile on right. Click here for a map and directions. Payment: Cash, Check, Visa/MasterCard. Click here for our Facebook page. Grape and fruit wines. Wine sales, free tastings and tours. (ADDED: June 22, 2010)
Tulsa County
Berryhill Blueberries - birthday parties, weddings and wedding parties, group tours
5312 W. 41st St, Tulsa, OK 74107. Phone: 918-794-9029. Email: wes@berryhillblueberries.com. Open: Saturdays (in season) 9am - 2pm. Directions: See their website for directions. Payment: Cash, only. Strictly Blueberry Farm, minimal fertilizers, no pesticides. (ADDED: May 09, 2013, suggested by a visitor)
A visitor writes on May 09, 2013: "Great Place, good cause and friendly people"
Firey Trails of Tulsa - No Crops Offered; instead Tractor-pulled hay rides, modern restrooms, picnic area, farm animals, great birthday party place
20102 W. 61st Street S., Sand Springs, OK 74063. Phone: 918-227-1025. Email: info@fireytrails.com. Open: All Group Hayrides, Picnics, Birthday Parties and other reserved in advance only; Reserved time frames are typically 3 hours in length; Reservation Calendar and times updated daily; Call well in advance to reserve from September 1 through November 30; click here for updates.We are open to customizing your time and also can quote country weddings. Directions: 3 1/2 miles west and south of Discoveryland Ampitheater. Reflective signs begin west of Discoveryland billboard on 41st and also are posted on the alternate backroads route of 71st. Detailed PDF maps for viewing and printing available on website. Very easy access and lit parking area right off the county road. And for a map to our farm, Click here. Payment: Cash, Check. Providing hayrides to the Tulsa area since 1989 on our 60 acre property. Includes rustic Log Pavilion (complete with six large picnic tables) overlooking ponds. Benches for 50 around the firepit. We maintain fire and provide prongs, modern restrooms, and electricity. All areas are lit after dark. Activities can include feeding animals, horseshoes, volleyball, basketball and tug of war. Explore rich history, from stories of those buried in nearby 1887 Tiger Bone Cemetery. (UPDATED: July 14, 2012)
---
Horse Rides and More:
---
Farm Bed And Breakfasts
Rogers County
Moore's Flying M Ranch - 2 total rooms, Price range from $160 to $200, Large beds, Large rooms, Microwave in rooms, TV in rooms, Wireless internet available (no fee), Coffee/tea maker in rooms, Beautiful rural setting, Cattle ranch, Hiking trails, Fishing onsite, Fishing nearby, Free farm tours for overnight guests, Within an easy drive to an Interstate road, children welcome, No pets please, No smoking allowed, Help feed the animals, dairy cows, cattle, sheep, goats, horses, chickens, other animals, concessions / refreshment stand, porta-potties, picnic area, face painting, petting zoo, farm animals, birthday parties, weddings and wedding parties, school tours
20707 East 540 Rd, Inola, OK 74036. Phone: 918-341-7146. Email: mooresflyingm@aol.com. Directions: Find us on Google maps. Click here for a map and directions. Payment: Cash, Check. Click here for our Facebook page. While on the ranch you will have 700 acres to play on and 30 ponds to fish in. We also offer two large senic picnic areas with volleyball and horseshoe pits. The cabin is a two story log cabin that will sleep 10 in queen size beds & pull outs. Meals can be included in your stay with advance notice. Please see our meal package tab on our website. Photos: Click here for photos of the rooms and farmhouse. (UPDATED: October 25, 2011)
Tulsa County
Tanglewood Porch Farm & Bunkhouse Cabin - 1 total room, Price range from $85 to $185, Microwave in rooms, TV in rooms, Small fridge in rooms, Wireless internet available (no fee), Coffee/tea maker in rooms, Fresh farm breakfasts, Fresh eggs, Beautiful rural setting, Fishing onsite, laundry service available, washer and dryer available, Fishing nearby, boating nearby, golf nearby, fitness/health club nearby, Within an easy drive to an Interstate road, No pets please, No smoking allowed, Vegetarian meals available, Help feed the animals, horses, chickens, picnic area, farm animals
5170 E. 191st Street S., Bixby, OK 74008. Phone: 918-638-9436. Email: horsrdr@olp.net. Directions: we are located at 5170 E. 191st. South. We are between S. Sheridan and S. Yale. We can be easily accessed from highway 75 South of Glenpool or off Memorial coming through Bixby. Click here for a map and directions. Payment: Cash, Debit cards, Visa/MasterCard, Discover, AmEx. Tanglewood Porch Farm focuses on the simple life. We have Old English Bantam chickens and Frizzle Bantams that provide your breakfast. In the summer we have a rich and flourishing Garden that your welcome to enjoy. We have a large stocked pond and fishing poles available. Bicycles are also available for your use. You can take a bike ride down the road, or you can be dropped off at the River Bike Trail in Bixby. Breakfast is served to your cabin at 8:30 A.M. Photos: Click here for photos of the rooms and farmhouse. (ADDED: February 25, 2014)
---