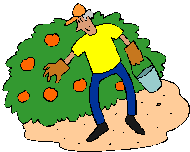 Looking for a local, pick-your-own farm in Northern New Hampshire? Scroll down this page and you will see the U-Pick farms in Northern New Hampshire, sorted by county. Those that offer organic or sustainably grown produce are identified by the words "organic" and/or "sustainable" in Green, next to their name (see "What does Organic mean?"). The U-pick crops they offer follow the name of the farm. To search the page for a specific crop, use Ctrl-F (or on an ipad or Mac, use their "search on this page" function) If they have a website, the name will be in blue and underlined; click on it and it will open their website. Beware of copycat websites (such as the one that starts with "pickit" and the one that ends with ".farms"; they do not update their information, they just steal it from us once in a great while (they are plagiarists operating in Russia and China), so theirs are usually out-of-date -and often copied incorrectly! I put dates to indicate when we last received an update from each farm, and I make updates daily (each farm as their info changes). See the customer and farmer menus at the top menu bar to submit updates and corrections and help me keep each current!
And if you know of any I missed and want to add them or correct the information, please let me know!
What's in season in June 2017, and other timely information:
Notes for June 2017: The warm winter means strawberries will be EARLY this year! Move the dates ahead by 2 - 3 weeks on our state crop availability calendars for strawberries; see your state's calendar for more dates of upcoming crops. Blueberries have already started in FL and TX.
Next year, don't miss an Easter Egg Hunt for your children: See our companion website to find a local Easter Egg hunt!
Children's Consignment Sales occur in both the Spring and Fall See our companion website to find a local community or church kid's consignment sale!
We also have home canning, preserving, drying and freezing directions. You can access recipes and other resources from the drop down menus at the top of the page or the site search. If you have any questions or suggestions, feel free to write me! It is easy to make your own ice cream, even gelato, or low fat or low sugar ice cream - see this page. Also note, there are many copycat website listing U-pick farms now. They have all copied their information form here and usually do not ever update. Since 2002, I've been updating the information every day but Christmas; so if you see anything wrong, please write me!
Northern New Hampshire U-Pick Farms and Orchards, by county
Click on the resources drop-down above, if you need a county map
BerryKnoll - blueberries, Gooseberries, Black, Red, and White Currants
Brownfield Road, Eaton, NH 03832. Phone: 603-447-4844 . Email: bbestberrylady@gmail.com. Open: July-August, 7 days a week. As long as there's enough daylight to see the berries you are welcome to come and pick. Directions: Turn at the Eaton Town Beach at the intersection of Route 153 and Brownfield Road. Go about 3 1/2 miles to Old Portland Road. on the right (where there is a blue Berry Knoll Sign). Keep going up the hill, where parking and berries are on the right. Several varieties of highbush blueberries. Pick you own : Blueberries, Gooseberries, Red and Black Currants. We also have : over 200 varieties of Daylilies
Mint, Lemon Mint, Spearmint, Maple Syrup. (UPDATED: May 4, 2015, JBS) (UPDATED: July 23, 2011)
Hatches Orchard - Apples
1440 Brownfield Road, Center Conway, NH 03813. Phone: 603-447-5687 Fax: 447-5687. Open: 10am-5pm, weekends, holidays. (UPDATED: August 24, 2010)
L-B Farm - ORGANIC, raspberries
Gage Hill Road #326, Wakefield, NH 03872. Phone: 603-522-3268. Open: mid-July-mid-August, daily. Organically grown raspberries
The Maize At Sherman Farm - flowers, prepicked produce, snacks and refreshment stand, restrooms, picnic area, face painting, farm animals, school tours
2679 East Conway Road, Center Conway, NH 03813. Phone: 603-939-2412. Email: kathy@shermanfarmnh.com. Directions: From the north: North Conway Route 16 S to Route 302 East. Turn on 302 East at traffic light. 2.5 miles turn left on East Conway Road at Police Station go 6 miles maze is on right. From the south: Conway follow Rte 113 East (straight through lights in Conway). 2 miles at light turn Left on Rte 302 West, go 1 mile turn right on East Conway Road, go 6 miles to maze on right From Fryeburg Maine: On Main Street heading west, turn at right the Post Office onto River Road, Maze is one mile on right. Open: Saturday and Sunday 10 am to 6 pm Sept 20 through October 13 (open Columbus Day) Saturday and Sunday 10 am to 4 pm October 18 through October 26 Weekdays Tuesday through Friday for school field trips by reservation. CClick here for current open hours, days and dates. Payment: Cash, Visa/MasterCard. (UPDATED: May 4, 2015, JBS) (ADDED: September 12, 2008)

Merrybrook Farm

-

No pesticides are used

, blueberries, U-pick and already picked
1932 Chocorua Mountain Highway, Tamworth, NH 03875. Phone: 603-367-8306. Email: tim.o.rich@williams.com.. Open: Fridays and Saturdays, 8:00 am to 4:00 pm. Directions: From the town of Chocorua at the intersection of Rtes 16 and 113, go two miles north to Chocorua Lake on your left. From that point, go an additional 1.8 miles to the farm on the right. Look for a rope/adventure course by the name of Monkey Trunks on your left just south of the farm and turn right into the driveway where the signs are. The blueberry crop is typically plentiful between July 15th and August 15th but is entirely dependent on Mother Nature and recent picking activity. We do not use pesticides on the crops. Payment: Cash, only. These blueberries are 100% organic - no pesticides are used ever. (ADDED: July 16, 2011)
Schartner Farms - strawberries
WWest Side Road, North Conway, NH. Phone: 603-356-6160. (This is a satellite location from the main farm in Exeter, RI). Open: Daily, 8am to dusk, year round. Also, prepicked sweet corn, nursery stock, mixed fruits & vegetable plants, herbs, trees, shrubs. Payment: Cash, credit cards. (UPDATED: May 4, 2015, JBS) (UPDATED: June 23, 2011) (UPDATED: July 06, 2009)
Comments from a visitor on July 14, 2008: "Gorgeous strawberries. In 2008, they cost $2.20/lb. "
Haynes Homestead - raspberries (red), strawberries, Other fruit or veg, U-pick and already picked, farm market
172 Harvey Swell Road, Colebrook, NH 03576. Phone: 603-237-4395. Email: grammyhaynes@gmail.com. Open: Monday to Sunday, from 7am to 7pm. Directions: Take NH-26 E from the center of Colebrook for 6.6 miles. Turn left onto Diamond Pond Road for 2.3 miles. Take left onto Harvey Swell Road half mile on left stop at Grammy Haynes little Herbal Shop. Click here for a map and directions. Strawberries: June 29, 2014; Red Raspberries July; Potatoes August/September. Payment: Cash, only. U dig U pick potatoes. In season fruits and vegetables sold at store, asparagus, beets, carrots, cucumbers, herbs/spices, peppers, pumpkins, red raspberries, strawberries, tomatoes, large variety of greens; spinach, mesclun mix, swiss chard, spring mix. (ADDED: June 29, 2014)
M.R.'s Blueberry Heaven - U-pick blueberries, already-picked blueberries, restrooms, school tours
681 West Milan Road, West Milan,, NH 03570. Phone: 1-603-449-2232. Alternate Phone: 1-603-723-2828. Email: BlueberryHeaven@hotmail.com. Open: Monday to Friday 9:00am to 7:00pm; Saturday and Sunday from 9:00am to 6:00pm; Weather permitting; if there is a chance of rain in our area;;;please give us at least 3 hours for the field and berries to dry off!. Directions: Go north on Route 110 towards West Milan, at the peak of Nay Pond Hill you will see a Restaurant by the name of Muriel's which is 681 West Milan Road, you will also see our blueberry signs, proceeding behind the restaurant you will notice a well maintained road, just follow it up to the blueberry shack and we will guide you from there! There is plenty of parking!! Happy Picking!!. Blueberries for your picking at M;R;'s Blueberry Heaven from July 14 Thursday, 2010 to the first major frost!!. Payment: Cash, Check. (UPDATED: May 4, 2015, JBS) (ADDED: August 04, 2010)
Pratt Farm - Raspberries & blueberries
63 Water Street, Lancaster, NH 03584. Phone: 603-788-4320. Open: 8am-6pm, Tuesday & Thursday; 8am-2pm, Saturday.
Santa's Tree Farm LLC -

Minimizes chemical and pesticide use

, blueberries, strawberries, Honey from hives on the farm, Maple Syrup from trees on the farm, Fresh eggs, U-pick and already picked, farm market, gift shop, farm animals
463 Bear Rock Road, Colebrook, NH 03576. Phone: 603-237-9876. Alternate Phone: 603-631-0713. Email: santastreefarm@aol.com. Open: Farm stand open most weekends from June 15 to October 25; Hours of operation are Saturdays from 9 am to 4 pm and Sundays from 9 am to 1 pm; The gift shop has its own phone number, (603)2374110 during the growing season; Wreath orders are taken anytime until November 25; We ship our maple syrup products year round. Directions: From Colebrook, NH take Route 26 East for 3 miles, take left hand turn onto East Colebrook Road. Follow for 3 miles. Take left hand turn onto Bear Rock Road. Follow for 2.5 miles. Farm stand is on left at corner of Bear Rock Road and Harvey Swell Road. Click here for a map and directions. We minimize use of pesticides and other chemicals. Payment: Cash, Check, Visa/MasterCard, Discover. Farm stand has seasonal crops dependent on weather, beans, beets, carrots, radishes, squash, zucchini, spinach, peas, sweet corn. (ADDED: May 10, 2008) (UPDATED: October 12, 2009)
Cardigan Mountain Orchard - apples, restrooms, gift shop, picnic area, tours of the operation, group tours
1540 Mt. Cardigan Road, Alexandria , NH 03222. Phone: (603) 744-2248. Email: info@cardiganmountainorchard.com. Open: Labor Day-November; 10am-6pm. Directions: Call for directions. Payment: Cash, Check, Debit cards, Visa/MasterCard. Pick-your-own McIntosh, Cortland and Macoun apples. (UPDATED: May 4, 2015, JBS) (ADDED: September 03, 2014, suggested by a visitor)

Darling's Berries

- blueberries, raspberries (red), Maple Syrup from trees on the farm, restrooms, picnic area (bring your own food)
81 Reagan Rd, Canaan, NH 03741. Phone: 603-523-9179. Alternate Phone: 603-523-9646. Email: DarlingsBerriesCanaanNH@gmail.com. Open: Monday thru Sunday, from 8 am to 7 pm, starting around mid July 20th thru mid August. Directions: Take exit 17 of I89, go east on Route 4 for about 11 miles to Canaan, New Hampshire. Bear left to Route 118 and take the first left (High Street). Take a right at stop sign, go about one quarter mile. There are signs. For a map to our farm, click here. Open and closing dates for the season varies with the weather, Call for updates. Payment: Cash, Check. (UPDATED: April 19, 2016) (ADDED: August 08, 2014)

Evenmore Herb Gardens

- Uses natural growing practices, flowers, herbs/spices, restrooms, school tours, events at your location (call for info)
84 Bear Pond Road, Canaan, NH 03741. Phone: 603-304-7355. Directions: From I89 take Exit 17 onto Route 4 into Canaan N.H. Go past the Mascoma Valley Regional High School, and take the first left onto Goose Pond Road. Stay on this Road until you reach the Goose Pond Dam, go straight up Talbert Hill Rd to the top, and Bear Pond Rd will be on the right. Watch for sign on the right side of the Road. Crops are usually available in June, July, August, September. Open: Thursdays noon to 5, Fridays and Saturdays 10-5 May through 1st week of July. After that call to make farm visit appointments. Also call to arrange perennial/herb garden tours. Herb plants and fresh pick your own herbs available May. through October. We use natural practices, but are not yet certified Organic. Payment: Cash, Check. Culinary, medicinal and Craft herbs, large display gardens, and a native plant sanctuary, greenhouse, herb walks, garden tours and workshops.
Frost's Roadside Garden - Strawberries, vegetables, Pumpkins, picnic area
1590 Littleton Rd, Monroe, NH 03771. Phone: 603-638-4416. Email: ebfrost@roadrunner.com. Open: July through October, daily from 9 am to 7 pm. Directions: Route 135, North of Monroe Village or 191 exit 18, Route 5, Route 135, 1st left, Call for directions. Payment: Cash, Check. Our farm stand is the biggest in the area..We have 6 areas of a variety of many vegetables of the season. Corn is extra sweet and picked daily. Pumpkins of all kinds, plus Winter Squash specials.(ADDED: September 13, 2010, suggested by a visitor)
Mount Pleasant Orchard -

Minimizes chemical and pesticide use

, apples, pumpkins, U-pick and already picked, snacks and refreshment stand
312 Sargent Hill Road, Grafton, NH 03240. Phone: 603-523-4325. Email: skuligoski@yahoo.com. Open: See our website for current hours. Click here for current open hours, days and dates. Picking updates: Click here for picking updates. Directions: From Interstate 89: Get off on Exit 17 and go on Route 4 East. Follow that until you get to Grafton. There will be a sign on Prescott Hill Road, and other signs all the way up to the orchard. From Interstate 93: Get off on Exit 17 and go on Route 4 West. Follow that until you get to Grafton. There will be a sign on Prescott Hill Road, and other signs all the way up to the orchard. Click here for a map and directions. See our website for dates open. We minimize use of pesticides and other chemicals. Payment: Cash, Check. We will also sell pies, and some pumpkins from our garden. (UPDATED: May 4, 2015, JBS) (UPDATED: September 05, 2009)
Poverty Lane Orchards - apples, pumpkins, some winter squashes.
Poverty Lane, Lebanon, NH 03766. Phone: (603)448-1511. Email: info@povertylaneorchards.com. Directions: near Exit 19 off Interstate 89 in New Hampshire, minutes from the junction of Interstates 91 and 89 in the Upper Connecticut River Valley. At Exit 19, turn west from the off-ramp. At the first light, turn left up Poverty Lane. (From I-91, take I-89 south across the river to reach Exit 19.) Click here for a map. Open: for pick-your-own apples; 8 am to 6 pm on Monday to Friday, and 10 am to 5 pm on Saturday and Sunday. Labor Day Weekend through Early October (Farm stand open longer). Wagon Rides into the Fields on Fair Weekends. Horse-drawn wagon rides to the orchard. Pick your own, or already bagged, apples, including several wonderful varieties of heirloom apples, cider - alcoholic and regular non-alcoholic. (UPDATED: May 4, 2015, JBS)
Comments from a visitor on September 21, 2008: "I like this farm very much. They have a wide variety of heirloom apple varieties." (ADDED: September 21, 2008, suggested by a visitor)

Rabbit Path Blueberries

- blueberries, U-pick and already picked, farm animals
148 Rabbit Path, Bath, NH 03740. Phone: 603-747-2447. Email: Rabbitpath@yahoo.com. Open: Pick daily tentatively starting July 20th 8 am to Dusk Call for more information. Directions: Rte 302 to Bath Village, take Rabbit Path , Approximately one half mile. Orchard is first farm on right. Payment: Cash, Check. (ADDED: July 01, 2013)
Super Acres - blueberries
722 River Road, Lyme, NH 03768. Phone: (603) 353-9807. Email us at: patrice.g.super@valley.net . Directions: Located just south of the covered bridge, or 4 miles north of the Thetford/Lyme Bridge. Click here for a map to our farm. We are open July, August. Our hours are: 8am-7pm daily during blueberry season. Late July through August. Pick Unsprayed blueberries in our 1,200 plant orchard near the Connecticut River and Clay Brook.
Windy Ridge Orchard and Christmas Tree Farm - Apples, blueberries, pumpkins, Christmas trees-you choose and you cut, Precut Christmas trees, Christmas wreaths and boughs, saws provided, trees bagged, sleigh rides, pumpkin patch-pick in the field, pumpkin patch- already gathered from the field, and prepicked produce, gift shop, snacks and refreshment stand, restrooms, picnic area, tractor-pulled hay rides, petting zoo
1775 Benton Road, North Haverhill, NH 03774. Phone: 603-787-6377. Email: info@windyridgeorchard.com. Directions: Interstate 93: Take exit 32, turn off ramp onto Route 112 West, follow 112 for 13 miles, turn left onto Route 116 South, follow for 7 miles, orchard is on left. Route 10: turn onto Benton Road/Route 116 at the North Haverhill Civil War monument, follow 116 for 3 miles, orchard is on the right And for a map to our farm, click here. Crops are usually available in July, August, September, October, December. Open: July - August: 7:00 - 3:00 August - November: 7:00 - 6:00 November - December: 10:00 - 4:00 Blueberries: July 15 - August 10 Apples: August 30 - October 10 Pumpkins: September 10 - October 31 Christmas Trees: Thanksgiving - Christmas (weekends only) Payment: Cash, Check. (UPDATED: May 4, 2015, JBS)
---
---
Local Honey Sources:
---
Meats, Milk and Eggs:
Coos County
The Keazer Farm Bed and Breakfast - Fresh farm breakfasts, Eggs, Brown eggs, children welcome, Maple Syrup from trees on the farm, Fresh eggs
11 Harvey Swell Road, Colebrook, NH 03576. Phone: 603-237-8058. Email: keazerfarm@wildblue.net. Open: every day, call ahead for eggs. Directions: Click here for a map and directions. Payment: Cash, Check. In the heart of the new Ride the Wilds trails. Four Wheelers are welcome with miles of road trails to explore. (ADDED: May 28, 2014)
Stables at Mahoosuc Inn - Eggs, Wedding facilities, Hiking trails, Pets welcome, meeting room available, Fresh eggs, birthday parties, weddings and wedding parties, events at your location (call for info)
877 Milan Road Route 16, Milan, NH 03570. Phone: 603 449 6646. Email: mark@mahoosucinn.com. Open: facility is opened year round. Directions: From Boston & Southern NH: Take I-93 North to Exit 35/Twin Mountain for Route 3. Take Route 3 North to Route 115 North. At the end of Route 115, go Right on Route 2 East all the way to Gorham. At the light, take a left onto Route 16 North and remain on Route 16 through Berlin and the village of Milan. Mahoosuc Inn is on the left, one mile North of the village of Milan, on Route 16. Click here for a map and directions. Payment: Cash, Check, Visa/MasterCard, Discover. Click here for our Facebook page. (ADDED: October 05, 2010)
Grafton County
Bear Knoll Farm

- Chicken (NOT free range), Chicken (free range), USDA Natural, No hormones used, No antibiotics used, 100% grass and/or grain fed, Eggs (free range), Eggs, Brown eggs, No pets please, Fresh eggs
West Farms Road, Canaan, NH 03741. Phone: 603-304-5030. Alternate Phone: 603-304-5031. Email: sstrek@comcast.net. Open: Please call for dates when broilers are ready; At the moment we are planning for around Memorial Day and Labor Day. Directions: Click here for a map and directions. Payment: Cash, only. We also offer garden tilling, brush hogging, and chipping, as well as small landscape projects. We have just recently attended an "Egg Quality School" put on by the State of NH, so we are well aware of what is required to produce an above average egg! We use all new egg cartons and have both half or full dozen options. Deliver is avaliable to local area. (ADDED: February 03, 2012)
---
Farm Venues for Weddings, Events, Activities, Parties and Meetings:
Coos County
Stables at Mahoosuc Inn - Wedding Ceremony, Wedding Reception, Wedding Rehearsal Dinner, Banquets / Dinners, Classes, lectures or Speakers, Kitchen facilities available, You may bring your own food, Some Tables and chairs are provided, Some Linens and table silverware are provided, Bed & Breakfast onsite, Apple Orchard, Vegetables, or bush fruit, horses, chickens, Horse riding at the farm, Beautiful rural setting, Mountain views, Hiking trails, Fishing nearby, hunting nearby, boating nearby, skiing nearby, Internet (Wireless), Free Onsite Lot parking lot, Bride and groom dressing areas available, Pets welcome, No smoking allowed, Fresh eggs, birthday parties, weddings and wedding parties, events at your location (call for info)
877 Milan Road Route 16, Milan, NH 03570. Phone: 603 449 6646. Email: mark@mahoosucinn.com. Open: Stables are opened year round. Directions: From Boston & Southern NH: Take I-93 North to Exit 35/Twin Mountain for Route 3. Take Route 3 North to Route 115 North. At the end of Route 115, go Right on Route 2 East all the way to Gorham. At the light, take a left onto Route 16 North and remain on Route 16 through Berlin and the village of Milan. Mahoosuc Inn is on the left, one mile North of the village of Milan, on Route 16. Click here for a map and directions. Payment: Cash, Check, Visa/MasterCard, Discover. Click here for our Facebook page. Mahoosuc Inn is the perfect location for your country wedding. (ADDED: October 05, 2010)
---
Horse Rides and More:
Coos County
Stables at Mahoosuc Inn - Boarding stables, Overnight stables, Horses trails (unguided), Fresh farm breakfasts, Bed and breakfast, Wedding facilities, Beautiful rural setting, Mountain views, Hiking trails, snowmobiling nearby, Fishing nearby, hunting nearby, boating nearby, skiing nearby, golf nearby, Pets welcome, No smoking allowed, meeting room available, Fresh eggs, birthday parties, weddings and wedding parties, events at your location (call for info)
877 Milan Road Route 16, Milan, NH 03570. Phone: 603 449 6646. Email: mark@mahoosucinn.com. Open: Stables are opened year round. Directions: From Boston & Southern NH: Take I-93 North to Exit 35/Twin Mountain for Route 3. Take Route 3 North to Route 115 North. At the end of Route 115, go Right on Route 2 East all the way to Gorham. At the light, take a left onto Route 16 North and remain on Route 16 through Berlin and the village of Milan. Mahoosuc Inn is on the left, one mile North of the village of Milan, on Route 16. Click here for a map and directions. Payment: Cash, Check, Visa/MasterCard, Discover. Click here for our Facebook page. Perfect location for horse clubs to come for a weekend clinic. Oversized dressage ring, 12x12 stalls with rubber mats, miles of groomed riding trails that directly link to miles of logging roads that cross the northern part of NH. (ADDED: October 05, 2010)
---
Farm Bed And Breakfasts
Coos County
The Keazer Farm Bed and Breakfast - 3 total rooms, Price range from $75 to $88, Wireless internet available (no fee), Fresh farm breakfasts, Fresh eggs, Beautiful rural setting, Mountain views, Hiking trails, Fishing onsite, Fishing nearby, hunting nearby, snowmobiling nearby, golf nearby, swimming pool nearby, fitness/health club nearby, children welcome, Pets welcome, No smoking allowed, Vegetarian meals available, Help feed the animals, chickens, other animals, Maple Syrup from trees on the farm, Fresh eggs
11 Harvey Swell Road, Colebrook, NH 03576. Phone: 603-237-8058. Email: keazerfarm@wildblue.net. Directions: Click here for a map and directions. Payment: Cash, Check. In the heart of the new Ride the Wilds trails. Four Wheelers are welcome with miles of road trails to explore. (ADDED: May 28, 2014)
Stables at Mahoosuc Inn - 6 total rooms, Price range from $65 to $125, Large beds, Large rooms, Small fridge in rooms, Fresh farm breakfasts, Fresh eggs, Wedding facilities, Beautiful rural setting, Mountain views, Hiking trails, horse riding at the farm, Fishing nearby, hunting nearby, skiing nearby, snowmobiling nearby, golf nearby, Pets welcome, No smoking allowed, horses, chickens, Fresh eggs, birthday parties, weddings and wedding parties, events at your location (call for info)
877 Milan Road Route 16, Milan, NH 03570. Phone: 603 449 6646. Email: mark@mahoosucinn.com. Directions: From Boston & Southern NH: Take I-93 North to Exit 35/Twin Mountain for Route 3. Take Route 3 North to Route 115 North. At the end of Route 115, go Right on Route 2 East all the way to Gorham. At the light, take a left onto Route 16 North and remain on Route 16 through Berlin and the village of Milan. Mahoosuc Inn is on the left, one mile North of the village of Milan, on Route 16. Click here for a map and directions. Payment: Cash, Check, Visa/MasterCard, Discover. Click here for our Facebook page. Mahoosuc Inn is the perfect destination for outdoor enthusiasts. We groom our trails for riding & walking in the summer and groom them for cross-country skiing in the winter. We have direct access to NH Snowmobile Corridor #19 that brings riders to the northernmost part of the state. We can provide shuttle service for hiking the Appalachian Trail or canoeing & kayaking the Androscoggin River. Photos: Click here for photos of the rooms and farmhouse. (ADDED: October 05, 2010)
---
Maple Syrup Farms and Sugarworks:
Carroll County
White Gates Farm - Medium maple syrup, tours, Pancake breakfast day, Maple Syrup from trees on the farm, gift shop, concessions / refreshment stand, picnic area
2153 Cleveland Hill Road, Tamworth, NH 03886. Phone: 603-662-7538. Email: whitegatesfarm@gmail.com. Open: Starting in March 2011. Directions: Click here for a map and directions. Payment: Cash, Check. White Gates Farm also attends the Tamworth Farmers Market in Tamworth Village starting in June and running through October. (ADDED: February 14, 2011) (UPDATED: May 18, 2011)
Coos County
Bisson's Sugar House - Maple sugar house, Maple syrup, including Grade B for cooking
61 Cates Hill Road, Berlin, NH 03570. Phone: 752-1298. Email: maplesug@ncia.net. We still boil our sap on a wood fired evaporator in the sugar house built by Armand and Juliette Bisson in 1953. During the sugaring season, March and April, we also make our maple butter, taffy, and maple candy on a small wood fired evaporator in use since the 1940's. Visit us in the Spring. We enjoy giving tours and explaining the process. Call or email us for more information on our products and how we can ship them to you. (ADDED: April 11, 2012, from NH gov ag website)
Fuller's Sugarhouse - Pure maple syrup, maple cream, dry maple sugar & pure maple candy
267 Main Street, Lancaster, NH 03584. Phone: 877-788-2719. Fax: 788-2719. Email: info@fullersugarhouse.com. Open: Monday to Saturday 9 am to 5 pm, Sunday 10 am to 3 pm. (ADDED: April 11, 2012, from NH gov ag website)
The Keazer Farm Bed and Breakfast - Medium maple syrup, Dark amber maple syrup, Premium maple syrup, Organic maple syrup, Maple Syrup from trees on the farm, Fresh eggs
11 Harvey Swell Road, Colebrook, NH 03576. Phone: 603-237-8058. Email: keazerfarm@wildblue.net. Open: every day. Directions: Click here for a map and directions. Payment: Cash, Check. In the heart of the new Ride the Wilds trails. Four Wheelers are welcome with miles of road trails to explore. (ADDED: May 28, 2014)
Grafton County
Darling's Berries

- Fancy maple syrup, Medium maple syrup, Dark amber maple syrup, Maple Syrup from trees on the farm, restrooms, picnic area (bring your own food)
81 Reagan Road, Canaan, NH 03741. Phone: 603-523-9646. Alternate Phone: 603-523-9179. Email: tdarling@tpk.net. Open: 8 am to 8 pm; seven days a week, July and August; Call for opening date and picking conditions. Directions: Take exit 17 of I89, go east on Route 4 for about 11 miles to Canaan, New Hampshire. Bear left to Route 118 and take the first left (High Street). Take a right at stop sign, go about one quarter mile. There are signs. Click here for a map and directions. Payment: Cash, Check. (ADDED: August 08, 2014)
McLure's Honey & Maple Products (Dutch Gold Honey, Inc) - Pure honey & pure maple syrup.
46 North Littleton Road, Littleton, NH 03561. Phone: 444-6246. Fax: 444-6659. Email: info@mclures.com. (ADDED: April 11, 2012, from NH gov ag website)
---