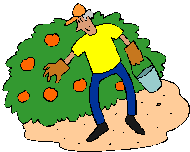 Looking for a local, pick-your-own farm in Eastern-central Mississippi? Scroll down this page and you will see the U-Pick farms in Eastern-central Mississippi, sorted by county. Those that offer organic or sustainably grown produce are identified by the words "organic" and/or "sustainable" in Green, next to their name (see "What does Organic mean?"). The U-pick crops they offer follow the name of the farm. To search the page for a specific crop, use Ctrl-F (or on an ipad or Mac, use their "search on this page" function) If they have a website, the name will be in blue and underlined; click on it and it will open their website. Beware of copycat websites (such as the one that starts with "pickit" and the one that ends with ".farms"; they do not update their information, they just steal it from us once in a great while (they are plagiarists operating in Russia and China), so theirs are usually out-of-date -and often copied incorrectly! I put dates to indicate when we last received an update from each farm, and I make updates daily (each farm as their info changes). See the customer and farmer menus at the top menu bar to submit updates and corrections and help me keep each current!
And if you know of any I missed and want to add them or correct the information, please let me know!
For information about safely viewing the solar eclipse and where to get the approved glasses, see this page. Or here to learn about the scam counterfeit solar eclipse glasses.
What's in season in August 2017, and other timely information:
Notes for August 2017: Blueberries and peaches are going still in northern and cooler areas, but are mostly finished in the Deep South. Blackberries, figs, and raspberries are in season now. Tomatoes are going strong, although the crop is way diminished in rainy areas like the southeast. Strawberries are finished, except in the far north, and if the farm planted Day Neutral varieties. Early apples, like Gala, are about to start!
Children's Consignment Sales occur in both the Spring and Fall See our companion website to find a local community or church kid's consignment sale!
Next year, don't miss an Easter Egg Hunt for your children: See our companion website to find a local Easter Egg hunt!
We also have home canning, preserving, drying and freezing directions. You can access recipes and other resources from the drop down menus at the top of the page or the site search. If you have any questions or suggestions, feel free to write me! It is easy to make your own ice cream, even gelato, or low fat or low sugar ice cream - see this page. Also note, there are many copycat website listing U-pick farms now. They have all copied their information form here and usually do not ever update. Since 2002, I've been updating the information every day but Christmas; so if you see anything wrong, please write me!
Eastern-central Mississippi U-Pick Farms and Orchards, by county
Click on the resources drop-down above, if you need a county map
Attala County
Choctaw County
Clarke County
B & W Orchard - blueberries, figs, muscadines, and prepicked produce, restrooms
3948 Cr. 350, Meridian, MS 39301. Phone: 601-659-7357. Email: giftmakersplus@bellsouth.net. Directions: turn right off highway 514 on to county road 350 in Clarke County, Mississippi; take the first drive to the right. And for a map to our farm, click here. Crops are usually available in June, July, August. Open: Monday to Saturday 7 am to 6 pm. May 26th to August 15th. Payment: Cash, only. (UPDATED: May 1, 2015, JBS) (ADDED: April 13, 2008)
Jasper County
Sugarhill Blueberry Farm

- certified organic, blueberries,
By Appointment Only, Heidelberg, MS 39439. Phone: 985-395-2768. Crops are usually available in June. Open: June 1st through June 30, Every Day from 8:00 am to 10:00 am and 6:00 pm to 8:00 pm; By appointment only. We are certified organic for all crops! Payment: Cash, only. 2008 prices - U Pick: $5.00 per gallon; We Pick: $25.00 per gallon. (UPDATED: May 22, 2008)
Kemper County
Lauderdale County
Gourd Gracious Farm - Gourds, prepicked produce, events at your location (call for info)
11132 Byrd Doerner Road, Collinsville, MS 39325. Phone: 601-737-5333. Email: gourdgracious@comcast.net. Directions: From Meridian, MS, take highway 19 north to Collinsville, MS. Turn right after passing the First Baptist Church onto Collinsville Martin Road. Go to 4 way stop and go straight. Take first right on Martin Moore Road. Then take first left on Byrd Doerner Road. We are the 6th house on the right. And for a map to our farm, click here. Crops are usually available in All year. Open: 6 days a week by appointment from 8 am to 6 pm; Closed on Sunday except by special appointments from 1 pm to 6 pm. We raise 16 acres of gourds and sell them year round from the field or the sheds at our home; We also have a gourd festival annually on the 3rd Saturday in September where we have gourd craft classes and many gourd vendors selling their gourd crafts. Payment: Cash, Check. This is a gourd farm. We raise 16 acres of many different types of gourds such as martin birdhouse gourds, kettle gourds. bottle gourds, dippers, canteens, penguins, tobacco box, and ornamentals. We have a festival every year on the 3rd Saturday in September where we hold classes in gourd crafting and have many gourd craft booths. Food is also sold at the festival. (ADDED: January 19, 2009)
Johnson Blueberry Farm - blueberries, restrooms, picnic area
11624 Suqualena Road, Meridian, MS 39305. Phone: 601-626-8166. Email: johnsonblueberries@yahoo.com. Open: Tuesday through Saturday, from 7 am till 7:30 pm, Closed on Sunday and Monday. Picking updates: Click here for picking updates. Directions: CClick here for a map and directions. early June to late July. Payment: Cash, Check. U-Pick or We-Pick. Very clean field - free recipes. Containers furnished. Also sheets & free ice water. (UPDATED: May 1, 2015, JBS) (UPDATED: August 05, 2009)
Leake County
Currie Farms

- blueberries
10140 Hwy. 43 S., Kosciusko, MS 39090. Phone: 601-932-0367. Email us at: Boo4dei@aol.com. Directions: Call for directions And for a map to our farm, click here. Crops are usually available in June, July, August. Open: Saturday and Sunday 10am to 6pm Payment: Cash, only.

Dixie Girl Farm

-

Uses natural growing practices

, cucumbers, eggplant, herbs/spices, lavender, melons, peppers, tomatoes, Other fruit or veg, U-pick and already picked
593 Dorsey Rd, Carthage, MS 39051. Phone: 601 900 8862. Email: rgrbx@yahoo.com. Open: May 20 until season end; Monday through Saturday during daylight hours. Directions: Just off highway 35 call for specific instructions. easy from highway 25 also. Click here for a map and directions. We use natural practices, but are not yet certified Organic. Payment: Cash, only. Also have Burgandy okra, squash, zuccinni,and herbs. (ADDED: April 28, 2012)
Lowndes County
Neshoba County
Newton County
Lazy Acres Plantation - Pumpkins and Christmas Trees
596 Lazy Acres Road, Chunky, MS 39323. Phone: 601-655-8264, Fax: 601-655-8263. Open: Pumpkins: Sunday 1:00 - 5:00, Saturday 10:00-5:00; Christmas trees: Monday to Saturday 10:00-5:00, Sunday 1:00 - 5:00. Lazy Acres Christmas Tree Plantation and Pumpkin Patch is honored to have grown the most award winning Christmas trees in Mississippi since 1980*. We have provided beautiful Leyland cypress Christmas trees to the Mississippi Governor's Mansion, State Capitol, and Agriculture Museum.
Noxubee County
Lazy U Farm - blueberries, broccoli, corn (sweet), eggplant, flowers, melons, onions, peas, pumpkins, summer squash, strawberries, tomatoes, Fresh eggs, U-pick and already picked, porta-potties, picnic area, farm animals, birthday parties, school tours
5572 Elon Rd, Macon, MS 39341. Phone: 662 361 0237. Alternate Phone: 662 361 0045. Fax: 662-726-4974. Email: LazyU2012@gmail.com. Open: Monday to Friday 8am to 6pm, Saturday 8am to 2pm, closed on Sunday. Picking updates: Click here for picking updates. Directions: From highway 45 take Misso Road turn right on Elon RD 2.6 miles on left. Click here for a map and directions. Payment: Cash, only. What can we do at Lazy U: Take a wagon ride, Get lost in the corn maze, Take a trip to the Pumpkin Patch, Pick all sorts of produce, Play on the large playground, Check out all the animals, Water Races, Milk the Cow, Relax and enjoy nature. Click here for a link to our Facebook page. (UPDATED: May 1, 2015, JBS) (ADDED: March 31, 2013)
Oktibbeha County
The Blueberry Patch -

No pesticides are used

, blueberries, U-pick and already picked
493 Oriole Drive, Starkville, MS 39759. Phone: 662-320-4504. Alternate Phone: 662-769-2896. Email: Rhondaclarkhead@aol.com. Open: Call for picking dates and times. Directions: From Starkville via 182 west, 4 miles from Fast Break turn left on Oriole Drive, third house on right facing Oriole Drive. Click here for a map and directions.. Blueberries: Early June to late July. We do not use pesticides on the crops. Payment: Cash, Check. Asparagus ready in 2013!!. (UPDATED: June 12, 2012) (ADDED: June 23, 2011)
Reese Orchard - blueberries, muscadines/scuppernongs, pears, persimmons
1716 Sessums Circle , Starkville, MS 39759. Phone: 662-324-1509. Email us at: reese@dellmail.com . Click here for a map to our farm.. Crops are usually available in June, July, August, September, October, November. Open: Tuesdays, Thursdays, and Saturdays during picking months. Other days are by appointment. See website for seasonal times. see website Payment: Cash, Check. We follow sustainable and organic practices as much as possible! (UPDATED: May 1, 2015, JBS)
Scott County
Cooper's Berry Farm

- blueberries, Blackberries, Muscadines, Peas and Okra.
1011 Rushing Road, Morton, MS 39117. Phone: 601-732-2412. Email: tcooper@mdot.state.ms.us. Open: Monday thru Saturday from 7:00 am til 7:00 pm and Sunday from l:00 pm to 5:00 pm.

Blueberry Hill Farms

- blueberries
Route 3, Box 379-A, Union, MS 39365. Phone: 601-656-2179.

Gatewood Blueberry Farm

- blueberries
704 Hwy. 35 N, Forest, MS 39074. Phone: 601-469-2894. Open: Monday thru Saturday from the first week in June.

Kary Graham

- Blueberries
1063 Waller Ridge, Shubuta, MS 39360. Phone: 601-687-1365.

Ricky Joe's Farm

- blueberries and muscadines.
1189 Rushing Road, Morton, MS 39117. Phone: 601-966-2913. Email: rickyjoesfarm@yahoo.com. Open: Saturdays Only, from 6 am to 6 pm, from June 1 to end of season, which is usually around September 30. Blueberries typically run from June 1 to approximately July 30 and Muscadines from August 1 to approximately September 30. Call ahead for availability as both are affected by weather and numbers of pickers. Directions: Take I-20 to Morton exit 77. Take first left, south of interstate onto Morton-Marathon Road. Go approximately 4 miles, then turn right onto Independence Road. Take first left onto Rushing Road. Farm is approximately one mile on the left. Look for sign. Click here for a map and directions. Payment: Cash, only. For already picked orders, Call Monday to Saturday from 7 am to 7 pm. If there is no answer, please leave a voice message. (ADDED: May 05, 2013)
Smith County
Hope Fruit and Berry Farm - blackberries, blueberries, muscadine grapes,
362 SCR 142, Morton, MS 39117. Phone: 601-382-3018. Email: hopefruit@bayspringstel.net. Open: Check web site for dates and times Farmer's Market and season for buying and picking at farm. Directions: Click here for a map and directions. Payment: Cash, Check. (UPDATED: May 1, 2015, JBS) (ADDED: November 13, 2009)

Plow Horse Produce

- peas, peppers, summer squash, tomatoes,
9531 highway 501, Forest, MS 39074. Phone: 601-900-8673. Alternate Phone: 601-900-8197. Email: kbgoss0327@yahoo.com. Open: Monday to Saturday, from 6 am to 6 pm. Directions: From Meridian, take I-20 W to Forest exit. Turn right and at first light (in front of Wal-Mart) turn left. That road will dead end into highway 501. Turn right and go approximately 15 miles. Farm will be on right. U-Pick sign is at road. From Jackson take I-20 East to Forest exit. Turn left and at first light (in front of Wal-Mart) turn left. That road will dead end into highway 501. Turn right going south and go approximately 15 miles. Farm will be on right. U-Pick sign is at road. Click here for a map and directions. Tomatoes: June 12th to July 30, Peas: June 12th until, Okra 3rd week in June. Payment: Cash, only. Tomatoes: $10/5 gal Peas $7/5 gal Okra $10/5 gal We ask that you please call prior to coming to verify availability of produce. The dates above are only estimated dates. Thank You. (ADDED: March 09, 2010) (UPDATED: June 01, 2010)
Winston County
---
---
Wholesale Foods
Lauderdale County
3 Oaks Farms & Nurseries, LLC - Local sales at our farm, Local delivery, Wide variety of seasonal fruits and vegetables,
5717 Valley Road, Meridian, MS 39307. Phone: 601-482-7966. Fax: 601-485-5594. Email: threeoaks@hotmail.com. Open: In Season from May - August; Normal business hours. Directions: 5.6 miles south of I-20. Take Exit 152 south on Valley Road. White 3 Rail fence. Signs at road. Click here for a map and directions. Payment: Cash, Debit cards, Visa/MasterCard. (ADDED: November 29, 2011)