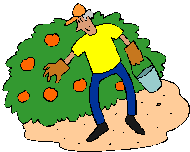 Looking for a local, pick-your-own farm in Northeast Colorado? Scroll down this page and you will see the U-Pick farms in Northeast Colorado, sorted by county. Those that offer organic or sustainably grown produce are identified by the words "organic" and/or "sustainable" in Green, next to their name (see "What does Organic mean?"). The U-pick crops they offer follow the name of the farm. To search the page for a specific crop, use Ctrl-F (or on an ipad or Mac, use their "search on this page" function) If they have a website, the name will be in blue and underlined; click on it and it will open their website. Beware of copycat websites (such as the one that starts with "pickit" and the one that ends with ".farms"; they do not update their information, they just steal it from us once in a great while (they are plagiarists operating in Russia and China), so theirs are usually out-of-date -and often copied incorrectly! I put dates to indicate when we last received an update from each farm, and I make updates daily (each farm as their info changes). See the customer and farmer menus at the top menu bar to submit updates and corrections and help me keep each current!
And if you know of any I missed and want to add them or correct the information, please let me know!
For information about safely viewing the solar eclipse and where to get the approved glasses, see this page. Or here to learn about the scam counterfeit solar eclipse glasses.
What's in season in August 2017, and other timely information:
Notes for August 2017: Blueberries and peaches are going still in northern and cooler areas, but are mostly finished in the Deep South. Blackberries, figs, and raspberries are in season now. Tomatoes are going strong, although the crop is way diminished in rainy areas like the southeast. Strawberries are finished, except in the far north, and if the farm planted Day Neutral varieties. Early apples, like Gala, are about to start!
Children's Consignment Sales occur in both the Spring and Fall See our companion website to find a local community or church kid's consignment sale!
Next year, don't miss an Easter Egg Hunt for your children: See our companion website to find a local Easter Egg hunt!
We also have home canning, preserving, drying and freezing directions. You can access recipes and other resources from the drop down menus at the top of the page or the site search. If you have any questions or suggestions, feel free to write me! It is easy to make your own ice cream, even gelato, or low fat or low sugar ice cream - see this page. Also note, there are many copycat website listing U-pick farms now. They have all copied their information form here and usually do not ever update. Since 2002, I've been updating the information every day but Christmas; so if you see anything wrong, please write me!
Northeast Colorado U-Pick Farms and Orchards, by county
Click on the resources drop-down above, if you need a county map
Larimer County
Bartels Land and Livestock; U-pick and Pumpkin Patch - ORGANIC, beets, carrots, corn (sweet), cucumbers, melons, peppers, pumpkins, summer squash, winter squash, tomatoes, other vegetables, pumpkin patch-pick in the field, pumpkin patch- already gathered from the field, and prepicked produce, petting zoo
3424 E. Douglas Road, Ft. Collins, CO 80524. Phone: 970-493-3853. Email us at: llavud@frii.com. Directions: I-25 exit 271, West 1 mile, North 2 miles, East one half mile on North side of road. We are one mile North of the Budweiser brewery. And for a map to our farm, click here. Crops are usually available in June, July, August, September, October. Open: If you want to pick straight from the garden, scheduling it by calling Nancy. daily October 1st-31st 10am-6pm. July-September open most days by appt. 1pm-8pm. Winter squash starting September 15th. Pumpkins, decorative corn, gourds, corn stalks, straw bales, petting zoo starting October 1st. Pre-picked seasonal vegetables starting June. Winter squash till Feb. We use natural practices, but are not yet certified Organic. Payment: Cash, only. We are family owned and operated for over 100 years. (UPDATED: May 25, 2015, JBS) (UPDATED: May 11, 2010, from their website)
Bee Family Centennial Farm Museum - U-pick rhubarb in season, farm museum
4320 E. County Rd. 58, Fort Collins, CO. Phone: (970) 482-9168. Email: info@beefamilyfarm.com. open: May - October or by appointment, Friday and Saturday, 9 am to 4 pm. Directions: From I-25 take Exit 271 to east frontage road. Go north 4 miles to County Road 58, then 1/4 mile east. Demonstrations, museum/historical bldgs., farm tours, farm animals, gift shop. Handicap access, motor coach/bus access. The farm museum offers a one-of-a-kind learning experience as you journey through time with the Bee family's efforts to cultivate the arid prairie of northern Colorado. Click here for a link to our Facebook page. (UPDATED: May 25, 2015, JBS) (ADDED: May 11, 2010, from their website)
Garden Sweet - strawberries,
719 W Willox St, Fort Collins, CO 80524. Phone: 970-690-3286. Alternate Phone: 970-310-3805. Email: info@gardensweet.com. Open: Check the our website for pyo info and farm stand hours. Directions: We're located about 2 miles North of Old Town Square. Take College Avenue North 1 1/2 miles. Go west on Willox Lane 1/2 mile. Click here for a map and directions. Payment: Cash, Check. Click here for our Facebook page. (ADDED: January 28, 2015)
Logan County
Morgan County
Just What Grows Gardens - eggplant, flowers, herbs/spices, lavender, peppers, winter squash, other vegetables, Other fruit or veg, school tours, events at your location (call for info)
County Road T.9, Brush, CO 80723. Phone: 970-370-1712. Alternate Phone: 970-842-9863. Email: justwhatgrowsgardens@gmail.com. Open: Pick your own garden is open daily from 8:00 to sunset; Call the owner to set up your first visit, after that, visit the garden when ever you want. Directions: Just What Grows Gardens is located between Fort Morgan and Brush off of Interstate 76. Turn north onto Dodd Bridge Road (county road 24) and drive over the river. The first road past the river is County Road T.9. Turn to the east (right) and drive 1.6 miles. Look for the signs and park in the grass next to gardens. Click here for a map and directions. "Fresh Flowers and Herbs May 31st thru a hard frost;" "Hardy native plants April 31st thru October 31st" "Ladybug Cherry Peppers August 1st thru a hard frost". Payment: Cash, Check. We have a great selection of drought tolerant plants. Over ten types of grasses, 7 types of shrubs, and 7 types of perennials. These are large and sold at a great price. These are grown in the native soils in the ground so that they are adapted to the local climate.Must see to believe. (UPDATED: May 25, 2015, JBS) (ADDED: August 27, 2012, JBS)
Phillips County
Sedgewick County
Washington County
Weld County
Fern Hill Farm

- beans, beets, carrots, cucumbers, herbs/spices, onions, peppers, rhubarb, summer squash, winter squash, tomatoes, other vegetables, picnic area, picnic area (bring your own food)
2001 Fern Avenue, Greeley, CO 80631. Phone: 970-302-9118. Email: cclift@what-wire.com. Open: Tuesday to Saturday, from 9:00am to 7:00pm, from July 6th to October 15, 2016. Directions: (2) miles east of Hiway 85 in Greeley, Colorado. Go East on East 18th Street to Fern Ave; turn right (south) and go 1/4 mile to 2001 Fern Avenue Go up hill to farm. For a map to our farm, click here. Payment: Cash, Check. (ADDED: July 05, 2016)
Lukens Farms -

Uses integrated pest management practices

, apples, flowers, pumpkins, Turkeys, petting zoo, farm animals, school tours
9320 East State Highway 14, Fort Collins, CO 80524. Phone: 303-579-2668. Email: Lukensfarms@gmail.com. Open: We are a small working farm and therefore do not offer drop in hours; please call first to make sure we are available. Directions: East of interstate 25 on Highway 14 about 6 miles. West of Ault from Highway 85 on Hoghway 14 about 8 miles. Click here for a map and directions. Flower season starts in July; Pumpkin season starts in September; Apple season starts in September; Typically all apples are gone by October. We use integrated pest management practices. Payment: Cash, Debit cards, Visa/MasterCard. We also sell grass hay and are a small poultry hatchery with day old chicks. Juvenile birds and adult birds available for sale. We have chicks hatching almost everyday. We have several breeds of chickens, ducks, geese, turkeys and more. (UPDATED: May 25, 2015, JBS) (UPDATED: January 10, 2013) (ADDED: June 02, 2012)
Miller Farms - peppers, pumpkins, winter squash, tomatoes, other vegetables,
9040 US Hwy 66, Platteville, CO 80651. Phone: 970-785-6133. Fax: 970-785-0176. Email: millerfarms80651@aol.com. Directions: And for a map to our farm, click here. Crops are usually available in September, October, November. Open: Call, email or see their Facebook page. Payment: Cash, Check, Visa/MasterCard, Discover, AmEx. Your admission fee includes one trip per person to our fields to pick up to 5 bags of fresh produce per person. We supply the bags. All other activities like the corn maze and huge playground complex are included in the cost of your admission! Most farms charge an admission price and then charge an additional fee to do each activity. Your one time admission here at Miller Farms includes the produce you pick and ALL other activities!! Each time you come to harvest you can expect to be harvesting different types of produce. We rotate what we pick each day so that not any one crop will be depleted right away. Crops also vary from season to season and year to year. You can be certain that you're going to get a great deal for your admission price! Click here for a link to our Facebook page. (UPDATED: May 25, 2015, JBS) (UPDATED: February 14, 2010)
Comments from a visitor on September 18, 2010: "This was a great experience for me and my three kids. We got a ridiculous amount of vegetables (which I should be canning, instead of typing on the computer!) The kids and I climbed into a huge wagon towed by a tractor and we were ferried around to different fields. We picked beets, cabbage, corn, peppers, basil, potatoes, onions, leeks, carrots, and more! The produce was very nice quality, and the drivers were helpful at each stop. My only gripe is that we were just turned out into the fields without any instructions about what to look for, or any tools. Some of the produce (like cabbages) were tricky to harvest without help. The drivers were available to dig carrots and leeks for us, which was appreciated. There is a large play area at the front of the farm with sheltered tables. After our harvesting trip (which took about 2 hours), we ate lunch, then the kids were able to play on the hay pyramid, fence maze, and pedal-operated "tractors." Wagons were provided for us to pull our produce out to the car. Overall, this was a fun trip and an amazing value. I will probably go back later this season to get some different veggies, and I will DEFINITELY return next year."
Comments from a visitor on September 09, 2010: "We loved being at Miller Farms. There were a ton of different activities for the children. The fields to pick produce from are so vast. We got a very large selection of vegetables. There was a lot of fun things, like a giant jumping air pillow, and a massive hay pyramid, for the children to enjoy. The prices were so good for what you get. "
Yuma County
---
---
Local Honey Sources:
Larimer County
Harvest Farm - Honey (retail), Honey from hives on the farm, picnic area, petting zoo, farm animals, birthday parties
4240 East County Road 66, Wellington, CO 80549. Phone: 970-569-9803. Email: info@denrescue.org. Open: *Call for available honey throuhout the year. Directions: Exit 278 from I-25, take the frontage road to County Road 66 and turn left. Click here for a map and directions. Payment: Cash, Check, Visa/MasterCard. Click here for our Facebook page. FREE Pizza Farm tours available Aug. 14-Sept 14 2012. Please call to schedule a group reservation. Tours last 1 hour. (ADDED: July 12, 2012)
---
Meats, Milk and Eggs:
Weld County
Lukens Farms -

Uses integrated pest management practices

, Chicken (free range), Turkey, Duck, Beef, Veal, Pork, Lamb, Mutton, Goat meat, USDA Natural, No hormones used, No antibiotics used, 100% mixture of corn, grain, soybeans and/or other natural supplemental feeds, Eggs (free range, vegetarian fed), Brown eggs, Specialty eggs (see below), Within an easy drive to an Interstate road, Farm/ranch tours for visitors, School tours, children welcome, No pets please, Turkeys, petting zoo, farm animals, school tours
9320 East State Highway 14, Fort Collins, CO 80524. Phone: 303-579-2668. Email: Lukensfarms@gmail.com. Open: We are a small working farm and therefore do not offer drop in hours; please call first to make sure we are available. Directions: East of interstate 25 on Highway 14 about 6 miles. West of Ault from Highway 85 on Hoghway 14 about 8 miles. Click here for a map and directions. Flower season starts in July; Pumpkin season starts in September; Apple season starts in September; Typically all apples are gone by October;. We use integrated pest management practices. Payment: Cash, Debit cards, Visa/MasterCard. We also sell grass hay and are a small poultry hatchery with day old chicks. Juvenile birds and adult birds available for sale. We have chicks hatching almost everyday. We have several breeds of chickens, ducks, geese, turkeys and more. Please note our veal are raised in a natural environment. So the meat consistency is different. (UPDATED: January 10, 2013) (ADDED: June 02, 2012)
---
Farm Venues for Weddings, Events, Activities, Parties and Meetings:
Larimer County
Zippity Zoo Barnyard - School and educational groups, Daycare and preschool groups, You may bring your own food, Tables and chairs are Provided , Beautiful rural setting, Mountain views, Free Onsite Lot parking lot, children welcome, porta-potties, picnic area, petting zoo, farm animals, birthday parties, school tours, group reservations
6921 Ridge Valley C?t, Loveland, CO 80538. Phone: 970-231-6444. Email: zippityzoofun@gmail.com. Open: Reservation a Must;. Click here for current open hours, days and dates. Directions: Go four miles west of Loveland on highway 34. Just west of Devils Backbone. Turn North on Glade Road & Go one and one half miles. Turn left on Ridge Valley Ct. Go to the end of the lane on the right Join Zippity Zoo Barnyard to experience rural lifestyle. Please…no pets on the property during your visit, and only approved food delivery from outside sources allowed. Click here for a map and directions. Payment: Cash, Check, Debit cards, Visa/MasterCard, Discover, AmEx. Click here for our Facebook page. (UPDATED: January 31, 2017)
Weld County
Fritzler Farms Inc dba Fritzler Corn Maze and Scream Acres - Lighting, Birthday parties, Business outings, Corporate events, Filming or photo shoots, School and educational groups, Daycare and preschool groups, You may bring your own food, Some Tables and chairs are provided, Bring your own linens and table silverware, Corn maze, Pumpkin patch, Beautiful rural setting, Mountain views, CD Player, Microphone, Sound System, Free Onsite Lot parking lot, Within an easy drive to an Interstate road, children welcome, No smoking allowed, handicap accessible, concessions / refreshment stand, porta-potties, picnic area, birthday parties, school tours
20861 County Road 33, Lasalle, CO 80645. Phone: 970-737-2129. Alternate Phone: 970-737-2141. Fax: 970-737-2129. Email: getlost@fritzlermaze.com. Open: Same as maze hours. Venue updates: Click here for updates. Directions: Seven miles south of Greeley or 22 miles north of Brighton on the west side of Highway 85. A short drive from any front range location. Click here for a map and directions. Payment: Cash, Visa/MasterCard, Discover. Click here for our Facebook page. Fritzler Farms has been providing fall-fun for all ages since 2000. Large u-pick pumpkin patch with a variety of sizes and colors as well as fall decorations. Fifteen acre corn maze, barrel train ride, pedal go-carts, corn and pumpkin cannons, pillow jumps, campfire pits, helicopter rides and much more! Several new attractions added annually. Haunted corn maze and prop filled trail "Scream Acres" along with other haunted attractions. Check our websites to see all that we have to offer!. (UPDATED: June 17, 2011)
---
Horse Rides and More:
Larimer County
Dao House - Horses rented (guided trails), Dude ranches / Guest ranches, Horse riding lessons, equipment & instruction, Western riding equipment & instruction, Fresh farm breakfasts, Lunches offered, Farm dinners, snacks, refreshments and/or concessions, Bed and breakfast, Hotel / Motel nearby, Wedding facilities, Beautiful rural setting, Mountain views, Hiking trails, Fishing onsite, Swimming pool onsite, washer and dryer available, Fishing nearby, hunting nearby, boating nearby, skiing nearby, horse riding, golf nearby, swimming pool nearby, tennis nearby, fitness/health club nearby, Within an easy drive to an Interstate road, children welcome, No pets please, No smoking allowed, Vegetarian meals available, meeting room available, beginners riding lessons, horse-drawn hayrides, horse-drawn carriage rides, Horse-drawn sleigh rides (weather permitting), gift shop, concessions / refreshment stand, restrooms, picnic area, pony rides, birthday parties, weddings and wedding parties
6120 HWY 7, Estes Park, CO 80517. Phone: 970-586-4094.Email: info@daohouse.com. Open: See their website for for hours and availability. Directions: See their website for directions. Click here for a map and directions. Payment: Cash, Check, Debit cards, Visa/MasterCard, Discover . Formerly known as Aspen Lodge Resort & Spa, we are now known as Dao House. We offer lodging, horseback rides, wagon rides, and conditioning permitting, sleigh rides. Options include fire pit, hot chocolate, and toasting marshmallows. Click here for our Facebook page. Desitnation Resort and Full Service Restaurant & Bar. (ADDED: November 14, 2016, Suggested by a visitor) (ADDED: October 18, 2012) (ADDED: October 14, 2011)
Weld County
Kiowa Creek Coaches - Boarding stables, Horse ranches, Beautiful rural setting, Mountain views, Within an easy drive to an Interstate road, School tours, children welcome, No smoking allowed, horse-drawn hayrides, horse-drawn carriage rides, Horse-drawn sleigh rides (weather permitting), farm animals, birthday parties, weddings and wedding parties, school tours, events at your location (call for info)
14200 Wcr 7, Mead, CO 80542. Phone: 303/588-1197. Email: kiowacreekranch@gmail.com. Open: Available 7 days per week; Call ahead to make reservations/schedule an event. Directions: Click here for a map and directions. Payment: Cash, Check. HAYRIDES, on site or we will travel to your location. (ADDED: October 27, 2010)
---
Farm Bed And Breakfasts
---
Maple Syrup Farms and Sugarworks:
---
Wholesale Foods
Weld County
Lukens Farms -

Uses integrated pest management practices

, Local sales at our farm, Local delivery, some produce is grown using IPM (integrated pest management), all produce is grown using IPM (integrated pest management), Crafts, artistic products, etc, apples, flowers, pumpkins, Turkeys, petting zoo, farm animals, school tours
9320 East State Highway 14, Fort Collins, CO 80524. Phone: 303-579-2668. Email: Lukensfarms@gmail.com. Open: We are a small working farm and therefore do not offer drop in hours; please call first to make sure we are available. Directions: East of interstate 25 on Highway 14 about 6 miles. West of Ault from Highway 85 on Hoghway 14 about 8 miles. Click here for a map and directions. Flower season starts in July; Pumpkin season starts in September; Apple season starts in September; Typically all apples are gone by October. We use integrated pest management practices. Payment: Cash, Debit cards, Visa/MasterCard. We also sell grass hay and are a small poultry hatchery with day old chicks. Juvenile birds and adult birds available for sale. We have chicks hatching almost everyday. We have several breeds of chickens, ducks, geese, turkeys and more. (UPDATED: January 10, 2013) (ADDED: June 02, 2012)
Tigges Farm Produce and Pumpkin Patch - Local sales at our farm, Wide variety of seasonal fruits and vegetables, U-pick and already picked, farm market, gift shop, restrooms, picnic area
12404 Weld County Road 64 1/2, Greeley, CO 80631. Phone: 970-686-7225. Email: notillkathy@comcast.net. Open: August: Tuesday thru Saturday, 10am to 6pm; September: Monday thru Saturday, 10am to 6pm; October, daily, 9am to 6pm. Click here for current open hours, days and dates. Directions: Click here for a map and directions. Payment: Cash, Check. Click here for our Facebook page. First Saturday of October is the Chile Salsa Contest, 3pm. First Sunday of October is the Pumpkin Dessert Contest, 3pm. First Saturday of October thru 2nd Sunday of October is Military Appreciation Days. See website, click Special Events for more information. Farm Equipment Museum. Over a dozen varities of chlies are grown at the farm from sweet to very, very hot. Buy one or by the bushel. Fire roasted on-site free. Tomatoes individually or by lots of 25lbs. Gourd artists will enjoy the selection each fall of snake, birdhouse, miniature bottle and penguin gourds. (UPDATED: October 04, 2012)
---