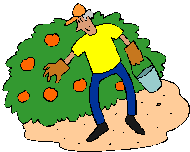 Looking for a local, pick-your-own farm in Riverside County, California? Scroll down this page and you will see the U-Pick farms in Riverside County, California, sorted by county. Those that offer organic or sustainably grown produce are identified by the words "organic" and/or "sustainable" in Green, next to their name (see "What does Organic mean?"). The U-pick crops they offer follow the name of the farm. To search the page for a specific crop, use Ctrl-F (or on an ipad or Mac, use their "search on this page" function) If they have a website, the name will be in blue and underlined; click on it and it will open their website. Beware of copycat websites (such as the one that starts with "pickit" and the one that ends with ".farms"; they do not update their information, they just steal it from us once in a great while (they are plagiarists operating in Russia and China), so theirs are usually out-of-date -and often copied incorrectly! I put dates to indicate when we last received an update from each farm, and I make updates daily (each farm as their info changes). See the customer and farmer menus at the top menu bar to submit updates and corrections and help me keep each current!
And if you know of any I missed and want to add them or correct the information, please let me know!
What's in season in January 2017, and other timely information:
Notes for January 2017:Apples are still available, but already picked. In some areas, late season crops, are still available (if there hasn't been a frost) - like persimmons, pears, winter squash, kiwis, even figs and raspberries. See your state's crop availability calendar for more specific dates of upcoming crops. But now it is time to tag your Christmas tree at a local Christmas tree farm (and enjoy a bonfire, smore, hot chocolate and free hayrides, and often Santa visits! And next Spring, you'll want to take your children to a free Easter egg hunt - see our companion website to find a local Easter Egg hunt!
The world's best pumpkin pie recipe is here, and the pie crust recipe is here! And we have home canning, preserving, drying and freezing directions. You can access recipes and other resources from the drop down menus at the top of the page or the site search. If you have any questions or suggestions, feel free to write me!
Riverside County, California U-Pick Farms and Orchards, by county
Click on the resources drop-down above, if you need a county map
Riverside County
B&R Organic Cherry Orchard (Formerly Wohlgemuth's Cherry Orchard) - ORGANIC cherries
1106 E. Eleventh Street, Beaumont, CA, 92223. Phone: 951 845-1548 (No calls after 7pm Please). Email us at: cherrykol@msn.com. Usually June, 8 am to 4 pm, closed Mondays. Restrooms, sell strudel. Organic since the 1940's. Click here for Current Picking Conditions (UPDATED: May 23, 2014, from their website)
Cali-Dragon Farm and Orchard -

Certified Organic

, pumpkins, other vegetables, U-pick and already picked, school tours
2308 Washington Street, Riverside, CA 92506. Phone: 626-688-4306. Alternate Phone: 626-589-7337. Email: calidragon888@gmail.com. Open: Click here for current open hours, days and dates. Directions: Click here for a map and directions. We are certified organic for all crops! Payment: Cash, only. (UPDATED: May 23, 2014, from their website) (ADDED: September 14, 2011)

Genesis Farms

-

Uses natural growing practices

, beets, carrots, flowers, herbs/spices, peppers, other vegetables, farm animals
49575 Dove Drive, Aguanga, CA 92536. Phone: 562-912-2748. Email: GenisisFarm@mail.com. Open: You May come anytime, please call first, or Email me for a desired time. Directions: When you are ready to come email me and I will send you a map. Do not trust internet mapping services or GPS as roads they think are here are not. Click here for a map and directions. I grow selected vegetables, melons, and herbs year round. We use natural practices, but are not seeking organic certification. Payment: Cash, only. I have 4 very large shade houses and 7 greenhouses which are available for rent if you want to grow your own produce. I will provide water and advise and maintain your crops for you. (ADDED: July 09, 2010)
Mi Ranchitos Cherries - cherries, farm market, concessions / refreshment stand, restrooms, picnic area
10923 Cherry Avenue, Cherry Valley, CA 92223. Phone: 909-206-9125. Alternate Phone: 310-995-3911. Open: Note: a visitor teWe are open in June; Saturday and Sunday from 9:00 am to 3:00 pm. Directions: Our Cherry farm is located in Cherry Valley, California. Click here for a map and directions. We invite you to come and visit our orchard as you pick some of our delicious sweet cherries! We have a number of varieties available such as Bing, Lapin, Giant Utah, Black Tartarian and Rainer; Our family looks forward to your visit! Happy cherry picking!. Payment: Cash, only. Click here for our Facebook page. (UPDATED: April 28, 2015, JBS) (ADDED: March 29, 2013)
Providence Farm - Uses natural growing practices, cherries, grapes, pears, peaches, Honey from hives on the farm, and prepicked produce, gift shop, restrooms, picnic area, farm animals, birthday parties
40376 Brookside Avenue, Cherry Valley, CA 92223. Phone: (951) 845-1210. Fax: (9510 845-1210. Email: mycherryfarm@yahoo.com. Directions: From Los Angeles, take either the 60 Freeway East or the 10 Freeway East. Exit off the 10 Freeway on Beaumont Avenue. Turn left and head north on Beaumont. Turn right on Brookside Avenue. From Palm Springs, take the 10 Freeway West and exit onto Highland Springs Blvd. Turn right and travel north on Highland Springs Blvd. until you reach the country club. Turn left onto Brookside Avenue. And for a map to our farm, click here. Crops are usually available in June, July, August, September. Open: Saturdays and Sundays, 10am to 5 pm. We use natural practices, but are not yet certified Organic. Payment: Cash, only. We are a small, family owned farm. We sustainably grow wall of our crops and never use any chemicals. Weeds are controlled with our sheep and pests with natural predation. We also harvest and sell Asian pears, Shiro plums, Meyer Lemons, English walnuts, Fuji apples, apricots, a variety of fresh and dry herbs, farm fresh eggs, honey, and smoking chips in our country stand. An admission fee applies during the cherry season. Hold your next private outdoor function at our farm. Below are examples of some of the events Providence Farm hosts. Parties - When you celebrate a birthday at Providence farm, you and your guests will enjoy a country ambience complete with hay rides for you and your guests and interaction with farm animals. Your reservation ($100 minimum) will provide you with use of two picnic tables for up to 15 guests for two hours. Additional guests $6 each. Extra options available include a clown, treat bags, fruit picking experience, and more. Please call or email to inquire. Special Events - Providence Farm provides you and your guests with a fun, relaxed country atmosphere. Providence Farm has hosted weddings, anniversary parties, and community barbecues, all customized. Let us know how we can help make your next event a memorable one. We grow 6 grape varieties on site. You can also generally pick other fruits such as Asian pears, bartlett pears, and Italian plums. You may eat all you want in the orchard, access our petting corral, picnic in our picnic area, and have free on site parking all for a nominal per person entrance fee. Season usually starts late August. Check our website or add your name to our mailing list to be notified of opening day. (UPDATED: April 28, 2015, JBS) (UPDATED: May 23, 2014, from their website)
Temecula Berry Co - blueberries, Honey from hives on the farm, Fresh eggs, U-pick and already picked, concessions / refreshment stand, porta-potties, farm animals, school tours, events at your location (call for info)
39700 Cantrell Rd, Temecula, CA 92591. Phone: 951 225-5552. Email: mike@temeculaberryco.com. Open: opening for the Season on April 24th, from 8:00am to 6:00pm, 7 days a week through the first week in July. Click here for current open hours, days and dates. Picking updates: Click here for picking updates. Directions: From I-15- head east on Rancho California Road Turn left at Butterfield Stage Road Turn left on La Serena. Turn right on Walcott. After one mile, Walcott turns into Cantrell Road Continue straight and follow the signs to the Farm. Click here for a map and directions. Friday Night Movies at the farm; Every Friday night in June at 8pm Blueberry Bread on Monday mornings at 10:30 Nana's Storytime every Tuesday Morning at 9:00 and 10:30. Payment: Cash, Check. Click here for our Facebook page. (UPDATED: April 28, 2015, JBS) (UPDATED: May 23, 2014, from their website) (UPDATED: May 12, 2012). (ADDED: April 18, 2008)

U-Pick Farm

- citrus: grapefruit, pink and white, lemons, tangelos and oranges
45-751 Aladdin Street, Indio, CA. Phone: 760-347-2494. Open: February through May, on Sunday and Monday only, 9am to 3pm. Directions: Call for directions. Payment: Cash, only. (ADDED: February 22, 2011, suggested by a visitor)
Comments from a visitor on February 22, 2011: "This is a family run farm where you can go into the orchards and pick your own grapefruit, pink and white, lemons, tangeloes and oranges. Nothing fancy, just the best tasting citrus ever at reasonable prices. Sold by the pound. I paid 20 cents a pound for the sweetest pink grapefriuts ever. Bring your own containers. They supply long picking poles. A little hard to find but well worth it. "
Unity Farm -

Certified Organic

, beans, beets, broad beans, corn (sweet), cucumbers, eggplant, herbs/spices, melons, onions, peas, summer squash, winter squash, tomatoes, other vegetables,
4800 Crestmore Road, Rubidoux, CA 92509. Phone: 213-268-0455. Email: unityfarm@me.com. Open: 7 days a week 9 am to 5; please call ahead for appointment. Directions: Corner of Crestmore and Loring Ranch Road. Click here for a map and directions. We are certified organic for all crops! Payment: Cash, only. Before you go, call to verify that they are still offering U-pick, their website makes it sound like they are just a CSA now. (UPDATED: May 23, 2014, from their website) (UPDATED: May 21, 2010) (ADDED: May 14, 2010)
---
---
Local Honey Sources:
Riverside County
Doughty Apiaries

- Honey (retail), Honey (wholesale), Orange blossom honey, Wildflower honey, Comb honey, Strained honey, Pollen, Honey from hives on the farm
34385 Cooperman Circle, Temecula, CA 92592. Phone: 951-694-5319. Alternate Phone: 951-240-0099. Email: hivetime@verizon.net. Open: Please, always call first; We have no employees; Monday to Sunday, from 9:30 am to 7 pm If we are home, we are open; Also by appointment. Directions: From the I 15 exit Rancho California Road. Go east 5.4 miles to Calle Contento. Turn Right (south) for 1.4 miles to Cooperman Circle (a dirt road). Turn Left (east) to first house and first gate entrance. Click here for a map and directions. Payment: Cash, only. We always have sample tasting available. Cash or checks from local addresses only. Cash always makes friends! We produce all of our own products. We do not purchase from other beekeepers and repackage the products. The bee pollen comes from our hives and is available seasonally. We collect it from mid spring until the end of August. First come, first serve until it is gone. We keep it frozen to keep it fresh. Taste samples available. Doughty Apiaries (since 1974)Family owned, operated. Front porch farm stand. Throughout the year we have Orange (Citrus) Sage, Buckwheat and Wildflower honey. Sold in squeeze bottles 12 oz., 1.5 pound, 2 pounds, 3 pounds and 5 pounds. Call for bulk prices and availability. Most of this honey is produced within 5 miles of our home operation. Bee pollen is produced here in Temecula at the home site. We also have bees wax by the pound. Small farm and orchard pollination available. We do not ship. (ADDED: September 03, 2010) (UPDATED: October 22, 2010)
---
Meats, Milk and Eggs:
---
Horse Rides and More:
---
Farm Bed And Breakfasts
---
Farm Venues for Weddings, Events, Activities, Parties and Meetings:
Riverside County
123 Farm (aka, Highland Springs Resort Park) -

Organic

, Lighting, Heating, Wedding Ceremony, Wedding Reception, Wedding Rehearsal Dinner, Banquets / Dinners, Birthday parties, Business meetings, Business outings, Corporate events, PR or Marketing events, Conferences, Filming or photo shoots, Classes, lectures or Speakers, School and educational groups, Other Private Parties, Catering available, Restaurant onsite, Tables and chairs are Provided, Linens and table silverware are provided, BYO alcohol, Bed & Breakfast onsite, Hotel nearby, dairy cows, sheep, pigs, Beautiful rural setting, Mountain views, Hiking trails, Fishing nearby, golf nearby, swimming pool nearby, CD Player, Computer, Computer Projector, Copy Machine, Fax, Internet (Wireless), Microphone, Phone available, Podium, Slide Projector, Sound System, TV available, DVD Player, Projection Screen provided, Free Onsite Lot parking lot, Within an easy drive to an Interstate road, Bride and groom dressing areas available, children welcome, No pets please, No smoking allowed, Vegetarian meals available, handicap accessible, meeting room available, gift shop, snacks and refreshment stand, restrooms, picnic area, farm animals, birthday parties, weddings and wedding parties
10600 Highland Springs Avenue, Cherry Valley, CA 92223. Phone: 951-845-1151. Open: Saturdays from 10am to 2 pm. Directions: Exit the I-10, Highland Springs Avenue, drive about 7 Minutes North until the Road ends in a 90-Degree left turn. You are now in Cherry Valley Avenue West. Make a right turn into Overland trail and Enter into the Highland Springs Resort after a few hundred feet. You have arrived!. Click here for a map and directions. Lavender Harvest and Distillation in June Pumpkin Festival in September Olive Harvest in October. We are certified organic for some crops. Payment: Cash, only. Fine Dining Restaurant. Large Lavender Fields blooming in May, June & July. Organic farming at Highland Springs Resort since 1854
There was a time when genetically modified foods, cancer-causing pesticides, and animals artificially bolstered with steroids were unheard of. If you were a Southern California farmer in 1860s, you were up at the crack of dawn each morning and often taking what you harvested that same day to the nearest town market. You were limited by the terrain and often unforgiving climate, yet somehow the land was bountiful with peaches, apples, alfalfa, and olives. Dairy cows and chicken coups were an essential part of every homestead. No one needed to ask about free range or grass-fed. We at 123 Farm start from the guiding principle that the health of the consumer is our #1 priority. If the seeds are not certified organic, we won't plant them. If our fruit tree requires a toxic pesticide to save them from blight, we'd rather take the loss than compromise our standards. (UPDATED: April 26, 2015, JBS) (ADDED: April 07, 2010)
---
Wholesale Foods
Riverside County
Cali-Dragon Farm and Orchard -

Certified Organic

, all produce is certified organically grown, pumpkins, Other fruit or veg, U-pick and already picked, school tours
2308 Washington Street, Riverside, CA 92506. Phone: 626-688-4306. Alternate Phone: 626-589-7337. Email: calidragon888@gmail.com. Open: Click here for current open hours, days and dates. Directions: Click here for a map and directions. We are certified organic for all crops! Payment: Cash, only. sugarcane, water melon, dragon fruit (white flesh variety). (ADDED: September 14, 2011)
K&G La Cresta Citrus - Local delivery, Regional delivery (see below for details), National delivery, all produce is sustainably grown, Wide variety of seasonal fruits and vegetables, apples, figs, lemons, nectarines, oranges, peaches, tangerines, Other fruit or veg,
35751 Avenida La Cresta, Murrieta, CA 92562. Phone: 9519738857. Email: Kglccitrus@gmail.com. Open: Monday to Friday, 8 am to 4:30 pm. Directions: Payment: Debit cards, Visa/MasterCard, Discover, AmEx. We supply over 10 different varieitiescitrus fruits through the year, both common and exotic. Tangelos, Kumquats,. (ADDED: March 01, 2016)
---
Resources For Farmers