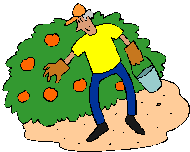 Looking for a local, pick-your-own farm in Los Angeles area of California? Scroll down this page and you will see the U-Pick farms in Los Angeles area of California, sorted by county. Those that offer organic or sustainably grown produce are identified by the words "organic" and/or "sustainable" in Green, next to their name (see "What does Organic mean?"). The U-pick crops they offer follow the name of the farm. To search the page for a specific crop, use Ctrl-F (or on an ipad or Mac, use their "search on this page" function) If they have a website, the name will be in blue and underlined; click on it and it will open their website. Beware of copycat websites (such as the one that starts with "pickit" and the one that ends with ".farms"; they do not update their information, they just steal it from us once in a great while (they are plagiarists operating in Russia and China), so theirs are usually out-of-date -and often copied incorrectly! I put dates to indicate when we last received an update from each farm, and I make updates daily (each farm as their info changes). See the customer and farmer menus at the top menu bar to submit updates and corrections and help me keep each current!
And if you know of any I missed and want to add them or correct the information, please let me know!
What's in season in February 2017, and other timely information:
Notes for February 2017: Stored US apples are still available. See your state's crop availability calendar for more specific dates of upcoming crops.
Easter will be April 16, 2017 - Farms, churches and schools have egg hunts! See our companion website to find a local Easter Egg hunt!
Children's Consignment Sales occur in both the Spring and Fall See our companion website to find a local kid's consignment sale!
St. Patrick's Day is coming on March 17th - our companion website has Saint Patrick's Day facts, recipes, parade information, decorations, and more.
We also have home canning, preserving, drying and freezing directions. You can access recipes and other resources from the drop down menus at the top of the page or the site search. If you have any questions or suggestions, feel free to write me!
Los Angeles area of California U-Pick Farms and Orchards, by county
Click on the resources drop-down above, if you need a county map
Leona Valley has many more cherry orchards listed on this map.- The area even has its own website. Cherry Information Hotline (24 Hours): (661) 266-7116. U-Pic Orchards are generally open June through July. Sweet cherries should be available for picking during the first week of June. Orchards will begin opening May 28th to June 4th. Cherry Parade is usually early to mid June (check their website)
Do you know of any other pick-your or so of Los Angeles? If you do, tell me about them using the Feedback form! Thanks!!!!!
Current Weather - Click on a map for forecast, or enter a zip code for a different location.
San Fran area (Brentwood)
Julian - Ramona near San Diego
Fresno
Bakersfield
---
Remember: ALWAYS call (or follow the link to the farm's own website, if the name is a blue link) to confirm the information before you go!
They may close, run out or change events, times, etc. without notifying me!
---
---
Horse Rides and More:
Los Angeles County
Dude's Ranch - Horse trails (guided), Horse ranches, Dude ranches / Guest ranches, horse leasing, lessons, Western riding equipment & instruction, Lunches offered, snacks, refreshments and/or concessions, Beautiful rural setting, beginners riding lessons, restrooms
, Acton, CA 93510. Phone: 661-269-2473. Alternate Phone: (661) 208-1868. Email: info@dudesranch.com. Open: Call or see our website for hours. Directions: Click here for a map and directions. Payment: Cash, Check, Debit cards, Visa/MasterCard. (ADDED: March 21, 2010)
---
Meats, Milk and Eggs:
Los Angels County
Al-Salam Farms - poultry
3980 Whittier Blvd., Los Angeles, CA. Phone: 323-267-1857. Government authorized Halal. It is zabihah halal. You can pick your own chicken and have it hand slaughtered. (Note: Eewww! Some things I don't wanna see.. But, I guess it's better than store bought. )
Circle K Ranch - Chicken (free range), Duck, Exotic meats, No hormones used, No antibiotics used, 100% grass and/or grain fed, Eggs (free range, vegetarian fed), Brown eggs, Specialty eggs (see below), sausage, Bacon (pork), Farm market with fruits and vegetables, children welcome, No pets please, Fresh eggs, farm animals
16184 Sweetaire Avenue, Lake Los Angeles, CA 93535. Phone: 310-729-1944. Email:Anne.keenberg@gmail.com. Open: Wednesday to Sunday, from 10am to sunset, April 1 to October 31. Directions: You'll see our ranch as you enter our neighborhood. The farm stand is around front of the house. Visitors are very welcome to stop by the fence and meet the animals!. Payment: Cash, Check, Visa/MasterCard. Click here for our Facebook page. (ADDED: March 23, 2016)
CJ's Organic Farm - Eggs (organic, free range, vegetarian fed), Brown eggs, Fresh eggs
10050 East Avenue, Little Rock, CA 93543. Phone: 818-800-6644. Alternate Phone: 818-800-6646. Email: cjsorganicfarm@gmail.com. Open: At the four point swap meet every Sunday from 7 am to 2 pm; Available on Saturdays by appointments at the swap meet; Monday through Friday from 7am to 5 pm at the farm by appointment only; We are really busy at the farm, we do enjoy having visitors but we must insist that you call a head of time and let us know you are coming; Thank you. Directions: On the corner of 101st street. Call if you need directions. Click here for a map and directions. Payment: Cash, Visa/MasterCard. Click here for our Facebook page. We offer free organic-heirloom gardening classes. We deliver weekly food baskets of fresh harvested fruit and vegetables from the farm. We accept PayPal payments. We sale starts from seeds collected from our heirloom plants. (ADDED: June 14, 2013)
Gilchrist Farm - Turkey, Pork, USDA Natural, No hormones used, No antibiotics used, Farm dinners, Unpasteurized Goat Milk, Eggs (free range, vegetarian fed), sausage, Bacon (pork), Wedding facilities, Within an easy drive to an Interstate road, Farm/ranch tours for visitors, School tours, children welcome, specialty riding lessons, horse-drawn carriage rides, Turkeys (organic, not-hormone-fed), Fresh eggs, gift shop, restrooms, face painting, pony rides, petting zoo, farm animals, birthday parties, weddings and wedding parties, school tours
30116 Bouquet Canyon Road, Santa Clarita, CA 91390. Phone: 6616452517. Email: info@gilchristfarm.com. Open: Saturdays 9am to 1pm year round; October 1 pm to 31 9am to 6pm Daily. Directions: Payment: Cash, Check, Debit cards, Visa/MasterCard. Click here for our Facebook page. (ADDED: September 15, 2016)
---
Farm Bed And Breakfasts
---
Farm Venues for Weddings, Events, Activities, Parties and Meetings:
Los Angeles County
The Cherry House - Wedding Ceremony, Wedding Reception, Birthday parties, Business outings, Filming or photo shoots, School and educational groups, Daycare and preschool groups, Other Private Parties, Catering available, You may bring your own food, Tables and chairs are Provided, Bring Your Own Tables and chairs, Linens and table silverware are provided, Bring your own linens and table silverware, BYO alcohol, B&B nearby, Hotel nearby, Motel nearby, Cherry Orchard, Pumpkin patch, sheep, goats, other animals, Beautiful rural setting, Mountain views, Fishing nearby, horse riding, golf nearby, Free Onsite Lot parking lot, Valet parking can be arranged, children welcome, No pets please, Smoking allowed in designated areas, Vegetarian meals available, handicap accessible, Honey from hives on the farm, gift shop, concessions / refreshment stand, porta-potties, picnic area, pony rides, petting zoo, farm animals, birthday parties, weddings and wedding parties, school tours
10600 Leona Ave, Leona Valley, CA 93551. Phone: 661-622-4480. Fax: 661-270-9615. Email: info@upickcherryhouse.com. Open: Year Round. Click here for current open hours, days and dates. Directions: Located off highway 14, near Palmdale, CA. Click here for a map and directions. Payment: Cash, Visa/MasterCard. Petting Zoo, Tractor Rides, On site concessions, Large Picnic Area. (UPDATED: April 18, 2011)
---
Local Honey Sources:
Los Angeles County
The Cherry House - Honey (retail), Honey (wholesale), Wildflower honey, Honey from hives on the farm, gift shop, concessions / refreshment stand, porta-potties, picnic area, pony rides, petting zoo, farm animals, birthday parties, weddings and wedding parties, school tours
10600 Leona Ave, Leona Valley, CA 93551. Phone: 661-622-4480. Fax: 661-270-9615. Email: info@upickcherryhouse.com. Open: Honey is available year round; You can purchase honey at our stand during normal hours; During off season (July - May) Honey can be ordered by email or phone;. Click here for current open hours, days and dates. Directions: Located off highway 14, near Palmdale, CA. Click here for a map and directions. Payment: Cash, Visa/MasterCard. (UPDATED: April 18, 2011)
---
Resources For Farmers
Los Angeles County
The Cherry House - Local sales at our farm, sale, farm equipment, Fruit/nut trees, Honey from hives on the farm, gift shop, concessions / refreshment stand, porta-potties, picnic area, pony rides, petting zoo, farm animals, birthday parties, weddings and wedding parties, school tours
10600 Leona Ave, Leona Valley, CA 93551. Phone: 661-622-4480. Fax: 661-270-9615. Email: info@upickcherryhouse.com. Open: Annually, June 1st - June 15th. Click here for current open hours, days and dates. Directions: Located off highway 14, near Palmdale, CA. Click here for a map and directions. Payment: Cash, Visa/MasterCard. (UPDATED: April 18, 2011)
---
Wholesale Foods
Los Angels County
CJ's Organic Farm - Local sales at our farm, Local delivery, some produce is sustainably grown, all produce is sustainably grown, Wide variety of seasonal fruits and vegetables, apples, asparagus, apricots, beans, beets, blackberries, blueberries, broccoli, carrots, cherries, corn (sweet), cucumbers, eggplant, figs, flowers, grapes, herbs/spices, lavender, lemons, melons, nectarines, onions, other berries, pears, peas, peaches, peppers, persimmons, plums, pumpkins, raspberries (red), raspberries (Spring, red), raspberries (Autumn, red), raspberries (yellow), raspberries (Spring, yellow), raspberries (Autumn, yellow), raspberries (black), raspberries (Spring, black), raspberries (Autumn, black), rhubarb, summer squash, winter squash, strawberries, tomatoes, other vegetables, walnuts, Fresh eggs
10050 East Avenue, Little Rock, CA 93543. Phone: 818-800-6644. Alternate Phone: 818-800-6646. Email: cjsorganicfarm@gmail.com. Open: At the four point swap meet every Sunday from 7 am to 2 pm; Available on Saturdays by appointments at the swap meet; Monday through Friday from 7am to 5 pm at the farm by appointment only; We are really busy at the farm, we do enjoy having visitors but we must insist that you call a head of time and let us know you are coming; Thank you. Directions: On the corner of 101st street. Call if you need directions. Click here for a map and directions. Payment: Cash, Visa/MasterCard. Click here for our Facebook page. We offer free organic-heirloom gardening classes. We deliver weekly food baskets of fresh harvested fruit and vegetables from the farm. We accept PayPal payments. Most of the items grown are heirloom varieties. We grow everything organically. We have over 200 different kinds of herbs. (ADDED: June 14, 2013)