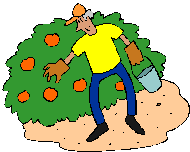 Strawberries: How to Freeze Strawberries
How to Freeze Strawberries!
(also works for blackberries, raspberries, gooseberries, tayberries, loganberries, saskatoons, cranberries, marionberries, boysenberries, etc.)
If you like strawberries in the winter, for cobblers, dessert, or just in a bowl; just imagine how good it would taste if you had picked a couple of quarts fresh or bought a them from a farm stand and then quickly froze them at home! It is also one of the simplest ways to put up a fruit for the winter. Here's how to do it, complete instructions in easy steps and completely illustrated. Your own frozen strawberries will taste MUCH better than anything you've ever had from a store. Strawberries are different in that you must remove the hulls (the green cap) after washing, but otherwise the same as other berries. See this page for easy strawberry jam and preserves recipes and complete directions. To freeze blueberries, see this page (there are a few differences).
Directions for Freezing Strawberries
Ingredients
fresh strawberries - any quantity
Equipment
a pan or tray that will fit in your freezer
a strainer or colander
Vacuum food sealer or "ziploc" type freezer bags (the freezer bag version is heavier and protects better against freezer burn.
Instructions
Step 1 - Get the freshest strawberries you can!
Start with the freshest strawberries you can get. Look for plump, full berries with a good color. I've used blueberries as an example, but these directions would equally well for any other berry (blackberries, raspberries, strawberries, etc.) See the picking tips page for other berries.
Step 2 - Wash and sort the strawberries.
Wash the strawberries in a bowl of plain cold water.
Then you need to pick out and remove any bits of stems, leaves and soft or mushy strawberries. It is easiest to do this in a large bowl of water and gently run your hands through the strawberries as they float. With your fingers slightly apart, you will easily feel any soft or mushy berries get caught in your fingers.
Step 3 - Drain the strawberries
Use a large sieve or colander to remove as much water as possible. I usually let them sit for about 10 minutes in the colander.
Step 4 - Cut the leaves (hulls) off the strawberries
Cut the hulls off the strawberries, then drain the water from them. You can cut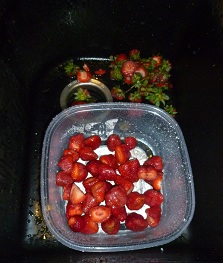 the berries up, or leave them whole, as you like.
Step 5 - Put them a freezer bag
Pack a freezer bag with the strawberries, and exclude as much as air as you can when you seal the bag.
I love the FoodSavers (see this page for more information) with their vacuum sealing! I am not paid by them, but these things really work. If you don't have one, ziploc bags work, too, but it is hard to get as much air out of the bags. Remove the air to prevent drying and freezer burn. .
If you use the vacuum food sealer, and the berries have a lot of juice or liquid on them, you can freeze the filled, but still open bags and then vacuum seal them, so the liquid doesn't get sucked into the device.
A tip for a low budget vacuum sealer:
To remove the excess air from a ziploc bag, put a straw inside the bag and zip it closed as far as possible. Then suck the air out of the bag, pinch the straw shut where it enters the bag and pull it from the bag and quickly zip the bag the rest of the way.
Pop them into the coldest part of the freezer, or the quick freeze shelf, if your freezer has one!
I leave them in the freezer overnight, to get completely frozen.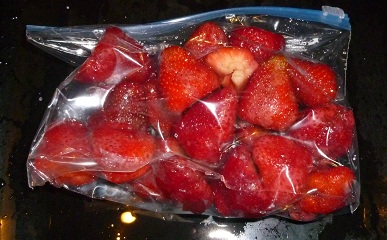 Step 6 - Label the bags!
Of course, you will want to label them with the contents and date, or all this work could be wasted, if you can't identify them later, or don't know how old they are.
Step 7 - Done!
Pop them into the deep freeze, or in the coldest part of your regular freezer!
To use them, just set them in the fridge overnight, or on the counter for a couple of hours. I wouldn't recommend the microwave unless you are planning to cook with them!
Tips:
Harvest early in the morning, especially if the weather is hot, to get peak flavor.
Harvest the berries at its peak maturity, but not overripe and mushy.
Process promptly after harvesting, or keep cooled in the fridge or with ice until then.



Home Canning Kits

See the seller's website for more information, features, pricing and user reviews!

This is the same type of standard canner that my grandmother used to make everything from applesauce to jams and jellies to tomato and spaghetti sauce. This complete kit includes everything you need and lasts for years: the canner, jar rack, jar grabber tongs, lid lifting wand, a plastic funnel, labels, bubble freer, and the bible of canning, the Ball Blue Book. It's much cheaper than buying the items separately. You will never need anything else except jars & lids (and the jars are reusable)! There is also a simple kit with just the canner and rack, and a pressure canner, if you want to do vegetables (other than tomatoes). To see more canners, of different styles, makes and prices, click here!








Lids, Rings, Jars, mixes, pectin, etc.

Need lids, rings and replacement jars? Or pectin to make jam, spaghetti sauce or salsa mix or pickle mixes? Get them all here, and usually at lower prices than your local store!

Get them all here at the best prices on the internet!

---
Illustrated Canning, Freezing, Jam Instructions and Recipes
[ Easy Home Canning Directions] [FAQs - Answers to common questions and problems] [Recommended books about home canning, jam making, drying and preserving!] [Free canning publications to download and print]
What's in season in October 2022, and other timely information:
Notes for October 2022: Summer is almost over and that means apples are here (see this new page for Apple Orchards in your area!), and except in northern areas, peaches and blueberries are finished. Some crops continue until frost, like raspberries, blackberries, figs, corn and tomatoes. Check your area's specific crop calendar (see this page) and call your local farms for seasonal updates.
See these pages to find a local Apple festival, and other festivals. We have a guide to apple varieties and a guide to peach varieties. Also recipes, canning and freezing directions for apples, tomatoes, corn blueberries, peaches, etc.
See our comprehensive list of easy home canning, jam and jelly making, preserving, drying and freezing directions. You can access recipes and other resources from the drop down menus at the top of the page or the site search. If you have any questions or suggestions, feel free to write me! It is easy to make your own ice cream, even gelato, or low fat or low sugar ice cream - see this page. Also note, there are many copycat website listing U-pick farms now. They have all copied their information from here and usually do not ever update. Since 2002, I've been updating the information every day but Christmas; so if you see anything wrong or outdated, please write me!
Children's Consignment Sales occur in both the Spring and Fall See our companion website to find a local community or church kid's consignment sale!