How to Make Homemade Roasted Pumpkin Seeds!
Click here for a PDF print version
These days, roasted pumpkins seeds are all the rage. Tasty, full of anti-oxidants, high in fiber and protein, gourmet shops and health food stores stock them. Here's an EASY recipe to make them yourself!
Directions for Making Roasted Pumpkin Seeds
Ingredients and Equipment
pumpkin (see step 1)
a sharp, serrated large knife
Cookie sheet


vegetable oil
salt pepper, general herbs
Recipe and Directions
Step 1 - Clean the seeds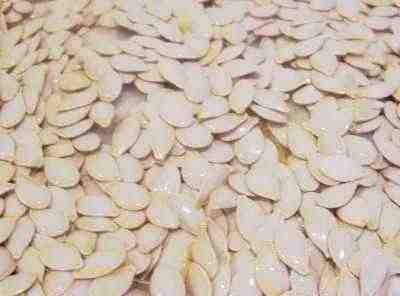 When you are carving your pumpkin, separate the seeds from the pumpkin flesh and strings. Wash them well (usually putting then in a big bowl of water and rubbing them between your hands is a fast way to clean them) and let them drain in a strainer for about 30 minutes, then spread them out on a baking pan. Now just use a hair dryer to dry them quickly!
It is also time to start preheating the oven. Turn it on and set it to 275 F (135 C, for those in Europe)

Step 2 - Spread the seeds on a cookie sheet and season them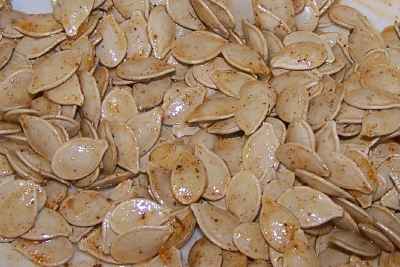 Spread the seeds evenly over a cookie sheet and lightly baste the seeds with melted butter, margarine, or vegetable oil. There are many variations. Here are the most popular, in order or popularity:
Savory: 4 tablespoons melted butter, 1/2 teaspoon garlic salt and 2 teaspoons Worchestershire sauce
Lemony: 4 tablespoons melted butter, 1 teaspoon 'Mrs. Dash" or lemon pepper
Halloweeny: 4 tablespoons melted butter, 1 teaspoon cinnamon, 1/2 teaspoon ground ginger, 1/2 teaspoon salt, and 1/2 teaspoon ground allspice.
Spicy: 4 tablespoons melted butter, 1 teaspoon cayenne pepper, 1/2 teaspoon thyme, 1/2 teaspoon salt and 1/2 teaspoon pepper
Natural: 1 teaspoon sea salt or other salt, 4 tablespoons melted butter,
Step 3 - Roast the seeds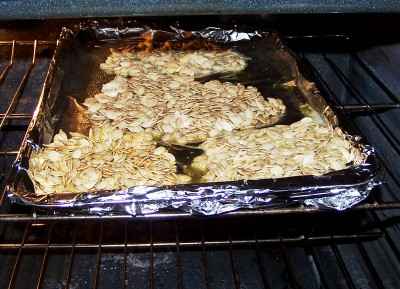 Heat them in a 275-degree oven for 10 to 20 minutes until golden brown. DO KEEP AN EYE ON THEM, checking every few minutes and stir about every 5 minutes. Some ovens run hot and it can be as little as 10 minutes or as long as 30 minutes to roast them. Sprinkle with salt and serve hot or cold.
For milder flavor, simmer the cleaned seeds for about an hour in salted water and fry in deep oil. Or mix a tablespoon of oil or margarine to each cup of nuts and roast them at 250 degrees for 10 - 15 minutes until they're golden. Sprinkle them with salt.
Complete Water Bath Canner Kit

This is the same type of standard canner that my grandmother used to make everything from pumpkinauce to jams and jellies to tomato and spaghetti sauce!. This complete kit includes everything you need: the canner, jar rack, jar grabber tongs, lid lifting wand, six pint jars with lids and rings, a plastic funnel, labels, bubble freer, and the bible of canning, the Ball Blue Book. You will never need anything else except more jars and lids!





Deluxe Food Strainer & Sauce Maker


Click here for more information, other strainers and supplies or to order!

With the Deluxe Food Strainer/Sauce Maker, you can make creamy apple sauce and smooth tomato sauce without having to peel and core! This muli-use strainer forces food through a stainless steel screen, automatically separating the juice and pulp from the seeds, shins, and stems. Perfect for purees, creamed soups, baby foods, pie filling, juices, jams, and more. Save time, effort, and money by preparing your own tasty sauces to be used immediately or boiled for future use. Do bushels with ease and in a fraction of the time. Includes the tomato/apple sceen with easy twist on design and instruction/recipe booklet.

The Deluxe model comes with the standard Tomato/Apple Screen; as well as the Berry Screen, Pumpkin Screen, and Grape Spiral. Note
Lids, Rings, Jars, mixes, pectin, etc.

Need lids, rings and replacement jars? Or pectin to make jam, spaghetti sauce or salsa mix or pickle mixes? Get them all here, and usually at lower prices than your local store!
Can't find the equipment? We ship to all 50 states! Just email us!
This page was updated on 10-Nov-2022
---
Remember to ALWAYS call the farm or orchard BEFORE you go - weather, heavy picking and business conditions can always affect their hours and crops!
PYO Farms in Other Countries: [ Australia ] [ Canada ] [ South Africa ] [ New Zealand ] [ United Kingdom ]
Our other free, informative sites you may like:
EHSO.com - Environmental health and safety information and guidance for the home
ConsumerFraudReporting.org - Information about identity theft, frauds and scams; how to report them and how to protect your identity.
FitnessAndHealthScience.org - Practical fitness, health and diet information that works.
And our other related websites!
As an Amazon Associate I earn from qualifying purchases.
Care to Donate to help me keep the website going? Donate to me at Benevia here:
Use the feedback form for questions, comments and feedback about farms - Use this form suggest a farm to add to the website?
Or as a last result (I reply to the forms FIRST),write me at



All images and text Copyright © Benivia, LLC 2004 -2019 All rights reserved. Disclaimer and Privacy Policy
Permission is given to link to any page on www.pickyourown.org Do NOT copy and republish this page in whole or part, that is a copyright violation which will be prosecuted: link to the page instead!
Looking for jobs on farms?
Farmers: If you'd like to advertise or have your own web page(s), click here!