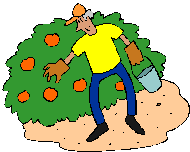 Looking for Pea Shellers - Photos, Features and Prices for English Pea Shelling Devices in 2023? Scroll down this page and follow the links. And if you bring home some fruit or vegetables and want to can, freeze, make jam, salsa or pickles, see this page for simple, reliable, illustrated canning, freezing or preserving directions. There are plenty of other related resources, click on the resources dropdown above. If you are having a hard time finding canning lids, I've used these, and they're a great price & ship in 2 days.
If you have questions or feedback, please let me know! There are affiliate links on this page. Read our disclosure policy to learn more.
Pea Shellers - Photos, Features and Prices for English Pea Shelling Devices
Pea Shellers
These devices have been around for generations; if your great grandparents lived on a farm, they may have used one very similar to these. The designs have been around for ages, your grandmother may have used one very similar to this to speed preparation of green and yellow beans for canning.
Everything can be shipped by a variety of methods, including overnight, if you have a canning emergency!
Note: In response to requests for canning products and books, I've added this page, and I've found a reliable shipper/supplier (Online stores) for the products here. I appreciate your business- buying the products here helps support the website!
If you are looking for bean slicers / frenchers, see this page!
Mr. Pea Sheller - About $26;
Features:
Shells a bushel of peas in about 30 minutes.
Upper shaft is adaptable to fit your hand mixer. Makes the job even faster.
Steel construction with tough nylon gears
Easy to clean
One year guarantee
I haven't tried this one yet. The reviews online are polarized - people either seem ot love it or hate it.
This is a pretty sturdy almost commercial pea sheller. It has only two reviews online, but both are very positive. I did notice the photo shows green beans going in... and shelled peas coming out. I wouldn't worry about that I suspect the photographer simply didn't know what he was doing when he staged the photo.
See the seller's website for features, pricing and user reviews!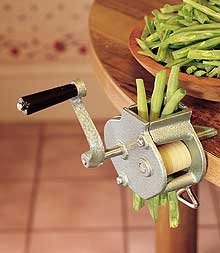 And here is one more, that is very similar to the first, just through a digfferent vendor!