How to Make Churros - Easy and Super Tasty!
How to Make Churros - Easy and Super Tasty!
Click here for a printable PDF file to use while cooking
Churros are a Mexican fried dessert, similar to a doughnut or cruller. It's sweet dough, deep fried, then rolled ion a sugar/cinnamon mixture.
Total time: 30 minutes, allow 45 minutes the first time you make them.
Yield: about 18 churros, each about 2 or 3 nches long; of course the depends upon how thick you make them, which is a function of the diameter of the opening in your pastry bag's nozzle. 1 batch makes about enough churros to fill a 1.5 quart container.
Ingredients
1 cup water
5 tablespoons butter
1 tablespoon sugar
1/4 teaspoon salt
1 cup all purpose flour
2 eggs
1 teaspoon vanilla extract
4 cups oil for frying (corn, peanut, canola, light olive)
Coating / topping
1/4 cup sugar
1/2 teaspoon ground cinnamon

Equipment:
large mixing bowl
small mixing bowl
pasty bag, piping bag - or make your own with a Ziploc bag and the end of a soda pop bottle.
wooden spoons
tongs
spatula
measuring cup
measuring spoons
Directions:
Step 1 - Mix water, butter, sugar and salt in a pot and heat
Combine the water, butter, sugar and salt in a pot (4 qt or larger) and bring to boil over medium heat.
Step 2 - Add the flour
Turn off heat and dump in the flour all at once. Stir until a ball forms, see the photo at right. Don't over stress this step; you will be mixing it more when you add the eggs.
Step 3 - Let cool in a mixing bowl
Dump the dough into a large bowl and allow it to cool for 5 minutes.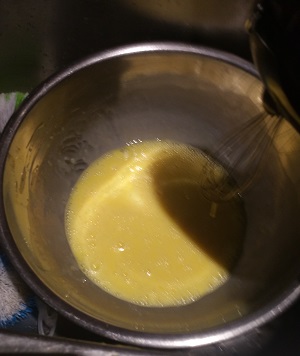 Step 4 - Beat the eggs
In another bowl, beat the eggs and beat in the vanilla.
It should only take a minute or two or low or medium speed.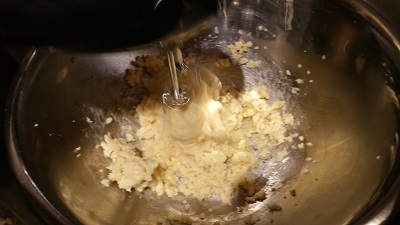 Step 5 - Gradually add the egg mix to the dough
Gradually mix the eggs mix into the dough, using a heavy spoon or an electric mixer either with a wooden spoon or electric mixer on medium speed until uniform.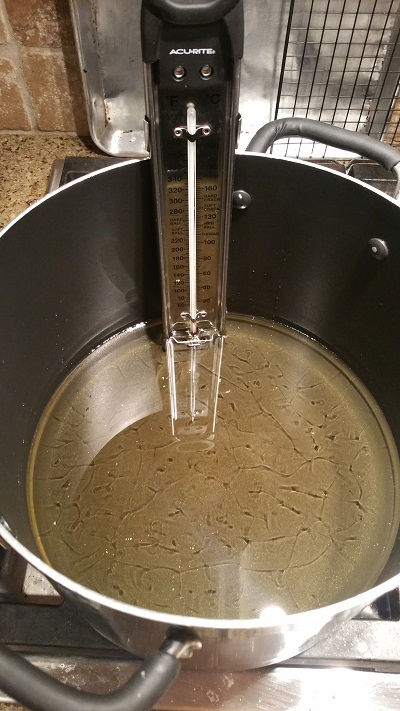 Step 6 - Heat the oil in a large pot
Heat 2-3 inches of oil in a large pot (I used a 16 qt pot). Use a candy thermometer to bring it to 350ºF, or until it just starts to crackle and whiffs of oil can be seen.
Step 7 - Fill your piping bag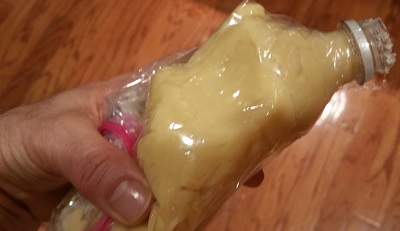 Set up a piping bag with a 1/2 inch star tip, or if you don't have one a large Ziploc bag with the corner cut off will do (see the photo at right). I cut the top off of a 12 oz plastic soda bottle (aka, in the Deep South, a coke bottle, in the Midwest, a "pop" bottle). Put half the dough in the bag.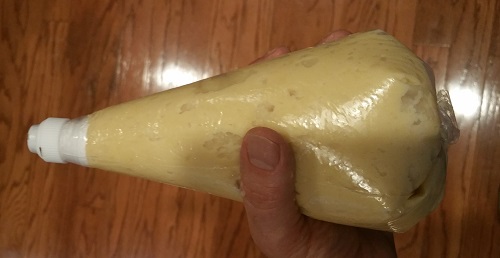 At right is a commercial pastry bag; the nozzle has two pieces that screw together to lock it to the disposable plastic bag.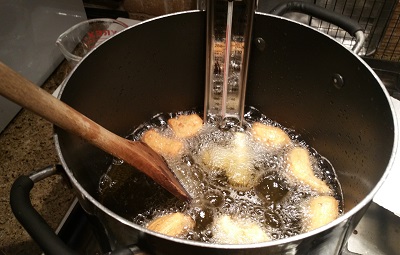 Step 8 - Squeeze out some dough into the oil
Squeeze out a length of dough about 3 to4 inches long into the hot oil. EXPECT IT TO SPLATTER! so be careful! Cut off the lengths with a knife or scissors as it comes out.
Step 9 - Fry it up!
Fry 3 or 4 churros at a time for about 2 minutes on each side; just long enough to get each side golden brown. I turn them with tongs, but you can use a wooden spoon or a slotted spoon.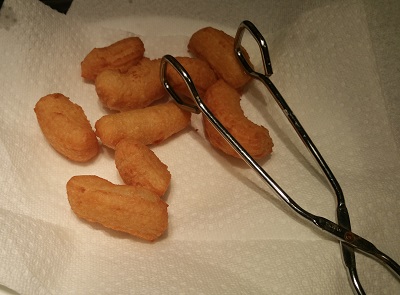 Step 10 - Remove and cool
When they are golden brown on both sides, use tongs to remove from the oil and set them on paper towels to drain and cool a little.
Step 11 - Coat with the sugar /cinnamon mix
While they are still warm, roll them in the sugar mix or sprinkle it over them.
Step 12 - Done!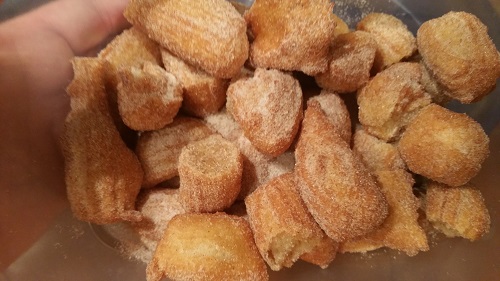 Best warm!