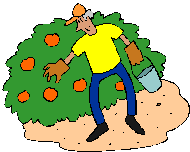 How to Make Great Homemade Strawberry Pie - Easily
Click here for a PDF print version!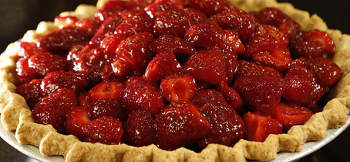 Want to make the best strawberry pie you've ever had, and don't want to spend all day in the kitchen studying overly-complicated recipes? This strawberry pie is an easy, traditional pie going back generations and tastes amazing. If you've never had a strawberry pie, you really have no idea what you are missing! And it doesn't matter if you're not a chef or have never made a pie before! Following these illustrated directions ANYONE can make a perfect strawberry pie for any occasion! This recipe has been improved for 2016, so it's even better!
Ingredients and Equipment
(per 9 inch deep dish pie)
Pie filling
4 Tablespoons corn starch (in England it's called "corn flour") (arrowroot starch or mini-ball tapioca can be used in stead of the corn starch, in the same quantity)
6 cups prepared strawberries (a 1 lb countainer of fresh strawberries is about 2 cups after removing hulls)
1 cup granulated sugar (ordinary table, organic, raw or even the same amount of honey) OR
1/2 teaspoon natural vanilla extract
1 teaspoon grated orange zest (fresh or dried) Just rub an orange against a fine cheese grater, to remove the thin outer layer of the peel. Or just buy the dried grate orange peel at the grocery store.

6 cups strawberries, halved

1 1/2 teaspoons gelatin powder
Pie crust:
You can use either a flour or graham cracker crust, as you prefer.
Flour pie crust
Graham Cracker Pie crust
Step 1 - Make the pie crust
Yopu can make either a four pie crust or a graham cracker pie crust, as you prefer! Never made a graham cracker pie crust either? Fear not, they are really simple. Click here for instructions about making a graham cracker pie crust. It will open in a new window, so just close the new window to return here. .
For directions to make a fliour pie crust, click here.
Step 2 - Bake the pie crust
Since we are cooking the filling separately, we need to quick bake the pie crust. . Preheat the oven to 350 degrees F. Line the pie crust with a circle of parchment paper and fill it with either pie weights, dried beans or rice to weigh down the dough. Bake the pie crust fro about for 15 minutes, then remove the parchment with the weights and bake for an additional 5 to 10 minutes or until it's a deep golden brown. Then remove from the oven and set aside to cool completely.
Step 3- Wash the strawberries
Just wash them in cold water, no soap. .
Step 4 - Remove the strawberry hulls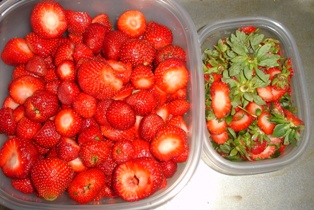 The strawberries only need to have the hulls removed and if they are very large, cut them in half.
Step 5 - Puree 2 cups of the strawberries
Liquify 2 cups of the berries in a blender until completely liquefied.
Step 6 - Add the gelatin and cornstarch
Add the gelatin powder and cornstarch, and blend for another minute.
Step 7 - Cook the filling
Put 1/2 cup water, vanilla extract and the sugar in a pot and cook over medium high heat (no need to stir) reducing the heat to medium as soon as it comes to a boil.
Then stirring , reduce it until it starts to thicken.
Step 8 - Add the strawberry puree
Add the strawberry puree and cook over medium heat for 5 more minutes while stirring constantly. Then remove from heat.
Step 9 - Cool and add the other strawberries
Once cooled for about 30 minutes, gently mix the remaining strawberries.
Step 10 - Pour into the pie crust
Put the strawberry filling in the prepared pie crust. Refrigerate until you are ready to serve!