This month's notes: June 2019: Stored US apples are still available. See your state's crop availability calendar for more specific dates of upcoming crops.
Valentine's Day - February 14 - See this website for Valentines Day history, facts and Amazon's top picks for fast, easy, inexpensive gifts for the man, woman or children in your life!
Easter will be April 16, 2017 - if you want to take your children to a free Easter egg hunt - see our companion website to find a local Easter Egg hunt!
And we have home canning, preserving, drying and freezing directions. You can access recipes and other resources from the drop down menus at the top of the page or the site search. If you have any questions or suggestions, feel free to write me! Also make your own ice cream; see How to make ice cream and ice cream making equipment and manuals. Have fun, eat healthier and better tasting, and save money by picking your own locally grown fruit and vegetables, and then using our easy directions
Please tell the farms you found them here - and ask them to update their information!!
Subscribe to our:
Email alerts
;
Follow us on Twitter
Add this page to your favorites!
-
Email this page to a friend, or to yourself
---
Pickyourown.org: About the Website's Creator!
People have asked me to publish a bio and little about myself, so here it is.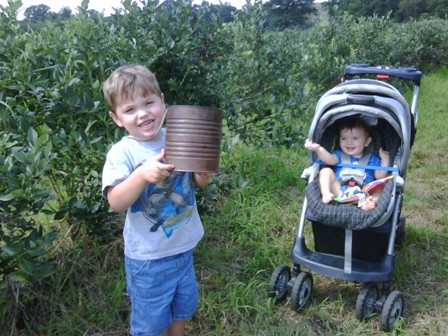 I graduated from the University of Virginia with degrees in chemistry/chemical engineering, but a specialization in environmental engineering. I worked in the environmental engineering field for 25 years, until I challenged Waste management Inc's senior leaders and I consequently found I could not get a job in the environmental field. Colleagues told me they blackballed me, but I have no way to prove that. But those leaders did have to pay $30 million in fines for "cooking the books": see my editorial here: http://www.ehso.com/ed03deanbuntrock.php
I taught myself to design websites and my first, www.ehso.com went up in 1998. When I moved to Atlanta from London, England, and my nieces came for a visit, I wanted to take them to pick strawberries. I had such a heck of a time finding which farms allowed U-pick (from old newspaper articles, state agriculture department websites, etc.), that I decided to save the information I gathered on a webpage on my home website. That page was mentioned in a Wall Street Journal article, which made me realize that many other people had the same difficulty in finding current, accurate information about farms.
So, I started gathering the information, every night from 9 pm to 2 am (I was single at the time) and creating t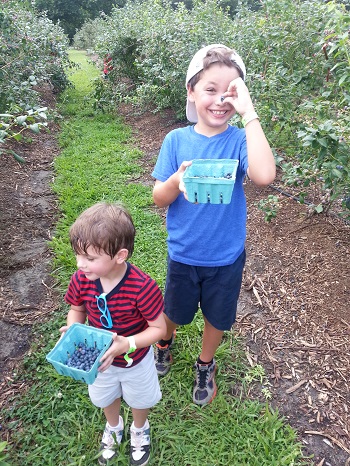 he pickyourown.org website.
Slowly, the website started to gain popularity, and more farmers created listings for their farms, and more visitors added comments, corrections and updates. Over the next few years, the website grew in size and accuracy. I then started working on similar, related websites for pumpkin patches, corn mazes and Christmas trees. My current project is local farm markets.
I also realized that every year, when I went to make some jam or applesauce, I would forget all the little tips and tricks that they don't mention in the Ball Blue Book. So, I thought I'd photograph each step of each recipe and make a webpage of it, so I'd have an easier time each year. I started working my way through the Ball Blue Book and USDA recipes, kind of like a "Julie and Julia" of home canning. I thought those pages would only appeal to me, but it became obvious pretty quickly that I wasn't only. Apparently, most people like to have simple, step-by-step directions with photos to help!
Along the way, I got married (and divorced ) but I have 2 wonderful boys, now, ages 4 years and 8 years old, who I take to many farms, pumpkin patches, corn mazes and Christmas tree farms every year. My 2 little guys love to visit the farms with me, and love picking berries in our garden.
My older son loves to work on the computer (mostly using educational websites) and I hope he'll take over maintaining the webs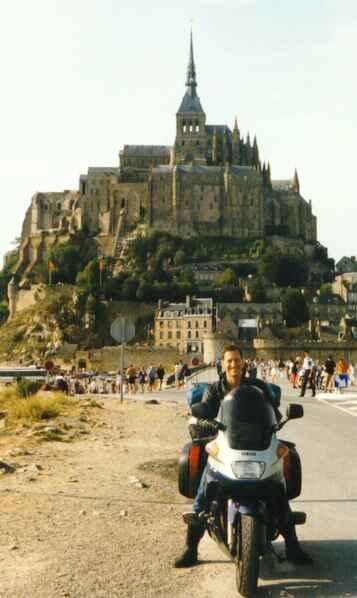 ites one day.I plan to keep these websites current for many years to come, so don't worry about the websites going away or not being maintained! :)
Other stuff:
I'm love anything outdoors and particularly healthy living and fitness. I love to travel; having lived in Europe for 8 years, and traveled extensively throughout Europe on a motorcycle, with a tent and sleeping bag (southern France, southern Germany and Italy are GREAT to travel by bike or camping. )
My garden is huge: I have 7 peach trees, 12 apple trees, 2 cherry, 7 figs, apricots, plums, raspberries, tayberries, blackberries, marionberries, loganberries, strawberries, grapes, and a 100ft by 100 ft vegetable garden; all sustainable and organic.
And I do can and freeze a lot: about 600 jars annually. So I get lots or practice!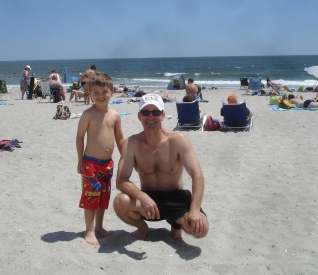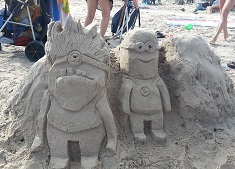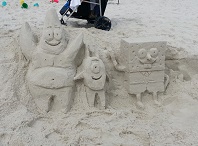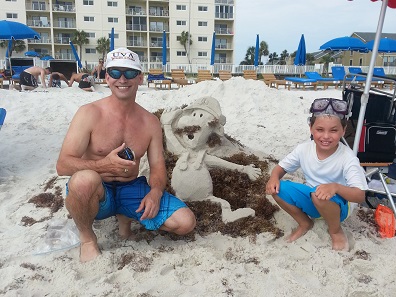 I like to make sand sculptures when I'm at the beach with my boys - I make whatever they request: this summer I made Spongebob,Luigi, and Minions,
Write me if you have questions and I can help!
---
Picking Tips
[General picking tips and a guide to each fruit and vegetable] [How much do I need to pick? (Yields - how much raw makes how much cooked or frozen)] [Selecting the right varieties to pick] [All about apple varieties - which to pick and why!] [Picking tips for Vegetables] [ Strawberry picking tips] [ Blueberries picking tips]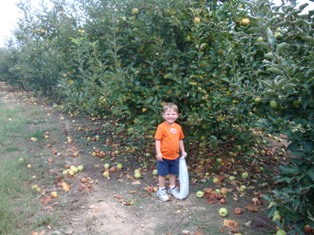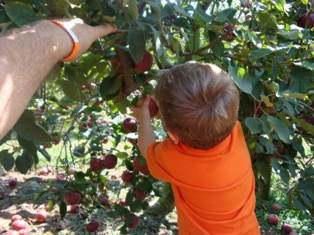 Illustrated Canning, Freezing, Jam Instructions and Recipes
[ All About Home Canning, Freezing and Making Jams, Pickles, Sauces, etc. ] [FAQs - Answers to common questions and problems] [Recommended books about home canning, jam making, drying and preserving!] [Free canning publications to download and print]