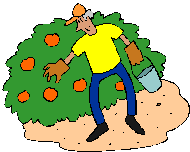 Click here to translate this page to any language.
Looking for a local, pick-your-own farm in Sweden? Scroll down this page and you will see the U-Pick farms in Sweden, sorted by county. Those that offer organic or sustainably grown produce are identified by the words "organic" and/or "sustainable" in Green, next to their name (see "What does Organic mean?"). The U-pick crops they offer follow the name of the farm. To search the page for a specific crop, use Ctrl-F (or on an ipad or Mac, use their "search on this page" function) If they have a website, the name will be in blue and underlined; click on it and it will open their website. Since 2002, I've continued to make updates daily (each farm as changes are reported, or I find them). See the customer and farmer menus at the top menu bar to submit updates and corrections and help me keep each current and add any I've missed!
Remember to always check with the farm's own website or facebook page before you go - or call or email them if they don't have a website or Facebook page. Conditions at the farms and crops can change literally overnight, so if you want to avoid a wasted trip out there - check with the farm directly before you go! And if you know of any farms I missed and want to add a farm, please let me know! I'm making updates for this year as fast as I can - if you find anything out-of-date, wrong or not working - please let me know!
What's in season in November 2023, and other timely information:
Notes for November 2023: Not much growing outside at this time of year. But this is a good time to learn how to preserve foods ahead of the season. See our comprehensive list of easy home canning, jam and jelly making, preserving, drying and freezing directions. You can access recipes and other resources from the drop down menus at the top of the page or the site search. It is also a great time of year and easy to make your own ice cream, even gelato, or low fat or low sugar ice cream - see this page. If you have any questions or suggestions, feel free to write me!
Sweden U-Pick Farms and Orchards, by area
In addition to crops commonly found on grocery store shelves, Sweden has places to pick Sweden's native crops. Swedish law allows any person to walk any forest, meadow or field to pick berries, mushrooms or flowers for own use as long as no trees or bushes are cut down and no branches are broken.
Lingonberries (Vaccinium vitis-idaea) which are related to Swedish blueberries. Found in Swedish forests growing on low, evergreen shrubs. Lingonberry jam ("lingonsylt") is the most popular product made, but there is also wine and liquor.
Swedish Blueberries ("Vaccinium myrtillus, aka, Blåbär") - Related to American blueberries and English bilberries, Swedish blueberries are bit less sweet and more tart. The bush is native and common across Sweden, with light green leaves and a height of about 20 cm to 50 cm high. The berries usually ripen in late July and August. It is usually used eaten fresh with sugar, and used to make pie, jam, jelly, marmalade, wine, soup, and tea,
Pick Your Own (self-picking) Farms
Aaby Gård - Jørgen Aaby - strawberries
Slemmestadveien 210, Asker, Norway 1392. Phone: 47 66 78 24 71. Open: Late June and July. Directions: Click here for a map and directions. På Aaby Gård, hos Jørgen Aaby, er det direktesalg av jordbær og selvplukk av jordbær. There is a video of the farm on YouTube here.
Castle Garden Ulriksdal - flowers and vegetables
Slottsträdgården Ulriksdal. Open: in season at different times during the summer and early autumn.
Directions:
By car from Stockholm (South)
Take E4 north and exit at Järva Krog (exit 169). Turn right in the roundabut Statiol and Scandic Hotel. Follow this road about 2,5 km past riding school and garden lots. Turn right at the first crssing, go past Ulriksdals cemetery and follow the road onward to us.
By car from Uppsala (North)
Take E4 south and exit a Kista/Silverdal. Follow the signs toward SILVERDAL, go past Yhe Police Academy. At the first way crossing, go straight and pass Ulriksdal cemetery and follow the road onward to us.
By Bus that is higher than 3,4m
Buses that are higher than 3.4 m need to enter via the Kista/Silverdal exit to avoid getting stuck under the E4 by Järva Krog.
Frisk Luft Gård -
Friskvårdsvägen 3, 54321 Lund, Sweden.
Gröna Ängar Gård - organic grass-fed meat from beef & lamb, organic chicken, pork & venison, additive-free handmade sausages, ready-made bone broth and a wide range of organs
Grönvägen 5, 67890 Gothenburg, Sweden. Email: info@gronagardar.se. Phone: 0522–65 01 77. Open: Mon–Fri: 08.00–12.00, Bank holidays: closed. It appears that they no longer have pick your own.
Hallongården Trelleborg - strawberries, raspberries, hallon, Farmers' market
Bodarpsvägen 144, 231 94 Trelleborg. Phone: 46 40 675 05 04. Email : hallon@hallongarden.se
IP no : 12-70065. Our raspberries are the heart of the farm's operations. Based on them, Hallongården welcomes around 70,000 visitors a year – most in the summer. Stroll in the farm shop, enjoy homemade raspberry cakes and say hello to our animals.
Marieberg's self-pick - strawberries, raspberries and saskatoon berries
Marieberg, Björkvik, outside Norrtälje.
Nya Blommor Gård -
Blomstervägen 8, 98765 Uppsala, Sweden.
Östanlid - apples, black currants, corn and other vegetables
Östanlid 17891 Munsö. Phone: phone: 070-422 28 93. Email: info@ostanlid.se. Open: We do not have regular opening hours, contact via email or phone. before you come. You can get in touch with us via email, phone or by regular mail to Östanlid 17891 Munsö.. Directions: on Munsö near Ekerö. Apple of several varieties such as Coxpomona but there are also Melon, Rubinola, Filippa, Gravenstein, Rödluvan, Himmelstalund, Åkerö, Sävstaholm, Katja, Ingrid Marie, Oranie to name a few. Pears and plums of several varieties.
Österlin Frukt -
Österlinvägen 10, 12345 Stockholm, Sweden.
Säby farm - self-picking of potatoes during September
Säby Gård 134 65 Ingarö, Värmdö, Sweden.Phone: 46 70 579 77 44. Email: micke@sabygardingaro.se. Open 10-20 every day of the week. Here, during the season , you can buy potatoes, rhubarb, cucumbers, tomatoes, chillies and other goodies. All year round you will find our cold-pressed rapeseed oil, gift bags, apple juice etc. from Värmdö Musteri. SIA ice cream during the summer season. Paying with swish works well!Also self-pressed rapeseed oil and potatoes for sale in the farm shop.
Solby farm - offers self-picking of berries in the summer and potatoes in early autumn. Also has a farm shop
635 09 ESKILSTUNA. hone: 073-7739084.Email: malinsolbygard@outlook.com. Email: solbygard@outlook.com. Open: Summer hours daily from 23/6, Monday-Friday 10-18, Saturday-Sunday 10-16.
Skedevi Gård - strawberries, blueberries, raspberries and blackberries - already picked and pick your own
59179 Fornåsa, Sweden. Phone: 0760-35 39 40. Email: info@skedevigard.com. Open: the berry season, which runs from June to August Weekdays 9-18 Saturday 9-16, Sunday 10-16, Note that the self-pick has not same opening hours as the farm shop. Payment: during the berry season, the shop is staffed and it is fine to pay by card or cash. During the rest of the year, we have self-service in the farm shop, and then it is fine to pay with Swish or cash.
2023 PRICES
Strawberries SEK 80/kg
Raspberries SEK 120/kg
Blueberries SEK 115/kg
We also have a cozy farm shop and a playground for the children.
Solgården -
Solvägen 2, 45678 Malmo, Sweden.
Trädgårn Södertälje - self-picking of blackberies, raspberries, flowers, gooseberries, grapes, strawberries, spices, and other vegetables in season. farm shop
Linavägen 50, 151 57 Södertälje Phone: 08-550 343 43. Email : tradgarn1997@gmail.com. Or Email: ulf.tradgarn@gmail.com. BLACK GRAPES, GOOSEBERRIES, RED GRAPES AND FLOWERS. VEGETABLES: YELLOW AND RED ONION, GARLIC, LETTUCE, CHANDEL, FENNEL, GREEN AND PURPLE CABBAGE, SALAD ONIONS. SPICES: PARSLEY, CORIANDER, DANISH CHERVIL, LIBBSTICK, CRONDILL, CHIVES, THYME, WORMS, KINGMINT.you will find different types of flowers for self-picking. - Sunflower, Carnation, Amaranth, Edged Nepeta, Stone Candle, Russian Marjoram, Alpine Marjoram, Maiden's Eye, Maiden's Millet, White Top Bell, St. John's wort, Wormwood, King's Mint, White and Purple Sun Hat, Magnolia, Ball Marsh, Step Sage, Lamb's Ear, Lavender, Blue Fescue, Blue Ball Thistle, Yarrow, Chinese love herb, Praktlysning, Balloon flower, Thimble flower, Honey herb, Giant's legs.
You can also find edible flowers such as: Tagetes, Indian cress, Borage, Chive flower, Mint, etc.
Upplands Väsby self-picking - strawberries
Directions: located between Rotebro and Upplands Väsby.
Ulvagubbens självplock - strawberries, raspberries, rhubarb
ULVA 5, 755 93 Uppsala, Sweden. Email: info@ulvagubben.se. Feel free to bring the whole family, everyone can join in and pick and eat according to their own ability. The only thing we charge for is the berries in your containers. Even the dog can accompany you out to the field, but not out among the strawberries.
You pay for the number of kilos you pick.
One kilogram corresponds to approximately 2 liters.
Preferably bring your own containers, but if you don't have your own with you, you can buy them from us.
We have a collection fee that is paid when you come to us. Ulva Gubben AB facebook page.
Sweden Harvest Calendar
Strawberries
Typically from early June till July. Most roundabouts and junctions have self picking boxes for strawberries and other berries.
Blueberries
Typically from Mid-July till August
Raspberries
Typically from Mid-July till August
Lingonberries
Typically from Late July till September
Gooseberries
Typically from Late July till September
Black/ Red currants
Typically from Late July till September
Cloudberries
Typically from August till September