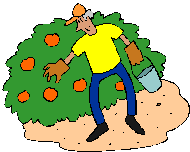 Looking for Pick-Your-Own During CoronaVirus (COVID19) - What does your state require? in 2021? Scroll down this page and follow the links. And if you bring home some fruit or vegetables and want to can, freeze, make jam, salsa or pickles, see this page for simple, reliable, illustrated canning, freezing or preserving directions. There are plenty of other related resources, click on the resources dropdown above.
If you have questions or feedback, please let me know! There are affiliate links on this page. Read our disclosure policy to learn more.
Pick-Your-Own During CoronaVirus (COVID19) - What does your state require?
Pick-Your-Own During CoronaVirus (COVID19) - What does your state require?
Almost all U-Pick farms are open this year, and with good reason: it's one of the safest things people can do during a pandemic as it's all outside and socially distanced, by the very nature of a farm! There has been no known transmission of COVID-19 through fresh produce. It is a respiratory virus that spreads through person-to-person contact.
That's not to say that there aren't also some changes and precautions; some reasonable, and some not. Some of the "nanny" states have imposed their own draconian rules anyway, and in our opinion some of them are downright asinine. Many states have simply chosen to follow North Carolina State University's recommendations for U-pick sites.
Most states and most farms are requiring social distancing. Most do NOT require masks if you maintain a 6 ft distance, as this IS outside anyway.
So here's our state by state summary of visiting a farm during the year of the pandemic! If your state isn't listed below then, as far as we know, they have no specific rules, other than the common sense precautions. We've spelled out some of the more noteworthy requirements, but be sure to follow the link and read the state's rules directly as they may change them without notice.
Common sense precaution:
If you are sick with any of the following symptoms, stay home: fever, cough, shortness of breath, sore throat, muscle fatigue, chills, shaking with chills, loss of smell or taste. Other symptoms such as headache or digestive symptoms (vomiting, diarrhea, abdominal pain or lack of appetite) are potential symptoms related to COVID‐19 and may prompt further screening, action or investigation.
California
Guidance for Farm Direct Sales and Pick-Your-Own operations during COVID-19 May 8, 2020
Farm/PYO operations should notify customers of physical/social distancing guidelines, maintaining a space of at least six feet (6 feet) from one another while on farm.
Farms should limit the number of customers in PYO areas, farm stores and at farm stands in order to maintain physical/social distancing. Family members can participate together (pick products and stand in line together,etc.) and families should be reminded to keep children and their family group together in their designated picking area at all times.
Farms should supply hand washing stations to promote personal hygiene and ensure sanitary facilities, restrooms and hand washing stations are equipped with soap, water and paper towels at all sites. Hand sanitizer stations can be a useful addition at points of entrance and registration/payment.
Remind customers: you touch it, you take it. Farm/PYO managers and staff are encouraged to facilitate a one-touch handling policy of produce on the plant by customers in the field; customers should keep what they touch. This should be accomplished through in-field monitoring, verbal reinforcement, and signage of the PYO rules of the farm.
Customers should adhere to state and local guidance and requirements and wear face coverings/masks if requested by the farm. Customers should be allowed to utilize masks and face coverings that they bring with them to the farm.
Farms should supply to PYO customers with new, single-use harvest bags/containers and boxes during COVID-19. Reusable harvest bags/containers and/or boxes should not be utilized until further notice.
Delaware
Guidance for Delaware U-Pick Farm Operations During COVID-19 - Overview: Late spring through the fall is a time when Delaware's U-Pick (or "you-pick") farm operations open to allow residents and visitors to pick their own strawberries, blueberries, peaches, apples, pumpkins, live Christmas trees, etc. These seasonal opportunities allow individuals young and old to create a connection with local farms to learn where food and agricultural products are grown. During the COVID-19 pandemic, the Delaware Department of Agriculture wants to ensure that visitors to U-Pick farm operations participate in a safe manner to reduce the spread of COVID-19. The following guidelines will be in place until further notice and are solely intended to allow farmers to sell produce and specialty crops at their U-Pick farm operation to the consumer.
Florida
Florida Handling Covid-19 Guidance For U-Pick Farms - Employees should use gloves when handling money, or considering using cards to limit transfer of cash. If money is handled, hands should be washed or hand sanitizer should be used afterward.
Postpone any large events or gatherings to avoid large numbers of people in close proximity.
Cloth face coverings should be worn by employees while working.
Limit the number of people at the farm at one time or space people out to prevent groups of ten or more.
Provide ground markers to help customers maintain six feet of physical distance.
Georgia
Guidelines from UGA Extension to keep your farm, farmers market, upick operation, or community garden safe:
Illinois
The following resources are currently available from Purdue University and North Carolina State University.
Purdue University Recommendations: Guidelines for U-pick/agritourism sites and guidelines for U-pick guests.
Do not enter the grounds if you feel ill or anyone in your house feels ill or you or anyone in your house had known contact with a COVID-19-positive person in the past 2 weeks
Enter and exit the grounds only at designated points
Wear a cloth face covering and don't touch your face
Practice physical distancing of at least 6 feet between individuals not in your household
Households, including children, must stay close together
Do not bring pets (except certified service animals)
Wash your hands before and after your visit
Use only farm-provided containers for picking
Pick cleanly and only in your assigned area
Follow all additional instructions of farm personnel
North Carolina State University recommendations for U-pick sites.
Maine
See the Maine COVID-19 Farm rules here.
Ask visitors to self-screen for symptoms and stay home if sick.
Maintain physical distancing.
Minimize party size and/or gatherings.
Minimize 'touches'.
Increase hand-washing.
Increase sanitation of high-touch surfaces.
Require staff and customers, who are able, to wear face masks.
Maryland
Farming and Direct to Consumer Sales
Farmers Markets
Pick Your Own (PYO) or U-Pick operations
Gardening and Produce
Massachusetts
Massachusetts is a particularly absurd nanny-state. I feel for you residents of MA, your state made hard and fast rules in a one-size fits all approach... which never works....
The Massachusetts Department of Agricultural Resources (MDAR) released U-Pick guidelines. These include social distancing, eliminating produce samples, customers may not taste fruit or veggies while picking, Some odf the state's requirements include:
staff and customers are required to wear face coverings while on the farm's property.
Staff must also wear disposable gloves at all times.
Reusable harvest bags/containers and/or boxes and anything brought in by customers is prohibited
Lots of banned activities: "Agricultural Tourism activities associated with PYO operations, such as corn-mazes, hay rides and other activities, including but not limited to, educational sessions and workshops, farm tours, and other activities not directly associated with the harvest of crops, are not allowed during COVID-19 response in the Commonwealth. "
Look for updates to the Massachusetts COVID Agriculture rules here.
Michigan
Michigan COVID for all farm operations.
MDARD guidance for u-pick operations
A minimum of six feet between guests must be maintained at all times. This also means avoiding crowds waiting to enter sales or field areas and providing for six feet between each guest standing in any lines.
Create communications material for customers (e.g., signs or pamphlets) to inform them of changes to store practices and to explain the precautions the store is taking to prevent infection. Enhance sanitization of all operational areas. All items that customers touch must be sanitized after every use. Encourage family units to stay together and six feet apart from others. Customers should only be accompanied with family members and should limit the numbers in their groups.
U-pick operations must screen staff daily for symptoms, and those with symptoms should not be permitted to work until they subside.
Provide and require the use of personal protective equipment such as gloves, goggles, face shields, and face coverings as appropriate for the activity being performed.
Minnesota
Guidance for Minnesota U-Pick Operations and On-Farm Markets - Minnesota's rules are fairly reasonable and flexible. And On-Farm Markets are exempt from this order as long as they do not offer onsite food consumption (including food sampling) and implement social-distancing practices within the market and field operations. Standard requirements for food licensing apply. U-Pick Operations and On-farm markets are encouraged to follow the Minnesota Department of Agriculture (MDA) recommendations below for slowing the spread of COVID-19. Additional guidance is available from University of Minnesota Extension in the form of a COVID-19 Response Template for Fruit and Vegetable Farms.
New Hampshire
Best Management Practices for U-Pick Farms During the COVID-19 Pandemic by Cornell University (pdf and online versions available).
Risk Reduction Options for Pick-Your-Own Farms During the COVID-19 Pandemic by Vern Grubinger, UVM Extension
New Jersey
NJ rules COVID19 U-Pick rules and guidance. NJ does not have hard rules. Instead, they offer guidelines and allow each farm to make their own rules as appropriate.
New York
See NY Agriculture COVID rules here
Mass Gatherings - New York State has not restricted food producing farms, farmers' markets, grocery stores, retail food stores, food pantries, food banks, and food and beverage manufacturing facilities from being open. This includes grocery stores and retail food stores within malls. These operations are exempt under the mass gatherings guidance as essential food supply chain industries.
Workforce Reduction - Food producing farms, fisheries, operations that care for animals, farmers' markets, food and beverage manufacturers/processors, grocery stores, retail food stores, food pantries, food banks, gas stations, convenience stores, and forest products businesses are exempt from the state's guidance for workforce reduction.
North Carolina
North Carolina State University recommendations for U-pick sites.
Oregon
Provide hand sanitizer and encourage all customers to use it upon arrival. Cloth coverings should be encouraged for customer use, based on local guidance. Limit the number of customers allowed inside at a time. Enforce a reasonable maximum time limit inside the store. Make sure customers, both inside and out, remain 6 feet away from each other. Use card transactions or electronic transfer when possible. Paper money cannot be sanitized and may be handled by multiple people throughout the day. Make sure employees wash or sanitize their hands after completing transactions.
South Carolina
South Carolina Department Of Agriculture Guidelines For U-Pick Farms During The Covid-19 Outbreak -
1. Require employees to wear gloves when handling money and, if possible, use cards to limit the handling of cash. 2. Ensure that all workers who show signs of illness stay home. 3. Review all health and safety rules with employees. 4. Increase the frequency of hand washing and sanitizing, especially after handling cash. 5. Disinfect all surfaces on a regular basis. 6. Provide increased handwashing stations and/or sanitizer to all guests and employees. 7. Require that all guests sanitize or wash hands before entering the field. 8. Enforce social distancing between on farm visitors. 9. Consider using online ticketing to schedule u-pick times and increasing hours or days of operation to avoid overcrowding. 10. Communicate all rules with visitors through increased signage in prominent locations on the farm. 11. Communicate with visitors that if they feel ill, they should not come to the farm. 12. Postpone all large gatherings to avoid crowds. 13. Post additional signage reminding customers to wash all produce well before consuming. 14. Communicate your enhanced practices to customers by posting on social media, newsletters, or website. 15. Stay informed and responsive by checking updates on the CDC website as well as the SC Department of Health and Environmental Control website.
Vermont
Wisconsin
COVID-19 Guidance for You-Pick and Farm Stands
See this page for all Wisconsin Farm Operations.
Close all seating intended for consuming food.
Prohibit food samples.
Areas that require customers to use tongs or scoops to self-dispense food are discouraged; vendors should sanitize tongs and scoops frequently.
Maintain physical distancing of at least 6 feet between all individuals not from the same household on the premise to the extent possible.