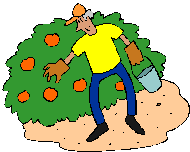 Looking for Top 10 tips for a successful visit to a Pick Your Own Farm in 2023? Scroll down this page and follow the links. And if you bring home some fruit or vegetables and want to can, freeze, make jam, salsa or pickles, see this page for simple, reliable, illustrated canning, freezing or preserving directions. There are plenty of other related resources, click on the resources dropdown above. If you are having a hard time finding canning lids, I've used these, and they're a great price & ship in 2 days.
If you have questions or feedback, please let me know! There are affiliate links on this page. Read our disclosure policy to learn more.
Top 10 tips for a successful visit to a Pick Your Own Farm
Checklist - Top 10 tips for a successful visit to a Pick Your Own Farm
Like any day trip, some basic preparation can make the difference between a great day out or misery! Here are our top 10 tips, a quick checklist for your trip to a U-pick farm:
Call and confirm - Most important, always confirm directly with the farm the night before or morning that you go that they are open and have the crops you want to pick available. It's awful to drive an hour to find out they are picked out or unexpectedly closed!
Go early -Many crops, especially strawberries and blueberries, ripen daily, and get picked out by late morning. So go as early as the farm opens for best selection and easiest picking. Going early also avoids the hot sun and heat!
Drinks and snacks - Bring water or something to drink. Many farms provide picnic tables for food you bring.
Dress Approriately - You're going into a field; it could be muddy, so dress appropriately. Boots and old trainers, not high heels or flip flops.
Bug Spray - Bring deet along in case you are in an area where there area mosquitos. If you are allergic to a bee sting, bring your epi-pen, just in case!
Beware the sun - Sunscreen and wide brimmed hats for the sun. I prefer looking like a doofus to skin cancer.
Payment - Understand the costs, how much you will pick and how much it will cost in total. It's usually best to bring cash, but you can ask beforehand if they take credit cards.
Toilets - Some farms have plumbed toilets, but unless you are a fan of porta potties, "go" at home before you go!
Know how to pick - Know how to tell when the fruit you are picking is ripe and how to pick and then store it. Take care not to damage the plants. See this page for picking tips for almost any fruit: https://www.pickyourown.org/pickingtips.htm
Handle and store properly - When you get home, spread the fruit out, pick out any smushed or damaged ones and follow the fruit-specific tips for storing; then have fun making jam, canning, making salsa, pickles or sauce! Complete easy directions are here: https://pickyourown.org/allaboutcanning.htm
And finally have fun! Many farms have playgrounds, farm animals, petting zoos, hayrides, corn cannons, pig races, pedal cart tracks, jumping pillows, ziplines, and more. Allow time for you kids to enjoy these and they will want to come back again!