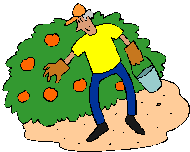 Looking for a local, pick-your-own farm in Italy / Italia? Farms are open and safe! Scroll down this page and you will see the U-Pick farms in Italy / Italia, sorted by county. Those that offer organic or sustainably grown produce are identified by the words "organic" and/or "sustainable" in Green, next to their name (see "What does Organic mean?"). The U-pick crops they offer follow the name of the farm. To search the page for a specific crop, use Ctrl-F (or on an ipad or Mac, use their "search on this page" function) If they have a website, the name will be in blue and underlined; click on it and it will open their website. If you find anything outdated or inaccurate, see the customer and farmer menus (as appropriate) at the top menu bar to submit updates and corrections and help me keep each current!
New! Pricing information - I am building a pricing guide to help you know what the typical prices are for each crop.
Remember to always check with the farm's own website or Facebook page before you go - or call or email them if they don't have a website or Facebook page. Conditions at the farms and crops can change literally overnight, so if you want to avoid a wasted trip out there - check with the farm directly before you go! And if you know of any farms I missed and want to add a farm, please let me know! I'm making updates for this year as fast as I can - if you find anything out-of-date, wrong or not working - please let me know! This website is supported by purchases you make through the links to products on Amazon. As an Amazon Associate I earn from qualifying purchases. This allows me to continue to maintain the website and make improvements!
What's in season in March 2021, and other timely information:
Notes for March 2021: Crop growth is slowing down, except for Christmas tree farms and if you live in southern California, southern Texas, Florida or along the Gulf coast where citrus are ripe, and believe it or not, the blueberry and strawberry season in those areas is about to begin. See your state harvest calendar . This year, much of the country is still seeing mild weather, so lettuce, peas, broccoli, cabbage and other greens are thriving. And this is a good time to get a canner and learn how to preserve foods for the winter, like canning some applesauce, apple butter or jam, which make great gifts. As do your own homemade specialty liqueurs! How about homemade cranberry sauce or a pumpkin pie made from a real pumpkin for the holidays? See our comprehensive list of easy home canning, jam and jelly making, preserving, drying and freezing directions. You can access recipes and other resources from the drop down menus at the top of the page or the site search. A fun winter activity is to make your own ice cream, even gelato, or low fat or low sugar ice cream - see this page. If you have any questions or suggestions, feel free to write me!
Valentine's Day - February 14 - See this website for Valentines Day history, facts and Amazon's top picks for fast, easy, inexpensive gifts for the man, woman or children in your life!
Easter will be April 4, 2021 - if you want to take your children to a free Easter egg hunt - see our companion website to find a local Easter Egg hunt!
Children's Consignment Sales occur in both the Spring and Fall See our companion website to find a local community or church kid's consignment sale!
Italy / Italia U-Pick Farms and Orchards, by region
Pick-your-own farms in Italy
These pages list farms in Italia. You may pick the fruit or vegetables yourself. Please use the feedback link if you want to tell your experience (good or bad) with a farm, ask a question, or comment on the website. I'm always looking for more farms to add, so click on the suggest a farm link if you know of a farm that I haven't listed! And if you have a farm and want to add it or correct the information, just click on Add My Farm.
---
Northern Italy
Orto Didattico E Fattoria Di Animazione - beans, beets, broccoli, carrots, cucumbers, figs, flowers, grapes, herbs or spices, lavender, onions, peas, peppers, plums, strawberries, tomatoes, other vegetables, Other fruit or veg, Honey from hives on the farm, gift shop, farm animals, school tours
Via Lorenzoni 15, Castelfiorentino, IT 50051. Phone: +39.3405630771. Fax: +39.(0)5710945. Email:

[email protected]

. Directions: From Florence: reach and follow highway FI-PI-LI until Empoli Ovest exit, then follow the direction boards for Siena. When you arrive in Cambiano a village which belongs to Castelfiorentino, turn on your left side in "Via (road) Lorenzoni" and follow it until the end. Ring at number 15, just at the end of the road, you can identify it easily because a black, low iron gate. If no one answer to you, try to call +39.3405630771. Click here for a map and directions. Crops are usually available all year. Open: Monday to Friday 9am to 7pm. We use natural practices, but are not yet certified Organic. Payment: Cash, only. Quince apples Cherries Eggs Radish Mead Honey Flower Pollen Mullberries Roses Myrtles.
Tulipani-Italiani Pick Your Own Tulips - pick your own flowers (tulips only)
Viale Della Repubblica 113, 20010 Cornaredo, Italia. Phone: 339 122 7321. Open: daily from 09.00-19.00, from mid-March to mid-April, depending on the availability of its tulips. Apertura: tutti i giorni dalle 09.00 alle 19.00, da metà marzo a metà aprile, a seconda della disponibilità dei suoi tulipani. Si paga all'entrata un biglietto di tre euro con cui i visitatori possono raccogliere due tulipani» spiegano. Nel giardino incantato sono presenti ben 250 mila tulipani di 180 specie.
News storys say this is the first Italian tulip field, one-hectare (2.5 acre), planted by a Dutch couple (Edwin Koeman and Nitsuje Wolaniosto) to recreate the tradition in the Netherlands where you can pick your own tulips. They planted 250000 tulips of 183 different varieties and opened on March 28 and will remain open for three or four weeks, depending on the tulips. There are red, purple and yellow tulips. The current cost is 3 euros for two tulips. Click here for a link to our Facebook page.. (ADDED: April 3, 2017, JBS)
Sicily
Fattoria Vasadonna - Oranges, restrooms, concession stand (drinks, snacks and/or food), picnic area, farm animals
Motta Sant'Anastasia, Catania, IT 95040. Phone: 0039-3492693854. Email:

[email protected]

. Open: All days. But you need to reserve before.. Directions: See their website for directions. Payment: Cash, only. They produce Organic Sicilian Oranges (ADDED: January 17, 2012, suggested by a visitor)
---
Typical Harvest Dates in Italy, by Crop
Artichokes: April and May
Beans: August to October
Beetroot: August to October
Broad beans: April and May
Broccoli: September to November and March to May
Cardoons: September to March
Carrots: September to November and March to May
Cucumbers: July to September
Figs: June and July, then September
Flowers, Lavender: May to June
Grapes: July to September
Herbs: May to September
Mulberries: May
Peas: March to May;
Peppers: July to September
Plums: June and July, then September
Strawberries: May
Tomatoes: July to September
---
---