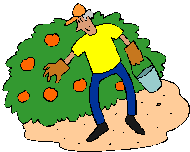 Looking for Find Replacment Parts for Canning Equipment, Mills, Grinders, Blenders, Juicers, Etc. in 2018? Scroll down this page and follow the links. And if you bring home some fruit or vegetables and want to can, freeze, make jam, salsa or pickles, see this page for simple, reliable, illustrated canning, freezing or preserving directions. There are plenty of other related resources, click on the resources dropdown above.
If you have questions or feedback, please let me know!
Notes for January 2018: Frosts and freezes are upon us in many areas, and one field may be unhurt while one a mile a way can be damaged, so keep that in mind as you read the following: Apples are in season now, as are figs, and Fall raspberries are in season now. Tomatoes are going strong if frost hasn't happened in the field Late Apples, like Fuji's should be plentiful now. You can see a complete list of apple varieties, their ripening dates and best uses here. And if you have a left over pumpkin, you can easily turn it into a Thanksgiving pie, pumpkin cheesecake, cookies, muffins and more, see this page!
And of course you can find Christmas tree farms, on our related website.
Children's Consignment Sales occur in both the Spring and Fall See our companion website to find a local community or church kid's consignment sale!
Next year, don't miss an Easter Egg Hunt for your children: See our companion website to find a local Easter Egg hunt!
We also have home canning, preserving, drying and freezing directions. You can access recipes and other resources from the drop down menus at the top of the page or the site search. If you have any questions or suggestions, feel free to write me! It is easy to make your own ice cream, even gelato, or low fat or low sugar ice cream - see this page. Also note, there are many copycat website listing U-pick farms now. They have all copied their information form here and usually do not ever update. Since 2002, I've been updating the information every day but Christmas; so if you see anything wrong, please write me!
-->
Find Replacment Parts for Canning Equipment, Mills, Grinders, Blenders, Juicers, Etc.
Ordering Replacement Parts for Pressure Canners, Grinders, Gaskets, etc.
If you have canners, grinders or other canning equipment that has a missing or broken part, this page will help you find it.
If you are looking for manuals for pressure canner, click here for free downloads of many pressure canner's instruction manuals!
Select your brand:
If you are looking for other brands replacement parts, please write me and I will try to help!
For other supplies:
Strainers, pit removers, seed-skin-stem removers, jelly strainers, etc. All types, makes and prices (from $19 to $350)
Steam Juicers
Home Canning Miscellaneous Parts and Supplies - jar lifters, funnels, jar tongs, replacement parts for canners, canning racks, strawberry hullers, cherry pitters and more? Great prices, wide selection, fast delivery, reliable service
And just for fun, the history of the canning jar
You can read a discussion about why foods should be processed in a canner on this page" "Why do I need a canner?"
For more information, and NO obligation to buy, just click on the links in the Amazon boxes on the left!
Illustrated Canning, Freezing, Jam Instructions and Recipes
[ All About Home Canning, Freezing and Making Jams, Pickles, Sauces, etc. ] [FAQs - Answers to common questions and problems] [Recommended books about home canning, jam making, drying and preserving!] [Free canning publications to download and print]