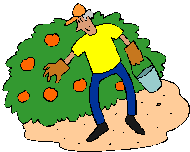 Looking for a local, pick-your-own farm in Austin area of Texas? Scroll down this page and you will see the U-Pick farms in Austin area of Texas, sorted by county. Those that offer organic or sustainably grown produce are identified by the words "organic" and/or "sustainable" in Green, next to their name (see "What does Organic mean?"). The U-pick crops they offer follow the name of the farm. To search the page for a specific crop, use Ctrl-F (or on an ipad or Mac, use their "search on this page" function) If they have a website, the name will be in blue and underlined; click on it and it will open their website. Beware of copycat websites (such as the one that starts with "pickit" and the one that ends with ".farms"; they do not update their information, they just steal it from us once in a great while (they are plagiarists operating in Russia and China), so theirs are usually out-of-date -and often copied incorrectly! I put dates to indicate when we last received an update from each farm, and I make updates daily (each farm as their info changes). See the customer and farmer menus at the top menu bar to submit updates and corrections and help me keep each current!
And if you know of any I missed and want to add them or correct the information, please let me know!
What's in season in July 2017, and other timely information:
Notes for July 2017: The warm winter means strawberries will be EARLY this year! Move the dates ahead by 2 - 3 weeks on our state crop availability calendars for strawberries; see your state's calendar for more dates of upcoming crops. Blueberries have already started in FL and TX.
Next year, don't miss an Easter Egg Hunt for your children: See our companion website to find a local Easter Egg hunt!
Children's Consignment Sales occur in both the Spring and Fall See our companion website to find a local community or church kid's consignment sale!
We also have home canning, preserving, drying and freezing directions. You can access recipes and other resources from the drop down menus at the top of the page or the site search. If you have any questions or suggestions, feel free to write me! It is easy to make your own ice cream, even gelato, or low fat or low sugar ice cream - see this page. Also note, there are many copycat website listing U-pick farms now. They have all copied their information form here and usually do not ever update. Since 2002, I've been updating the information every day but Christmas; so if you see anything wrong, please write me!
Austin area of Texas U-Pick Farms and Orchards, by county
Click on the resources drop-down above, if you need a county map
Bell County
Blanco County
Hill Country Lavender - Lavender
1672 McKinney Loop, Blanco, TX. Visit the Web site for exact dates and directions. Phone: 830-833-5008. Email: jralston@moment.net.
M & J Lavender Farm - lavender, gift shop, snacks and refreshment stand, restrooms
2484 Round Mountain Sandy Road, Johnson City, TX 78636. Phone: 830-693-6624. Alternate Phone: 830-385-3336. Email: mstep@hughes.net. Open: See our Events page on our website for current hours. Directions: M & J Lavender Farm is located just off of highway 281 about 10 miles north of Johnson City, Texas. Click here for a map and directions. Lavender blooms late May through July and again in the fall; Events: Fall Lavender Festival for all farms in the Johnson -Cit-y area is October 2, 2010. Payment: Cash, Check. (ADDED: May 13, 2010)
Texas Lavender Hills - Uses natural growing practices, flowers, gift shop
5110 Kendalia Road, Blanco, TX 78606. Phone: 830-833-9183. Email us at: jill@texaslavenderhills.com. And for a map to our farm, Click here. Crops are usually available in May, June, October, November. Open: mid-May - end of June - Saturday and Sunday (call for times) See website or call for dates and times farm is open. We use natural practices, but are not yet certified Organic. Payment: Cash, Check. Pick-Your-Own Lavender and lavender products available during bloom season. Lavender products available at all times online on our website.
Kingsbury's Blackberries/Blueberries - blueberries, farm animals
760 County Road 316, Caldwell, TX 77836. Phone: 979-567-9138. Email: berrygrower1@gmail.com. Open: Since we are a smaller farm, we mostly operate on a customer call basis; Typically early mornings (no earlier than 8:00 am) and evenings until dark are when people come out; Please call first!. Directions: Once in Caldwell, come to the intersection of Highway 21 and 36. Turn to head north on Highway 36 for about 1 and 1/2 miles. Turn left on County Road 316. We are the 4th mailbox on the right. Our mailbox is white with a green address sign of 760 on it. We are no more than 1/4 a mile once you turn onto the county road 316. Click here for a map and directions. Our blueberry season starts around June 1st and goes through about the second week into July; We will be replanting blackberries this winter, possibly strawberries as well;. Payment: Cash, Check. We try to strive for producing organic berries as much as possible, however we are not certified organic. (UPDATED: May 24, 2010)
Sweetberry Farm - strawberries and blackberries in season, new potatoes, tomatoes, pumpkins
1801 FM 1980, Marble Falls, Texas 78654, TX. Phone: 830-798-1462. Email: info@sweetberryfarm.com. Open: Monday, Tuesday, Thursday, Friday, Saturday from 8:30 am to 5:30pm, Sunday from 1pm to 5pm, Closed Wednesdays. Directions: Marble Falls. Be sure to get Discount coupons. They have pick your own strawberries and blackberries in season, new potatoes, tomatoes, pumpkins and a corn field maze in Fall. Harvest Schedule: Strawberries - March to mid May, Blackberries - mid May through June, New Potatoes - May, Tomatoes - May through the first of July, The Hayfield Mazes - May through June and late September through November, Pumpkins - late September through October. Links: Fresh News at: Marble Falls . Harvest Schedule and Hours, Cost and Prices, Hayfield Mazes: 'Texas' and 'America'.Or Contact Us. Click here for our Facebook page.(UPDATED: April 24, 2017, JBS) (UPDATED: April 28, 2015, JBS) (UPDATED: March 21, 2011)
Comments from a visitor on May 20, 2012: "Mainly Strawberries and blackberries, but add new vegetables all the time. They currently have tomatoes, potatoes, and onions as the main crop. Others vary as sales and requests indicate., restrooms, gift shop, concession stand (drinks, snacks and/or food), picnic area, corn maze, pumpkins (brought in from the field), petting zoo, group tours"
Caldwell County
Coryell County
Falls County
Fayette County
Moody Farms & Flowers - Blackberries
2600 McGregor Lane, Dripping Springs, TX. Phone: 512-894-4330,. Does anyone know if they are still iin business? If so, please write me!
Pure Luck Texas - Seasonal Vegetables, Cut Flowers
101 Twin Oaks Trail, Dripping Springs, TX. Phone: 512-858-7034, Email: pureluck@mindspring.com. Open: Check see their website for current hours. Directions: Take Hwy. 290 West from Austin approximately 20 miles to Dripping Springs. Continue on 290 West for three miles and turn right on McGregor Lane (also known as Hays Country Road 187). Go two miles on CR 187 turning left onto Martin Rd. (CR 188) for 1/2 mile. Pure Luck Farm in on the left and the dairy is on the right.
Wimberley Lavender Farm - PYO Lavender
11300 FM 2325, Wimberley, TX. Phone: (830) 833-1595. Email: info@wimberleylavender.com. Open: Weekends, seeWeb site for hours. Lavender in June-July
Lee County
Limestone County
Point Enterprises Orchards - Persimmons, Pears, Peaches, Seasonal Vegetables
FM-1365, Mexia, TX, 76667. Phone: 800-833-9321 or Phone: 254-562-6913. Directions: Four miles southeast of Mexia on FM 1365. Open: daily from 8 am to 5 pm. Crop availability: Persimmons from September- December; Pears from August-November; Peaches from May-August; and Seasonal Vegetables Year-round.
McLennan County
Punkin Center Berry Farm -

Minimizes chemical and pesticide use

, blackberries, grapes, U-pick and already picked
1785 Waldo Road, Oglesby, TX 76561. Phone: 254-580-8096. Alternate Phone: 254-716-7889. Email: scott@punkincenterberryfarm.com. Open: See our website for current hours. Directions: From Waco, drive 14 miles to McGregor, traveling west on Highway 84. Continue through McGregor 2 miles, still traveling west, and turn right on FM 938. Travel 4 miles and take a left on Waldo Road. Travel 1 1/2 miles to 1785 Waldo Road. Turn left into Punkin Center Berry Farm. Call ahead for availability of berries. Click here for a map and directions. Our grapes are Champanel grapes. We minimize use of pesticides and other chemicals. Payment: Cash, only. (UPDATED: June 16, 2014) (ADDED: May 12, 2012)
Milam County
Star Farmers Market

- blackberries, cucumbers, melons, onions, peaches, peppers, plums, pumpkins, summer squash, winter squash, strawberries, tomatoes, other vegetables, prepicked produce, farm market, gift shop, snacks and refreshment stand, restrooms, picnic area, birthday parties, weddings and wedding parties, school tours, events at your location (call for info)
701 East Highway 79, Rockdale, TX 76567. Phone: 512-446-3078. Fax: 512 446 3078. Email: starfarmersmarket@yahoo.com. Directions: We are .3 mile east from Rockdale, Texas on us 79. And for a map to our farm, click here. Crops are usually available in March, April, May, June, July, September, October, November. Open: 7 days a week from 12 pm to 5 pm or by appointments. Payment: Cash, Check, Visa/MasterCard, Discover. Call to set up special group outings. (ADDED: December 31, 2008) (UPDATED: March 20, 2010)
Robertson County
DeZavala Vineyard Sand Pit Enterprises - Blueberries, Blackberries, Raspberries, Peaches, Grapes, Peas, Other Seasonal Vegetables
US-79, Franklin, TX, 77856. Phone: 979-828-4767 (phone and fax). Directions: Eight and a half miles east of Franklin on U.S. Highway Highway 79. Turn at DeZavala Vineyard sign, south on DeZavala Road, cross railroad tracks. Open: daily, from sun-up to sunset.
Kelumac Christmas Tree Farm Bed and Breakfast - blackberries, gift shop, restrooms, picnic area
10379 Taylor Road, Bryan, TX 77808. Phone: 979-279-3931. Fax: 979-279-3931. Email: kelumac@aol.com. Open: the Day after Thanksgiving 10:00 am to 5:30 pm Thursday and Friday 10:00 am to 5:30 pm Saturday and Sunday 10:00 am to 5:30 pm. Click here for current open hours, days and dates. Directions: From Bryan take TX. highway 6 North to O.S.R. (Old San Antonio Road). Exit right on O.S.R.; 1.5 mi. to Jackrabbit Lane; 3.5 mi. turn left to 10379 Taylor Road; Farm located at end of Taylor Road. From Hearne Tx. take highway 6 South to FM 2549; turn left onto FM 2549 to Jackrabbit Lane(1.5 mi); right on Jackrabbit Lane(3.5 mi.) to 10379 Taylor Road; Farm located at end of Taylor Road. Click here for a map and directions. Payment: Cash, Check, Debit cards, Visa/MasterCard, Discover, AmEx. (ADDED: December 25, 2009)
Travis County
Back Yard Pickins - blackberries,
2421 Post Oak Rd, Webberville, TX 78653. Phone: 512-299-0882. Alternate Phone: 512-203-3932. Email: thomastrantham@gmail.com. Open: Monday thru Sunday, from 8am to 7pm, June 1 to second week of July or until all berries have been picked out. Directions: Located in the Village of Webberville off FM969, about 14 miles east of Austin, Texas and about 14 miles from Manor, Elgin and Bastrop. For a map to our farm, click here. Payment: Cash, Check. Our berries are organically grown and are all thornless varieties. Our varieties are Natchez, Apache, and Quachita (pronounced: Wash-a-taw). (ADDED: December 18, 2016)
Johnson's Backyard Garden - ORGANIC, pecans , tomatoes,
9515 Hergotz Lane, Austin, TX 78742. Email: farm@johnsonsbackyardgarden.com. Open: Apparently you may only pick if you become a CSA member; CSA members harvest Saturday 8-12 Johnson's Backyard Garden is an organic vegetable farm located five miles east of downtown Austin. Directions: 5 miles east of downtown Austin, near Austin Bergstrom International Airport. Turn onto Thompson Lane at Callahan's on 183 and follow the signs to 9515 Hergotz Lane. Farm visits by appointment only, please e-mail first. And for a map to our farm, Click here. Crops are usually available in January, May, June, July, December. Year round we grow over 75 different types of vegetables and have about 5 acres of pecans. We sell our organic produce, free range eggs and grass fed beef primarily to farm members through Community Supported Agriculture subscriptions. By paying a monthly subscription, CSA members receive their choice of a weekly or bi-weekly box of our produce, fruits and herbs. Some crops are grown in abundance. Pick your own crops include: Tomatoes which are available mid-May, June and July and pecans are available usually in December and January We use natural practices, but are not yet certified Organic. Payment: Cash, Check. (UPDATED: April 28, 2015, JBS)
Sweet Dreams Lavender Farm - flowers, gift shop, snacks and refreshment stand, picnic area, weddings and wedding parties
10600 Wagon Road West, Austin, TX 78736. Phone: 512-288-7270. Email: info@sweetdreamslavenderfarm.com. Open: Weekends May and June, Weather Permitting; 10am to 4 pm; Call before you come out to confirm opening. Directions: Click here for a map and directions. Crops are usually available in May, June. Payment: Cash, Check, Visa/MasterCard, AmEx. (ADDED: April 28, 2008)
Sweet Eats Fruit Farm - nectarines, pears, peaches, pecans , plums, pumpkins, strawberries, Fresh eggs, U-pick and already picked, farm market, gift shop, concessions / refreshment stand, porta-potties, picnic area, face painting, inflatables/bounce house, jumping pillow, ziplines, mining for gems, pony rides, petting zoo, farm animals, birthday parties, weddings and wedding parties, school tours, group reservations
14400 E. State Highway 29, Georgetown, TX 78626. Phone: (512) 766-3276. Email: info@sweeteats.com. Open: Saturday and Sunday, from 9am to 6 pm. Picking updates: Click here for picking updates. Directions: About 10 miles East of SH130 in Georgetown. Click here for a map and directions. Strawberry harvest begins late February through May; Peaches and Nectarines begin May through August; Fall Fest starts September - November; Pecan foraging November - December;. Payment: Cash, Debit cards, Visa/MasterCard, AmEx. Click here for our Facebook page. (ADDED: June 17, 2017)
---
---
Maple syrup sugarworks:
Williamson County
Brungot Farms - Medium maple syrup, Dark amber maple syrup, Collectors bottles or sets, maple candies, maple sugar, Maple Syrup from trees on the farm
502 S. Mt. Rushmore Dr., Cedar Park, TX 78613. Phone: 512-750-4378. Email: abrungot@austin.rr.com. Open: Click here for current open hours, days and dates. Directions: Click here for a map and directions. Payment: Cash, Debit cards, Visa/MasterCard, Discover, AmEx. . Orders are taking online, and Delivery or Pick up at Event location points around Central Texas. (ADDED: October 13, 2014)
---
Resources For Farmers
Burleson County
Krazy Kountry Maze & Pumpkin Patch - Local sales at our farm, Local delivery, sale, farm equipment, farm buildings or structures, fruit/vegetable plants , Farm equipment repair services, Other services , Corn maze design services, Halloween-related consumer products , Other consumer products to sell on your farm), U-pick and already picked, concessions / refreshment stand, porta-potties, restrooms, picnic area, birthday parties, weddings and wedding parties, school tours
Cr 269 @ Cr 268, Snook, TX 77878. Phone: 979-272-FARM. Alternate Phone: 817-341-9041. Email: paulwigginsfarm@gmail.com. Open: Thursday 3pm to 9pm Friday 3pm to 11pm Saturday 1pm to 11pm Sunday 1pm to 9pm. Click here for current open hours, days and dates. Directions: Take FM 60 from College Station or Texas A&M and drive 11 miles west into Snook, Tx. Take a left at Citizens State Bank onto 2155. Drive 0.8 miles and take another left onto County Road 269. Drive 0.6 miles and we are on the right side of the road. Click here for a map and directions. Payment: Cash, only. (ADDED: October 14, 2012)