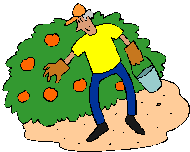 Looking for a local, pick-your-own farm in Southwest New Jersey? Scroll down this page and you will see the U-Pick farms in Southwest New Jersey, sorted by county. Those that offer organic or sustainably grown produce are identified by the words "organic" and/or "sustainable" in Green, next to their name (see "What does Organic mean?"). The U-pick crops they offer follow the name of the farm. To search the page for a specific crop, use Ctrl-F (or on an ipad or Mac, use their "search on this page" function) If they have a website, the name will be in blue and underlined; click on it and it will open their website. Beware of copycat websites (such as the one that starts with "pickit" and the one that ends with ".farms"; they do not update their information, they just steal it from us once in a great while (they are plagiarists operating in Russia and China), so theirs are usually out-of-date -and often copied incorrectly! I put dates to indicate when we last received an update from each farm, and I make updates daily (each farm as their info changes). See the customer and farmer menus at the top menu bar to submit updates and corrections and help me keep each current!
And if you know of any I missed and want to add them or correct the information, please let me know!
What's in season in May 2017, and other timely information:
Notes for May 2017: The warm winter means strawberries will be EARLY this year! Move the dates ahead by 2 - 3 weeks on our state crop availability calendars for strawberries; see your state's calendar for more dates of upcoming crops. Blueberries have already started in FL and TX.
Next year, don't miss an Easter Egg Hunt for your children: See our companion website to find a local Easter Egg hunt!
Children's Consignment Sales occur in both the Spring and Fall See our companion website to find a local community or church kid's consignment sale!
We also have home canning, preserving, drying and freezing directions. You can access recipes and other resources from the drop down menus at the top of the page or the site search. If you have any questions or suggestions, feel free to write me! It is easy to make your own ice cream, even gelato, or low fat or low sugar ice cream - see this page. Also note, there are many copycat website listing U-pick farms now. They have all copied their information form here and usually do not ever update. Since 2002, I've been updating the information every day but Christmas; so if you see anything wrong, please write me!
Southwest New Jersey U-Pick Farms and Orchards, by county
Click on the resources drop-down above, if you need a county map
Springdale Farm Market - strawberries, pumpkins, pumpkin patch-pick in the field, corn maze, and prepicked produce, gift shop, snacks and refreshment stand, restrooms, picnic area, tractor-pulled hay rides
1638 S. Springdale Road, Cherry Hill, NJ 08003. Phone: 856-424-8674. Fax: 856-424-7074. Email: springdalefarms@juno.com. Open: Monday to Sunday 8 am to 6 pm March thru December Strawberries: May 14-June 18 (weather permitting) Pumpkin Picking Hayrides and Corn Maze September 17- Nov 6. Directions: Route 295 to Exit 34A. Go to third traffic light and turn right. We are on the right 1 mile. Click here for a map to our farm. Crops are usually available in May, June, September, October. Payment: Cash, Check, Visa/MasterCard, Discover, AmEx. Bakery, Garden Shop-extensive collection of herb plants, perennials, annuals vegetables, house plants The Conservatory - Belgium greenhouse Room appointed with porcelain tile floor, chandeliers, tropical plants- overlooking a pavered veranda, fountained atrium , and the crops in our fields- available for renting for your special events. (UPDATED: May 12, 2015, JBS)
Comments from a visitor on May 22, 2012: "The strawberries were very nice, picking was easy, and the owners were very nice! Price in 2012 was $2.49 but the price changes from week. Bring your own containers; they charges $1.00 for containers. "
A. L. Gaventa & Son - Pick Your Own: Strawberries; pumpkins
192 Repaupo Station Road, Logan Twp., NJ. Phone: (856) 467-3550. Email: edgaventa@juno.com. Directions: I-295 to Exit 14 (Repaupo), W on Repaupo Road, 1/4 mile on left. Open: Late May - Mid June, Monday to Saturday, 8 am to 5 pm; Sun. 8 am to Noon. We also have Hay rides to pick-your-own strawberries & pumpkins; corn maze; night time bonfires in fall; educational tours.
Duffield's Farm Market - Pick Your Own: Peas, strawberries, apples, corn maze, pumpkins, hayrides in the Fall
Greentree & Chapel Heights Roads, Sewell, NJ. Phone: (856) 589-7090. Email: farmfresh@duffieldsfarm.com. Open: Summer: Monday to Saturday, 10 am to 8 pm, Winter: 10 am to 6 pm. We also have a roadside market / farm stand with Fruits, vegetables. We also have Jersey Fresh Cooks cookbook, bakery, cakes, cider donuts, home-made salads, hay rides to pumpkins, corn maze, hay rides to Easter Bunny's House, hands-on learning center for educational trips, children's birthday parties in spring & fall, WIC and Senior FMNP checks accepted. (UPDATED: May 1, 2015, JBS)
Comments from a visitor on May 22, 2012: "Duffields charges $0.50 for boxes if you don't bring your own."
Fruitwood Farms - Pick Your Own: Strawberries, sour cherries, peaches, apples
419 Elk Road / Route 538, Monroeville, NJ. Phone: (856) 881-7748. Email: honey108@excite.com. Directions: 1 mile E. of Route 77 on Route 538 between mileposts 9 & 10. Open: May - November 15, closed Sun.; self-service 24 hrs. We also have a roadside market / farm stand with Apples, strawberries, cherries, cantaloupes, peaches, pears, tomatoes, watermelon, honey dew, pumpkins. Our apple varieties are Empire, Fuji, Gala, Golden Delicious, Granny Smith, Jonagold, Red Delicious, Rome, Stayman/Winesap. We also have Honey.
Comments from a visitor on June 21, 2010: "Had a wonderful experience this past Saturday. We had planned to pick cherries at another farm in the area. Come to find out the were done for the season. Someone had mentioned the place to me. I could not believe the amount of cherries on the tree and the variety they had. Did not even need a ladder to pick. It was great and the price too."
Haynicz's Orchardview Farm Market & Greenhouse - strawberries, peaches, apples, collards and pumpkins, farm market, gift shop, restrooms
1091 Elk Road - Corner Of Buck And Elk Roads, Monroeville, NJ 08343. Phone: 856-881-1004. Alternate Phone: 856-340-6370. Fax: 856-881-3612. Email: kbhaynicz@yahoo.com. Open: Click here for current open hours, days and dates. Directions: 20 minutes from Philadelphia. Route 55 to exit 45 toward Centerton to the first light on corner of Buck and Elk Road. Click here for a map and directions. Payment: Cash, Debit cards, Visa/MasterCard, Discover, WIC Vouchers, SFMNP Vouchers. Click here for our Facebook page. greenhouses on site offering a large variety of vegetable plants, flowers and shrubs. During the fall we offer cut your own collards. (UPDATED: March 03, 2012)
Heritage Station - Pick Your Own: Apples; peaches; pears; pumpkins
480 Mullica Hill Road (Route 322), Mullica Hill, NJ. Phone: (856) 589-4474. Email: heritagestation@snip.net. Directions: Route 55, Exit 50B to Route 322, 2 miles; Route 322 E of Mullica Hill or Route 322 W of Glassboro. Open: May to November. In season: 8 am to 8 pm; out of season: 8 am to 6 pm; Saturday, & Sun. 9 am to 5 pm for pick your own
We also have a roadside market / farm stand with Apples; pumpkins; squash; corn; peaches; plums; pears; vegetables. Our apple varieties are Empire; Fuji; Gala; Granny Smith; Golden Delicious; Jonagold; McIntosh; Red Delicious; Stayman/Winesap. We also have Jersey Fresh Cooks cookbook; cider; baked goods; bedding plants; annuals; perennials; hay rides; Fishing with Rich; WIC and Senior FMNP checks accepted.
Hill Creek Farms - apples, prepicked produce, snacks and refreshment stand, picnic area, face painting, pony rides, school tours
1631 Route 45, Mullica Hill, NJ 08062. Phone: 856-223-0028. Email: info@hillcreekfarms.com. Directions: From NJ Turnpike/I-95; NJ Turnpike/I-95 to Exit 2 (US 322) Turn right on 322 (east) and go 1.12 miles Turn right onto Tomlin Station Road (south) 2.3 miles Turn left on Franklinville Road (east) .9 miles Turn right on Route 45 (south) .8 miles. Click here for a map and directions. Crops are usually available in September, October. Open: Tuesday to Friday, 9 am to 5 pm Saturday and Sunday: 8 am to 7 pm. Apples: September 15 to October 31. Payment: Cash, Check, Visa/MasterCard. Apple Festivals are scheduled for September 20 and October 11. (ADDED: August 07, 2008)
The McCann's Farm - blueberries, pumpkins, strawberries, U-pick and already picked, farm market, porta-potties, farm animals, birthday parties, school tours
1065 Aura Rd, Monroeville, NJ 08343. Phone: 856-881-7775. Email: themccannsfarm@gmail.com. Open: Strawberries pick mid May through Early June Blueberries late June through mid July Fields open at 9 close at 6. Directions: Route 55 South to exit 48 (Glassboro/Ferrell) Bare right at top of ramp. Go to light and make a left onto Aura Road We are approximately 3 miles on your left. Route 55 North to exit 45. Make a right off of the ramp onto Buck Road At next crossroad make a left onto Cedar Lane. At stop make a right onto Aura Road We are 1/4 mile on your right. Click here for a map and directions. Payment: Cash, Debit cards, Visa/MasterCard, Discover, WIC Vouchers, SFMNP Vouchers. Click here for our Facebook page. (UPDATED: February 27, 2012) (ADDED: May 26, 2011)
Mood's Farm Market - Pick Your Own: Apples, blackberries, blueberries, pears, raspberries, cherries (sweet, pie), plums, grapes, nectarines, peaches, pumpkins
901 Bridgeton Pike (Route 77), Mullica Hill, NJ. Phone: (856) 478-2500. Open: June - Thanksgiving, closed Sundays, Summer: 8 am to 8 pm; Fall: 8 am to 5 pm. See this page for Pick your own updates. Directions: Route 77 5 miles S of Mullica Hill on Route 77; 3 miles N of Route 40. We also have a roadside market / farm stand with Apples; pumpkins; all vegetables. Our apple varieties are Cortland, Empire, Gala, Golden Delicious, Red Delicious. We also have Apple cider; apple cider donuts; fall hay rides; WIC and Senior FMNP checks accepted. (UPDATED: May 12, 2015, JBS)
A visitor writes on September 05, 2013: "Just wanted to say how great this pick-your-own farm is. We picked delicious peaches and sweet-tart blackberries today (Sept. 5, 2013), at an excellent price. The young ladies at the farm stand were polite and helpful, and the orchards were easily accessible and still laden with fruit. Highly recommended!"
Comments from a visitor on October 11, 2010: "Just returned from a trip to Mood's to pick my own apples. My 13 year old son and I had a wonderful time, walking through the orchards and picking out just the apples that we needed. It is really nice to be able to pick different varieties that you want, unlike some of the other "big" pick-your-own farms in the area that only allow you to pick one variety of apple. Prices were reasonable, and we also left with a dozen warm apple cider donuts that were delicious! Highly recommend this farm. "
Comments from a visitor on September 25, 2010: "My daughters and I had a wonderful time picking apples. They were plentiful and the directions we had to follow were very simple for picking, and paying. We will certainly be back."
Comments from a visitor on July 20, 2009: "What a great experience my three children (9, 7, and 4) and I had today. Moods Farm has a friendly atmosphere. Cute Farm stand that includes veggies, fruits, jams and YUMMY homemade apple cider donuts. We traveled from Maryland for the second year and the donuts, especially if you get them warm are the best. The picking procedure is simple. They weigh your bucket that you bring or you can buy little cardboard buckets for 25 cents. We picked blackberries, blueberries and white peaches that were all delicious and very inexpensive. The blueberries were $1.15 a pound, blackberries were$1.40 and the peaches were 85 cents. I had a ton of fruit all for about $6. They have a great picnic area too. We will be back again soon. Great find and I found it on this website. Thank You. "
Piney Hollow Farm - blueberries, U-pick and already picked
502 E Piney Hollow Road, Williamstown, NJ 08094. Phone: 856-629-5188. Alternate Phone: 609-839-9279. Email: pineyhollowfarm@yahoo.com. Open: Mid June to End of July; Call for Daily Hours; Usually 8am to 7pm during the season. Directions: Located on Piney Hollow Road between Route 73 and the Black Horse Pike (Rt 322). Near South Jersey Shooting Club. From Expressway: Winslow Exit 31, 73 South, Right at blinking light, about 1 mile down the road on your left. From Black Horse Pike West, turn Right on Piney Hollow Road, less than 1 mile down the road on your right. From Black Horse Pike East, take jug handle to make left turn onto Piney Hollow Road. Click here for a map and directions. Payment: Cash, only. Click here for our Facebook page. The Measley Family has been growing ONLY blueberries since 1939! USDA certified facility and fields. Porta-potties available. (ADDED: July 29, 2013)
Rowand Farms - Pick Your Own: Strawberries; cherries (sweet & pie)
Greentree Road & Dalton Drive, Glassboro, NJ. Phone: (856) 589-9234. Directions: 2 blocks from Delsea Drive. Open: Mid May - October 31, Sun. - Friday, 9 am to 7 pm (closed Sat). (UPDATED: May 12, 2015, JBS)
Royal Acres Farm - Pick Your Own: Okra; tomatoes; greens; collards; chowder peas; beans (string, butter, green); strawberries.
2084 Winslow Road, Williamstown, NJ. Phone: (856) 728-9358. Email: southerncross@comcast.net. Open: May - September, Monday to Saturday 9 am to 6:30 pm. We also have a roadside market / farm stand with Okra; tomatoes; greens; collards; chowder peas; beans (string, butter, green); strawberries. We also have Straw; beef
Coomb's Barnyard - Pumpkins & potatoes
20 Route 77, Elmer, NJ. Phone: 856-358-2589, Fax: 856-358-4607. Email: coombsbarnyard@hotmail.com. Open: July-October 2011, self-serve. Directions: 4 miles south of pole tavern circle on rte 77. We also have a roadside market / farm stand with Pumpkins & potatoes. (UPDATED: May 12, 2015, JBS) (ADDED: May 26, 2014, JBS)
J & F Battiato Farms - Strawberries
555 Quaker Neck Rd., Salem, NJ. Phone: (856) 935-4060. Open: Monday - Saturday 7 am to 6 pm; Sunday 7 am to 4 pm. Pick Your Own: Strawberries (ADDED: May 26, 2014, JBS)

Witsend Farm

- Basil
480 Garden Road, Pittsgrove, NJ 08318. Phone: 856-358-3189. Email: witsend480@yahoo.com. Open: Saturday and Sunday, 10 am to 5 pm; September 17 to September 24, 2011. Directions: Click here for a map and directions. Payment: Cash, only. Basil is naturally grown. you pick; whole plant. Freeze, dry, make pesto or any of your favorite dishes from this herb. Enjoy all year round!. (ADDED: September 14, 2011)
---
---
Local Honey Sources:
---
Meats, Milk and Eggs:
---
Farm Venues for Weddings, Events, Activities, Parties and Meetings:
Burlington County
Johnson's Locust Hall Farm - Banquets / Dinners, Birthday parties, School and educational groups, Daycare and preschool groups, Catering available, You may bring your own food, Tables and chairs are Provided , Bring your own linens and table silverware, Motel nearby, Apple Orchard, Peach/Nectarine, Apricot, etc. Orchard, Corn maze, Pumpkin patch, sheep, goats, horses, other animals, Beautiful rural setting, Free Onsite Lot parking lot, No pets please, No smoking allowed, handicap accessible, gift shop, concessions / refreshment stand, porta-potties, picnic area, picnic area (bring your own food), pony rides, farm animals, school tours
2691 Monmouth Road, Jobstown, NJ 08041. Phone: 609-353-9000. Fax: 609-723-3916. Open: May 1st - Nov Seven days a week, from 9 am to 6 pm. Click here for current open hours, days and dates. Directions: From route 206 head northeast on Monmouth Road. Click here for a map and directions. Payment: Cash, Debit cards, Visa/MasterCard, Discover, WIC Vouchers. Click here for our Facebook page. Johnson's Locust Hall Farm offers a fun experience on the farm to celebrate a birthday. Includes a pick your own hayride, feeding the animals, and time in our party barn. (ADDED: April 16, 2015)
Scotia Acres Alpaca Farm - Birthday parties, Business meetings, PR or Marketing events, Conferences, Filming or photo shoots, Classes, lectures or Speakers, School and educational groups, Daycare and preschool groups, Other Private Parties, Catering available, You may bring your own food, Bring Your Own Tables and chairs, Bring your own linens and table silverware, Hotel nearby, llamas/alpacas, Beautiful rural setting, CD Player, Computer, Fax, Internet (Ethernet), Internet (Wireless), Overhead Projector, Phone available, TV available, DVD Player, VCR available, Free Onsite Lot parking lot, Free offsite parking lot, Within an easy drive to an Interstate road, children welcome, No pets please, Smoking allowed in designated areas, gift shop, farm animals, school tours, events at your location (call for info)
330 Newbolds Corner Road, Lumberton, NJ 08048. Phone: 856-313-7608. Email: scotiaacres@gmail.com. Open: most Saturdays and Sundays from 10 am to 4 pm; Please call ahead 856 to 313 pm to 7608 anytime to schedule a tour; We are a working farm every day, but would like to make sure our schedule is clear to spend quality time with our visitors. Directions: Rt 38 to Eayerstown Road, Left onto Newbolds Corner Road, we are on the left. OR from Route 206 to Main Street in Vincentown, make a left onto Newbolds Corner Road, we will be on the right. Click here for a map and directions. Payment: Cash, only. Yarn and alpaca fleece available all year. Fall in love with an alpaca, we shear in May, yarn will be prepared for you to knit or we can have products made to order. Pesticide and chemical free alpaca manure compost available. Learn about and fall in love with the alpaca lifestyle!. (ADDED: March 03, 2011)
---
Horse Rides and More:
Burlington County
Johnson's Locust Hall Farm - Beautiful rural setting, gift shop, concessions / refreshment stand, porta-potties, picnic area, picnic area (bring your own food), pony rides, farm animals, school tours
2691 Monmouth Road, Jobstown, NJ 08041. Phone: 609-353-9000. Fax: 6097233916. Open: May 1st - Nov Seven days a week, from 9 am to 6 pm. Click here for current open hours, days and dates. Directions: From route 206 head northeast on Monmouth Road. Click here for a map and directions. Payment: Cash, Debit cards, Visa/MasterCard, Discover, WIC Vouchers. Click here for our Facebook page. Pony Rides. (ADDED: April 16, 2015)
---