Where in Western Maryland to find pick your own farms and orchards for fruit, vegetables, pumpkins and canning & freezing instructions!
This month's notes: February 2016: Strawberries and blueberries each have a very brief season; don't miss them: See your state's crop availability calendar for more specific dates of upcoming crops. And see our guide to local fruit and vegetable festivals, such as strawberry festivals and blueberry festivals. Organic farms are identified in green! Also make your own ice cream - see How to make ice cream and ice cream making equipment and manuals.) Have fun, eat healthier and better tasting, and save money by picking your own locally grown fruit and vegetables, and then using our easy canning and freezing directions!
Organic farms
are identified in green! See our guide to local
fruit and vegetable festivals!
. Please tell the farms you found them here - and ask them to update their information!!
Subscribe to our: Email alerts; Follow us on Twitter. Add this page to your favorites! - Email this page to a friend, or to yourself
---
I'm always looking for suggestions of more farms and events to add and feedback about any you have visited, so if you encounter any, just click on the preceding link, as appropriate! And if you have a farm and want to add it or correct the information, please click on the link to "add my farm".
---
Remember: ALWAYS call (or follow the link to the farm's own website, if the name is a blue link) to confirm the information before you go! They may close, run out or change events, times, etc. without notifying me!
Allegany County
Garrett County
Washington County
---
Washington County
Lewis Orchards and Farm Market -

Uses integrated pest management practices

, Farm stand / farm market on a farm, Farmers market (multiple stalls or vendors), Wide variety of seasonal, locally grown fruits and vegetables, some produce is grown using IPM (integrated pest management), Indoor market, Preserves, jams, jellies, apples, apricots, blueberries, broad beans, cherries, chestnuts, corn (sweet), cucumbers, melons, nectarines, raspberries (Spring, red), raspberries (black), summer squash, tomatoes,
11739 Mapleville Road Post Office Box 49, Cavetown, MD 21720. Phone: 301-824-2811. Open: Monday through Friday, from 10 am to 5 pm; Saturday from 9 am to 4 pm; Approximately late May through December 31 (hours May change over the growing season - check our website or facebook for current hours). Click here for current open hours, days and dates. Directions: We are located along Md Route 66 (Mapleville Road), about 0.2 miles south of Md Route 64 in Cavetown. From Hagerstown: Drive east on Md Route 64 (Jefferson Blvd), turn right onto Md Route 66. Go 0.2 miles and turn left onto paved lane. From I-70: Take Exit 35 (Md Route 66) and drive north for almost 5 miles. Watch for signs and turn right onto paved farm lane. Click here for a map and directions. We use integrated pest management practices. Payment: Cash, Debit cards, Visa/MasterCard, Discover, AmEx, WIC Vouchers, SFMNP Vouchers. We also attend several street farmers markets in Frederick, Howard, and Baltimore Counties and in Baltimore City. Check our website for more information. (UPDATED: May 31, 2013)
Litton's Produce and Berries - Roadside stand, Wide variety of seasonal, locally grown fruits and vegetables, Preserves, jams, jellies,
17435 Lappans Road, Fairplay, MD 21733. Phone: 301-223-6815. Email: littonsberries@juno.com. Open: Monday, Tuesday, Thursday, Friday, Saturday, from 8 am to dusk; Wednesday, from 8 am to 5 pm; closed Sunday, April to November. Directions: Click here for a map and directions. Payment: Cash, Check. (ADDED: May 05, 2011)
---
Horse Rides and More:
Garrett County
Pleasant Valley Dream Rides - carriage rides, hayrides, winter sleigh rides, wedding carriages
1689 Pleasant Valley Road, Oakland, MD 21550. Phone: 301-334-1688. Email: dreamrides@pleasantvalleydreamrides.com. Open: All year for various, season and weather appropriate carriage rides, hay rides, sleigh rides, etc; Milking at 4 00AM and 4:00PM Daily. Directions: Our farm is a short scenic drive from the Deep Creek Lake Resort Area. Travel time is about 20 minutes. Go to Oakland and follow 219 3 Miles South of Oakland, Turn Left On Paul Friend Road.Proceed One Mile To Pleasant Valley Road, and Turn Right.Watch For Duntrussen Farm, Pleasant Valley Dream Rides Located on the First Farm on The Right. Duntrussen Holstein and Pleasant Valley Dream Rides. Take a step back in time by enjoying a carriage or winter sleigh ride through the countryside of Pleasant Valley. Enjoy a tractor drawn hayride or tour the dairy farm - Duntrussen Holsteins LLC. Experience hands-on milking, machine milking and give a calf milk with a bottle Pleasant Valley is the backdrop for your horse drawn tour of the Miller Family Farm, and the stables of our horse drawn wedding carriages and funeral hearse. Take a winter sleigh ride or a horse drawn carriage ride and enjoy the pastoral mountain beauty of this Amish community. Tour the agricultural facilities and learn about daily life on an Amish dairy farm. Educational hands-on experiences are included. Be sure to ask Ray about the name of his farm, Duntrussen Holstein LLC. Truly an enjoyable, educational experience for both the young or young at heart Any Time of the Year! Enjoy a western Maryland Family Activity you will remember for a long time. We also offer Travelling Horse Drawn Wedding Carriage
Services for Maryland, Pennsylvannia and West Virginia.
---
Wholesale Foods
Washington County
Lewis Orchards and Farm Market -

Uses integrated pest management practices

, Local sales at our farm, some produce is grown using IPM (integrated pest management), Preserves, jams, jellies, apples, apricots, beans, blueberries, broad beans, cherries, chestnuts, corn (sweet), cucumbers, melons, nectarines, onions, pears, peaches, peppers, plums, raspberries (red), raspberries (black), summer squash, strawberries, tomatoes,
11739 Mapleville Road Post, Cavetown, MD 21720. Phone: 301-824-2811. Open: Monday through Friday, from 10 am to 5 pm; Saturday from 9 am to 4 pm; Approximately late May through December 31 (hours May change over the growing season - check our website or facebook for current hours). Click here for current open hours, days and dates. Directions: We are located along Md Route 66 (Mapleville Road), about 0.2 miles south of Md Route 64 in Cavetown. From Hagerstown: Drive east on Md Route 64 (Jefferson Blvd), turn right onto Md Route 66. Go 0.2 miles and turn left onto paved lane. From I-70: Take Exit 35 (Md Route 66) and drive north for almost 5 miles. Watch for signs and turn right onto paved farm lane. Click here for a map and directions. We use integrated pest management practices. Payment: Cash, Debit cards, Visa/MasterCard, Discover, AmEx, WIC Vouchers, SFMNP Vouchers. We also attend several street farmers markets in Frederick, Howard, and Baltimore Counties and in Baltimore City. Check our website for more information. (UPDATED: May 31, 2013)
---
Current Weather - click for forecast, or enter a zip code for a different location:
---
This page was updated on
---
Picking Tips
[General picking tips and a guide to each fruit and vegetable] [How much do I need to pick? (Yields - how much raw makes how much cooked or frozen)] [Selecting the right varieties to pick] [All about apple varieties - which to pick and why!] [Picking tips for Vegetables] [ Strawberry picking tips] [ Blueberries picking tips]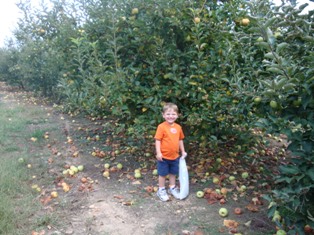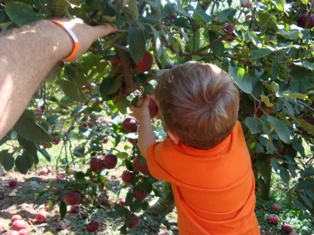 Illustrated Canning, Freezing, Jam Instructions and Recipes
[ All About Home Canning, Freezing and Making Jams, Pickles, Sauces, etc. ] [FAQs - Answers to common questions and problems] [Recommended books about home canning, jam making, drying and preserving!] [Free canning publications to download and print]